East-West Shrine Game 2013: Roster Breakdown, Top Invites and Watch List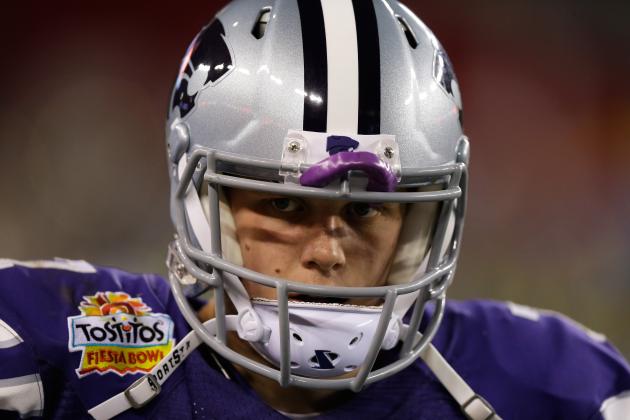 Ezra Shaw/Getty Images

The 2013 East-West Shrine Game is bearing down upon us fast as some of college football's top stars get set to clash in full view of NFL scouts.
Whether you are a fan of offense or defense, the closest thing to college football's all-star game figures to showcase a variety of dazzling athletes on Saturday in St. Petersburg, Fla.
So sit back, grab this little guide and have fun watching the 88th annual East-West Shrine Game. You may just find yourself watching several future NFL stars (given there are 246 former Shrine Game players on current NFL rosters).
Read on for the rosters of the East and West squads, as well as top stars and under-the-radar players to watch.
Note: Rosters via ShrineGame.com
Begin Slideshow

»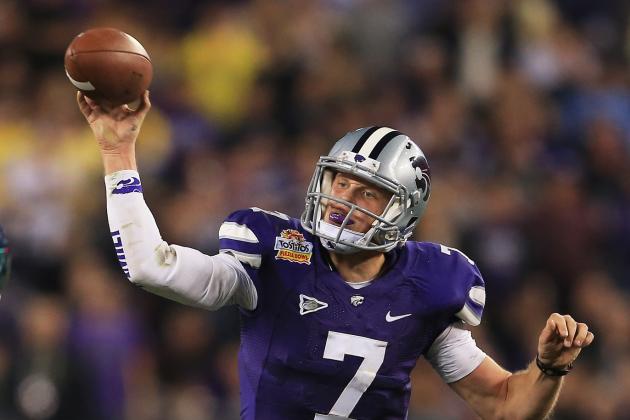 Doug Pensinger/Getty Images

Terron Armstead, OL, Arkansas-Pine Bluff
Emory Blake, WR, Auburn
Colby Cameron, QB, Louisiana Tech
Marcus Davis, WR, Virginia Tech
Jordan Devey, OL, Memphis
R.J. Dill, OL, Rutgers
Corey Fuller, WR, Virginia Tech
Ray Graham, RB, Pittsburgh
Montel Harris, RB, Temple
Garth Heikkinen, OL, Minnesota-Duluth
Erik Highsmith, WR, North Carolina
Mark Jackson, OL, Glenville State
D.C. Jefferson, TE, Rutgers
T.J. Johnson, OL, South Carolina
Collin Klein, QB, Kansas State
Eric Kush, OL, California (Pa.)
Chris Pantale, TE, Boston College
Lucas Reed, TE, New Mexico
Matt Sewell, OL, McMaster (Ontario, Canada)
Rodney Smith, WR, Florida State
Nick Speller, OL, Massachusetts
Zac Stacy, RB, Vanderbilt
Matt Stankiewitch, OL, Penn State
Nathan Stanley, QB, Southeastern La.
Trent Steelman, WR, Army
Caleb Sturgis, K, Florida
Brandon Turner, WR, Navy
Early Watford, OL, James Madison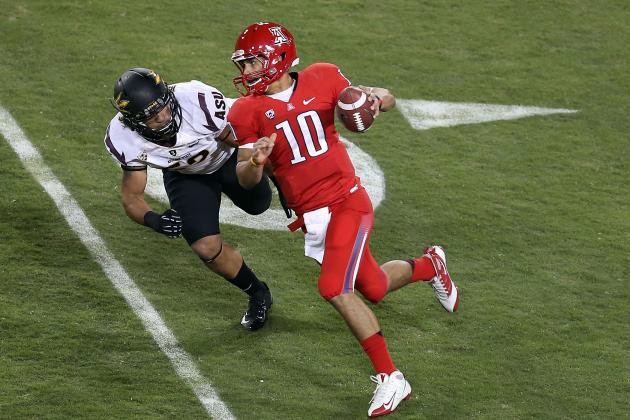 Christian Petersen/Getty Images

Anthony Amos, WR, Middle Tennessee State
Jeff Baca, OL, UCLA
Sam Brenner, OL, Utah
Braden Brown, OL, Brigham Young
Zach Brown, K, Portland State
Dan Buckner, WR, Arizona
Chad Bumphis, WR, Mississippi State
Alex Carder, QB, Western Michiga
Jasper Collins, WR, Mount Union
Keenan Davis, WR, Iowa
Seth Doege, QB, Texas Tech
Kirby Fabien, OL, Calgary
Joseph Fauria, TE, UCLA
James Ferentz, OL, Iowa
Manase Foketi, OL, West Texas A&M
Blaize Foltz, OL, TCU
Tyrone Goard, WR, Eastern Kentucky
Tanner Hawkinson, OL, Kansas
Josh Hill, TE, Idaho State
Zach Line, RB, SMU
Christine Michael, RB, Texas A&M
Dann O'Neill, OL, Western Michigan
Andrew Robiskie, OL, Western Illinois
Matt Scott, QB, Arizona
Zach Sudfeld, TE, Nevada
Ryan Turnley, OL, Pittsburgh
Kerwynn Williams, RB, Utah State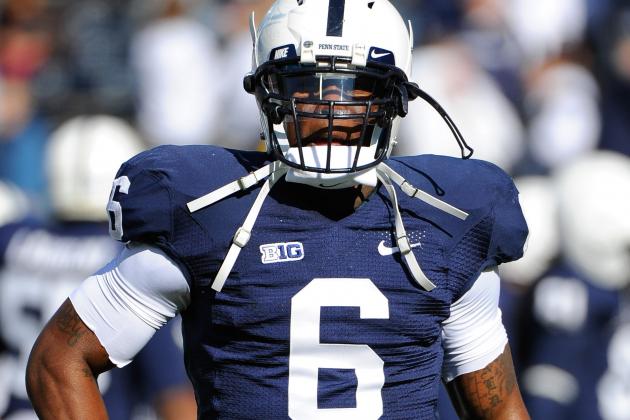 Rich Barnes-USA TODAY Sports

Sam Barrington, LB, South Florida
David Bass, DL, Missouri Western State
Brendan Bishop, S, North Carolina State
Dylan Breeding, P, Arkansas
Xavier Brewer, CB, Clemson
Mike Catapano, DL, Princeton
Izaan Cross, DL, Georgia Tech
Matt Evans, LB, New Hampshire
Josh Evans, S, Florida
A.J. Francis, DL, Maryland
Rashard Hall, S, Clemson
Gerald Hodges, LB, Penn State
Josh Johnson, CB, Purdue
Robert McCabe, LB, Georgetown
Anthony McCloud, DL, Florida State
Brandon McGee, CB, Miami (Fla.)
Nick Moody, LB, Florida State
Sio Moore, LB, Connecticut
Kejuan Riley, S, Alabama State
Branden Smith, CB, Georgia
Rod Sweeting, CB, Georgia Tech
Devin Taylor, DL, South Carolina
Cooper Taylor, S, Richmond
Scott Vallone, DL, Rutgers
Joe Vellano, DL, Maryland
Kayvon Webster, CB, South Florida
Melvin White, CB, Louisiana-Lafayette
Trey Wilson, CB, Vanderbilt
Earl Wolff, S, North Carolina State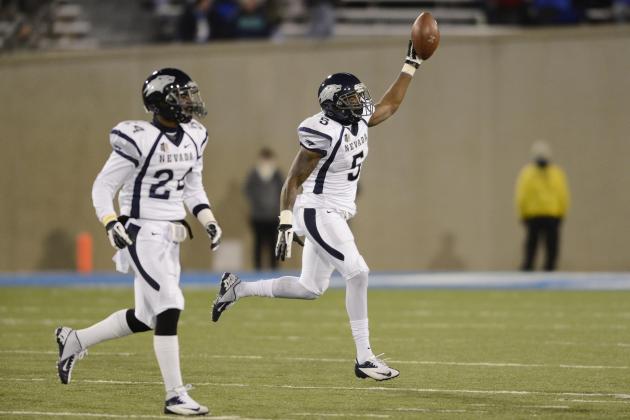 Ron Chenoy-USA TODAY Sports

Jahleel Addae, S, Central Michigan
Josh Boyd, DL, Mississippi State
William Campbell, DL, Michigan
Cody Davis, S, Texas Tech
Steve Greer, LB, Virginia
Terry Hawthorne, CB, Illinois
Aaron Hester, CB, UCLA
DeVonte Holloman, LB, South Carolina
Wes Horton, DL, USC
Josh Hubner, P, Arizona State
Demontre Hurst, CB, Oklahoma
Micah Hyde, CB, Iowa
Keelan Johnson, S, Arizona State
Travis Johnson, DL, San Jose State
A.J. Klein, LB, Iowa State
Rob Lohr, DL, Vanderbilt
Nigel Malone, CB, Kansas State
Bradley McDougald, S, Kansas
Zeke Motta, S, Notre Dame
Will Pericak, DL, Colorado
Keith Pough, LB, Howard
Sheldon Price, CB, UCLA
Albert Rosette, LB, Nevada
Caleb Schreibeis, DL, Montana State
Shamarko Thomas, S, Syracuse
Brandon Thurmond, DL, Arkansas-Pine Bluff
Nathan Williams, LB, Ohio State
Duke Williams, S, Nevada
Khalid Wooten, CB, Nevada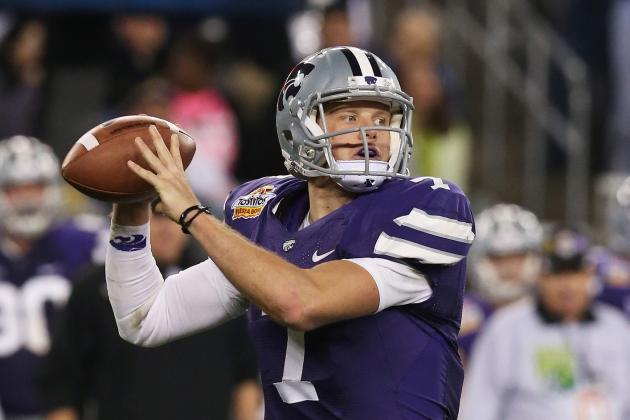 Stephen Dunn/Getty Images

A Heisman finalist in 2012-13, Kansas State senior Collin Klein will be looking at the East-West Shrine Game as an event to showcase his skills to NFL scouts before the draft in April.
Klein not only averaged 8.7 yards per pass attempt this past season (10th in the FBS, via CFBStats.com), he also added 920 yards and 23 touchdowns on the ground.
Given Klein's running ability, he is sure to make an NFL roster where he can easily be plopped into a Wildcat package, but he's going to have to answer questions about his throwing motion if he expects to be a starting quarterback in the pros.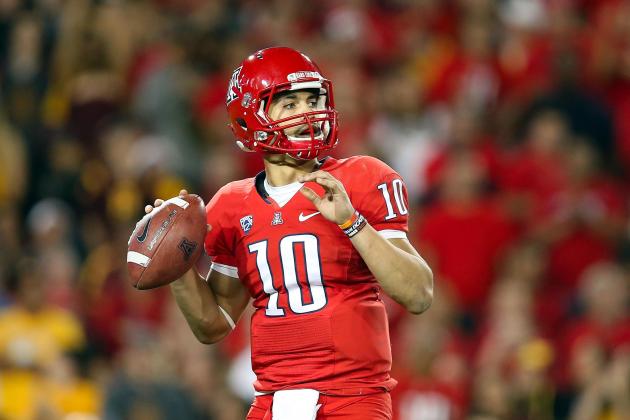 Christian Petersen/Getty Images

Matt Scott is a raw player at this point (he started only 17 collegiate games), but his dual-threat ability, combined with his quick release, accuracy and throwing velocity, could see him have a lengthy NFL career.
There are issues with Scott's height and build (6'2", 198 lbs.), especially considering his 3/4 release, but there is also a lot to like about the California native.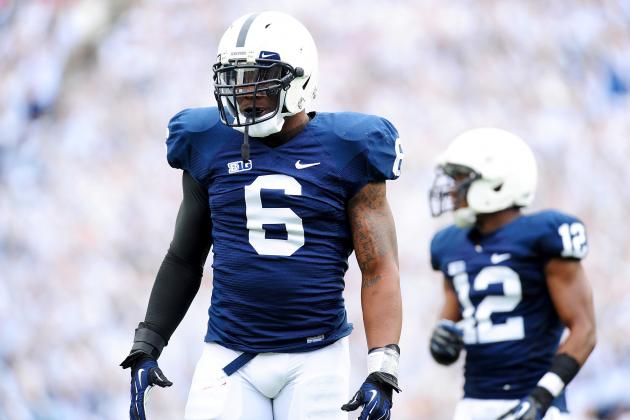 Evan Habeeb-USA TODAY Sports

Gerald Hodges has a nice blend of size and top-end speed. That—combined with his impressive instincts and incredible motor—could make him an impact player at the next level in the right schemes.
Hodges has shown some troubles wrapping up the ball carrier at times, but he's incredibly smart and his knowledge of the game and passion could make him a nice steal come draft day.
Hodges posted 109 tackles (8.5 tackles for loss), 1 sack, 2 interceptions, 1 forced fumble and 7 pass deflections in 2012-13 for Penn State.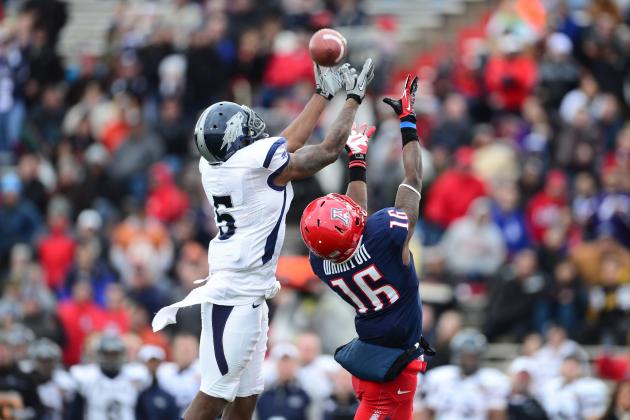 Mark J. Rebilas-USA TODAY Sports

Duke Williams hasn't gotten much recognition playing for Nevada, but he posted 105 tackles (5.5 tackles for loss), 1 interception, 3 forced fumbles and 9 pass deflections in 2012 for the Wolf Pack.
And don't tell me that was just because of Nevada's level of competition. Williams has great size (6'1", 200 lbs.), hits hard, shows strong awareness and is a playmaker.
Given the NFL has shifted into a pass-happy league, plenty of teams would like to get their hands on the 22-year-old out of Reno.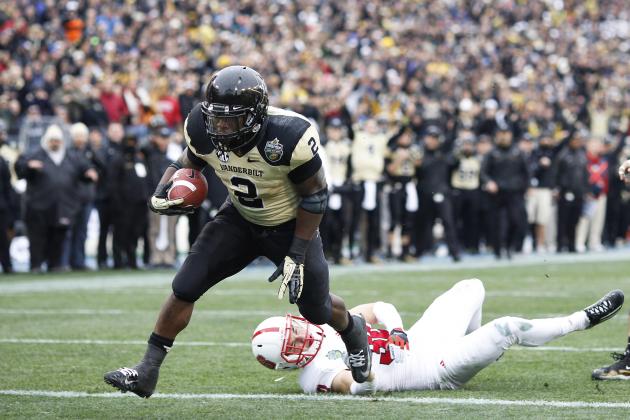 Joe Robbins/Getty Images

Despite racking up over 1,100 yards and 10 touchdowns in the SEC for Vanderbilt, senior running back Zac Stacy hasn't received a whole lot of recognition.
Not only does the 5'9", 210-lb. back have impressive top-end speed, burst, lateral agility, physicality and elusiveness, he can catch passes out of the backfield.
He has also appeared to put his injury concerns aside with two consecutive dominant seasons at Vanderbilt.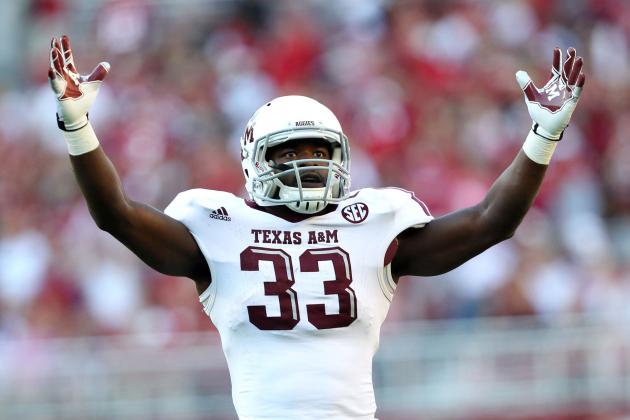 Mike Zarrilli/Getty Images

We've seen numerous players throughout NFL history get picked in the later rounds due to injury concerns, only to see them explode at the next level.
Christine Michael was on his way to a 1,000-yard season in 2011-12 before sustaining a torn ACL. He never got quite the same opportunity to excel in his senior season behind dual-threat quarterback and Heisman winner Johnny Manziel.
But make no mistake about it, plenty of NFL teams are looking at this guy based on his upside. He has eye-popping power and balance at 5'11", 210 lbs. He's also a competitive player with good vision and the burst to get to the second level quickly.