Breaking Down the Battle for the San Francisco Giants Final Roster Spots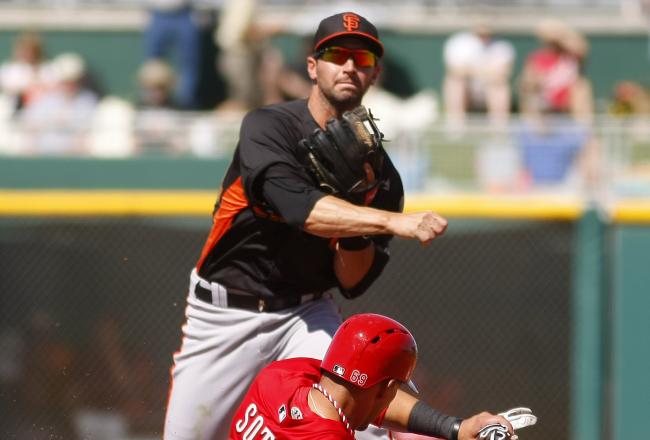 Prospect Nick Noonan could make the Opening Day roster.
Rick Scuteri-USA TODAY Sports
With fewer than 10 days left until Opening Day, the defending champion San Francisco Giants are in the process of making their final roster decisions.
According to Alex Pavlovic of the San Jose Mercury News, the Giants released infielder Wilson Valdez and reliever Ramon Ramirez on Friday. They also brought infielder Nick Noonan back up from minor league camp.
Cutting Ramirez just about guarantees that Chad Gaudin has secured the final spot in the bullpen. If Jose Mijares is ready for Opening Day, the Giants' bullpen will be virtually the same as it was last postseason—with Gaudin replacing former long-man Guillermo Mota.
One more sign that Gaudin has pretty much won the swingman job: He's starting the #sfgiants road split-squad at Padres tomorrow.

— Henry Schulman (@hankschulman) March 20, 2013
The fifth outfielder job has been narrowed down to a two-man battle between Cole Gillespie and Francisco Peguero. If the Giants base that choice on spring results, Peguero should win the job. He's hit .354 over 48 at-bats this spring while Gillespie has hit just .244 in 45 at-bats.
If the Giants take the longer view, then Gillespie should get the nod. The former Pac-10 Player of the Year at Oregon State is a lifetime .290/.393/.474 hitter in 3,207 minor league plate appearances. Peguero has hit .305/.335/.428 across 2,582 minor league plate appearances, showing less patience and power than Gillespie.
If Hector Sanchez isn't fully recovered from his shoulder ailment by the time Opening Day rolls around, Guillermo Quiroz would likely fill in as the backup catcher to open the season.
That leaves the utility infielder job behind Joaquin Arias as the final roster spot to be determined. Noonan—who was initially reassigned to minor league camp—and the injured Tony Abreu are the final two options left now that Valdez has been let go. Abreu has only played in one game this spring, and his slow recovery from injury recently drew a jab from manager Bruce Bochy.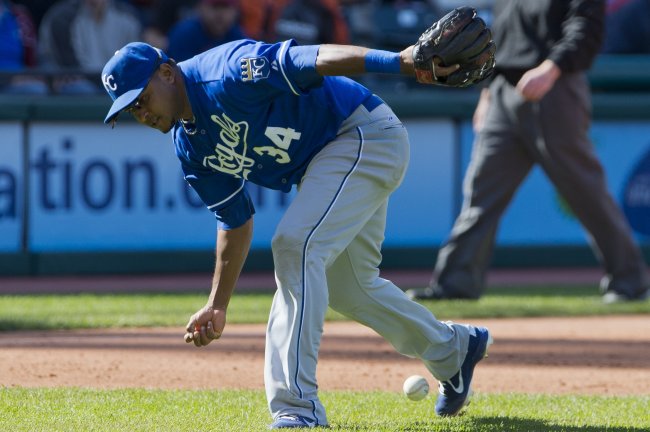 Jason Miller/Getty Images
Given Abreu's inability to get on the field, the job appears to be Noonan's by default. However, the Giants optioned him to minor league camp because he was hitting only .186 this spring. His .267/.322/.380 career minor league line doesn't exactly scream big league player, though he has impressed the organization with his defense.
The Giants are reportedly scouring the market to potentially fill the final utility job, according to Andrew Baggarly of CSN Bay Area.
One available option is Ronny Cedeno. Ken Rosenthal of Fox Sports reported via Twitter that Cedeno has cleared waivers after being released by the Cardinals earlier this spring. Cedeno had a solid year for the Mets last season—hitting .259/.332/.410 over 186 plate appearances in a reserve roll after flaming out as a starter the season prior. He also hit .290 over 31 at-bats this spring.
Ronny Cedeno cleared waivers after release from #STLCards. Hit .290 w .791 OPS in 35 PAs this spring. Wilson Valdez another available IFer.

— Ken Rosenthal (@Ken_Rosenthal) March 22, 2013
Cedeno would represent something of an upgrade over the light-hitting Noonan and slow-recovering Abreu—though it's unclear if the Giants have any interest in him.
Re-signing free agent Ryan Theriot would seem to make sense. However, if he can't find a starting gig, he's willing to hang up his spikes rather than accept a bench job, according to Henry Schulman of the San Francisco Chronicle.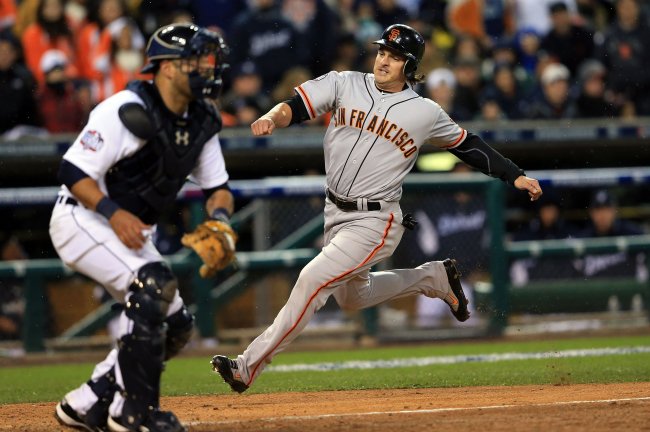 Doug Pensinger/Getty Images
The Giants don't need their other utility infielder to play shortstop because Brandon Crawford and Arias combined to play all but 21 innings there last season. If Bochy ran through both of them, he could always slide second baseman Marco Scutaro over to short. Scutaro played some there last year in Colorado, and he was primarily a shortstop through 2011.
That gives the Giants the flexibility to add someone like the recently released Chone Figgins, who can only play third and second. However, the Giants aren't considering Figgins. It's hard to imagine him finding a job anywhere after he put up a disastrous .185/.249/.253 batting line over the last two seasons.
With the roster just about set, the Giants best option to fill the final utility infielder job doesn't appear to be in the organization right now. Noonan can handle three positions defensively, but there's no evidence his bat is big league quality. Abreu has the tools, but his major league track record is spotty, and he hasn't been able to get on the field this spring.
Cedeno is the only available option on the free-agent market right now given Theriot's insistence on holding out for a starting gig. If the Giants aren't fond of Cedeno, then they'll have to scour the trade market or give the job to Noonan by default.
The Opening Day roster can always be altered as the season goes on, however. The roster that finishes the season will likely bear scant resemblance to the one that opens it.
Last year, the Giants opened the season with Theriot as the starting second baseman and Emmanuel Burriss as the only utility infielder. They finished the year with Scutaro starting at second and Arias and Theriot forming a much stronger bench unit over the light-hitting Burriss.
They were also able to add depth to the infield in 2010 when they traded for Mike Fontenot and again in 2011 with the acquisition of Jeff Keppinger.
Even if the Giants don't quite have the ideal roster to open the season, their recent history proves that they have the ability to fortify the roster as the season goes on.
This article is
What is the duplicate article?
Why is this article offensive?
Where is this article plagiarized from?
Why is this article poorly edited?

San Francisco Giants: Like this team?