Predicting Redskins' Starting Lineup Post-Week 1 of Free Agency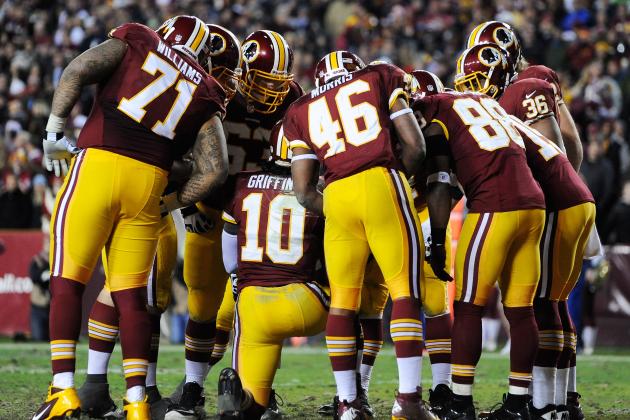 Patrick McDermott/Getty Images
It's been largely a quiet offseason in Washington, but that doesn't mean the starting lineup is set. There are still questions to be answered as the NFL forges ahead in the 2013 offseason.
Week one of free agency is in the books, and the Washington Redskins look much like the team they fielded at the end of last season.
The much-ballyhooed salary cap penalty has been felt in full, as the Redskins haven't made any big name signings to date. The front office has been relegated to low-budget moves (Tony Pashos, E.J. Biggers) and high impact losses (DeAngelo Hall, Fred Davis, Lorenzo Alexander). The Redskins will have to draft well—despite not picking until the middle of the second round—and hope that their young pieces can improve if they want to take a marked step forward after winning the division in 2012.
For better or worse, much of the starting lineup seems to already be set in stone. There are a few places, especially on defense, where question marks remain. But for the most part the lineup appears to be pretty static.
All that remains is to see if the players can make the leap from division champions to Super Bowl contenders.
Begin Slideshow

»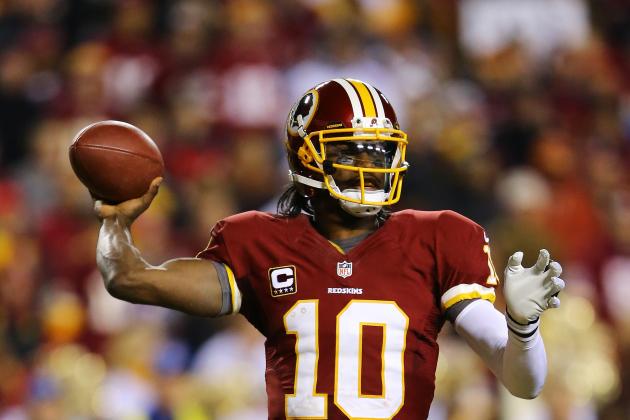 Al Bello/Getty Images
The last time we saw Robert Griffin III in action, he tore his knee up and had surgery. As it currently stands, he could be ready to start Week 1.
Robert Griffin III's rookie season ended abruptly in the playoffs against Seattle, knocked out by a cringe-worthy knee injury that put the start of the 2013 season in jeopardy.
Thankfully, all signs point to RGIII starting the season opener for the Redskins.
Fans know that there's a solid backup available in Kirk Cousins, but RGIII is the motor that makes Washington go.
After a campaign where he was named NFL Offensive Rookie of the Year, the sky is the limit for this spectacular athlete. If he's healthy, RGIII will start and he will try to build on the success he had in 2012.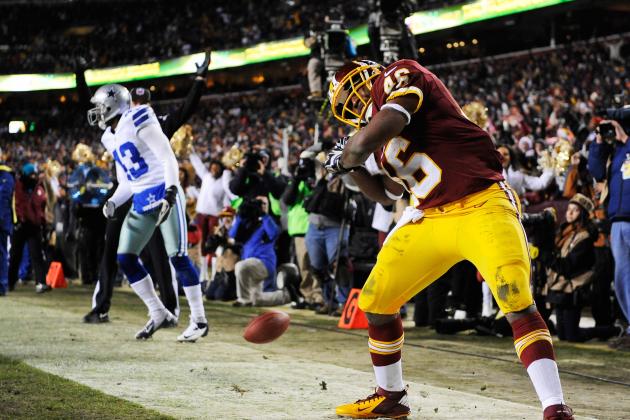 Patrick McDermott/Getty Images
Alfred Morris' spectacular rookie season should be the catalyst for another great year in 2013.
Alfred Morris arrived on the scene so quickly, it was shocking—but no one in Washington is complaining. The rookie set the franchise record for rushing yards in a season with 1,613 and will return to the backfield to continue his dominant run.
Morris may have had more to do with last year's offensive resurgence than RGIII actually did, but both of them benefit from the other's skill set.
It will be exciting to see Morris' second full year in the league, and it remains to be seen how he will respond after logging 335 carries as a rookie.
The future is bright in the backfield, and Morris' punishing style will make him hard for defenses to handle for quite a while.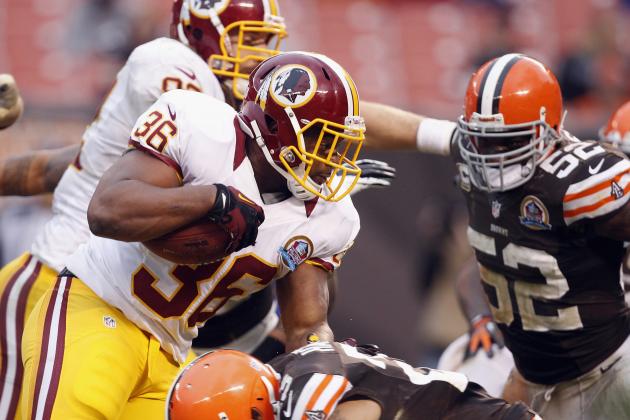 Matt Sullivan/Getty Images
Darrel Young got the contract he deserved and will return to block for Alfred Morris.
After a superb season during which he blocked for the NFL's best rushing attack, Darrel Young was awarded with a new contract by the Redskins. It was a necessary move—Young not only provided the muscle in the run game, he also displayed surprising versatility as a runner and receiver out of the backfield.
He's still only 25 and is quickly becoming one of the best players in the league at his position. He makes a huge impact playing at a generally unheralded spot on the field, and should stick around for several more years with Alfred Morris.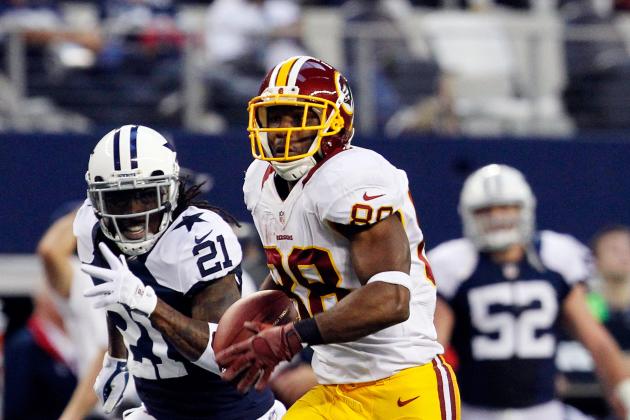 Tom Pennington/Getty Images
If he stays healthy, Pierre Garcon could enter the upper-echelon of receivers in the NFL in 2013.
If Pierre Garcon had played 16 games in 2012, who knows how the Redskins would have finished? Washington was nearly unbeatable in games that Garcon started, and they dominated the competition when he was a significant part of the offense.
Garcon's 44 catches and 633 yards may not have seemed that impressive given his big contract, but he was a man on a mission when he was completely healthy. He should top 1,000 yards easily in 2013, and could push himself into the conversation as one of the better receivers in football.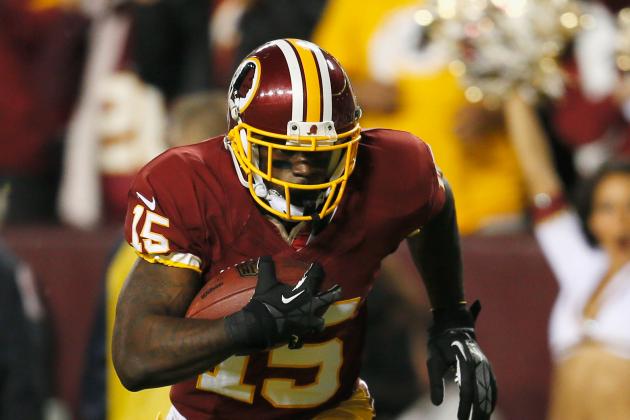 Rob Carr/Getty Images
Thanks to some forgettable early-season antics, Josh Morgan never endeared himself to Redskins fans. His production was solid though, and he could make a huge impact in 2013.
Josh Morgan really ruined his reputation after his outburst in Week 2 that arguably cost the Redskins a victory.
In addition, he never seemed to make a truly significant impact on any game.
That being said, he generally fulfilled his duty as a second string receiver with 48 catches and 510 yards, and should best those numbers in 2013 as he becomes more familiar with the system. His value as a possession receiver cannot be understated, and his impact should rise as long as Pierre Garcon remains healthy.
Morgan isn't a world-beater, but he gets the job done. He could approach 800 yards and seven touchdowns if he stays healthy next season.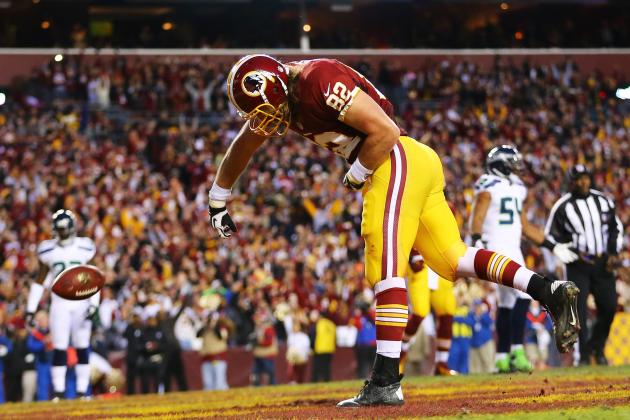 Al Bello/Getty Images
Logan Paulsen will bring his gritty style of play to the tight end position and improve on his performance from last year.
Fred Davis is gone because of cap restraints, but Logan Paulsen will step in to alleviate any fears. The Redskins are used to playing without Davis—he was injured for a huge chunk of last season and underachieved when he did suit up—and RGIII seemed to develop a solid chemistry with Paulsen as the season wore on.
He's not athletic and he's not pretty to watch, but Paulsen is a gritty and consistent player who isn't afraid to get dirty or take a hit over the middle. He rarely drops passes and could be a 10-touchdown guy in 2013.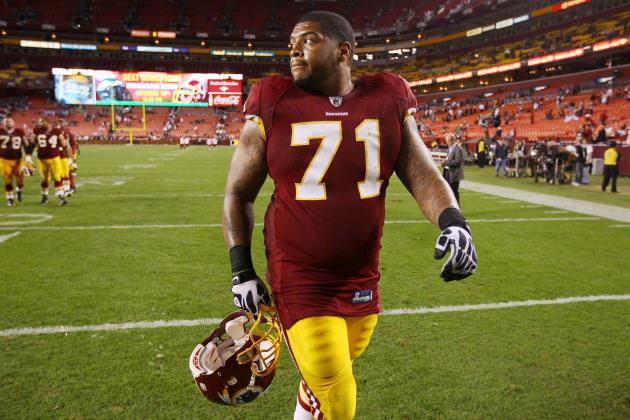 Win McNamee/Getty Images
Trent Williams finally lived up to his potential in 2012 and could get another Pro Bowl nod next season.
It was reasonable to doubt Trent Williams coming in to 2012. He had yet to fulfill his potential as a No. 1 pick and was returning from an embarrassing drug suspension that ended his 2011 campaign early.
So much for being rusty—Williams had easily the best season of his career and was the catalyst for the vastly improved offensive line play. He regularly kept a clean pocket for RGIII and opened holes for Alfred Morris all year long. There are few holes in his game and he'll only get better.
At the end of 2013, don't be surprised if Trent Williams starts to get mentioned as one of the elite tackles in the game.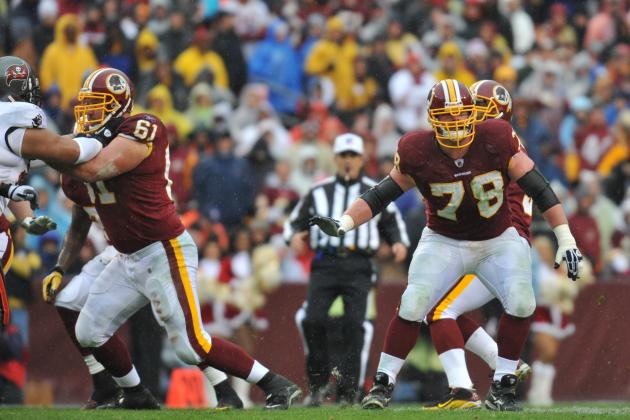 Larry French/Getty Images
Kory Lichtensteiger (78) was an important part of the improved offensive line play in 2012.
Kory Lichtensteiger is as solid as they come. He doesn't wow you with his talent or his athletic ability, but he conforms to the zone blocking scheme perfectly and did a great job giving Alfred Morris daylight in 2012.
For years, Lichtensteiger was lost as part of a front five that was constantly shuffling players in and out due to injury and ineffectiveness. With some stability in 2012, Lichtensteiger finally showed he could be a dependable player and will be a big part of the offense's success next season.
Al Bello/Getty Images
Will Montgomery put together a Pro Bowl-worthy season in 2012 and will hold down the center position again next season.
Will Montgomery was arguably snubbed from a Pro Bowl spot in 2012, but the Redskins don't care—they're just happy to have the seventh-year player on the roster.
Montgomery was in a situation similar to Lichtensteiger: He was a solid player who underachieved on horrible offensive line units. He showed his value in 2012 when the unit finally kept itself under control.
Montgomery will hold down the center position once again in 2013, which is good news. Good centers are hard to come by, and he proved he had an impressive rapport with RGIII in 2012.
As good as Montgomery was during the regular season, he had a terrible game against the Seahawks in the playoffs, and should use that as motivation to get even better next year.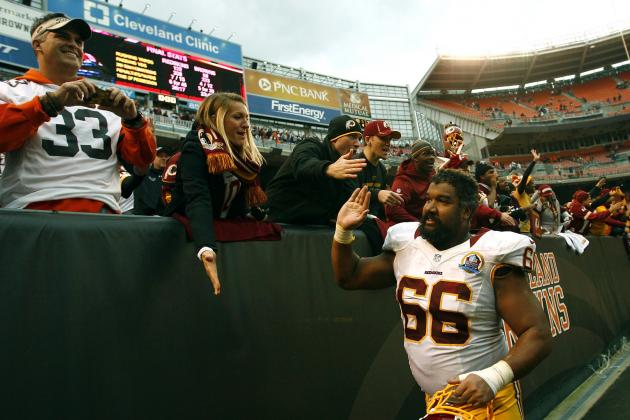 Matt Sullivan/Getty Images
Many fans questioned the signing of Chris Chester but he performed surprisingly well in 2012.
Chris Chester was as valuable an addition to the front five as anyone.
The eighth-year guard started all 16 games for the Redskins and proved to be a reliable blocker and pass protector. He's an unheralded player, but he was a critical part of the dominant running game Washington fielded.
Chester will be back for another go in 2013. He's not as well-known as the other players on the line, but his most important quality—availability—is all the Redskins can hope for. He's a solid player who is there when you need him and on a line that has injury history, that's the best thing he can provide.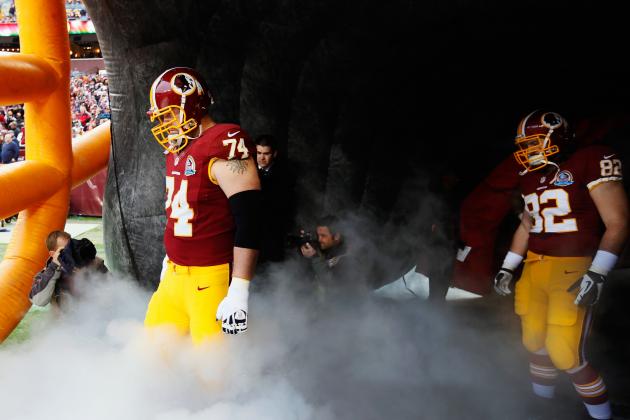 Rob Carr/Getty Images
Tyler Polumbus (74) will face stiff competition in the offseason, but will probably solidify his job based on his experience with the current front five.
The only position on offense that has a question mark is right tackle. Tyler Polumbus was the only player who struggled consistently last year, and the coaches took notice by signing Tony Pashos in the first week of free agency.
Polumbus was put into an unfair situation. He had to adjust to a complex blocking system after stepping in for an injured Jammal Brown, and couldn't keep a clean pocket as often as the coaches would have liked.
To his credit, Polumbus made big strides as the season went on.
His starting position is by no means guaranteed, but he'll probably suit up for Week 1. He has familiarity with the system and the fact that he ended on something of a high note last year will definitely help his cause.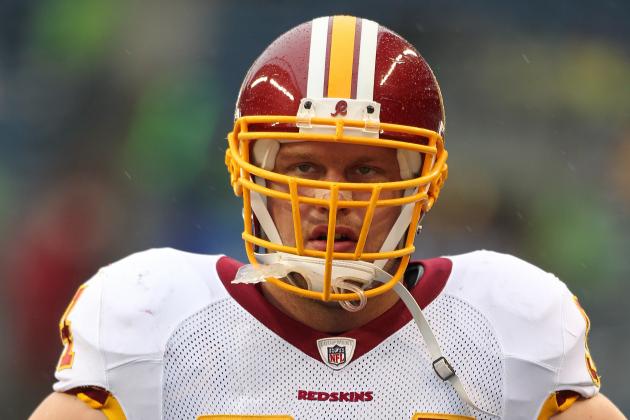 Otto Greule Jr/Getty Images
A serious early-season injury derailed Adam Carriker's 2012 campaign but he should be back in form to shore up the front line of the Redskins' defense.
There were high hopes for Adam Carriker after a very good 2011, but he suffered a season-ending injury in Week 2 and never made the impact the Redskins hoped.
He'll be healthy and ready to return in a big way in 2013.
The Redskins' defensive line was solid, if unspectacular last year—but in 2011, it was arguably the best unit on the team. Carriker had a lot to do with that, and his return to the lineup will be akin to signing a very solid free agent.
If he can remain healthy, he automatically gives the defensive line a new look and feel. Jarvis Jenkins was a decent replacement, but Carriker is only 28 and could be in for the best season of his career if everything goes right.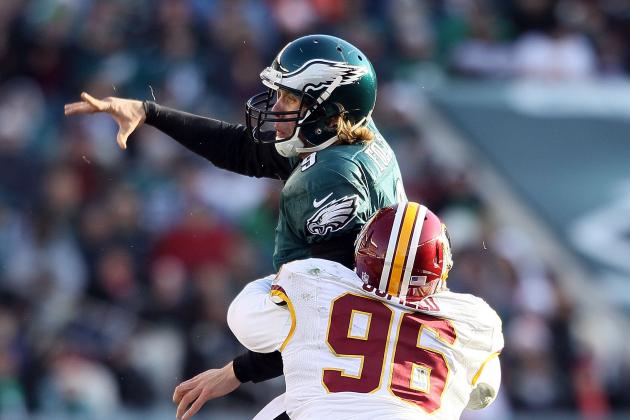 Alex Trautwig/Getty Images
Barry Cofield will be back in uniform to anchor the defensive line and pull out stops in the run game.
Barry Cofield has taken the switch to a 3-4 as well as anyone could have expected, and he'll anchor the line again in 2013. He and fellow line mate Stephen Bowen have been very good since coming over as unheralded free agents just a few years ago.
Cofield may be a nose tackle, but he can burst through the gap to take down the quarterback and is a superb run stopper. He's a savvy veteran who takes on blockers and was one of the primary reasons the Redskins had a top-10 run defense in 2012.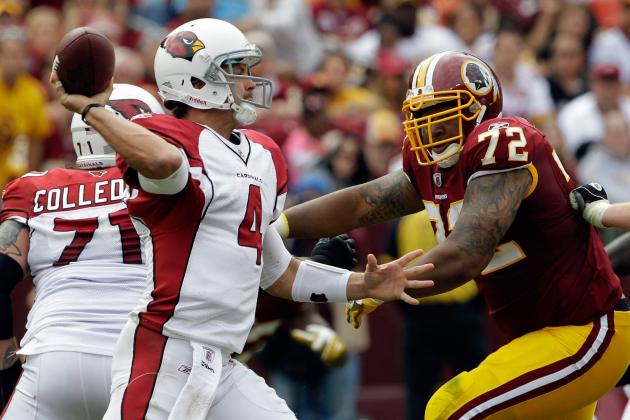 Rob Carr/Getty Images
Stephen Bowen was his usual solid self in the Redskins' 3-4 in 2012 and will continue to hold down the defensive end spot.
Stephen Bowen does his job, and that's all the Redskins ask. He plays every week and provides a big body to take up space. He's nothing special from a physical or athletic standpoint, but he's entrenched in the Redskins' defensive front and hasn't done anything to make Washington second guess itself.
Unfortunately, Bowen wasn't as productive in 2012 as he was the prior season. Much of that can be attributed to the failures of the secondary. There's only so much a 3-4 end can do when there's no coverage in the defensive backfield.
That being said, the Redskins could really benefit from another good season from Bowen, and there's a good chance he will deliver as the defense gets healthier.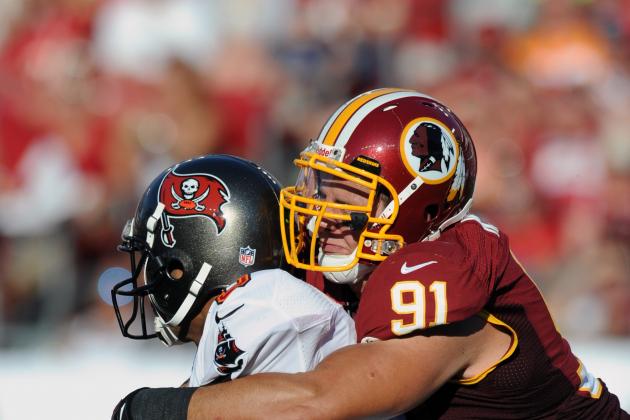 Al Messerschmidt/Getty Images
He's played every single snap in the last two years, and Ryan Kerrigan should be even better in 2013.
Ryan Kerrigan isn't a Pro Bowler yet, but he very well could be soon—and his value to the Redskins is undeniable.
In a year when defensive players were dropping left and right, Kerrigan continued his impressive streak of never missing a snap for the entire season.
The most important service a player can provide his team is availability and Kerrigan fulfills that quality perfectly. It helps that he's a superb player as well, and if Brian Orakpo is healthy for the entire year, the sky is the limit for the former Purdue Boilermaker. Despite Orakpo's absence, he still posted 8.5 sacks, a full sack better than his rookie season.
Kerrigan could be in for a career year, and the duo at outside linebacker could be something opponents fear for years to come.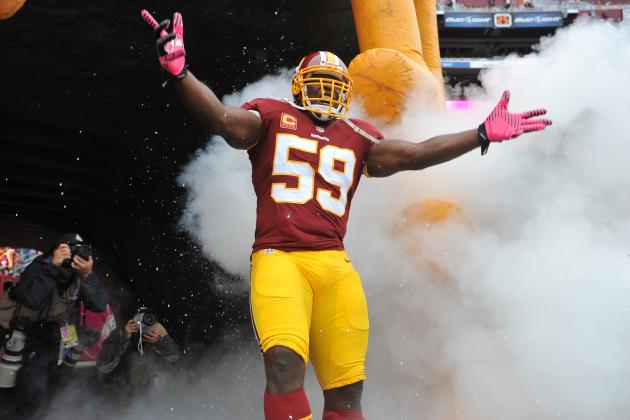 Larry French/Getty Images
He's back. London Fletcher announced in early March that he'd return for his 16th season, and saved the Redskins from scrambling to find a replacement in a cap strapped year.
London Fletcher will be back for another season in Washington, much to the relief of the front office and the fan base. Fletcher may not be as spry or athletic as he once was, but he is still a vital piece of a defense that will probably struggle again in 2013.
Fletcher has racked up 844 tackles in his six years in Washington, and stands to leave the legacy as one of the best free agent signings (or one of the best defensive players, period) in franchise history. He'll make mistakes and he's no longer an elite player, but he still managed to nab a career-high five interceptions last season and should get at least 130 tackles with relative ease.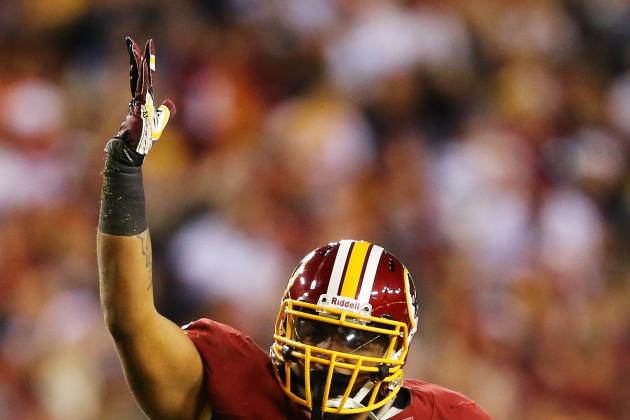 Al Bello/Getty Images
He's not spectacular, but Perry Riley is a solid player who is improving with every season.
Perry Riley finally broke through in 2012.
No one will mistake him for Ray Lewis, but the fourth-year linebacker had a very productive year. He set career highs in tackles (129) and sacks (3.5) and showed that he could be the middle linebacker of the future in Washington.
He is also arguably the best linebacker the Redskins have when it comes to defending the pass. That doesn't mean he's great at it—but it means he has a special value to the team. Ryan Kerrigan, London Fletcher and Brian Orakpo are all looked at as either sack producers or tackling machines.
It's up to Riley to show that he can be the leader of the unit and take the next step in a career that looks pretty bright.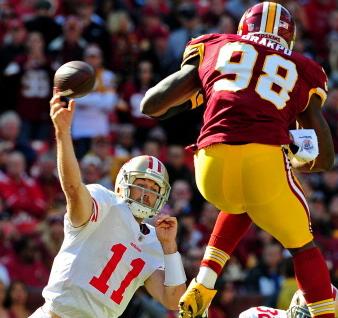 Scott Cunningham/Getty Images
Brian Orakpo should be healthy enough to start the season, and the Redskins will be looking for him to regain the dominant form he showed during his first few years in the league.
Brian Orakpo suffered a season-ending injury in Week 2 and never got to improve on his numbers from 2011. The Redskins caught a break though: Rob Jackson stepped in and played at a very high level in Orakpo's stead.
Orakpo should remain the starter, but Jackson is right behind him and provides critical depth.
Orakpo's pass rushing skills are what make him arguably the best player on the Redskins' defense, and 2013 will be critical in deciding his future with the team. He'll be a free agent at the end of the year and whether or not he stays in Washington completely depends on how he performs. It also depends on if he can stay healthy, which is not a guarantee.
The Redskins must hope Orakpo can regain his dominant form and play well in a contract year. The success of the defense might rest on his shoulders.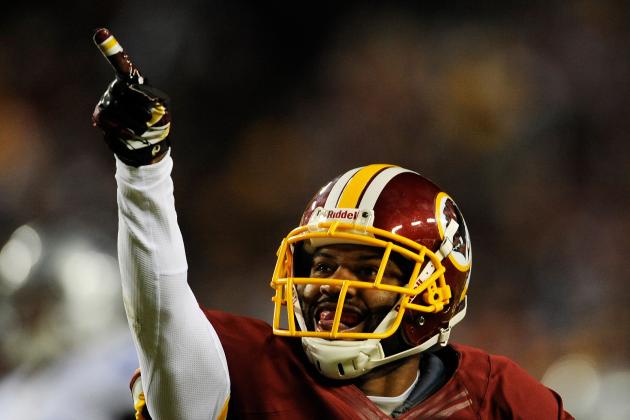 Patrick McDermott/Getty Images
Josh Wilson was something of a disappointment in 2012, but he has a chance to redeem himself this year after the departure of DeAngelo Hall.
The Redskins' secondary was worse than awful last year. Josh Wilson may be a likable guy, but there's no denying he had a role in the terrible performance of the pass defense.
Nobody had a good year, but Wilson's might have been the most disappointing.
He's a genuinely good player who puts up solid numbers every year, but he couldn't find his groove in 2012. Much of that is due to the turmoil at the safety position, as well as the continued struggles of DeAngelo Hall, but Wilson still has much to prove.
Wilson will be the team's top defensive back when the season opens next year, and that's not a good thing. He's a solid player, but it remains to be seen whether or not he can step up and shutdown the opposition's best receiver on a weekly basis.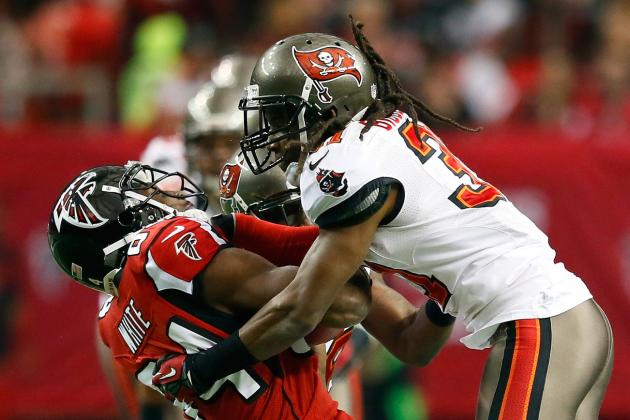 Kevin C. Cox/Getty Images
E.J. Biggers (right) is the Redskins' newest free agent addition and will likely hold down the second cornerback spot until a better option becomes available.
The Redskins signed E.J. Biggers on March 20, a move that was absolutely necessary given the condition of the cornerback position in Washington. Richard Crawford would have been the second cornerback if Biggers had not arrived, something nobody wants.
Biggers isn't elite by any means but he'll get the job done as a serviceable corner.
He started 12 games for Tampa Bay in 2012 and grabbed one interception along with 51 tackles. He won't set the world on fire but, again, that's not the point. The reason he's in burgundy and gold is to give the team a legitimate player in that run-down secondary.
Now, all Redskins fans can do is hope and pray that Biggers will at least be half-decent.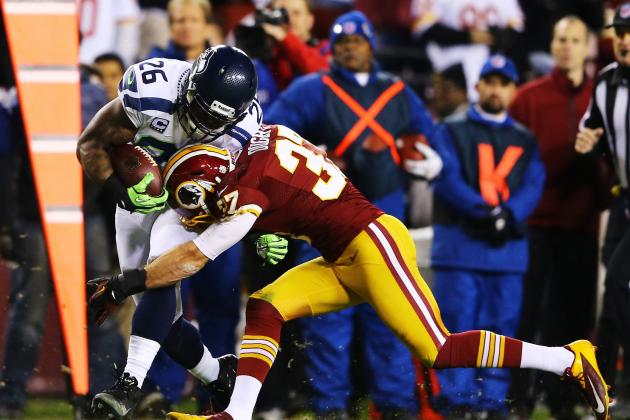 Al Bello/Getty Images
Reed Doughty is probably more suited for a backup role, but the depth and talent at safety will force him into the starting lineup.
There's nothing wrong with Reed Doughty per se—he's just not a guy who should be starting 16 games. Yet, there's a chance he could do just that in 2013, as the safety position is in just as much turmoil as the cornerback position.
Doughty makes his fair share of mistakes, but for the most part he does his job.
The problem is that the Redskins shouldn't be depending on players like him in the long run. The injuries, lack of depth, lack of talent, suspensions (here's looking at you, Tanard Jackson), and overall terrible play (and you, Madieu Williams) have forced Washington's hand.
The Redskins will have to do a lot at the other 20 positions on the field to make up for the inevitable mediocrity of this secondary.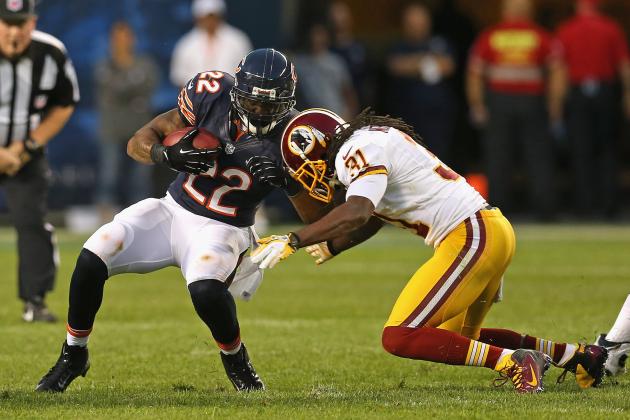 Jonathan Daniel/Getty Images
Brandon Meriweather played sparingly in 2012 because of various knee injuries, but he was decent when available and could be a big bounce back player in 2013.
Brandon Meriweather at least provides some hope for the secondary. He had an assortment of ailments that prevented him from playing much in 2012. This came to be a huge detriment because there has probably never been a year where his services were more coveted.
The good thing is, Meriweather has a track record of being a decent safety. He can cover and he plays the ball well, and he tries his best to limit his mistakes.
As is the case with all of the secondary positions in Washington, he's no sure thing—but he may be the most talented player in a pool of very, very mediocre ones. Meriweather's play in 2013 could determine whether or not the Redskins make the jump from good team to great one.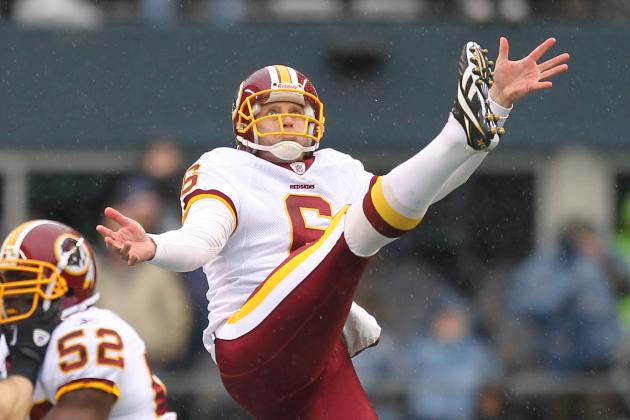 Otto Greule Jr/Getty Images
Sav Rocca signed a new contract with Washington and will resume punting for the Redskins in 2013.
Sav Rocca signed a new contract at the start of free agency and will stay in Washington for another two years. Rocca has been a solid addition and averaged just under 44 yards per punt in 2012.
The primary concern with Rocca is that he's 39 and coming off meniscus surgery.
As long as he limits his mistakes, he should be a solid player who can do his job and prevent some unnecessary headaches for the front office. That being said, the Redskins should be ready in case he goes down with an untimely injury.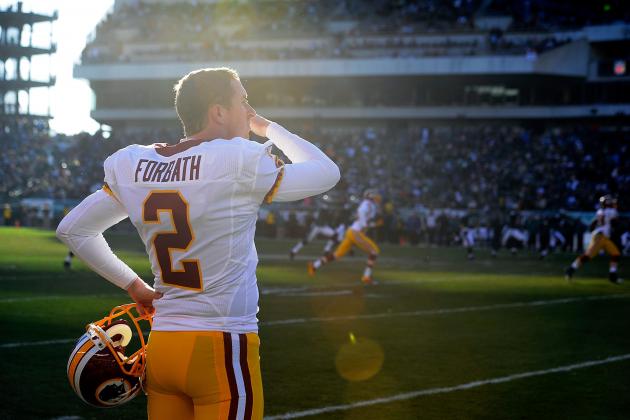 Patrick McDermott/Getty Images
Kai Forbath earned the kicking job with a historic start to his career, and will look to continue knocking it through the uprights next season.
Jeff Chandler. Ola Kimrin. Nick Novak. Shaun Suisham. Graham Gano. Billy Cundiff. The list of failed Redskins kickers goes on and on.
That's why the arrival of Kai Forbath was the Redskins' version of the second coming.
Aside from maybe quarterback, no position in Washington over the last decade has experienced as much tumult as kicker. The Redskins have used 19 kickers since 1994, a mind boggling number that leads the league by a half dozen.
But lo and behold, Kai Forbath entered the league in 2012 and immediately solved everything. Forbath set an NFL record by connecting on the first 17 field goals of his career and seems to have finally solved the Redskins' kicking problem.
Nothing is guaranteed, of course—but Redskins fans can take solace in knowing that there won't be a competition between mediocre kickers come training camp this year.