Top Players to Watch on Day 4 of NCAA Tournament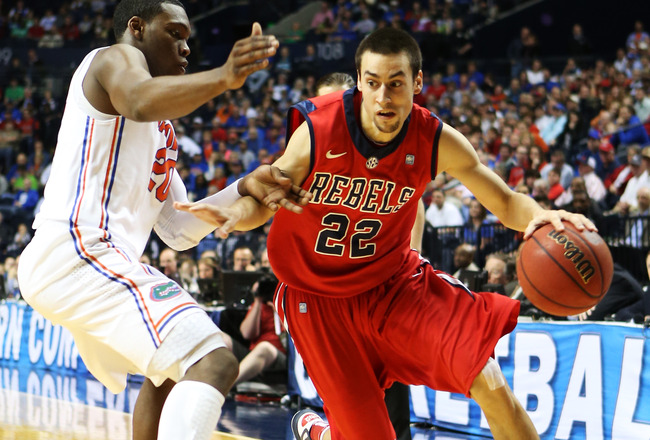 Andy Lyons/Getty Images
We eased ourselves into the NCAA tournament with the First Four, then dove headfirst into Thursday's banquet of basketball bounty. Hopefully, you saved room for a second course, because 16 more games await on Friday.
The games that will finish whittling the field to 32 feature compelling players of all stripes, from guys who may be gone after one season of action to old men who've seemingly been on campus since the institution of the three-point line.
There are national player of the year candidates, guys who have built great careers at a single school and others who have hopped around wearing various jerseys.
These 12 players, presented alphabetically, should be worth your time to tune in for, even if you have to go scan your channel guide to figure out exactly where truTV is.
Ryan Arcidiacono, Villanova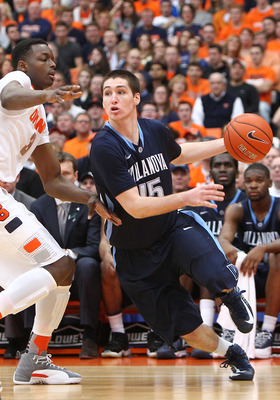 Nate Shron/Getty Images
Best Asset: The freshman point guard has tremendous open-court speed, which can occasionally become as much of a curse as a blessing. He's just as likely to careen his way into a turnover as make a brilliant shot or pass. Either way, he'll be entertaining.
Top Showing: On January 2, Arcidiacono made his Big East debut in style. He dropped seven three-pointers and 11 free throws on St. John's, accounting for 32 points in a 98-86 Wildcat win.
Pro Potential: Arcidiacono knows nothing of shot selection, as 70 percent of his attempts are threes. Scouts still love his size (6'3", 195) and speed, but he'll need to play a calmer, steadier game to draw more approving looks. He had 11 games this season of four or more turnovers.
When to Watch: 7:20 p.m. ET on TNT, Villanova vs. North Carolina
One More Thing: Arcidiacono has a tremendous sporting lineage, as illustrated in this NJ.com piece. His sister, father, two uncles and six cousins are either past, present or future college athletes.
Seth Curry, Duke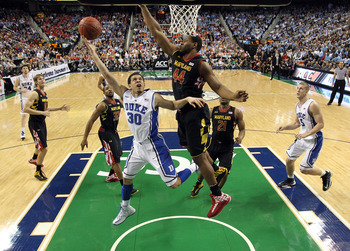 Streeter Lecka/Getty Images
Best Asset: The senior guard's jump shot is one of the deadliest in all of college basketball. Curry is making 43 percent from beyond the arc, and he can get it off the dribble just as well as spotting up. Admire his toughness as well, as he plays more than 31 minutes a game despite a lingering shin injury that has hampered his ability to practice.
Top Showing: Curry threw in 15 points in the final 13 minutes to help Duke pull away from Santa Clara at Cameron Indoor Stadium on December 29. The Broncos only trailed by three with 13 minutes to go, but lost by 13. Curry finished with 31 points on 12-of-18 shooting.
Pro Potential: Curry is considered a prime prospect for a career overseas. More comfortable working off the ball offensively and lacking great defensive quickness to stay in front of NBA point guards, the 6'2" Curry would struggle to find a role as a designated bench shooter in the Association.
When to Watch: 12:15 p.m. ET on CBS, Duke vs. Albany
One More Thing: Curry, who began his college career at Liberty, is only the third Division I transfer that Blue Devils coach Mike Krzyzewski has accepted during his 33 years in Durham. The others were Roshown McLeod, who came from St. John's, and Dahntay Jones from Rutgers.
P.J. Hairston, North Carolina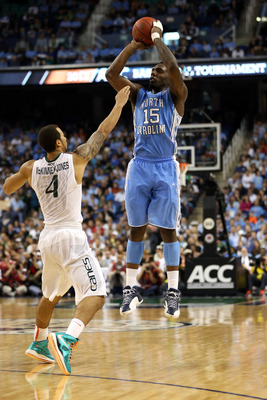 Streeter Lecka/Getty Images
Best Asset: Hairston's shooting range extends halfway out to the parking lot, which is helpful for a guy who takes 61 percent of his shots from outside the arc. He's had 13 games this season of three or more triples.
Top Showing: In his first two games as a starter, Hairston put up a combined 52 points and 15 rebounds in a loss to Duke and a win over Virginia. He drilled six three-point shots against the Cavaliers.
Pro Potential: Measuring 6'5" and weighing 220 pounds, NBA scouts love Hairston's size for the shooting guard position. He's currently rated as a high second-round pick in 2014, but could move into the lottery if he improves his ball-handling and mid-range game.
When to Watch: 7:20 p.m. ET on TNT, North Carolina vs. Villanova
One More Thing: Hairston grew up dreaming of playing for Duke, but struck the Blue Devils from his list when recruiting letters arrived addressed to one T.J. Harrison. Considering the spelling difficulties inherent when your coach is named Krzyzewski, one would expect the Duke staff to be more conscious of names.
Marshall Henderson, Ole Miss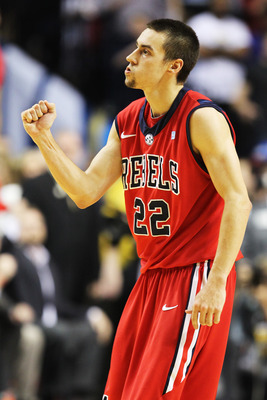 Andy Lyons/Getty Images
Best Asset: He'll shoot from anywhere and make many of them, but the reason to watch Henderson is his confidence and attitude. He'll either entertain or annoy you, but blink and you could miss something. His trolling of Auburn fans earlier this season and giving the Gator chomp to the Florida fans at the SEC championship game are already legendary.
Top Showing: Ole Miss could only manage 18 points in the first half against Tennessee, but Henderson cranked in 24 by himself in the second, leading the Rebels to a six-point win. After missing all four of his long shots in the first half, Henderson drained 6-of-11 in the second, showing his ability to get very hot very quickly.
Pro Potential: Pro scouts are torn on Henderson's shooting, enjoying the fact that he's absolutely fearless, but leery of the wild shot selections that ensue. At 6'2" and 175, he's greatly undersized for a two-guard position, shows little inclination to be a distributor and has had what we might call a checkered career.
When to Watch: 12:40 p.m. ET on truTV, Ole Miss vs. Wisconsin
One More Thing: Seriously, go follow Henderson on Twitter @NativeFlash22. He dispenses wisdom on how he insulates himself from DUI's, gives free shout-outs to his favorite beverages and retweets any mentions from hot women.
Language is often offensive, especially from the "haters," and his background prominently features those Auburn fans giving him the finger, so proceed at your own risk.
Lamont 'MoMo' Jones, Iona
Gregory Shamus/Getty Images
Best Asset: While Jones isn't the biggest player on the court, he has no reservations about attacking the rim and taking contact. He led the nation with 219 made free throws this season, hitting nearly 89 percent of his attempts.
Top Showing: Jones has been held below 15 points five times this season, so he has a lot of good games to pick from. His 35-point night against Loyola (Md.) on March 1 was one of his most efficient, as he hit 11-of-15 from the floor and 9-of-11 from the line.
Pro Potential: Like many great college scorers, the 6'0" Jones is considered undersized for a big scoring role in professional ball. He's 22 years of age, which is considered old for a potential NBA draft pick. Unlike players such as Curry and Henderson, he has point guard experience from Arizona's 2011 Elite Eight run, and that will help him get NBA looks.
When to Watch: 7:15 p.m. ET on CBS, Iona vs. Ohio State
One More Thing: It's an odd thing to think about a guy who now takes nearly 17 shots per game, but Jones wasn't keen on shooting at Arizona, as he told New York Newsday. At one point last season, he was even benched by Iona coach Tim Cluess for the same reason. Message obviously received.
Trevor Mbakwe, Minnesota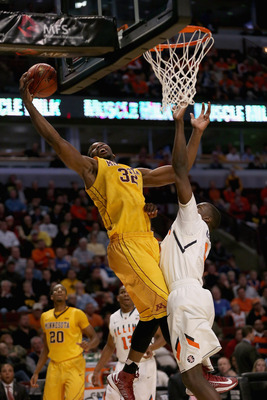 Jonathan Daniel/Getty Images
Best Asset: Mbakwe will dominate the glass if not blocked out fiercely. He led the Big Ten at 8.7 rebounds per game, ranking in the top 20 nationally in offensive rebounding percentage and top 40 on the defensive end. He carded 10 double-doubles and ranked third in the Big Ten in field-goal percentage, so let him get inside and he will make you pay.
Top Showing: In a game that was essential to Minnesota's tournament hopes, Mbakwe put up 21 points and 12 rebounds in a 77-73 victory over Indiana. His physical domination of Cody Zeller was a key to the Gophers' success. Without it, Minnesota may be in the NIT right now.
Pro Potential: Scouts love Mbakwe's relentless drive, toughness on the boards and his 7'4" wingspan. They don't love looking at his birth certificate, which shows him as one of the few players in college basketball who were alive at any point in the 1980s.
At 6'8", he's also considered slightly short for an NBA 4 man, but he'll get a look somewhere. A strong tourney run could push him into the late first round.
When to Watch: 9:57 p.m. ET on truTV, Minnesota vs. UCLA
One More Thing: Mbakwe started his college career at Marquette way back in the dark ages of 2007. He was recruited there by an energetic young coach named Tom Crean, who's now at Indiana. It's a small world, after all.
Doug McDermott, Creighton
Eric Francis/Getty Images
Best Asset: It's often hyperbole to say a player can "score from anywhere," but McDermott literally can. According to Hoop-Math.com, McDermott makes 75 percent of his shots at the rim and 50 percent of his threes. That three-point success actually ranks him second in America. McDermott usually plays a stretch 4 role for the Bluejays, so Cincinnati's bigs will have their hands full following him around.
Top Showing: McDermott almost single-handedly avenged Creighton's earlier loss to Wichita State when he scored 41 against the Shockers on March 2. He made 15-of-18 from the floor, including making all 10 of his shots inside the arc. The victory wrapped up the Missouri Valley regular season title for the Bluejays.
Pro Potential: Scouts are anxiously watching McDermott's matchup with Cincinnati to see if he can score as effectively on an elite Big East defense as he did on the Missouri Valley. He's a man without an NBA position, considered too short and skinny for power forward and not quick enough for small forward or shooting guard.
When to Watch: 2:45 p.m. ET on CBS, Creighton vs. Cincinnati
One More Thing: McDermott is the first non-BCS conference player to earn back-to-back All-American honors from the United States Basketball Writers Association since UNLV's Larry Johnson in 1990 and 1991. No Creighton player has earned multiple All-America honors overall since Paul Silas, whose career ran from 1961-64.
Romero Osby, Oklahoma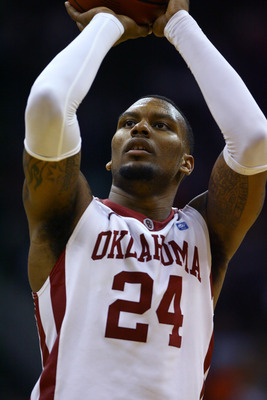 Ed Zurga/Getty Images
Best Asset: The 6'8", 232-pound senior forward can get his points from nearly anywhere. He shot nearly 70 percent at the rim, drained 43 percent of his mid-range jumpers and shot almost 80 percent from the foul line.
Top Showing: Osby hammered Texas for 29 points, eight rebounds and three steals in a big conference win on January 21. He drained nine of 15 shots from the floor and a sterling 10 of 11 from the line.
Pro Potential: He'll certainly need invites to—and strong showings at—pre-draft showcases like the Portsmouth Invitational Tournament to get scouts' attention. He's a 6'8" power forward who's a solid, not elite, athlete.
When to Watch: 9:20 p.m. ET on TBS, Oklahoma vs. San Diego State
One More Thing: Osby recorded 18 points and nine rebounds in OU's Big 12 tournament loss to Iowa State, but contributed next to nothing over the final 10 minutes. He told the Tulsa World that the loss and his late struggles made his three-year-old daughter very cranky on the ride home.
Brandon Paul, Illinois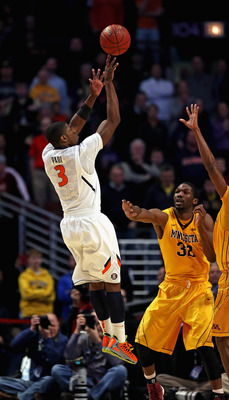 Jonathan Daniel/Getty Images
Best Asset: Paul's shot is wildly inconsistent, but when it's going in, he's one of the most unstoppable scorers in the country. He's never shot better than this season's 40.5 percent from the floor, but he had 11 games of 20-plus points in 2012-13. His long arms make his shot hard to block and also surprisingly effective on the boards (4.4 RPG).
Top Showing: The Illini dealt Gonzaga its only home loss of the season, and Paul was the primary reason. His 18 first-half points pulled the Illini into a halftime tie, then he dropped 13 more in the final seven minutes to ice the victory. In total, Paul scored 35 on 10-of-16 shooting, by far his most efficient game of the year.
Pro Potential: Paul's frame, long arms and athletic ability will likely get him some looks, but his handle and shot selection will make him a project for the coach who drafts him. For a player who entered college drawing comparisons to Dwyane Wade, four years of college ball have not painted a flattering picture.
When to Watch: 4:40 p.m. on TNT, Illinois vs. Colorado
One More Thing: Paul's parents Cliff, and Lynda, will almost certainly be at all of his NCAA tournament games. The Pauls have put more than 240,000 miles on their Nissan Maxima since buying it new in 2007. They were in Chicago to watch Brandon's Big Ten tournament buzzer-beater against Minnesota, then made the trip to Cleveland to watch youngest son Darius play for Western Michigan in the MAC tournament.
Otto Porter, Georgetown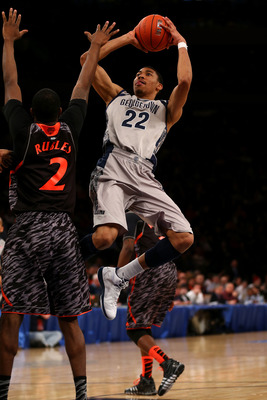 Elsa/Getty Images
Best Asset: Where do we start? Porter doesn't appear to have a ton of holes in his game, as I wrote in ranking him the nation's top small forward all the way back in May. Perhaps his most important skill is his elite on-ball defensive ability. In the Hoyas' second meeting with Syracuse, he helped hold Orange gunner James Southerland to only one point.
Top Showing: Porter was stuffing box scores early in the season, including a great all-around game against UCLA in the Legends Classic in Brooklyn. In the second half of the season, though, after second-leading scorer Greg Whittington was suspended for academic difficulties, Porter took over more scoring duties. He peaked with a dominant 33-point effort against Syracuse on February 23.
Pro Potential: Porter is a likely top-five and definite top-10 pick if he comes out this season. ESPN draft analyst Chad Ford wrote in his Insider analysis of Porter that he sees "a potential Scottie Pippen-esque player."
When to Watch: 6:50 p.m. ET on TBS, Georgetown vs. Florida Gulf Coast
One More Thing: Porter's family is a hoops dynasty at his alma mater, Scott County Central in Sikeston, Mo. A Sports Illustrated profile of Porter mentions that his father and uncles helped hang nine state championship banners in a 13-year span, with Porter's mother adding three girls' titles from 1982-85.
Andre Roberson, Colorado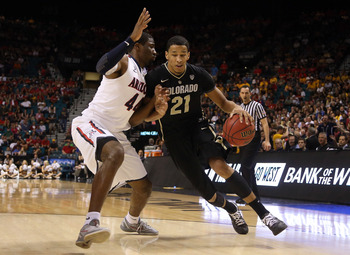 Jeff Gross/Getty Images
Best Asset: There aren't a ton of guys in college basketball with better hops and overall athletic ability than Roberson. That ability helped him to rank top 10 in the Pac-12 in both steals and blocks while also coming in second nationally at 11.3 rebounds per game.
Top Showing: If Roberson could have played Stanford every night, he'd have been an All-American. He recorded 36 points and 28 rebounds in Colorado's two meetings with the Cardinal.
Pro Potential: At 6'7", Roberson would have to rebound and defend at a Rodman-esque level to sustain a lengthy NBA career. That's not an impossibility given his abilities, but will anyone give him the opportunity? He has little in the way of ball-handling skills and his scoring is largely limited to the interior.
When to Watch: 4:40 p.m. ET on TNT, Colorado vs. Illinois
One More Thing: Andre and his younger sister Arielle are one of five brother-sister combinations playing for the same school in this year's NCAA tournaments. Arielle is a redshirt freshman for the Lady Buffs.
Khalif Wyatt, Temple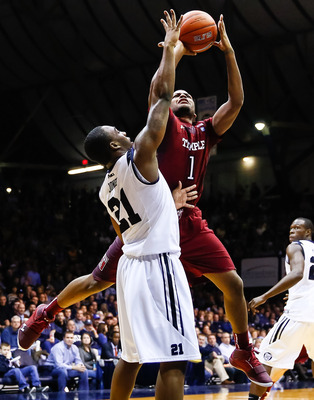 Michael Hickey/Getty Images
Best Asset: The 6'4" senior guard won't dazzle with elite athletic plays, but he's a smart scorer who's willing to take as much contact as the defense wants to dish out. One of the nation's 20 most prolific foul shooters, Wyatt hits 83 percent of those attempts.
Top Showing: Wyatt scored 20 of his 33 points in the first half to keep Temple in the game against Syracuse at Madison Square Garden on December 22. He added six free throws in the final minute to ice the victory over an Orange team that was, until then, unbeaten and ranked fourth in the nation.
Pro Potential: Wyatt will likely need to make a roster as a street free agent. He's struggled with his shot compared to past seasons and is considered small for a pro shooting guard. A decent passer and defender, he could help his cause by displaying point guard skills in his pre-draft camps.
When to Watch: 1:40 p.m. ET on TBS, Temple vs. NC State
One More Thing: Wyatt is the sixth player in Owls history to lead the Atlantic 10 in scoring, joining Dionte Christmas (2006-07, 07-08, 08-09), David Hawkins (2003-04), Aaron McKie (1992-93), Mark Macon (1990-91) and Terence Stansbury (1982-83).
For more from Scott on college basketball, check out The Back Iron.
Keep Reading