Are Experts Misjudging UCLA's 2013 NCAA Tournament Chances?
Use your ← → (arrow) keys to browse more stories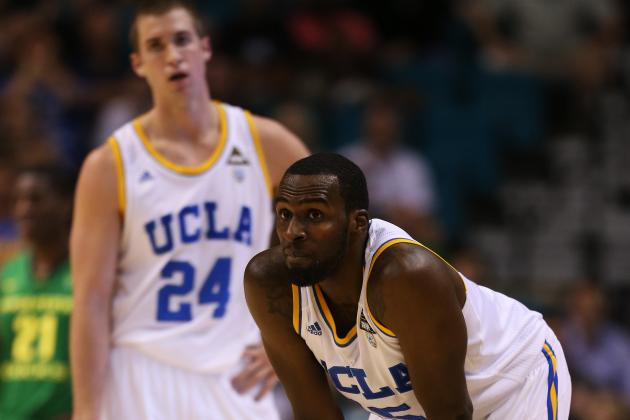 Jeff Gross/Getty Images

Selection Sunday fell on St. Patrick's Day this year, but it wasn't a day of celebratory Irish jigs for UCLA.
The selection committee bestowed a weed, not a four-leaf clover upon the Bruins when it slotted them against the Big Ten's Minnesota in the round of 64.
That wasn't the only rotten batch of cabbage served to the team on Sunday.
The No. 6-seeded Bruins were also sent to the South bracket, while the team they defeated thrice this season, Arizona—which is still being tagged as the best in the Pac-12—was gifted with a berth in the West bracket.
Although UCLA (25-9, 13-5) is a higher numerical seed than No. 11 Minnesota (20-12, 8-10), it was immediately expected to fall to the Golden Gophers and was even labeled as the team most likely to be upset in the first round.
Minnesota may have finished the season on a three-game skid, including a first-round loss in the Big Ten Tournament, but it's nevertheless a three-point favorite to beat the Pac-12 regular-season champion Bruins.
Vegas oddsmakers give UCLA the same likelihood of winning the big tourney (100-to-1) as No. 12 seed Oregon and also believe fellow No. 6 seed and Pac-12 foe Arizona is twice as likely (50-to-1) to win it all this year.
Are these harsh predictions warranted?
College basketball experts (see: ESPN, Yahoo! Sports, SI.com, CBSSports.com) believe the absence of Jordan Adams will be the basis for UCLA's early departure from the Big Dance.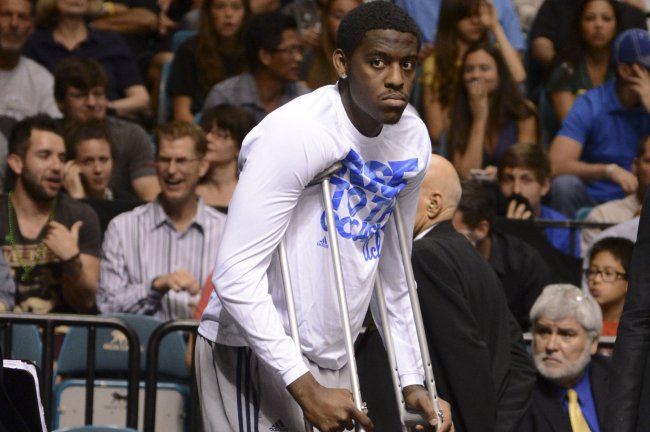 Kyle Terada-USA TODAY Sports
"UCLA's a terrific basketball team, but without Jordan Adams [it can't win]. He was one of their best players," said ESPN analyst and former Tennessee head coach Bruce Pearl.
Although Adams' absence has been mentioned by all college basketball gurus favoring UCLA to bow out ungracefully in the round of 64, it's not the main reason that Minnesota is favored over the Bruins.
The Big Ten was the best conference in college basketball this season, and the Pac-12, although improved from last season, pales in comparison—especially in regard to physicality.
"Ben Howland did a great job with this young basketball team [but] Minnesota's been underachieving," Pearl added. "Tubby Smith knows he's got a very talented and athletic team. …Trevor Mbakwe could have a huge day. ...I don't know that UCLA can keep them off the boards."
Rebounding—that's the true reason this team is expected to be upset in its first NCAA Tournament game.
It has been a deficiency for the Bruins all season long, and one that sharpshooting freshman guard Jordan Adams couldn't control if he were on the court.
His team-high 18 points in a late-season loss to Washington State weren't enough to defeat the Cougars, who out-rebounded UCLA 43-20, nearly corralling as many offensive rebounds (18) as the Bruins' did on both ends of the court.
It's UCLA's weak interior presence, led by finesse forwards David and Travis Wear, that has this team expected to fall in the first round to a Big Ten team that demolished then-No. 1 Indiana 38-25 on the boards while defeating the Hoosiers in Minneapolis.
USA TODAY Sports
The experts may be downright disrespecting the Pac-12, which is often labeled as a soft conference, but there is unfortunately plenty of validity to their assessments.
Although Minnesota finished the season on a skid, it nevertheless is well-equipped for the Big Dance after squaring off against the nation's elite teams.
The same can't be said for UCLA.
Due to the relative weakness of the Pac-12, the Bruins only played a few teams with a formidable inside presence, and faltered when they did. In losses to Arizona State and Oregon, UCLA's interior presence crumbled in comparison to the opposition.
While the Bruins boast three wins over top 20-ranked Arizona, those wins unfortunately don't carry much weight heading into March Madness, as Arizona had one of the weakest interior defenses in the Pac-12 this season.
"The Gophers have been up-and-down all season but are an outstanding offensive rebounding team," ESPN's Jay Bilas writes. "UCLA won the Pac-12, but lost key contributor Jordan Adams for the season. Because of Minnesota's work on the backboards, Minnesota will move on."
It would be an apropos ending to a season that has been sparkled with greatness but still has a sense of underachievement.
Will UCLA beat Minnesota and make it to the Round of 32?
For every step UCLA has taken forward this season, it has taken an equal step back and betrayed the same doubts it seemed to have shaken. Every time the Bruins defeated Arizona, they followed it up with a loss.
The Bruins' lingering inconsistency is now coupled with the absence of Adams, which is a disheartening thought. Facing the most physical team they've seen this season, the experts' opinions are the preface to this team's obituary.
Although Bruins' fans would like to hope that Shabazz Muhammad can help the team overcome its deficiencies, Minnesota will overpower the Wear twins on the glass.
The experts are correct: UCLA will be leaving the Big Dance early this year.