LA Lakers vs. Phoenix Suns: Live Score, Results and Game Highlights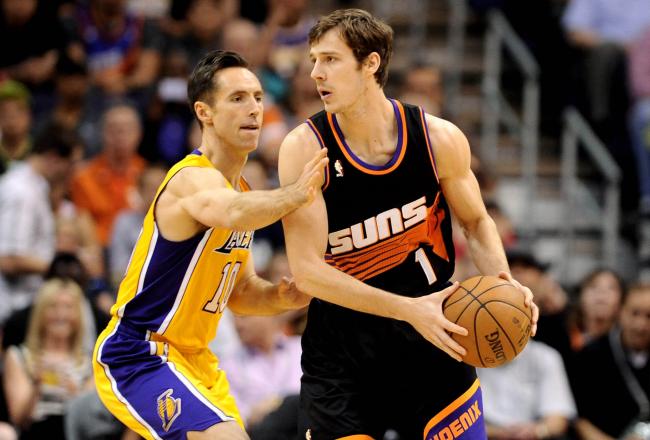 Jennifer Stewart-USA TODAY Sports
Game Recap
The Los Angeles Lakers had an opportunity to tie the Houston Rockets for seventh in the West with a win against the Phoenix Suns. Unfortunately, it was the Suns that came out with energy, and played like their playoff berth was on the line, winning 99-76.
Although the Phoenix defense has been one of the worst in the league all season long, it was able to hold the Lakers to 33 percent shooting from the floor and 5-of-22 from deep. Phoenix also forced 18 Laker turnovers and out-rebounded Los Angeles 55-45.
Six Suns scored in double-digits, but it was Gordan Dragic and Luis Scola who killed the Lakers. Dragic finished with 12 points and 10 assists and was able to have his way with every Laker defender that attempted to guard him. Scola sealed the game for Phoenix by scoring all 14 of his points in the fourth quarter.
Lindsey Hunter's decision to insert Scola into the lineup in the fourth was a smart one. Scola dragged Dwight Howard out of the paint on defense and was able to knock down multiple jumpers to put the game out of reach.
Steve Nash paced the Lakers with 19 points, but the offense was stagnant all night. Los Angeles scored a pitiful 10 points in the fourth quarter and was unable to limit anything Phoenix wanted to do on offense.
Despite a weak Phoenix front line, Howard shot a miserable 6-of-18 from the floor and scored 16 points. Howard should have been able to dominate the Suns bigs, but he looked tired most of the contest and was consistently frustrated by veterans Jermaine O'Neal and Luis Scola.
Final score: Suns 99, Lakers 76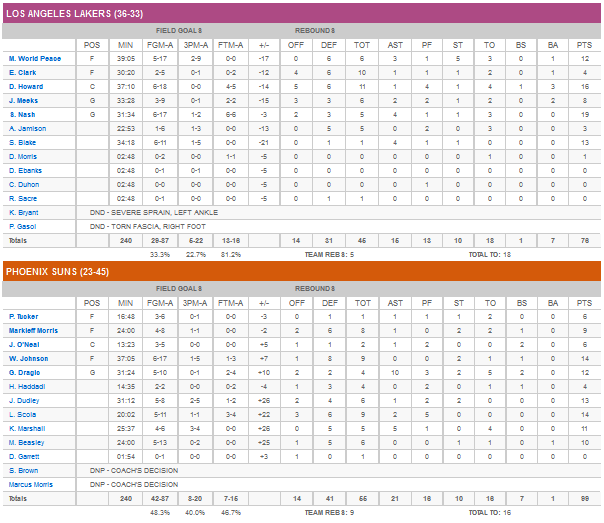 Final boxscore
FInal: Suns 99, LAL 76. LAL end the 4th Q as poorly as they started it, being outscored 28-10 in the period. Season low in points.

— Mike Trudell (@LakersReporter) March 19, 2013
An absolutely abysmal loss for the Lakers, as they now fall a full game behind Houston. They now have three days off. Expect Kobe to suit up this week.
Lakers 76, Suns 99 - FINAL
Phoenix, one of the worst defenses in the league, has shutdown the Lakers' defense all night long. While the Lakers are surely tired, there was a lack of effort from everyone tonight.
Lakers 76, Suns 99 - :26 REMAINING 4TH QUARTER
Mike D'Antoni clears his bench and waives the white flag. Great game by the Suns bench, which has scored 21 of the 22 points this quarter.
Lakers turn it over for a Dragic dunk. Game over.
Lakers 75, Suns 95 - 1:57 REMAINING 4TH QUARTER
Scola hasn't played more than 14 min. in last 3 games, had scored in double figures once in March. He has 13 in the 4th Q w/2 FT's coming.

— Mike Trudell (@LakersReporter) March 19, 2013
The Suns are on a 21-9 run in the 4th quarter.
Lindsay Hunter has barely played Scola or Beasley in the last several games, looking at young guys, but brought 'em out for the Lakers.

— Mike Trudell (@LakersReporter) March 19, 2013
Unbelievable effort from the Suns on the last possession. Bad pass from Dragic into the corner to Dudley. Dudley caught it with one hand and threw it back to half court. Dragic tracked it down and saved it from a violation with a one handed pass to Scola who connects on a buzzer beating three.
Story of the night.
Lakers 75, Suns 92 - 2:48 REMAINING 4TH QUARTER
This is LAL's 6th game in 9 days, as @stevenash pointed out to me pregame. They've certainly played like it, collective dead leg.

— Mike Trudell (@LakersReporter) March 19, 2013
Lead at 16 after another bucket apiece from Scola & Beasley. Scola didn't score in the 1st 3 Q's, is 4 of 5 in 4th. Beasley 3 for 6.

— Mike Trudell (@LakersReporter) March 19, 2013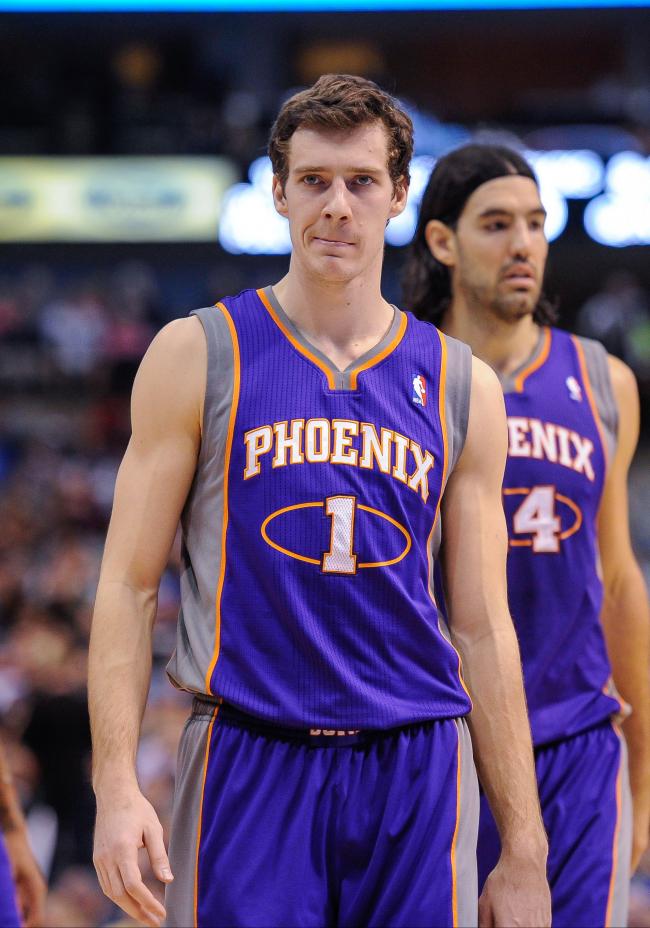 Scola and Beasley with back-to-back jumpers. The Lakers are falling apart and are now in danger of being blown out as Dragic heads to the line for two.
Lakers 70, Suns 86 - 5:17 REMAINING 4TH QUARTER
Scola is bringing Howard out to 18 feet on offense (has hit 2 jumpers), & aggressively fronting Dwight on the other end. Working so far.

— Mike Trudell (@LakersReporter) March 19, 2013
Scola hits another jumper. The Suns have some how been able to stay even in the rebounding department with the Lakers and grab a loose-ball that leads for a Michael Beasley dunk.
Lakers 70, Suns 82 - 6:33 REMAINING 4TH QUARTER
Scola connects again. Dwight is going to have the come out of the pain to contest Scola. A lot of match up problems for the Lakers right now.
Lakers 70, Suns 78 - 7:22 REMAINING 4TH QUARTER
LAL now 4 for 17 from 3 after a miss from Blake. Steve is 1 for 5, after hitting 11 of his last 18 in 3 prior games.

— Mike Trudell (@LakersReporter) March 19, 2013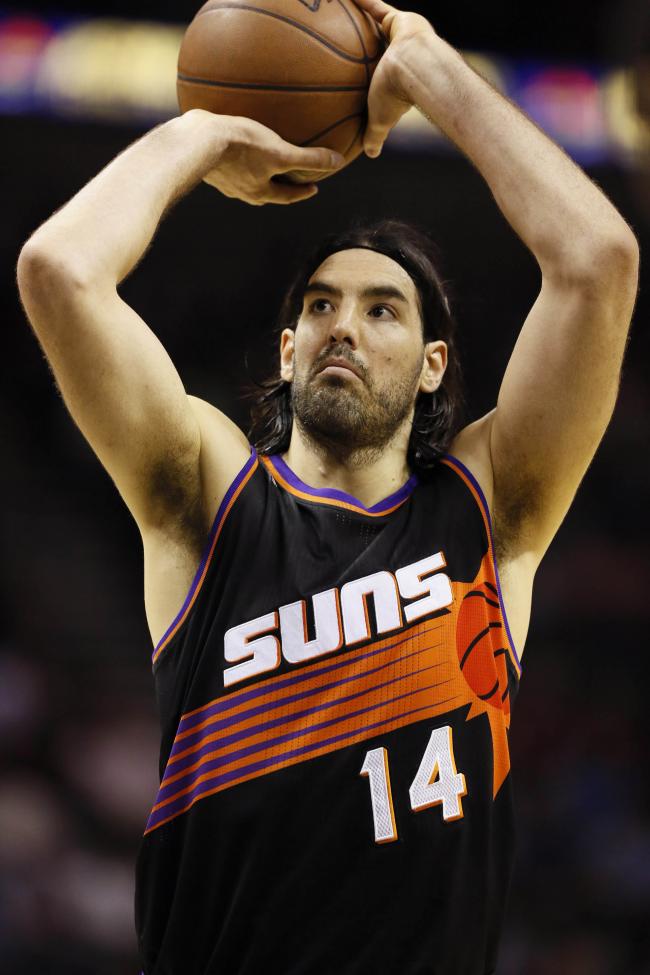 Lindsey Hunter is riding Luis Scola on Dwight. He has done a good job of frustrating him tonight on both ends of the floor. Phoenix looks energized. D'Antoni will not be able to sit Steve Nash much longer, as the Suns go on another run to start a quarter.
Lakers 66, Suns 76 - 9:15 REMAINING 4TH QUARTER
L.A. trails 71-66 heading into the 4th. Meanwhile, Utah and the Knicks are tied 42-42.

— Dave McMenamin (@mcten) March 19, 2013
Los Angeles is going to have to play the 4th quarter with some energy and passion if they want to win this game. Phoenix is still shooting 50 percent, while the Lakers are only at 37 percent.
Lakers 66, Suns 71 - END OF 3RD QUARTER
Blake and Jamison hit back-to-back threes and force the Suns to call a timeout.
Lakers 66, Suns 71 - :44 REMAINING 3RD QUARTER
Antawn Jamison's last 2 games:22.0 ppg, 8.0 rpg, 58.3% FG's, 60% 3-PT FG's. Tonight, he's 0 for 2 in 13 minutes thus far. LAL down 9.

— Mike Trudell (@LakersReporter) March 19, 2013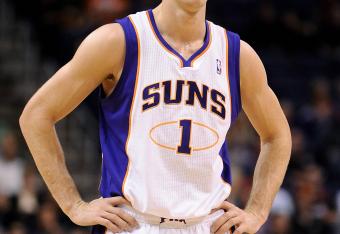 Dragic with another Nash-like pass and puts the Suns up double-digits. The Lakers look tired and flat out bad on defense tonight.
Dwight checks out for Earl Clark.
Lakers 60, Suns 71 - 2:33 REMAINING 3RD QUARTER
Dragic with a GREAT 20-foot bounce pass past Steve Nash to Jared Dudley for a layup. D'Antoni storms on the floor and calls timeout. Once again, Nash was one of the few players back in transition.
Lakers 58, Suns 67 - 3:58 REMAINING 3RD QUARTER
This article is
What is the duplicate article?
Why is this article offensive?
Where is this article plagiarized from?
Why is this article poorly edited?

Los Angeles Lakers: Like this team?