Jordan Mein and the 20 Best Under 25 Fighters in the UFC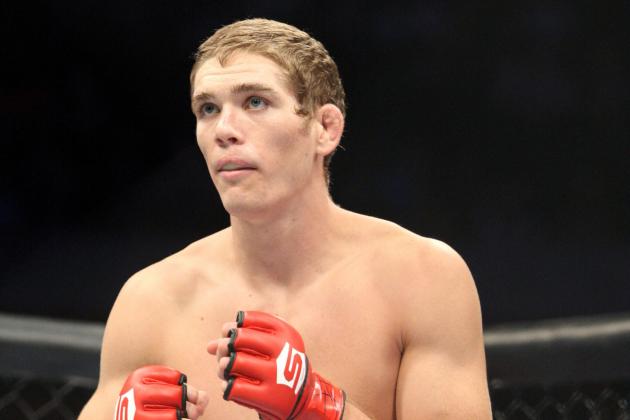 Scott Olmos-USA TODAY Sports

When Jordan Mein handed tough-as-nails veteran Dan Miller the first stoppage loss of his career at UFC 158, the Canadian welterweight announced himself as the promotion's newest up-and-coming star.
He joins an already impressive crew of young mixed martial artists, poised to replace fading legends and aging champions.
Here we will take a look at the top 20 fighters in the UFC who have not yet had their 25th birthday, and examine where Mein fits in.
Previous accomplishments, demonstration of skill and overall upside are the factors that received the most consideration during the production of this list.
Begin Slideshow

»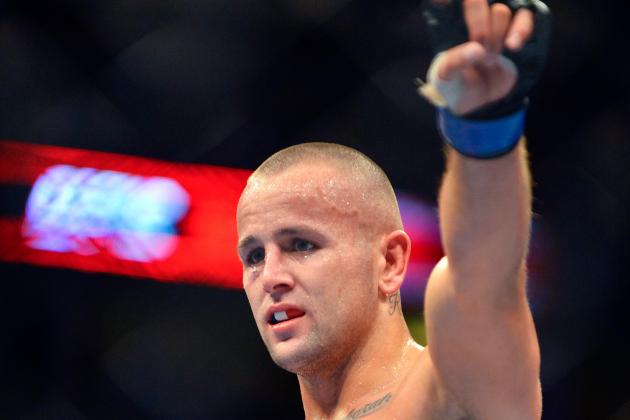 Ron Chenoy-USA TODAY Sports

Age: 23
Kuiper's first professional loss came against Rafael Natal in his UFC debut, but he has since rebounded nicely with a win over Jared Hamman.
The Dutchman possesses above-average power, a solid ground game and a black belt in judo. As of right now, though, he seems to do most things well enough, but nothing too great.
He does have time to improve, however, and he will get the chance to demonstrate any great leaps forward when he takes on Tom Lawlor at UFC on Fuel TV 9 this April.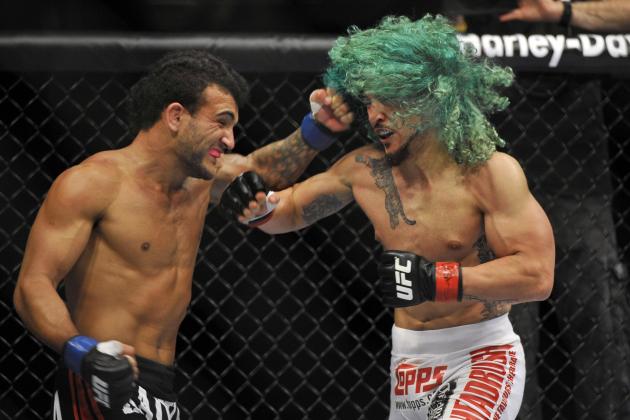 Joe Camporeale-USA TODAY Sports

Age: 23
Despite his youth, the flyweight has already compiled 26 professional fights, including 20 wins. Lineker's most recent win, a unanimous decision over Yasuhiro Urushitani, was his first triumph inside the Octagon.
Lineker wields considerable power for a 125-pound fighter, and he is a dark horse to make a move towards the division title in 2013.
Next up for the Brazilian is Azamat Gashimov, who is coming down from 135.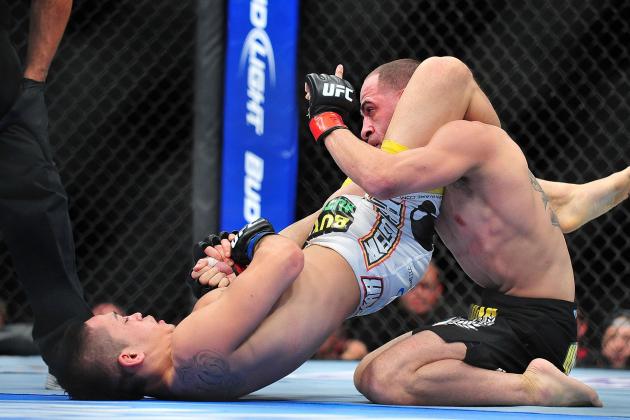 Gary A. Vasquez-USA TODAY Sports

Age: 23
In his UFC debut, a third-round submission win over Chico Camus, Kimura displayed a tremendous amount of poise and a very dangerous ground game.
He's still something of an unknown commodity since his experience against top-flight competition is nil, but two things are certain about Kimura—his grappling is legitimately high-level, and he has a sweet name for a mixed martial artist.
"The Diamond" has no upcoming fight scheduled just yet, but another impressive performance will surely put his name on people's tongues.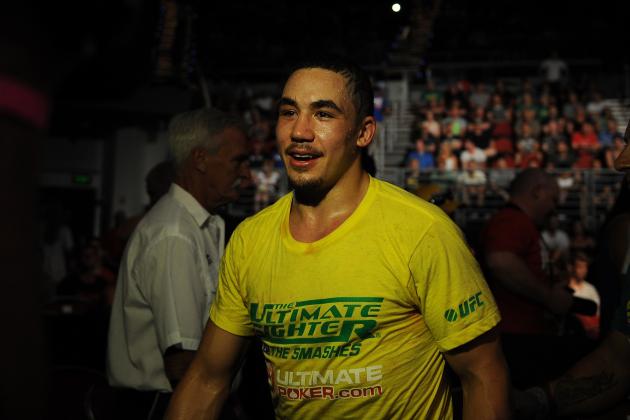 Matt Roberts/Getty Images

Age: 22
The Aussie scored a point for the Land Down Under when he bested British rival Brad Scott during the welterweight final of The Smashes.
Next up is Colton Smith, who won the simultaneously aired U.S. The Ultimate Fighter 16.
Best known for his hands, Whittaker will likely attempt to take advantage of his upcoming match by keeping the action standing. If he fails to do so, he'll at least have a solid submission game to fall back on.
Overall, Whittaker still have significant room for improvement. But at 22, he fully looks the part of a solid future UFC talent.
Ron Chenoy-USA TODAY Sports

Age: 22
He's 1-1 in the UFC, but Lawrence is still only 22. He has plenty of time to go on a run, and he may just have the ability to do it.
A product of The Ultimate Fighter, Lawrence is a very well-rounded fighter. With only five professional bouts to his name, he is tremendously inexperienced, but as he continues to put fights under his belt, he should grow in leaps and bounds.
Because it is still so early in his career, it's difficult to project exactly where Lawrence will end up, but in terms of pure upside, he has the chance to go very far.
Lawrence will take on Daniel Pineda this April.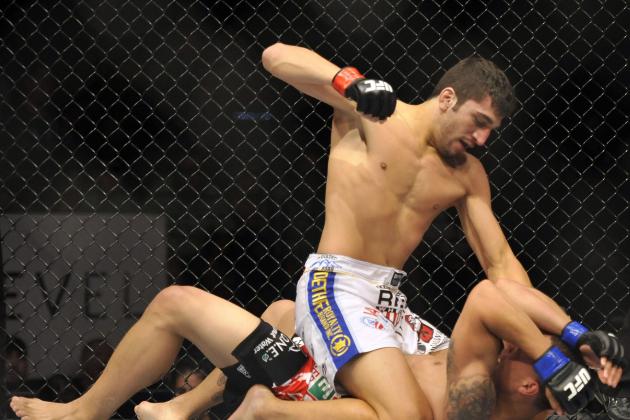 Joe Camporeale-USA TODAY Sports

Age: 24
The next time Nijem competes—April 20—he'll be 25, but for now he is still eligible for inclusion on the list.
Nijem came out of The Ultimate Fighter pipeline, losing in the Season 13 finale to Tony Ferguson. Since then, the wrestler has reeled off three straight wins, including a TKO finish of C.J. Keith at UFC on FX 4.
Improvements have come in large quantities for Nijem since 2011, but he needs to improve his striking and cardio if he hopes to make a true impact on the UFC's lightweight division.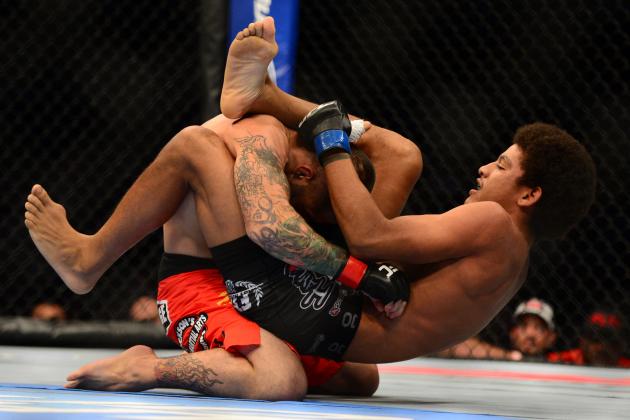 Kyle Terada-USA TODAY Sports

Age: 24
"Bruce Leeroy" is a bit of an enigma. He's looked great against quality opponents like Cole Escovedo and Damacio Page, then looked ordinary against lesser-known guys.
He is on a three-fight win streak right now, and it could easily be five, if not for a controversial double point deduction against Edwin Figueroa at UFC 143.
Caceres is not too physically strong, which could become a serious problem when he enters the upper-tier of the UFC's bantamweight division. Maybe his athleticism will carry him through, but it's more likely he ends up as a gatekeeper than a contender.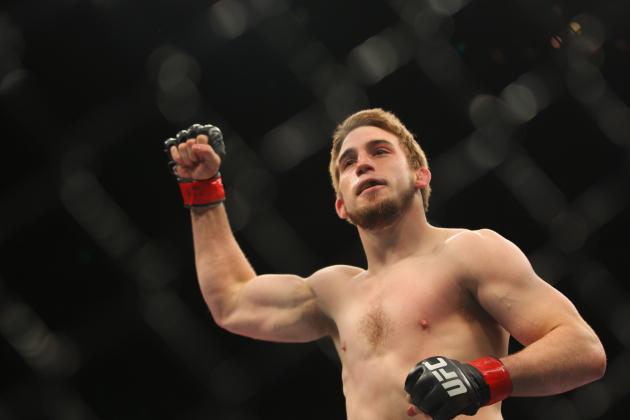 Mark Kolbe/Getty Images

Age: 24
Waldburger holds a 4-2 UFC record, but he has largely flown under the radar to this point. His ceiling is probably below a championship level, but he looks to have a stable future in the UFC's welterweight class.
With a deadly submission game, Waldburger could wreak havoc on a division heavily populated by wrestlers, though he needs to continue to improve his own wrestling, as well as his striking.
He definitely has improved the latter over the past few years, but he must continue that progress to make it to the next level.
Waldburger's next match will be at UFC 161, where he'll take on Sean Pierson.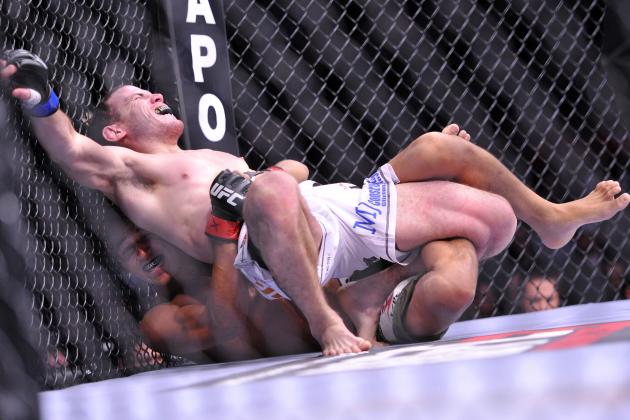 Mike Dinovo-USA TODAY Sports

Age: 23
He's been a model of inconsistency to this point of his UFC tenure, but it's way too early to give up on Oliveira.
Between his dangerous Muay Thai game and his outstanding jiu-jitsu, Oliveira is a threat to finish anyone, at any time. He just has to figure out how to better avoid damage, as he really seems to struggle taking strikes.
If the Brazilian can figure it all out, he could still contend for a title later in his career. The path there obviously won't be as a smooth as it once looked to be, but that doesn't mean he will never overcome it.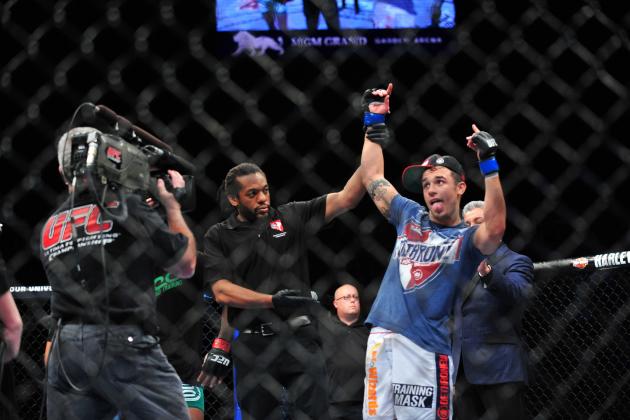 Gary A. Vasquez-USA TODAY Sports

Age: 24
Jury failed to greatly impress during his stint on The Ultimate Fighter, but he won in the show's finale and followed up by dominating a very tough opponent in Michael Johnson.
With a well-rounded game and an advanced approach to competing, Jury looks to have a bright future fighting in the world's premiere mixed martial arts organization.
All but one of Jury's pro wins have come via stoppage, and he'll look to build on his perfect record when he takes on Ramsey Nijem at UFC on Fox 7, this April 20.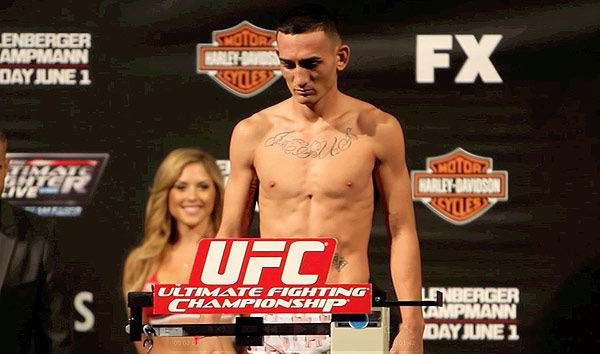 Photo by mmaweekly.com
Age: 21
Sure, Holloway has some holes in his game and has shown moments of inconsistency, but he is just 21 years old. Considering, that what he has done to this point in his career is nothing short of terrific.
Holloway sits at 3-1 in the UFC, though his recent split-decision win over Leonard Garcia was kind of a gift. Even so, there is no discounting Holloway's striking, which rates very highly at 145.
If he intends to climb the featherweight ladder, he will need to improve. But based on upside alone, Holloway could very well contend for a title somewhere down the line.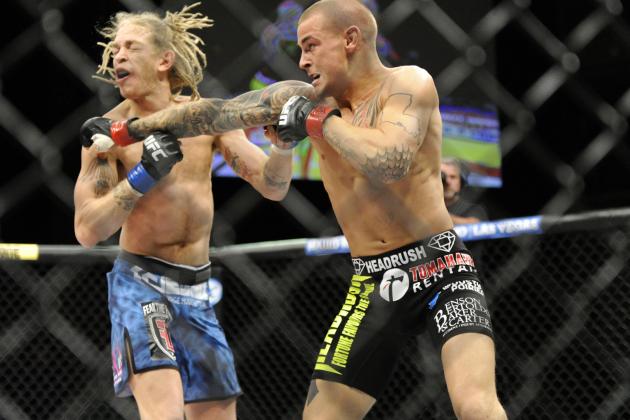 Josh Holmberg-USA TODAY Sports

Age: 24
Poirier, who turned 24 in January, seems to be settling into the featherweight division as a gatekeeper. He's walked through most of the opponents the UFC has thrown him, but has come up short each time he's been faced by a top-tier opponent.
It's too early to label him yet, though, as he still has plenty of room to grow into a full-fledged contender. He's strong in all areas of the game, and he has the natural ability to eventually break through to that next level.
Poirier has no fight scheduled yet, but whenever it ends up getting booked, it will represent a great opportunity for Poirier to get back into the win column.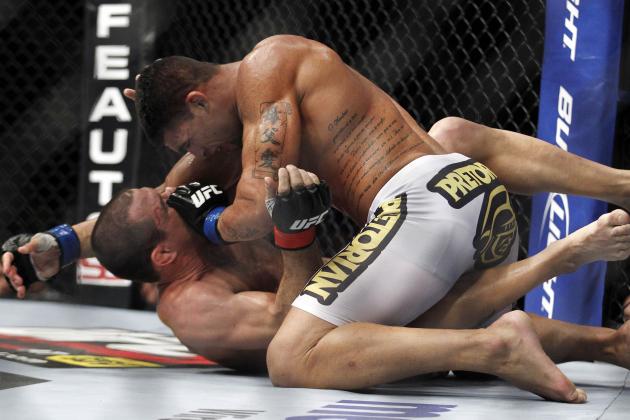 Matt Ryerson-USA TODAY Sports

Age: 24
Markes never makes it look pretty, and as a result, he is rarely termed a top-flight prospect. But don't let his lack of flash fool you—there is plenty of substance to his game.
The Brazilian is 3-0 in the UFC, overcoming the unenviable task of debuting in the promotion against a trio of tough wrestlers. What has been most impressive about his wins is that Markes has out-wrestled the wrestlers, en route to grinding-decision wins.
Next up for Markes is Derek Brunson. The two will go at it this June as part of the UFC on Fuel TV 10 card.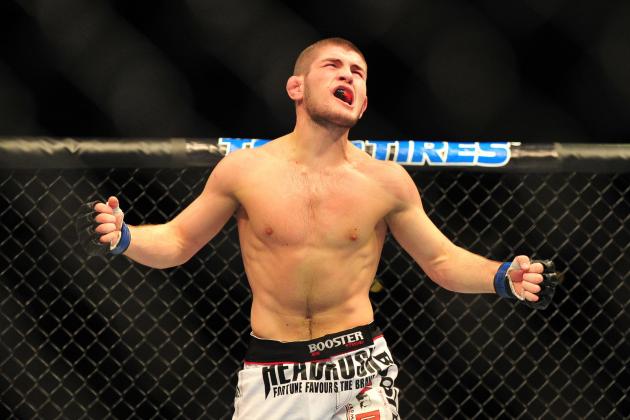 Don McPeak-USA TODAY Sports

Age: 24
Nurmagomedov, a lightweight hailing from Russia, stormed the UFC in 2012, and has since run his promotional record to a perfect 3-0.
"The Eagle's" perfect 19-0 record points to his advanced talent, while the balance of his methods of victory—seven knockouts, seven submissions and five decisions—is a testament to his well-rounded abilities.
Nurmagomedov will next fight at UFC 160, where he will contest Abel Trujillo.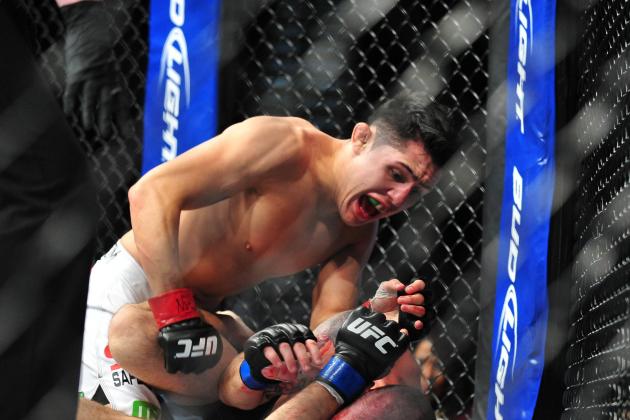 Gary A. Vasquez-USA TODAY Sports

Age: 23
In three UFC fights, Perez has looked nearly as good as a fighter possibly could. He's scored three first-round stoppages, including a 17-second knockout of Ken Stone, and he really hasn't been on the defensive at any point.
The reason why Perez is only this high on the list is because the competition he's faced isn't on par with most of the guys ahead of him. But in terms of potential, he's right there near the front of the line.
Perez's next bout is scheduled for April 27. His opponent will be Johnny Bedford.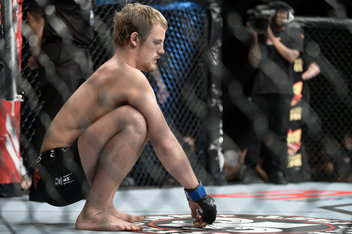 Photo by mmamania.com
Age: 24
Beating the under-25 cutoff by about four months, Nelson checks in at No. 5. If not for an ordinary performance against Jorge Santiago in his last fight, the welterweight may very well have cracked the top three.
Though Nelson wasn't spectacular last time out, he still won, running his UFC record to 2-0. He has some work to do in the standup department, but on the mat, Nelson is about as dangerous as they come.
The stiffest test of Nelson's young career will come this May, when he takes on the surging Mike Pyle at UFC 160.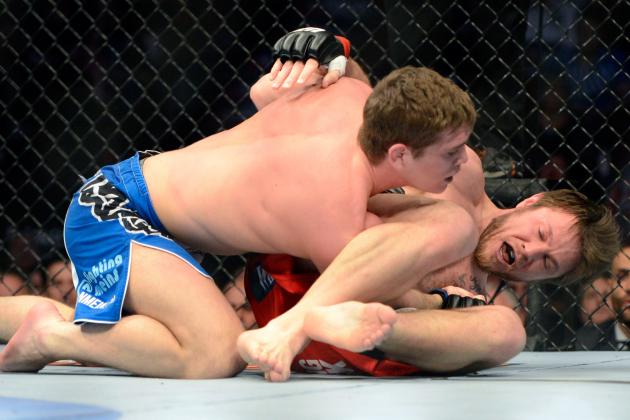 Eric Bolte-USA TODAY Sports

Age: 23
He already has 35 pro fights, but Mein is still a babe by MMA standards. He didn't look it though when he made his UFC debut at UFC 158, becoming the first man to stop the ultra-durable Dan Miller.
Mein is a complete fighter, but he thrives strongest when he's on his feet. He is an aggressive striker that packs a wallop, and keeps cool in the fray.
The Canadian's upside is immense, and with a solid followup performance to his recent win, he'll officially join the already large group of tough welterweight prospects lining up to form the division's future.
And though he just now burst into MMA's mainstream consciousness, he's been quite good for quite some time.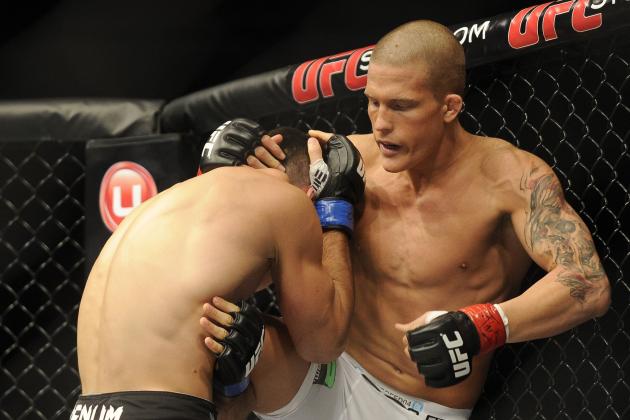 David Banks-USA TODAY Sports

Age: 24
Koch lost to Ricardo Lamas in his last fight, but let's cut him some slack—it was his first time competing after a 16-month layoff.
Aptly named "New Breed," Koch is a guy that has trained all elements of MMA since his youth, and he continues to develop on the fly.
He is a legitimate star in the making, and within a few years, he will be right up there in the cluster of featherweight contenders battling it out to challenge for Jose Aldo's strap.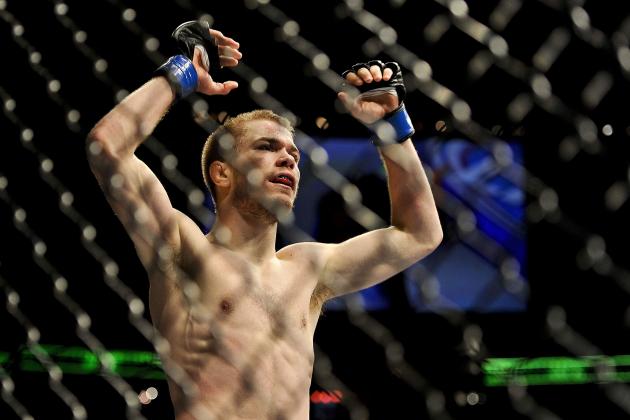 Paul Abell-USA TODAY Sports

Age: 22
In February, McDonald suffered the first UFC loss of his career to Renan Barao. But even in defeat, "Mayday" showed why he's one of the sport's top prospects, keeping the match competitive for the most part, faring far better than veterans Brad Pickett, Scott Jorgensen and Urijah Faber all did against Barao.
McDonald has some of the best hands in the bantamweight division and he has been looking more comfortable letting them go as he has continued to gain experience and grow as a fighter.
With other young stars like Barao (26) and Dominick Cruz (27) also competing at 135, the division seems well set-up for the future, in what has the makings of an epic three-horse race.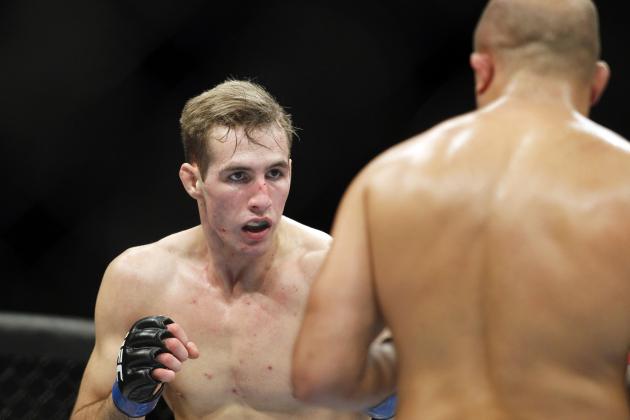 Joe Nicholson-USA TODAY Sports

Age: 23
The sky is truly the limit for "Ares," who seems to add something to his game every single time he competes.
His hulking build ensures that he'll never be overmatched at 170, and his well-rounded skill-set is on par with the elite of the division.
When you look at MacDonald's chances of one day wearing UFC gold, it's really more a question of when, than if.