Boise State Football: Spring Preview for the Wide Receivers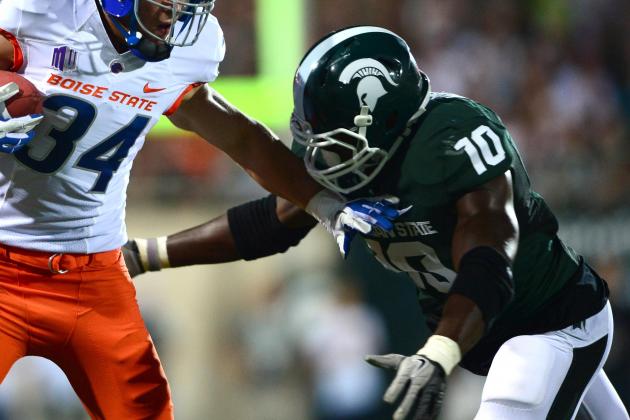 Andrew Weber-USA TODAY Sports

Boise State has already begun spring practices on the blue turf, but that doesn't mean we're done bringing you position-by-position previews of the Broncos for the upcoming college football season.
We've already covered the linebackers, offensive line and defensive line, and this week, we'll take a look at one of the Broncos' strongest units: the wide receiving corps.
In case you missed one of the older previews, here they are to get you up to speed.
Not only are the wide receivers one of the most talented and stocked positions on Boise State's roster, but there is a good chance that the unit will play a big part in the team's success in 2013. This is especially true if Joe Southwick continues to develop as a passer.
To reiterate from previous articles of the same nature, this preview will take a look at the strengths and weaknesses of the receiving corps as well as highlight any key position battles that may take place leading up to the season opener.
Let's take a look at the 2013 Boise State Broncos wide receivers.
Begin Slideshow

»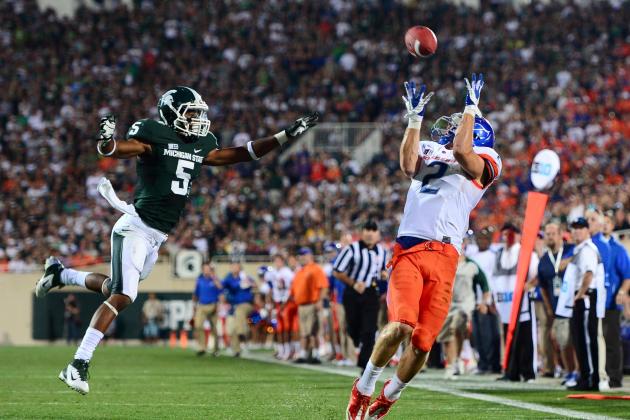 Andrew Weber-USA TODAY Sports
Matt Miller was the team's leading receiver in 2012 and should be an integral part of the offense again in 2013.
As stated, the wide receiving corps appears to be one of the most talented groups on Boise State's roster. This is true not only because of the physical talent of the players, but also because of the experience that is being retained from the 2012 squad.
Of the top six receivers for Boise State in terms of yards gained in 2012, all but one return to the team this season (the one being graduated-senior Chris Potter, who was the team's third leading receiver). From a statistics perspective, that is impressive, but it means even more when you take a closer look.
All the time that quarterback Joe Southwick spent learning his receivers' tendencies last season does not go to waste, as he now gets another full year to capitalize on all that he learned.
Last season, there were times when it seemed Southwick and his receivers were not on the same page, which is understandable.
However, in addition to Chris Petersen slimming down the offensive playbook, there is a basis for which the quarterback and his receivers can build on for 2013 that simply wasn't there at the beginning of the 2012 campaign. That translates into more success, quicker.
The Broncos have a slew of big, physical targets such as Matt Miller, Kirby Moore and Geraldo Boldewijn who will have a size advantage over almost all of the corners that they will face in the Mountain West Conference.
This will make Southwick's job much easier, knowing he can let his receivers go up and get the ball as opposed to always feeling like he needs to make a perfect throw.
There is no shortage of speed, either, thanks to Shane Williams-Rhodes and Dallas Burroughs, both of whom played sparingly in 2012 but could see plenty of time on the field in 2013.
Williams-Rhodes has reportedly looked solid in spring practice so far, and it is well-known that Coach Petersen likes to get as many guys into the game as possible.
As much as Petersen likes to let the ground game open up the passing game, this might be the year to air it out more than usual. The wide receivers for the Broncos have a combination of size, speed and skill that is essentially unmatched in their conference. It would almost seem like a waste not to take advantage of that as much as possible.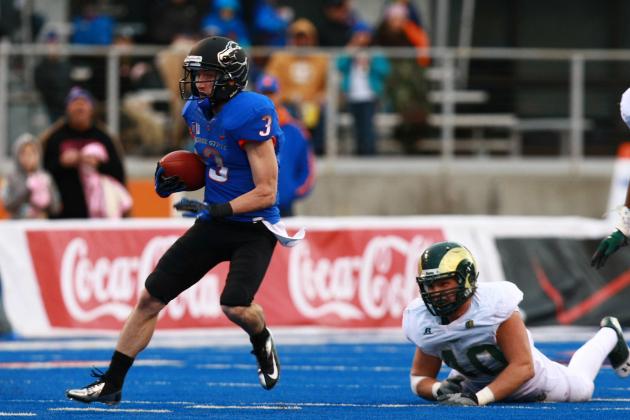 Brian Losness-USA TODAY Sports
Chris Potter was a sure-handed target who sometimes was taken for granted during his career.
There is no such thing as a unit without weaknesses. But the wide receivers come about as close as you can get.
At first glance, nothing seems to stand out. Obviously, replacing Chris Potter at the Z position is a necessity, as he was a consistent performer and the team's third-leading receiver, scoring four touchdowns for the Broncos in 2012.
That job will likely fall to junior Dallas Burroughs, Potter's backup last season, who is bigger and faster than Potter was, but isn't as sure-handed as Potter was.
Other than that, the biggest enemy to the Broncos is themselves.
Keeping everyone eligible is always a concern of the coaching staff, and Boise State was not without some drama in that department last season.
Geraldo Boldewijn was suspended for the first four games of 2012 for receiving illegal benefits related to a car and auto insurance payments.
Although not technically a weakness, avoiding situations like the one mentioned are what will allow this team to be a contender to run the table in 2013.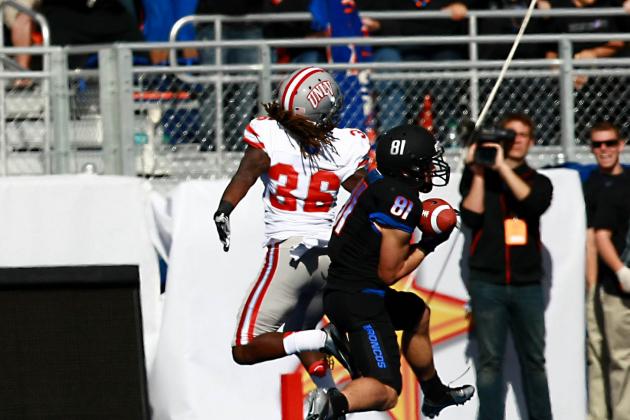 Brian Losness-USA TODAY Sports
Junior Dallas Burroughs could be Potter's replacement thanks to his phenomenal quickness.
As alluded to earlier, filling the vacant Z receiver position left by Chris Potter is the only real battle that will ensue amongst the wide receiver corps.
It is likely that Dallas Burroughs will assume the starter role, but it is also a possibility that Shane Williams-Rhodes could line up at the position regularly if he continues to impress the coaching staff during spring practice.
Coach Petersen will want to use as many of the receivers he has to keep team morale high and his players fresh, so expect a lot of different players to see significant time this season.
Both Geraldo Boldewijn and Aaron Burks are upperclassmen now and will want to have a more impactful role with the team, so keep an eye out for those two in particular to potentially earn more playing time.
Joe Southwick did a nice job of distributing the ball to different targets last season, as five players had at least 23 receptions in 2012. That will probably be the case again this season, especially since he has a plethora of options at his expense.
Boise State is definitely in an enviable position. They have so many capable receivers that not everyone will be a "starter," but everyone should have the ability to contribute in some way.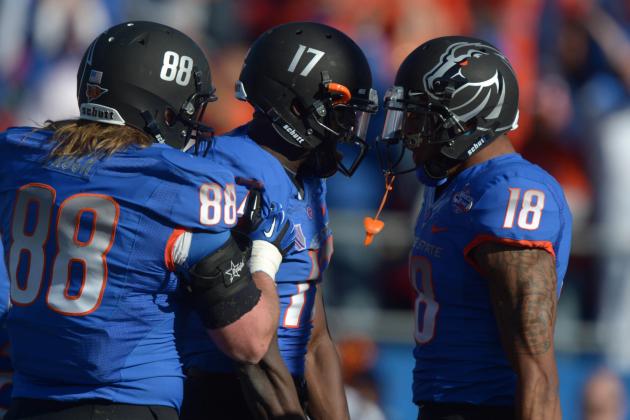 USA TODAY Sports

It may seem like this is a very optimistic look at the Broncos receiving corps. But how can one not look at Boise State's situation with regards to the position and not be excited?
The team returns talent at a position that can help make the quarterback look very good. Granted, no one on the roster has the skills such as former Broncos Titus Young or Austin Pettis, but they don't have to.
The bottom line is, collectively Boise State has the most talented group of receivers in the Mountain West Conference heading into the 2013 season.
This should translate into lots of excitement on the offense from the Broncos this year.
Games where the wide receivers could have the most impact: Washington, Air Force, Nevada, Fresno State
Make sure to continue following the spring preview series as we break down the rest of the 2013 Boise State Broncos roster by position. Next time we'll shift the focus back to the defense and take a look at the defensive secondary.