UCLA Basketball: Bruins' Blueprint to Winning the 2013 NCAA Tournament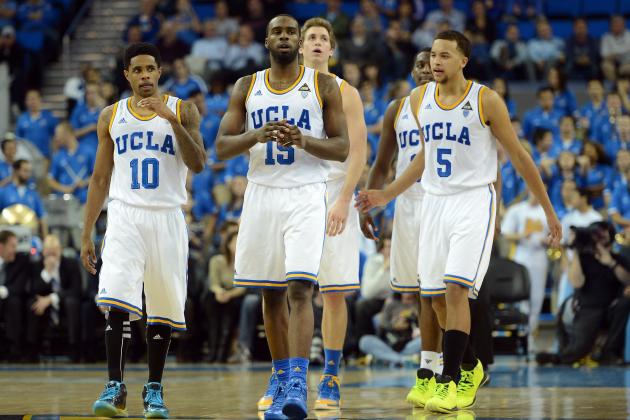 Harry How/Getty Images

Now that UCLA has officially received its bid to the 2013 NCAA tournament, it's business time.
As a No. 6 seed without sharpshooting freshman guard Jordan Adams, the Bruins have their work cut out for them if they are to win the program's 12th championship and first since 1995.
This is a tournament that demands perfection, precision and determination, and it will be unforgiving to UCLA if it proves to be the inconsistent team that it was for the majority of the regular season.
Nevertheless, the Bruins, led by senior point guard Larry Drew II, have the talent to make a deep run in the tournament this year.
With Adams out, the odds are against this team to go all the way, but there's still a small chance it could happen with some big breaks.
Here's what UCLA has to do in the NCAA tournament in order to align itself for a national championship.
Begin Slideshow

»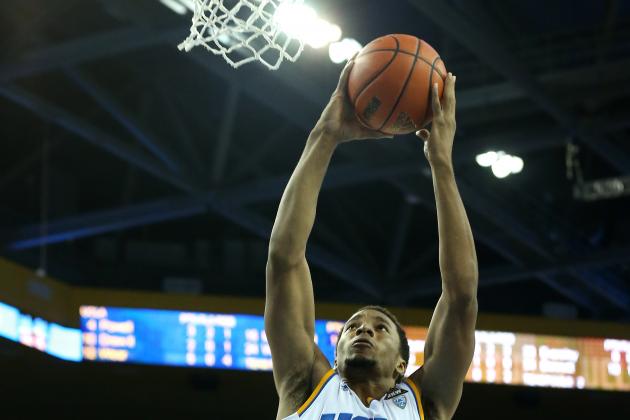 Stephen Dunn/Getty Images

While it's unfortunate that UCLA's best all-around player and second-leading scorer, freshman guard Jordan Adams, has been sidelined from the big tourney with a broken foot, the Bruins can't dwell on their loss.
As inopportune as it is, it's something the team cannot control and should focus on what it can control: instilling faith in his replacement, sophomore guard Norman Powell.
While Adams is a better player, Powell can and will get the job done if UCLA trusts him in the starting lineup.
He brings the energy, has the shot and plays excellent defense. All he needs is the undivided confidence of his teammates.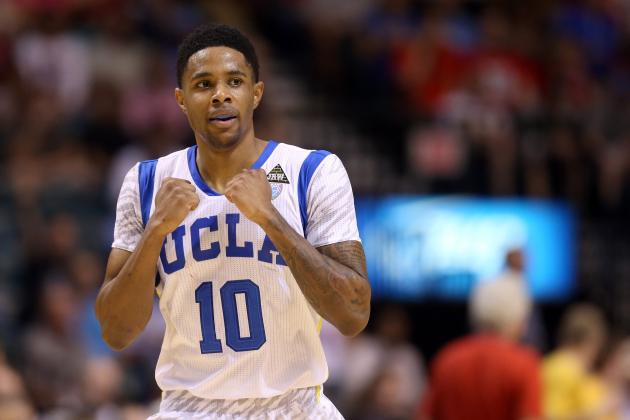 Jeff Gross/Getty Images

Something clicked in Larry Drew's shot midway through Pac-12 conference play that has stuck with him ever since.
While he began the season shooting atrociously from the field and especially from beyond the arc, Drew has become UCLA's best perimeter shooter and currently boasts an impressive 45 percent from three on the season.
In his last 12 games, the Bruins' redshirt senior point guard is shooting 58 percent from the field, including a ridiculous 68 percent from beyond the arc.
If UCLA is to make a run at the national championship, it will have to find Drew open shots off high-ball screens set by the Bruins' forwards.
Having read the scouting report on Drew, the opposition will likely pressure him on the perimeter to prevent him from making big shots.
However, if the Bruins can keep their offense well spread and stay in motion off the ball, Drew will have good looks from deep.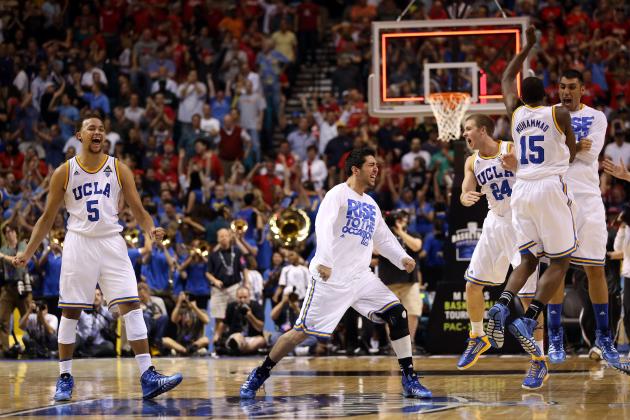 Jeff Gross/Getty Images

Shabazz Muhammad will indeed play a huge role in how UCLA performs in the NCAA tournament, but he shouldn't be a focal point of the team's approach.
As we've seen year after year in March Madness, the tournament is won with teamwork, not by one star player.
If the Bruins are to make their way to their first national championship since 1995, they'll do so as a team, just as the 1995 team did.
Of course, UCLA will undoubtedly need Muhammad to play at the top of his game in order to even make it past the Round of 64, but it will take a collaborative team effort for the Bruins to make a championship run.
Moreover, just as in UCLA's 1995 championship run, the Bruins will likely rely on point guard Larry Drew II to make big shots just as senior point guard Tyus Edney did in '95.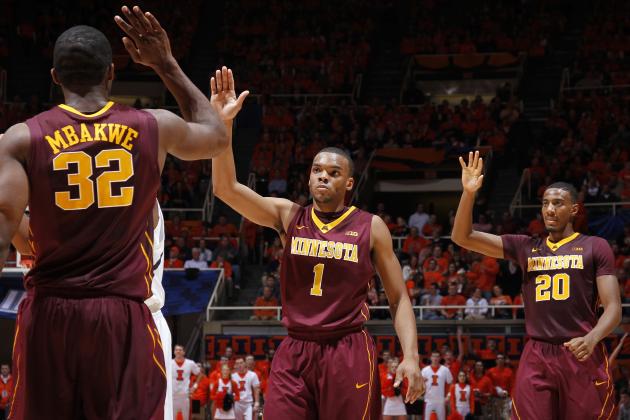 Joe Robbins/Getty Images

This point needs to be underlined, bolded, highlighted and circled.
Although UCLA is favored numerically as a No. 6 seed taking on No. 11 Minnesota, it shouldn't underestimate its Round of 64 matchup in the slightest.
The Golden Gophers may be have finished the season on a three-game skid, but two of those games were on the road, and after all, Minnesota played in the toughest conference in college basketball this year: the Big Ten.
UCLA must look at Minnesota's 8-10 conference record on relative terms, as three of those losses were closely contested games against Top 10 teams.
Additionally, the Golden Gophers have notched quality wins in the Big Ten, including a victory over Michigan State and then-No. 1 Indiana.
If UCLA become overly confident in facing Minnesota, it will soon find itself watching the rest of the tournament from the bleachers.
The Bruins will have to bring their best game in order to defeat Minnesota and continue on to the Round of 32.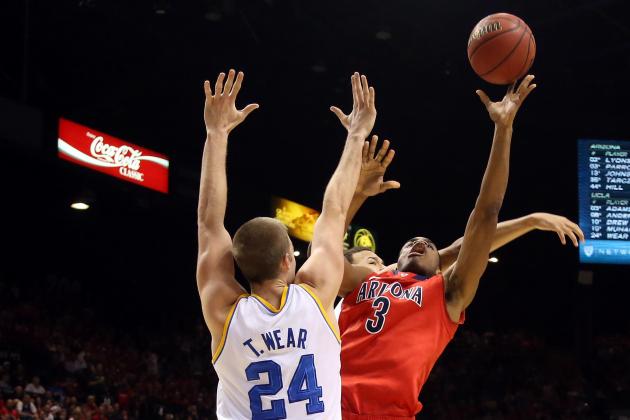 Jeff Gross/Getty Images

UCLA's physicality is a major concern heading into the NCAA tournament.
Although the team possesses two 6'10" forwards in twins David and Travis Wear, the two don't maximize their physicality and are often out-matched by smaller, gritty forwards.
This often leads UCLA to get hammered on the boards, which creates a surplus of second-chance opportunities for the opposition.
That can't happen if the Bruins are to make a championship run.
The team's physicality will be tested immediately by Minnesota, who is an excellent rebounding team. Trevor Mbakwe, 6'8", 245-pound senior forward (10 PPG 8.7 RPG), will easily flatten the Bruins' forwards if they don't contest him.
The Bruins will have to bear down like never before in order to weave their way through to the championship.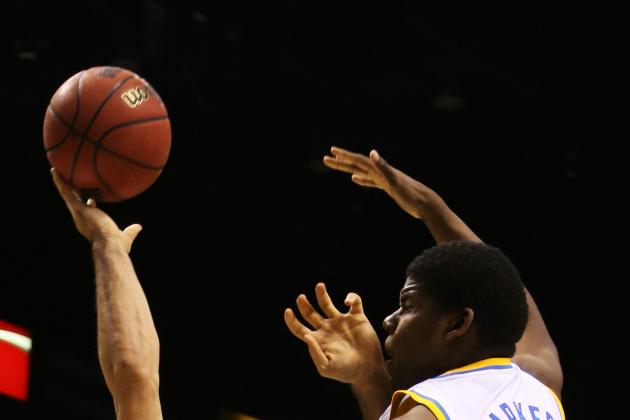 Jeff Gross/Getty Images

With UCLA down to two principal bench players, Tony Parker will play a significant role in the team's success in the NCAA tournament—if he plays, that is.
Although the Bruins were faced with the same limited lineup in the Pac-12 tournament championship after Jordan Adams suffered a season-ending injury in the team's semifinal, Coach Ben Howland didn't adjust to the new situation and opted to give Parker the same limited minutes he has received all season.
This team won't last in the big tourney if Parker doesn't play, not necessarily because of his talent but because UCLA simply needs David and Travis Wear to remain energized and on top of their game.
With Adams out, UCLA doesn't have a regular guard on the bench, which suggests that Coach Howland will have true guards Larry Drew II and Norman Powell out on the court for 37-plus minutes as they were in the Pac-12 tournament championship game.
Despite the shortage of bench players, Parker was only played four minutes in UCLA's most recent game and was pulled from game, never to return, after committing a defensive foul.
Although it seems as though Coach Howland is attempting to teach Parker to harness his strength by pulling him when the burly freshman center commits fouls, UCLA doesn't have the luxury of keeping Parker on the bench in the NCAA tournament.
There is no denying that Parker has ways to go before he becomes a regular for UCLA, but the Bruins need him to provide bursts of energy for his teammates, especially when they become fatigued in the second half.
Moreover, Parker may prove to be more suitable to hang with more physical forwards than the Wear twins.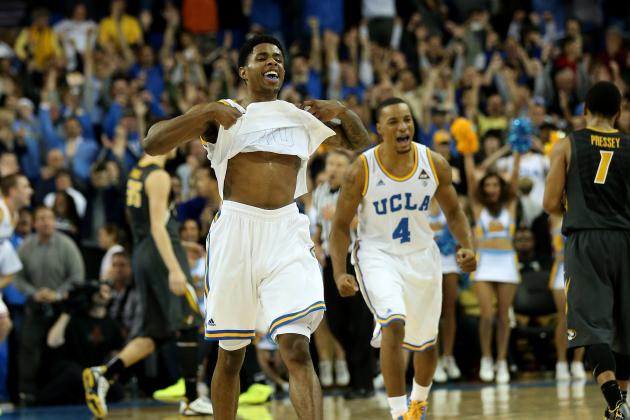 Stephen Dunn/Getty Images

With its best all-around player sidelined, UCLA realistically has an infinitesimal shot at winning the NCAA tournament this year.
However, if the Bruins are able to bind together and execute the aforementioned bulleted points, they will put themselves in a good spot to make a deep tournament run.
While the odds are surely against them, you never quite know what March Madness will bring.
If UCLA can reap momentum from its first game against Minnesota, it may just proceed to its first Sweet 16 since 2008.