How Alabama Would Fare If Tide Played Notre Dame's 2013 Schedule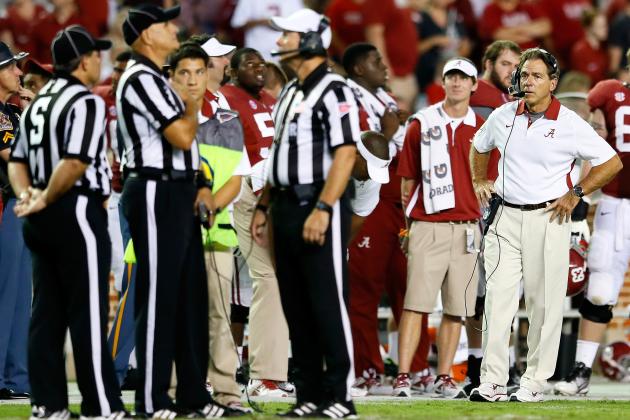 Kevin C. Cox/Getty Images

When Alabama and Notre Dame met in last year's national championship, a lot of the bickering had to do with the paths each team took to reach the big game. Irish fans said although Alabama was in the SEC, the schedule weren't nearly as difficult as theirs. Crimson Tide fans fired back with the fact Notre Dame plays teams from the lousy Big Ten and then throws in a few squads from the Big East.
This is really an argument that neither side will ever win because we can't prove any of it, and truthfully, both passionate fanbases make great points.
But what if Alabama was to play Notre Dame's schedule in 2013?
Instead of the Irish opponents heading to South Bend, they would pack up for a trip to Tuscaloosa, and of course, Alabama would then have to play the road games that Notre Dame was going to play. This won't settle any of the debates, but it may bring us closer to a verdict that maybe should all agree to disagree.
Here is how the Crimson Tide would stack up if they had the 2013 Notre Dame schedule.
Begin Slideshow

»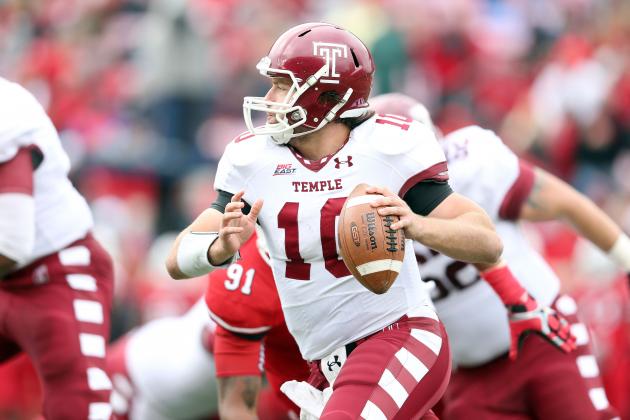 Andy Lyons/Getty Images

How the Crimson Tide Win
Just show up and play Alabama football for the first half. Seriously, Temple spent much of last season losing to basketball programs in the Big East. The Crimson Tide will be just fine in this matchup against an Owls program that has reached two bowl games since 1979.
How the Opponent Wins
Hope that Alabama is still hung-over from last season's national championship run. Temple then finds a way to score four touchdowns with the Tide defense sleepwalking the entire game. It is considered the upset of the season and Nick Saban makes the entire team run the field until everybody gets sick.
Prediction
Alabama 52-7 (There is no hope for Temple, especially with Saban having a whole offseason to prepare.)
Record: 1-0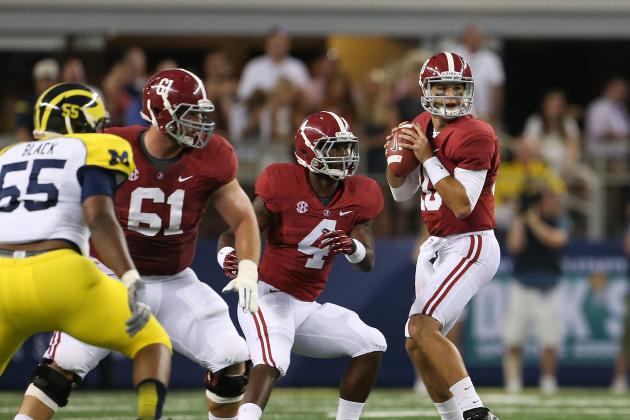 Leon Halip/Getty Images

How the Crimson Tide Win
Just run the ball right at the Wolverines defense that allowed 150 yards on the ground per game last season. Michigan faced two SEC teams last year, and both were able to average five yards a carry. With the Tide returning a deep backfield yet again led by T.J. Yeldon, Saban and his boys stick to the winning formula.
How the Opponent Wins
Devin Gardner finds ways to make plays with his arm. If we haven't learned anything yet, a one-dimensional team does not beat Alabama. Michigan has pieces in the backfield, but the new starting quarterback must open things up by completing more than 50 percent of his passes. Tough task, but somebody has got to do it.
Prediction
Alabama 35-17 (Haven't we seen this movie before?)
Record: 2-0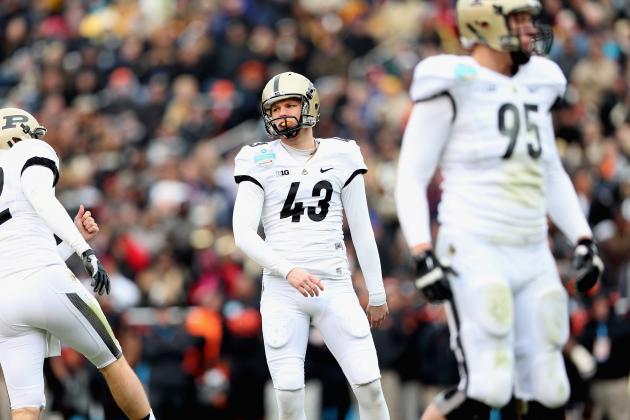 Ronald Martinez/Getty Images

How the Crimson Tide Win
Score three touchdowns. Purdue is a team that is currently under construction with a new coaching staff, only five starters returning on offense and a defense that ranked 11th in the Big Ten last year. 'Bama would likely score more than 21 points, but we don't need to kill an ant with a sledgehammer here.
How the Opponent Wins
Get off to an early start and the crowd in Ross-Ade Stadium goes absolutely nuts, making it tough for the visiting team. While this really shouldn't affect a veteran club such as the Crimson Tide, having more than 60,000 screaming fans backing up the Boilermakers can't hurt.
Prediction
Alabama 45-7 (There is simply not enough offense for the Boilermakers to keep up.)
Record: 3-0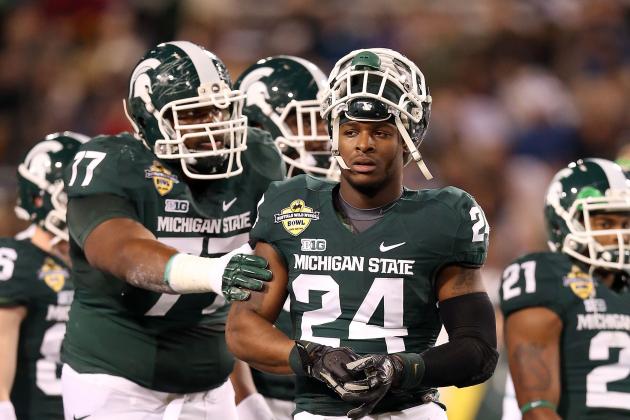 Christian Petersen/Getty Images

How the Crimson Tide Win
Jump out to a quick lead and the Crimson Tide can mark a victory on the calendar. Not only is it tough to score on Alabama, but Michigan State is a team that only averaged 20 points a game offensively last season. When you combine the two, a 14-point lead would be nearly impossible for Michigan State to overcome.
How the Opponent Wins
Move the chains and keep the Alabama offense off the field. This is not only going to give the defense a much-needed breather, but it shortens the game, increasing the Spartans' chances. We know Michigan State is talented enough defensively to stay in this game; it is the offense that must answer the bell and bring something to the table.
Prediction
Alabama 24-10 (Closer than you would expect, but the lack of offensive production from Michigan State scares me.)
Record: 4-0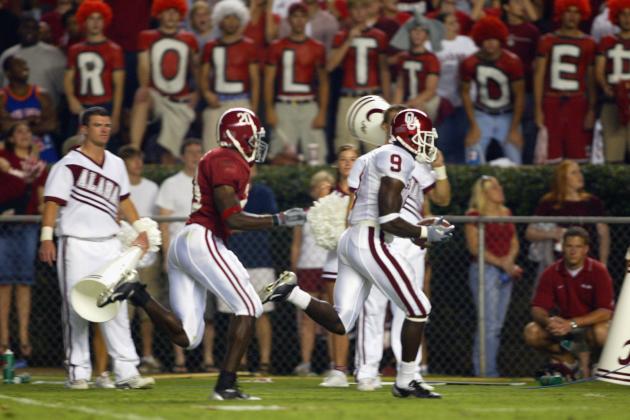 Jamie Squire/Getty Images

How the Crimson Tide Win
Stick to the running game. Oklahoma allowed nearly 200 rushing yards a game to its opponents last season, which isn't great news if you are facing Alabama. The Sooners should be improved in that department, but there is really nowhere to go but up after last year's performances. There will be at least 40 carries in this matchup and the Tide continue to roll.
How the Opponent Wins
Actually play the way Oklahoma is capable of playing. Tell the defense to grow some hair on its chest and man up. Get back to that tough-nosed running game we have seen in the past from the Sooners and just bully the way to victory. There's no question this team has the talent to get the job done; it is just a question of want and will holding this squad back.
Prediction
Alabama 31-17 (Oklahoma has the talent to keep up with Alabama, but there are too many question marks. Will the defense improve? How will Blake Bell match up at quarterback?)
Record: 5-0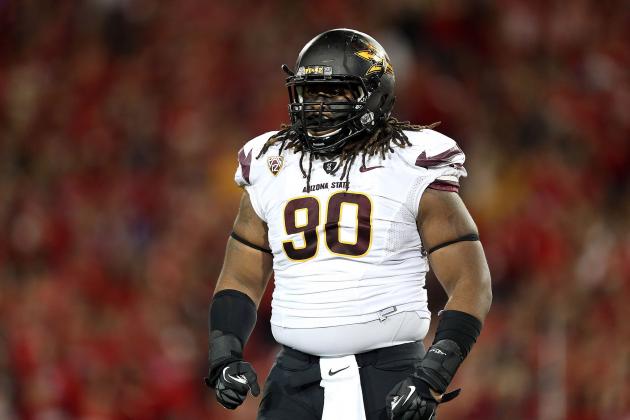 Christian Petersen/Getty Images

How the Crimson Tide Win
Force turnovers. Arizona State did a decent job of holding on to the football last year, but that wasn't the case in certain games. In three of its five losses last year, Arizona State coughed the ball up four times, which isn't going to result in many victories. Win the turnover battle and Saban wins another one.
How the Opponent Wins
Pressure A.J. McCarron into mistakes. Arizona State has a defense that racked up 51 sacks last year, and it all starts up front with a legitimate NFL player in defensive tackle Will Sutton. I don't care which team is playing which, if you can pressure the quarterback, you have a shot to win. Get in the quarterback's face, and the Sun Devils could pull off the shocker.
Prediction
Alabama 35-21 (Arizona State is going to surprise many people this season. Still, that doesn't mean it is ready to hang with a national championship contender,)
Record: 6-0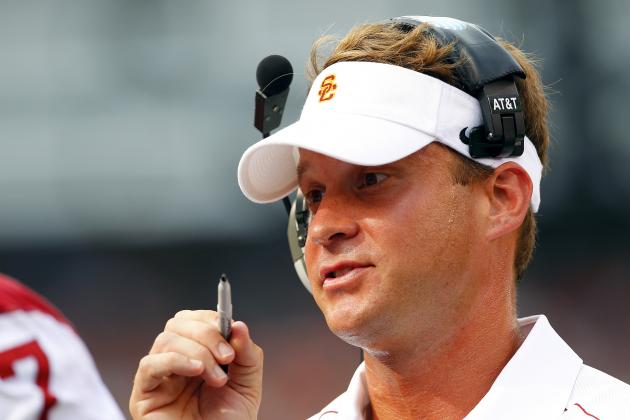 Rich Schultz/Getty Images

How the Crimson Tide Win
Capitalize off the mistakes the Trojans make. You know it's coming, too. Whether it was the 34 turnovers, nearly eight penalties a game or the brutal play-calling, USC is a team that shot itself in the foot all of last season. Having a disciplined program is something Saban prides himself on, and it will result in a victory in this matchup.
How the Opponent Wins
Stop the bogus play-calling. Seriously, Lane Kiffin and his coaching staff played as much of a role in the Trojans' failures last season as anything else. Stop trying to be flashy. Just call the high-percentage plays and get out with a victory.
Of course, it is going to take a lot more to knock off Alabama, but at least give yourself a chance by removing the nonsense out of the game plan.
Prediction
Alabama 35-17 (Do you trust USC to compete with Alabama after what you witnessed last year?)
Record: 7-0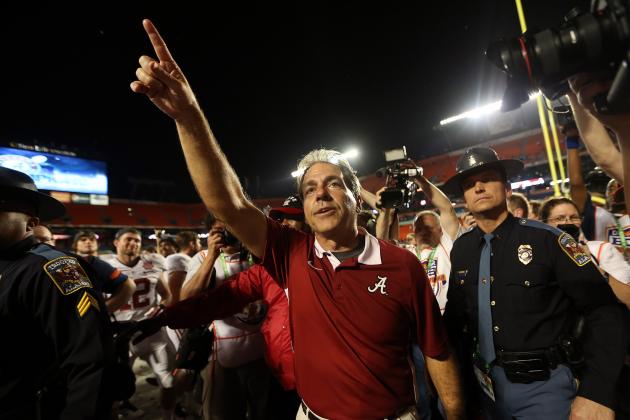 Streeter Lecka/Getty Images

How the Crimson Tide Win
Stop the Falcons' running game. Last season, this program ran for more than 300 yards a game, which is absolutely incredible. The triple-option can be tricky and cause headaches for even the best defenses in the country. The Crimson Tide must remain disciplined and take away this team's bread and butter.
How the Opponent Wins
Pass for at least 100 yards. We know Air Force is going to reveal the triple-option and try to run the ball, but that isn't going to work against Nick Saban for 60 minutes. This team must have some success throwing the football or it will be a long day of three-and-outs.
Prediction
Alabama 45-7 (Air Force has been on a roll lately, reaching seven straight bowl games. Still, none of those victories were against an elite squad such as Alabama.)
Record: 8-0
Rob Carr/Getty Images

How the Crimson Tide Win
Much like Air Force, Navy finished sixth in the country in rushing yards and that isn't about to change anytime soon. The Midshipmen stick to a long tradition of running the ball down opponent's throats. It's going to take yet another tough defensive performance from Alabama to stop it.
How the Opponent Wins
The same formula that it was for Air Force. You can stick to your triple-option running attack and hope you break a few runs for long gains. However, you aren't grinding out 250-plus yards on this defense. If you expect to even keep things close, the quarterback must make a few plays in the air.
Prediction
Alabama 42-6 (Air Force and Navy are practically the same style of team in back-to-back weeks. It's tricky to prepare for, but they're not remotely talented enough to even think about keeping things close)
Record: 9-0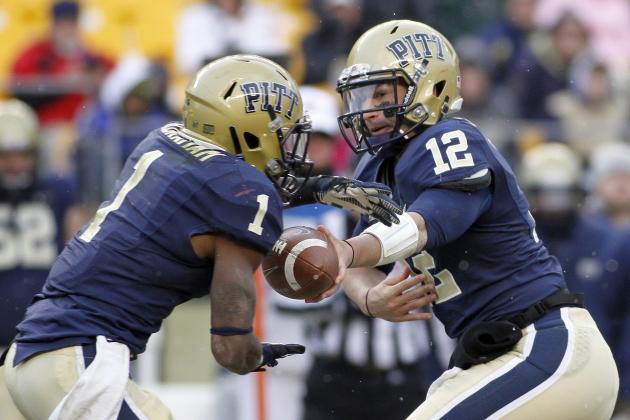 Justin K. Aller/Getty Images

How the Crimson Tide Win
Alabama wins this game by simply showing up. Head coach Paul Chryst is doing a great job with moving the program forward, but Pittsburgh doesn't have one advantage anywhere across the board. As long as the starters show up healthy and are ready for game day, the Crimson Tide win in relatively easy fashion.
How the Opponent Wins
Get off to a fast start and get the crowd in the game. Make sure every player has a rabbit's foot, a four-leafed clover and a horseshoe in their back pocket. I'm not sure if all of those things will fit, but Pittsburgh would need all the help it can get to win this matchup.
Prediction
Alabama 42-7 (Put these two teams on the basketball court and it may be a different story.)
Record: 10-0
Kent Horner/Getty Images

How the Crimson Tide Win
Alabama should end up having a field day against the offensive line of the Cougars. BYU allowed 30 sacks in 13 games last season and that's while playing defenses that aren't even in the same area code as Alabama. If the Crimson Tide can join in on the sack party and generate relentless pressure in the backfield, this game is going to get ugly.
How the Opponent Wins
Get some type of offensive production from a unit that was inconsistent in crossing the goal line last year. We're talking about a team that scored six points against Boise State and only 14 points against San Jose State. The defense won't be able to do everything to bail this team out in this contest.
Prediction
Alabama 35-10 (I'm banking on BYU keeping this somewhat close with its defense, but like most matchups, overwhelming skill takes over and the Tide keep on trucking.)
Record: 11-0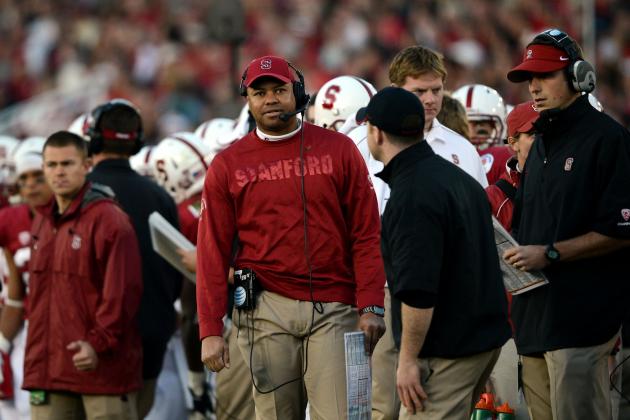 Harry How/Getty Images

How the Crimson Tide Win
Stanford has a dual-threat quarterback in Kevin Hogan who could presebt much of the same issues that Johnny Manziel did last season. He completed more than 70 percent of his passes last year and did average five yards a carry on the ground. Alabama would be in a dog fight throughout this entire game, but Hogan is the X-factor, and Saban must do what he can to limit his production.
How the Opponent Wins
If Stanford plays the way it is capable of, this is the team that would give Alabama its biggest test of the season. This would include generating a solid pass rush with a unit that returns seven starters and developing a consistent ground attack on the offensive side of the ball.
Stanford is just as physical as Alabama in the trenches and much like the defending champs, it just needs to play its game in order to walk away with a victory.
Prediction
Stanford 17-14 (Call me crazy, but Stanford is extremely similar to Alabama in its style of play. This is a team that can run the ball effectively, limits mistakes and has a defense that is one of the best in the entire country. When you combine everything and throw in the fact that it's a home game for Stanford, I'll roll the dice and pick an end-of-the-season upset)
Record: 11-1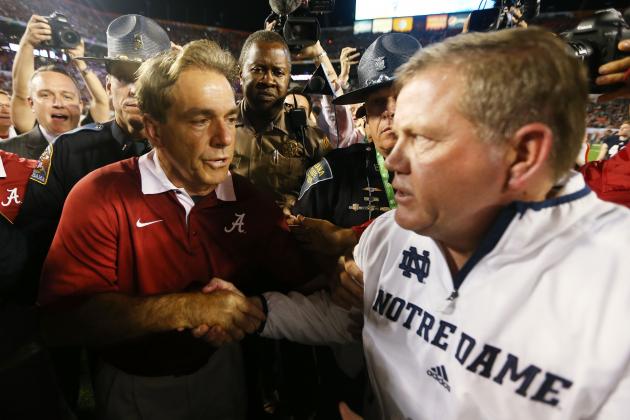 Streeter Lecka/Getty Images

We learned much of what we already knew. Alabama is a complete team from top to bottom and the favorite to win a third straight national championship.
It is strange how most look at the Notre Dame schedule and consider the Irish to have arguably the toughest road schedule in all of college football. But when you flip sides and put Alabama in Notre Dame's shoes, a lot of those games don't seem nearly as difficult.
Is it because maybe the schedule is overrated?
I wouldn't say so, because a lot of those teams are highly respected and incredibly talented. They're more than capable of holding their own and making a run towards a BCS bowl. The problem is, Alabama is truly that good, and you can count on one hand at this very moment how many clubs could actually give the Crimson Tide a run for their money.
I think it goes without saying that this schedule is far tougher than the Alabama schedule that we gave to Ohio State last week. But even with that said, a lot of these teams have question marks heading into the regular season and too many of those would result in a loss against a program that has its eyes set on another crystal football.
If Alabama was to play this schedule, it would make things a lot more interesting, although I don't think it would change much as far as declaring a national champion.