New York Knicks vs. L.A. Clippers: Postgame Grades and Analysis for NYC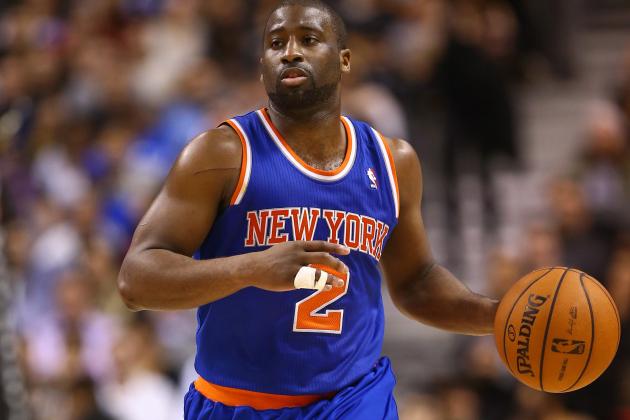 Tom Szczerbowski-USA TODAY Sports
Felton did his best to keep the Knicks close, but to no avail.
The New York Knicks, with a rotation depleted by injuries to Carmelo Anthony, Amar'e Stoudemire and Tyson Chandler, just didn't have the firepower to hang with Chris Paul, Blake Griffin and the Los Angeles Clippers on Sunday.
The loss continues New York's miserable road trip, as they're now 0-4 during their west coast tour. The 93-80 loss to Los Angeles is just the latest in the Knicks' latest stretch of futility.
The Knicks lineup, which included rookie Chris Copeland and 40-year-old Kurt Thomas as starters, simply wasn't good enough to hang with the athletic Clippers. The Knicks hung around for much of the first half, but once the Clippers started pushing the tempo, it was over for the ailing Knickerbockers.
Begin Slideshow

»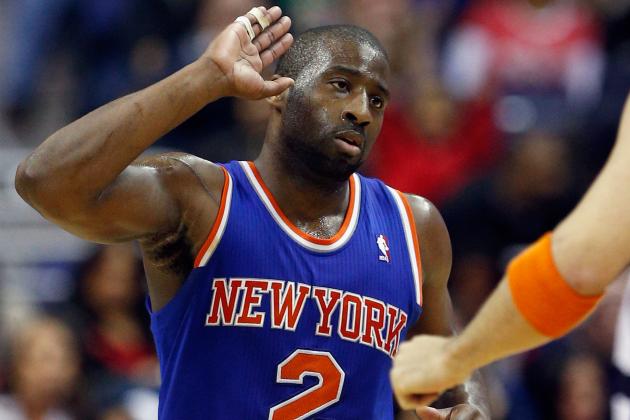 Rob Carr/Getty Images

Raymond Felton
Player Grade: C+
Raymond Felton logged 41 minutes, but was overwhelmingly invisible for most of the game.
He managed to knock down an open three-pointer early in the first, but the point guard wasn't a predominant part of the offense against LA until it was too late.
Felton refrained from falling in love with his mediocre mid-range jumper for the most part, but started too slow to put the Knicks in a real position to win Sunday. As per usual, Felton demonstrated his ability to penetrate the lane quicker than many guards, but wasn't able to finish at the rim. He was just 2-of-5 on attempts at the basket.
He and Kenyon Martin connected on a pretty alley-oop play in the fourth quarter, but the final score was all but decided by that point. Felton appeared to get things together as the game progressed, which is a good sign for the Knicks.
Defensively, there were certainly struggles on Felton's end. But if there's ever a time for them to be excused, it's against Chris Paul.
Paul connected on 6-of-12 shooting for 20 points and eight assists, continuing his MVP-type season.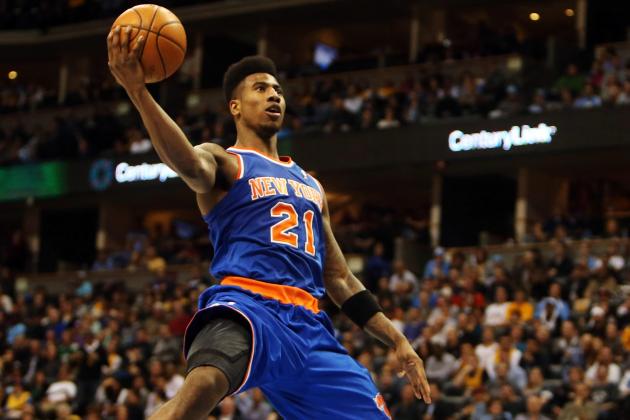 Chris Humphreys-USA TODAY Sports

Iman Shumpert
Player Grade: B-
Iman Shumpert got the Knicks on the board first with a perimeter jumpshot, but it was one of only two field goals made by the Knicks starting shooting guard. He finished with five points in 17 minutes, as he's still being held back by Mike Woodson following his return from injury.
Shump took yet another scary spill to the court in the middle of the first quarter. Knicks fans undoubtedly held their collective breaths as their youngest piece appeared to have reinjured his surgically repaired knee, but the 22-year-old rose slowly and showed no signs of injury.
Shumpert is the Knicks' best defensive asset and would've been the team's best fit to guard Chris Paul at the point. But thanks to limited burn, Paul was insufficiently handled by a combination of Raymond Felton and J.R. Smith. When he was in the game, Shumpert was often matched up with larger forwards on the wings after rotations.
He came away with a steal on the afternoon and had some pesky plays on the ball that aren't recognized in the box score.
Shumpert's recovery from knee surgery is still an ongoing process, and progress isn't showing in his numbers yet.
Coupled with Mike Woodson's apparent lack of faith in Shumpert during crunch time—not to mention being a disastrous fit in Woodson's offense—the sophomore has spent much of the 2012-13 season frustrated. Sunday was no different.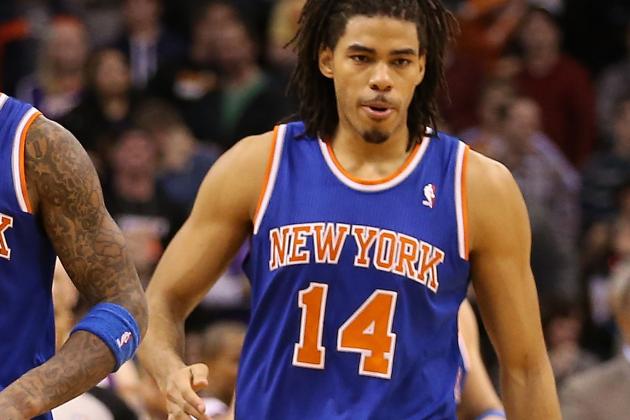 Christian Petersen/Getty Images

Chris Copeland
Player Grade: B
Chris Copeland started his second consecutive game at the 3, but finally received a serious minutes increase for the first time Sunday. The rookie logged 26 minutes against the Clips, his third-highest mark of 2012-13.
Copeland continues to dominate from long range. He drilled three of his four attempts from downtown and shot 45 percent from the field. He finished with 13 points.
The 6'9" forward continues to make head-scratching rookie mistakes, namely committing illogical fouls and failing to spring back into transition defense. But his scoring prowess is already first-rate, and one could argue that Copeland's offense is worth the sacrifices on defense and the glass.
He hasn't had that many opportunities to show his worth under Mike Woodson, but the first-year forward has thrived offensively at every opportunity, and Sunday's matchup in LA demonstrated that.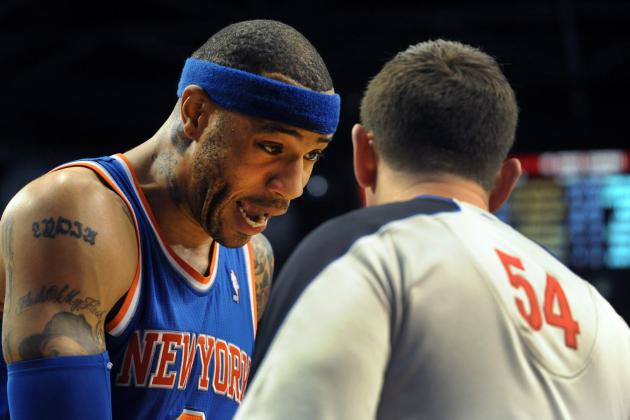 Steve Dykes-USA TODAY Sports

Kenyon Martin
Player Grade: C+
Thirty-five-year-old Kenyon Martin has been forced into the starting lineup due to various Knicks injuries and is playing much more minutes than he signed up for weeks ago.
Martin logged 28 minutes, which is right around his season high of 30. Sunday wasn't his most glorious offensive output—K-Mart scored just four points on six shots. But offense isn't the reason the Knicks brought Martin in as a reinforcement last month.
They give you six fouls, and Martin used five of them against the Clippers and their dominant frontcourt players. The most ferocious of the five came in the fourth quarter as he swatted the arms of Ryan Hollins. Martin was whistled for a flagrant. He also blocked a shot in the matchup.
Scoring ability isn't why Martin is a Knick, but unfortunately for both sides, it's what they need from him as a starter. Once K-Mart started launching up perimeter jumpers, you could tell this wasn't going to be the Knicks' afternoon.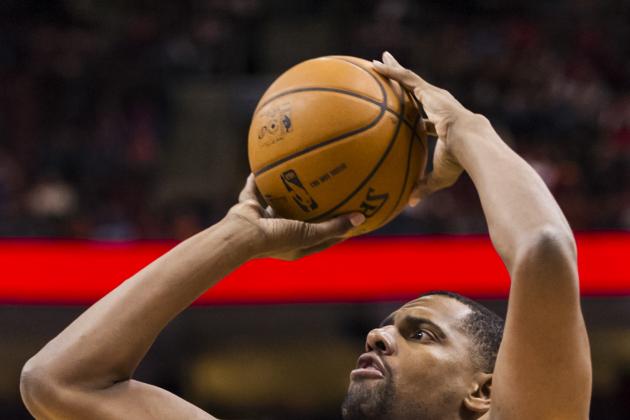 USA TODAY Sports

Kurt Thomas
Player Grade B
Kurt Thomas started in the middle for the Knicks, but logged only 16 minutes against Blake Griffin, DeAndre Jordan and the dominant Clippers frontcourt.
His offensive game wasn't at its sharpest—he accounted for two points on five shots—but the oldest player in the NBA did a decent job containing Griffin and Jordan in limited duty. The two Clips combined for 20 points Sunday.
Thomas appeared to tweak something in his leg during the fourth quarter, but waved away the Knicks medical staff insisting he was fine. It didn't look serious enough to cost him future playing time, but Thomas understood he's needed in New York's current situation.
It's outrageous to ask for much from Thomas at the age of 40, but the Knicks are in a position where they're asking for a noticeable contribution in Carmelo Anthony and Tyson Chandler's absence. He's doing his best to comply, but 40-year-old legs can only carry Thomas so far.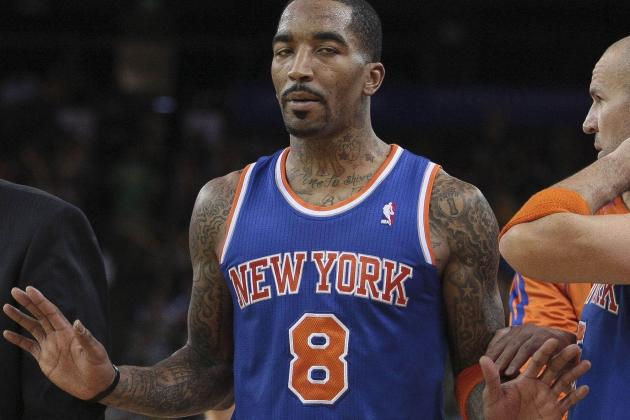 USA TODAY Sports

J.R. Smith
Player Grade: D
J.R. Smith logged 17 points and six rebounds Sunday against LA, but don't let the box score trick you into thinking the Knicks' sixth man played good basketball.
Smith shot a miserable 4-of-20 from the field and was wildly out of control throughout the afternoon. His most embarrassing stretch was a sequence in the second half where he shook off Matt Barnes with a pump fake. Smith presumed he was in the clear, and proceeded to launch a three-point attempt with Barnes behind him, but the Clippers tattoo-equivalent of Smith recovered to easily swat the attempt.
Smith was stuck with the responsibility of guarding Chris Paul occasionally through the game and was on the losing end more often than not.
Without Carmelo Anthony, Amar'e Stoudemire and Tyson Chandler, J.R. is the Knicks' primary scoring threat. A 20-percent shooting night isn't acceptable given the circumstances, and that's exactly what Bad J.R. gave the Knicks Sunday.
Rest of the Bench: C+
The other Knicks reserves weren't very effective either, but failed less hideously than Smith did.
Jason Kidd ran into a bit of shooting luck in the second half, knocking down three-pointers on three consecutive attempts. He finished with 11 points on 4-of-7 shooting.
Marcus Camby was needed down low thanks to the team's health woes, and the 38-year-old didn't bring much to the table. He failed to get a field goal to drop and finished with one point, four boards and no blocks in 22 minutes.
Steve Novak managed to get three treys to fall, including some from well beyond the arc. He was the only Knick to log a positive plus-minus, at plus-nine.
Pablo Prigioni didn't log a minute until the second half, as he continues to curiously fall out of Mike Woodson's rotation. He finished with 12 minutes total and functioned well with Jason Kidd in the backcourt. He scored two points and dished out an assist.