Predicting Arizona Cardinals' Starting Lineup Post Week 1 of Free Agency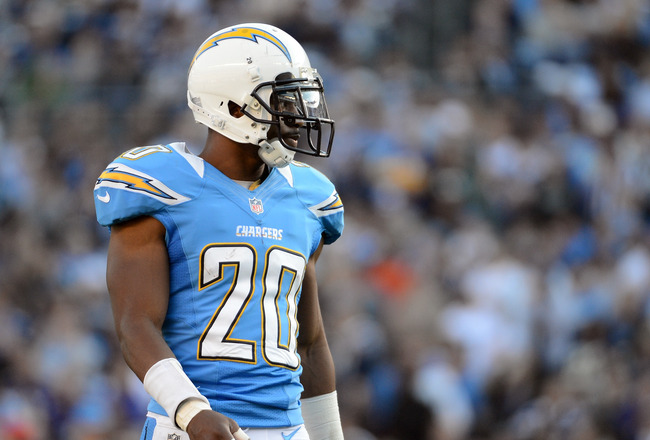 Free-agent signee Antoine Cason should start opposite Patrick Peterson.
Harry How/Getty Images
After the first week of free agency, the Arizona Cardinals sit in a good spot both cap- and roster-wise, so we feel it is time to predict the first starting lineup for the 2013 season.
Will this be the actual starting lineup used by head coach Bruce Arians when Week 1 rolls around? No, of course not. More players could be added through free agency or released to free up even more cap space, and the NFL draft has yet to take place.
Arizona's free-agency plans were not immediately obvious. It seemed as though there was no direction and the team was just cutting away the fat of bad contracts and old players.
But as the big picture begins coming into focus for fans and we all calm down to take a broader look at what is taking place, the masterpiece is easier to see.
General manager Steve Keim has cut the team's two starting safeties, Adrian Wilson and Kerry Rhodes, and replaced them with long-time Cardinals' backup safety Rashad Johnson and 35-year-old Yeremiah Bell.
He also has not added a single offensive lineman to a unit crying to be helped. What, then, is the plan?
As pointed out by Darren Urban of AZCardinals.com, Keim may be waiting for the draft to find the next long-time starters on the line and at safety. It is, indeed, a deep draft for both units, and getting cheap starters who can potentially develop into stars makes a lot of sense for the organization.
Here is my best guess at next year's first starting lineup after one week of free agency.
QB: Brian Hoyer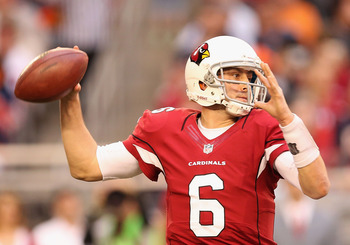 Christian Petersen/Getty Images
Those of you assuming Drew Stanton's signing and Kevin Kolb's subsequent release means Stanton will be handed the keys to the Pinto that is the Cardinals' offense need to take a step back and realize the situation.
Kolb cost far too much money to be kept around.
The team reportedly attempted to work out a restructured contract with Kolb and his agent, but the porcelain veteran refused, sealing his fate.
Brian Hoyer received a second-round tender by Arizona after an odd twist of fate for the team. He missed being labeled an unrestricted free agent by one week, thus taking on the restricted free-agent handle instead.
What's twisty about it?
If Hoyer stayed on with the Pittsburgh Steelers one more week, he would have been an UFA and may not have been signed by Arizona. That would have given him the freedom to pick the team for whom he wanted to play; now, though, he remains with the Cardinals and is my pick to start Week 1.
RB: Rashard Mendenhall; FB: Anthony Sherman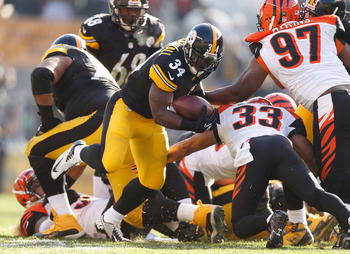 Gregory Shamus/Getty Images
In early January, I touched on five players the Cardinals must avoid in free agency.
Rashard Mendenhall was one of them.
Not because of his recent lack of production or his potential knee issues coming off ACL surgery.
Rather, the off-field issues and crybaby-like mentality were the driving forces behind his inclusion on my list.
However, I failed to grasp the entire picture back then. At least, what I think could have been going on inside Mendenhall's mind.
The crowded backfield in Pittsburgh, a new pass-happy offensive coordinator and personal on-field struggles could have led to a downswing in the 25-year-old's attitude.
Having run into Mendenhall on numerous occasions while living in Champaign, Ill., I can tell you he is not the talkative type. He doesn't command attention in a room and he doesn't have "personality for days," as they say.
Not in my estimation, anyway.
And that's not a slight against the back; it's merely an observation from afar. One doesn't need to command a room or talk until others' ears fall off to be a productive member of society—or a backfield, in Mendenhall's case.
He was brought in for one reason, and that is to be an every-down back in Arians' offense. His one-year contract has "prove it" written all over it (not literally written, of course). If he produces like the Mendenhall of two and three seasons ago, he will earn a payday from his new team.
If not, Arizona can move on if it wishes. It's a win-win.
WR: Larry Fitzgerald and Michael Floyd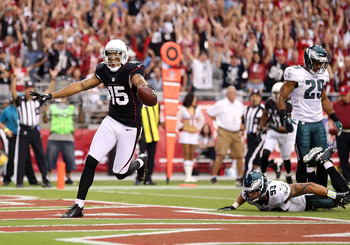 Christian Petersen/Getty Images
With Hoyer starting at quarterback, so too will Michael Floyd at wide receiver.
The two showcased instant rapport against the rival San Francisco 49ers during the final game of the 2012 season.
Hoyer made his only start of the season and Floyd—a rookie first-round pick—had his best performance as a pro.
His eight catches for 166 yards and a 37-yard touchdown were impressive, and it's because of his quarterback that it happened.
Their rapport aside, Floyd was taken in Round 1 to be an eventual starter in the offense. He is a big receiver who uses his body well in jump-ball situations and shows good hands when catching the ball in traffic.
Then, there's Larry. Duh.
TE: Rob Housler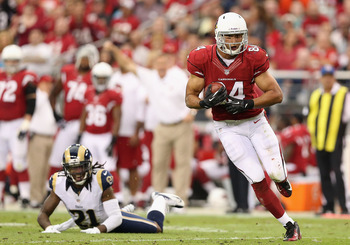 Christian Petersen/Getty Images
I am a big fan of Rob Housler and the football player he is slowly becoming.
He nearly quadrupled his offensive output from his rookie to his sophomore seasons. Though he has yet to score an NFL touchdown in 27 career games—with better throws, he easily could have three or more—he is on the right track to becoming one of the better young tight ends in the league.
Housler had issues catching the ball as a rookie.
He dropped six of 18 catchable passes intended for him for an alarming 33.33 drop rate (per ProFootballFocus).
He caught the ball much better in 2012, as he dropped just three of 48 catchable passes (6.25 drop rate).
In Arians' offense, there will be plenty of opportunity for tight ends to get the ball in space. With Housler's speed, he can be a dangerous weapon akin to Vernon Davis or Aaron Hernandez.
LT: Levi Brown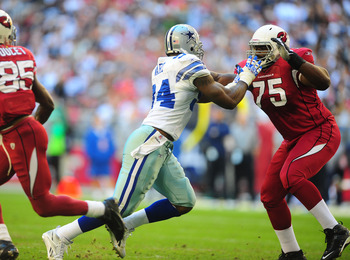 Mark J. Rebilas-USA TODAY Sports
Levi Brown will return to the starting lineup at left tackle in 2013.
After missing last year with a torn triceps muscle he has to be hungry to prove he still is worthy of protecting the blind side.
Brown has been scrutinized for playing a mediocre left tackle since moving to the position for the 2010 season. He started to turn it around over the final eight games of 2011, and 2012 was to be his year to prove he belongs.
That will now be 2013. If he plays well the team may avoid having to spend an early pick on the position in 2014.
LG: Daryn Colledge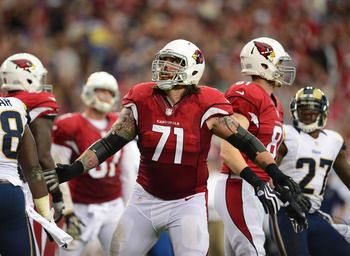 Mark J. Rebilas-USA TODAY Sports
He is not the best left guard in the NFL. He may not even be in the top half among left guards.
But Daryn Colledge is nothing if not a competitor.
Last season he ranked as the fourth-best pass-blocking LG with a plus-7.4 grade from PFF. Run-blocking was a different story, however.
Only four left guards ranked worse than Colledge in run protection, as he earned a minus-6.9 grade from the site.
Colledge is the guy right now, but don't be surprised if Keim and Arians do something about that in the draft. They may not find an immediate replacement, but may spend a late-round pick on a developmental guy.
C: Lyle Sendlein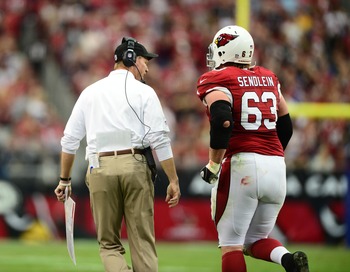 Mark J. Rebilas-USA TODAY Sports
As with Colledge, Lyle Sendlein is good enough in pass-protection but struggles to run-block.
Before an MCL tear ended his 2012 season, Sendlein was doing what he had done every year since becoming the weekly starter for the 2008 season, and that is play.
In fact, from 2008 until his injury midway through last season, Sendlein had missed one play on offense.
That's 5,311 out of a possible 5,312 plays.
Did I mention he played at least three quarters with that tear in his medial collateral ligament in his left knee? It is unclear during which play the injury occurred, but it was early in the Week 12 game against the rival St. Louis Rams.
He has been the toughest and most consistent member of the Cardinals' offensive line, and he will remain the vocal leader of the hogs until a replacement can be drafted.
RG: Adam Snyder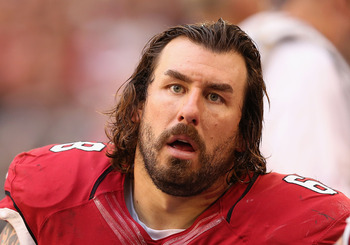 Christian Petersen/Getty Images
My disdain for Adam Snyder as a football player is well known by now.
I have no doubt Snyder, the person, is a likeable guy. But as an offensive lineman, he is not even what you would call "serviceable."
He is what the team has for now, as the decision to go with him over a guy like Jake Scott still haunts them.
Everyone has heard of the elbow injury through which Snyder played last year. That has given people, with hope he can be better, an excuse for his play in 2012.
Don't do that, you'll drive yourself mad waiting for improvement.
He has been bad his entire career, and at this point it's all the eight-year veteran will ever be. It may be harsh, and I certainly cannot be his favorite writer if he sees any of this, but the business of the NFL is a harsh one. If a player fails on the field, he must be replaced.
If I don't perform at my place of employment, I will be replaced as well. It's just the nature of business. Production breeds opportunity; lack of production breeds unemployment.
Arizona must upgrade through the draft. Cutting Snyder now saves them no money, but they should at least attempt to restructure his deal. Making $4 million this season over guys making less for more production—Sendlein, for one—is unfair, and he should be running to give money back to the franchise to help fund new players.
Alabama's Chance Warmack will be an option at No. 7 on draft day. He is an instant upgrade who would start from Day 1.
RT: Bobby Massie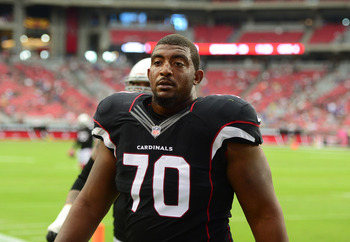 Mark J. Rebilas-USA TODAY Sports
Bobby Massie's rookie season was really two seasons.
The first half of the year, when he was thrust into the starting lineup because of an injury to Jeremy Bridges, was more than forgettable—it was terrible.
He allowed 13 sacks over that time, all during a six-week span from Week 3 to Week 8.
That was it, sack-wise, for Massie.
He buckled down, started watching film religiously, improved his technique and became one of the best right tackles in football over the back half of the season.
His first-half pass-blocking grade was minus-26.7; it was a plus-9.8 for the second half (per PFF).
Compare that to last year's highest-rated right tackle, Andre Smith of the Cincinnati Bengals, who had a second-half pass-blocking grade of plus-5.6, and what Massie did gains perspective.
Massie and the Atlanta Falcons' Tyson Clabo were the only right tackles to play in every game last year and not allow a sack over the final eight weeks of the regular season.
He is the right tackle for the foreseeable future, so please stop assuming moving Brown back to the position and kicking Massie inside to right guard is a good idea.
It's not.
DE/5-Tech: Calais Campbell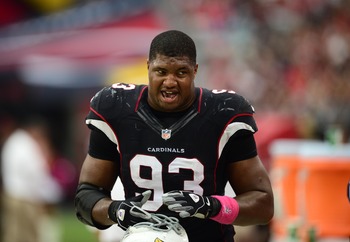 Mark J. Rebilas-USA TODAY Sports
After a stellar 2011 season in which he recorded eight sacks and received a healthy five-year, $55 million contract, Calais Campbell came back with six sacks and was the third-highest rated 3-4 defensive end in the league.
He could have been more productive if not for missing three games with a hamstring issue.
He is one of the best at his position in the NFL, and he will be there for a long time.
Nothing more needs to be said about it.
NT/0-Tech: Dan Williams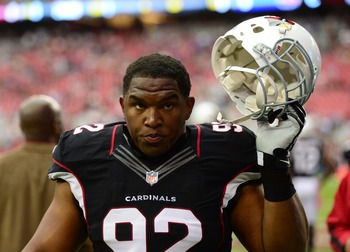 Mark J. Rebilas-USA TODAY Sports
Life in the NFL has been tricky for Dan Williams. He is a former first-round pick who came in with a lot of expectations.
After a disappointing rookie season in 2010 and an injury-shortened 2011 season, he came back and played well down the stretch for Arizona—especially against the run.
Williams is a true nose tackle who reinvented himself last offseason by losing weight and dedicating himself to staying in better shape.
It paid off.
He ranked eighth among defensive tackles at defending the run, ahead of guys like Vince Wilfork, Phil Taylor and Henry Melton. The 2013 season must be a good one for Williams, as he is in a contract year and could earn a nice pay raise if he plays well.
DT/3-Tech: Darnell Dockett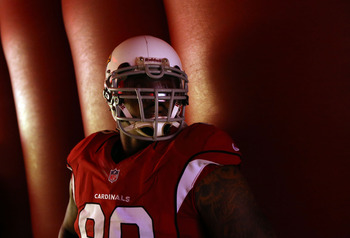 Christian Petersen/Getty Images
Now the longest-tenured defender on the roster, Darnell Dockett had to be thrilled Ray Horton left as defensive coordinator.
They never saw eye-to-eye on his role on the D-line, and Dockett's productivity declined under Horton.
It isn't that he wasn't playing to the best of his ability; Horton's scheme simply does not revolve around pass-rushing defensive linemen. It is the linebackers who do most of the rushing.
Dockett's job was to occupy an area in order to attract as many offensive linemen as possible to free up pass-rushing linebackers—he was not okay with that.
A more expanded role, which includes more rushing the passer, could be good for Dockett and the defense. I know I am looking forward to more sack celebrations from the big guy.
WILB: Jasper Brinkley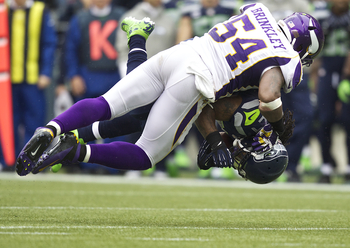 Stephen Brashear/Getty Images
I am not a fan of this acquisition. Jasper Brinkley has more issues tackling than Paris Lenon, the man he replaced on defense.
In his first season as a starter, PFF credited Brinkley with 21 missed tackles. That's one missed tackle for every 5.7 tackle attempts, worst in the league among inside linebackers last year.
Lenon missed 12 tackles a year ago, or one every 9.6 tackle attempts.
Brinkley is a middle-of-the-pack run defender. At 6'2", 275 pounds and playing next to Daryl Washington, he will be asked to provide more run defense than anything. Here's why: He plays very poorly in coverage.
Against the pass last year, only Rey Maualuga—who also visited the Cardinals as a free agent—was ranked lower last season.
But, he's young and is still coachable.
Many believe he is best suited for the 3-4 defense, so if that is the case I'm sure I will change my tune down the road.
For now, I don't like it.
SILB: Daryl Washington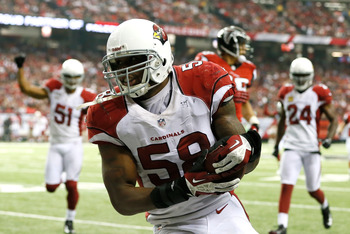 Kevin C. Cox/Getty Images
Ah, yes. The aforementioned Daryl Washington. He is the new cornerstone defender in Arizona.
Without Adrian Wilson to be the leader, Washington now must take on that role and be the voice of the Cardinals' defense.
Last year, Washington became the first inside linebacker in NFL history to record at least 100 tackles and nine sacks (since the tackle became a universally recorded statistic in 1994).
He missed tying the single-season franchise record for sacks by an inside linebacker by a half sack, as E.J. Junior recorded 9.5 in 1984.
He has big shoes to fill as the leader of the defense. Despite having a very good 2012 season, the defense can be better. It starts with Washington and will trickle down to everyone around him.
LOLB: O'Brien Schofield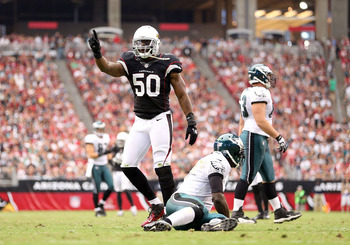 Christian Petersen/Getty Images
The injury sustained by O'Brien Schofield against the Green Bay Packers kept him out the second half of the 2012 season.
During that time, the pass rush went down the drain.
I have said before that Schofield has not carried his own weight in terms of pass-rushing. While that's true, the team's sack totals are far different with him in the lineup as opposed to when he didn't play.
The Cardinals registered 27 sacks in the nine games in which he played last year—three per game. During the final seven games following his ankle injury, the team generated just 11 sacks—just over half the amount per game, at 1.57 SPG.
What's odd? Arizona blitzed slightly more often in the games Schofield missed (15.7 blitzes per game as opposed to 15.1 per game when he played), and they were better at defending the pass on blitzes without him.
They held opposing quarterbacks to a passer rating over 33 points lower over the final seven games of the season, when Quentin Groves was in for Schofield.
Getting to the quarterback less frequently but being better at defending the pass is a push in terms of points generated by opposing offenses. Over the first nine games, the defense surrendered 18.4 points per game (all points allowed minus one defensive TD scored by the opposition).
Over the final seven games, the unit allowed 19.3 points per game (all points allowed minus seven defensive TDs scored by the opposition).
What does all that mean? I have no idea; I just found it interesting, and it took me nearly two hours to find all that out. I figured I'm obligated to use it strictly because of how long it took me to dig all that up. Those of you who love stats as much as I do will understand.
Schofield has 10.5 sacks in three seasons of NFL service. He needs to be more productive than that if he wants to stick around in Arizona any longer than the remainder of his contract—2013 is the final year of his rookie contract.
ROLB: Sam Acho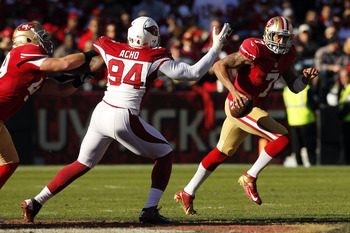 Cary Edmondson-USA TODAY Sports
After notching seven sacks his rookie year, Sam Acho was hoping for a big 2012 season.
Every Cardinals fan was right there with him in hoping he would dominate.
Four sacks later, we are all left waiting for the 2013 season in hopes he produces up to his potential.
Entering his third NFL season, Acho must improve as a pass-rusher and run-defender. He finished 19th among 22 3-4 rush linebackers who partook in at least 50 percent of their defense's plays. He was only slightly higher rated at defending the run, coming in at 18th.
If there is one area in which Acho excels, it is when covering receivers.
Acho allowed just a 34.2 opposing passer rating, which was No. 2 among those same 22 players. He allowed quarterbacks to complete 13-of-19 passes for just 67 yards, no touchdowns and two interceptions.
Improving as a pass-rusher would make him more of a complete player on the field. Finding linebackers who are great in coverage and getting to the quarterback is not as common as you might expect. Normally, you get one or the other.
Hopefully for Acho and for Cardinals fans, he can figure out how to get around left tackles at a higher rate.
LCB: Patrick Peterson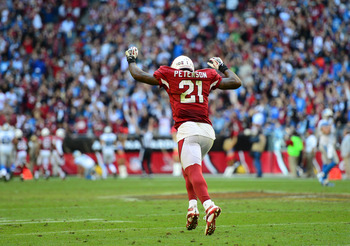 Mark J. Rebilas-USA TODAY Sports
Before the season, Patrick Peterson said he wanted to get to the Pro Bowl not as a punt returner, but as a cornerback.
It had to feel good sitting in Hawaii after doing just that.
Peterson was one of the best cornerbacks in the game in 2012.
He finished fourth in the NFL with seven interceptions and ninth among CBs with an opposing passer rating of 64.8.
His punt-returning numbers dipped in his sophomore season, but that may be attributed to him trying to do too much to help the offense. It appeared at times he was set on returning kicks that he should not have.
As a result, he failed to score a touchdown.
RCB: Antoine Cason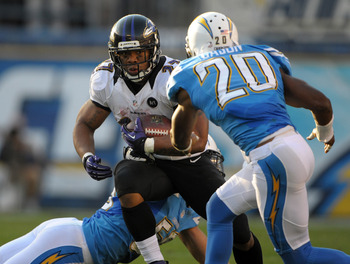 Kirby Lee-USA TODAY Sports
While playing at the University of Arizona in Tucson, Antoine Cason built a reputation for being a ball-hawking corner with swagger to spare.
While in San Diego as a member of the Chargers' secondary, he was less ball-hawking and had less swagger.
He has 12 interceptions in five NFL seasons.
In Cason's best season, 2010, he allowed quarterbacks to complete 52 percent of their passes while intercepting four. His opposing passer rating was 74.0 that year.
As San Diego's defense struggled, so, too, did Cason.
But with a change in scenery comes a new beginning. New teammates and a new scheme bring a new hope for the former first-round pick.
If he can get that old-time swagger back while in the Valley, he and Peterson could become a scary duo defending receivers.
FS: Rashad Johnson
Christian Petersen/Getty Images
Rashad Johnson did a fine job filling in at times for Adrian Wilson and Kerry Rhodes.
He has done so consistently over his four-year career.
Some believe he was brought back after becoming a UFA to replace Wilson at strong safety. I don't see that as being the case. He played his best while at free safety.
Johnson's pick-6 against Matthew Stafford and the Detroit Lions is proof of that. He read Stafford from the snap and produced one of the quickest breaks on a ball I've ever seen en route to the 53-yard scamper.
Johnson signed a three-year deal that will expire following the conclusion of the 2015 season.
With a talented and deep rookie class of safeties set to be drafted in April, it is unknown whether he will be the starter by season's beginning. If Arizona takes the right guy, the rookie could end up starting early.
SS: Yeremiah Bell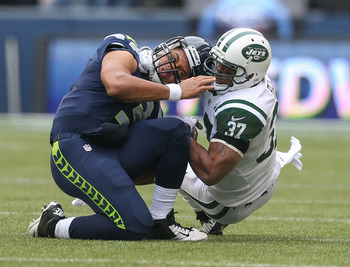 Otto Greule Jr/Getty Images
In nine NFL seasons, Yeremiah Bell has played a lot of both free and strong safety.
He spent the majority of last season at free safety next to LaRon Landry while with the New York Jets, but most of his career was spent on the other side.
In Arizona, he should line up at strong safety. He is old—older than Wilson—and he does not run as well as he once did.
Bell hasn't intercepted a pass since Week 11 of the 2011 season while with the Miami Dolphins, and he has just six during his entire career. That clearly is not part of his game.
What he still does well—and will be asked to do by defensive coordinator Todd Bowles—is play the run. Dropping into the box to be another body on running downs could help shore up what was a mediocre run defense the Cardinals fielded in 2012.
This is not a sexy add by the Cardinals' front office, but it is financially savvy. He is on a one-year deal worth $840,000 with a $65,000 signing bonus for a total of just $905,000 this season.
If he can hold down the fort until next season when the free-agent market is expected to be slightly better than this year's, Arizona will be happy with its small investment.
Keep Reading

Arizona Cardinals: Like this team?