WWE/TNA/ROH: My Top Moments of the Week, March 10-16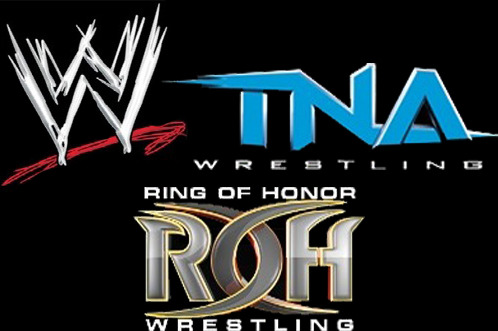 wwe.com, impactwrestling.com, rohwrestling.com
Another week of professional wrestling has come to an end, and it was an overall good week!
TNA Wrestling presented their second pay-per-view of 2013 with Lockdown last Sunday, and it was a great show. With the exception of two matches, everything delivered and storylines got a huge boost.
WWE Raw was a solid show. There were a few good matches and moments, and the main storylines for WrestleMania got some good build. The undercard finally got some attention as well.
TNA Xplosion presented one match in James Storm vs. D.O.C. this week. It was a solid match, so TNA's international show makes it on the list.
ROH Wrestling was a very good show. Friday's episode featured some good matches and excellent storyline development in the S.C.U.M. storyline.
WWE Main Event was a decent show. I couldn't really get into most of it, but one match does make it this week.
WWE NXT was also a decent showing. Like Main Event, I couldn't get into parts of the show. I found one match to be quite good, though.
TNA Impact Wrestling was live in Chicago for its first episode on the road. TNA Wrestling delivered a solid show that featured some great follow-up to the events from Lockdown. There were also a few good matches as well.
WWE SmackDown was a solid show, though there were parts where I found myself getting bored. The main SmackDown storyline for WrestleMania got some nice build, though, and some undercard matches continued to be teased.
I watched WWE Superstars this week, but I just couldn't get into it. None of the matches grabbed my attention. WWE Saturday Morning Slam is also left off the list this week again due to a religious show airing in its place for some reason.
What was the best show, or shows, this week? Click here to vote on what you thought was the best of the week!
Begin Slideshow

»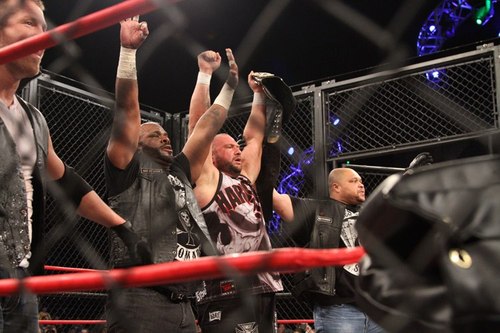 photo from facebook.com/ImpactWrestling
I enjoyed TNA Lockdown so much that I decided just to include it in one slide. With the exception of two matches, TNA Wrestling presented a great pay-per-views last Sunday.
It started off strong with an excellent X-Division Championship match between champion Kenny King, Christian York and Zema Ion, and closed things out with new World heavyweight champion Bully Ray, who was also revealed as the president of the Aces & Eights.
Six of the eight matches really delivered, both in action and storylines. Whether it was Taryn Terrell attacking Gail Kim or new life breathed into the Aces & Eights storyline, TNA Wrestling did everything right with its second of four PPVs of the year.
The match of the night was definitely the Tag Team Championship match between champions Austin Aries and Bobby Roode, Bad Influence and the team of Chavo Guerrero and Hernandez. From start to finish, all three teams gave the fans a great match.
The outcome of Kurt Angle-Wes Brisco was unexpected, Lethal Lockdown was fun with a lot of great spots and Bully Ray's return to heel was very well done. The duds of the night were Joey Ryan vs. Joseph Park, though this wasn't terrible, and Robbie E vs. Rob Terry. The rest of the night really made up for them, though.
For my full review, click here.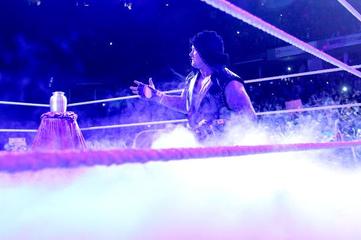 photo from wwe.com
Monday's WWE Raw kicked up with the toll of the bell, signifying that The Undertaker was starting the night off. In the ring was Paul Bearer's signature urn, and the WWE Universe soon saw the Deadman kneel down in tribute to his fallen manager and friend.
I couldn't have thought of a better way to open the show. It's rare to see The Undertaker take part in tributes to fallen wrestlers/managers due to his character, but seeing as Bearer was by his side for years and helped make him a household name with wrestling fans, it was great to see him do it.
CM Punk may have interrupted everything, but he couldn't take away the moment no matter what he said.
Throughout the night, WWE aired various "Remembering Paul Bearer" videos, and I found myself smiling for each one. I remember seeing all of them when they originally aired; they were truly great trips down memory lane.
Kane would also pay tribute to his storyline father by avenging the interruption from Punk. Carrying the urn with him, Kane defeated Punk in the main event of the night. After Punk attacked him with the urn, the night ended with the Brothers of Destruction together, united for a common cause.
Paul Bearer is without a doubt one of the best managers WWE has ever had. Whether he was by the side of The Undertaker, Kane, Mankind, Vader or the Ministry of Darkness as a whole, Bearer was there during some of the best moments of the early to mid-1990s and the Attitude Era.
Rest in Peace Paul Bearer.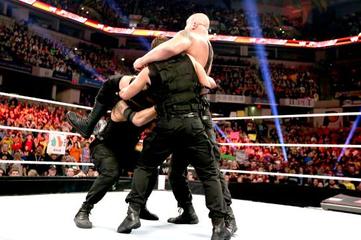 wwe.com
This was just an impressive feat. The commentators always get all excited when John Cena or Sheamus pick up The Big Show, but they're both big and muscular guys. Seeing them do it is expected, and seeing it more than once, the feat loses its impact.
I know they can do it, so why should I be shocked or impressed when they do it for the 10th time?
While Roman Reigns is kind of a big guy, Dean Ambrose and Seth Rollins are not. Seeing those two lift up The Big Show not only surprised me, but it was also damn impressive. Their combined weight doesn't even equal Big Show's total weight.
Reigns may be a big guy, but having somebody that's 450-500 pounds sitting on your shoulders is crazy. Big Show's weight seems to be evened out when he's lifted by Cena and Sheamus, but not up in a powerbomb. All of his weight had to have been crushing Reigns.
I don't know since I'm not the one lifting him; I can only speculate from what I see. Either way, The Shield's massive powerbomb was certainly impressive.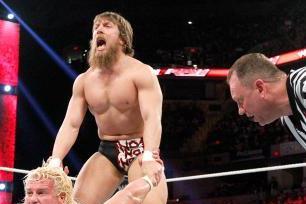 wwe.com
Daniel Bryan and Dolph Ziggler had a solid match in what was the first real contest of the night. The Big Show vs. Seth Rollins happened before this, but it lasted maybe a minute and ended in disqualification.
Bryan and Ziggler gave the WWE Universe some good back-and-forth action and showed that they have some great chemistry with one another. This could be a great feud over the World Heavyweight Championship somewhere down the line. Both wrestlers performed great here, which shows that the future is truly bright for WWE.
This match featured something shocking, and that was Mr. Money in the Bank actually winning the match. As I watched them go at it, I found myself saying, "This is a good match; I wonder how Bryan is going to win." If the past month was any indication, AJ Lee and Big E Langston would get involved and Ziggler would lose as a result.
This time around, AJ and Langston's involvement led to Ziggler's victory. I couldn't believe it and thought I was dreaming.
I would have been fine with a Ziggler loss, though. As long as he's having good matches, that's all that matters to me.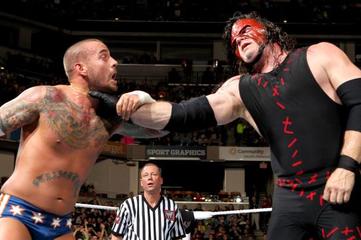 wwe.com
The main event of the night saw Kane wanting to get some revenge on CM Punk in a No Disqualification match. He got that revenge in a good match. With some solid action throughout, Kane and Punk delivered in the final match of the show.
I thought the ending was well done. The bell toll distracted Punk enough to ultimately get Chokeslammed by Kane, and the Brothers of Destruction saluted Paul Bearer after the victory. Punk would attack Kane with the urn during the tribute, which got the Deadman to head to the ring.
The storyline between The Undertaker and Punk is starting to develop nicely. With Punk giving him condolences at the beginning of the show over his future loss at WrestleMania and his stealing of the urn, he's trying to get inside the head of the Phenom. That's something nobody has been able to do.
Usually it's The Undertaker that plays mind games, but this time around, his opponent is playing them with him. This storyline will get very interesting very fast.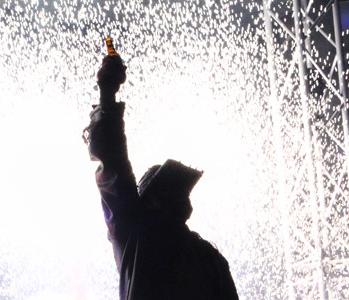 photo from impactwrestling.com
The one match featured on this week's TNA Xplosion had Lethal Lockdown opponents James Storm and D.O.C. going one-on-one. The match may have ended in a disqualification when D.O.C. hit a low blow on Storm, but the match as a whole was pretty solid.
They gave some nice action throughout the time they were given, and since both wrestlers are brawlers, it was a bit physical as well.
The DQ finish makes sense since D.O.C. is a heel and the Aces & Eights look for any way to take out a member of the TNA roster. He tried doing that with the hammer post-match, but Storm gave him the Last Call instead.
D.O.C., formally Luke Gallows or Festus of WWE, doesn't really get the credit he deserves. For a big man, he can get the job done in the ring. I have to wonder what he'll do once the Aces & Eights storyline does eventually end, though.
Storm was good like he usually is, and with Bully Ray's title win at Lockdown, I have a feeling that he'll be a contender very soon.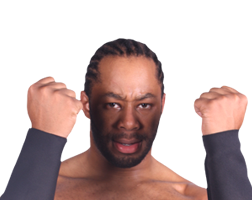 photo from rohwrestling.com
Monday's episode of ROH Wrestling was an overall good show, so I have included it in one slide.
The show started off with ROH matchmaker Nigel McGuinness rallying the troops. At the 11th anniversary show, which I am working on watching, S.C.U.M. revealed more members in Rhett Titus, Jimmy Jacobs and Matt Hardy, and they declared that they were going to kill Ring of Honor.
McGuinness gave a great promo about how honor wasn't dead and that they would fight to the last man. Adam Cole, B.J. Whitmer and both Briscoe Brothers were awarded title shots at S.C.U.M. leader and ROH World champion Kevin Steen as well.
It was great to see both babyfaces and heels standing side by side with one another. They may have their differences, but they have a common threat. This is something WWE should be doing with The Shield, and TNA Wrestling with the Aces & Eights.
Instead of seeing the same three guys fight The Shield and the same handful fight the Aces & Eights, the locker rooms should be uniting with the common goal of eliminating the threat. Ring of Honor has done everything right with the S.C.U.M. storyline, and it's better than both The Shield and the Aces & Eights are combined.
The opening match saw the new team of Tadarius Thomas and A.C.H. take on the American Wolves. It was truly a great match, and as Kevin Kelly said on commentary, "This is an early Match of the Year candidate."
Thomas and A.C.H. were just so impressive in the ring, while Davey Richard and Eddie Edwards continue to be two of the best ROH has to offer. ROH's tag team division is miles ahead of both WWE's and TNA's.
The next match saw B.J. Whitmer defeat QT Marshall due to the referee stopping the match. This match was kind of slow and boring, but it showed Whitmer's intensity. He's going to need that battling Steen and S.C.U.M.
The main event featured Jay Lethal and Roderick Strong going one-on-one. Lethal defeated Strong in a very good match. Both guys are great in the ring and had good chemistry. I would love to see these two fight over the ROH World Heavyweight Championship sometime this year!
Ring of Honor is on a roll thanks to the S.C.U.M. storyline. This is looking to be a very good year for them!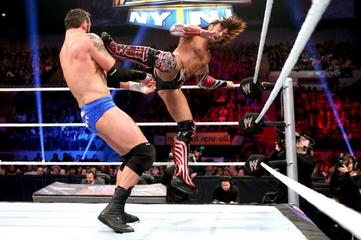 wwe.com
The final match on Wednesday's WWE Main Event featured Intercontinental champion Wade Barrett going up against Justin Gabriel. Despite being kind of short, Barrett and Gabriel had a solid match.
I couldn't really get into the previous matches on the show, but this contest woke me up with its fast-paced action.
Gabriel is a great performer and really should be featured more than he is. He'll probably never be a main event star, but he could really liven up the WWE midcard if given the chance.
I was happy to see Barrett finally win a match, though I think he would have had more impact if he beat someone higher up on the card. Barrett deserves better than what he's getting; thankfully, he'll actually be defending his Intercontinental Championship on Monday's Raw.
I can't remember the last time he defended it, so I'm quite excited for the match, especially with Chris Jericho and The Miz as his opponents.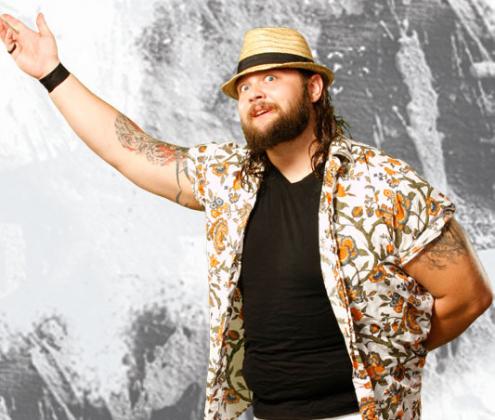 photo from fcwwrestling.info
This match between Bray Wyatt, formally Husky Harris of the Nexus, and Bo Dallas on NXT was a solid contest. It featured some good back-and-froth action, but at times, Wyatt was in control due to his size and power. Dallas sold for him very well, though, so it really added to the match.
Dallas is a great talent who comes from a great family. Being the grandson of Blackjack Mulligan, nephew of Barry Windham and son of Mike Rotunda, Dallas truly bleeds wrestling. It's a shame his main roster debut seemed to fall flat, as I think he could have really made an impact in the midcard.
One of the reasons I think this match went so well despite both wrestlers having two different styles is because they're brothers. For those that didn't know, Wyatt and Dallas are the sons of Mike Rotunda, and everything else I said above.
Wyatt also bleeds wrestling like his brother. He has improved so much since becoming Bray Wyatt, and his gimmick is really weird. I think it could really get over with audiences on the main roster if given the chance.
These four Knockouts had a solid tag team match here. Velvet Sky, Mickie James, Gail Kim and Tara gave fans some nice action throughout, and the ending was well done.
To start the end sequence, Gail started yelling at Taryn Terrell like she did at Lockdown. Taryn slapped Gail, which resulted in a top rope Thesz Press from Mickie, but she was then hit with Tara's Widow's Peak. Velvet then finished everything off with her In Yo Face on Tara.
Everyone got in a big move at the end, and Gail's feud with Taryn was advanced some more as well. It seems to me that this Gail-Taryn situation is going to lead to Taryn's firing as the referee for Knockouts matches.
It won't be the last we see of her, though, as she'll start wrestling to further advance her storyline with Gail. It's good to see a Knockouts feud get time to it. Gail-Taryn has been brewing for about a month now, so TNA has actually thought about this.
It would be nice to see Velvet have a feud for her Knockouts Championship, though I suspect Gail will remain as her challenger with Taryn there as well.
It was great to see Mickie, as I have been a fan since her early days in TNA. I really wish that she'd turn heel, though. Her babyface character is stale, and being one of the most popular Knockouts, turning her heel could have a big impact on the title scene and with fans.
Being in Chicago, Bad Influence presented "Throwback Thursday." Dressed as the legendary Road Warriors, they delivered an entertaining segment. Calling themselves the Legion of Boom, and with lines like "Oh what a tush," Bad Influence continue to be one of the most entertaining parts of Impact Wrestling every Thursday.
They also threw a few shots at AJ Styles, who no-showed his scheduled return, so James Storm came out to defend him. Storm cut a solid promo as well, and that led to a match between Storm and Daniels.
They had a pretty good matchup with a quick pace and solid back-and-forth action. This was a rematch from Genesis in January, so it's nice to see TNA revisit the feud. Seeing as the match in January was for the No. 1 contendership, the feud just ended abruptly. I'm glad it's continuing.
It took a new turn here, though. AJ Styles would make his return to TNA, while Daniels and Kazarian were beating down Storm. He sucker punched Kaz, and Daniels ran away before Styles could touch him. Then Styles clotheslined Storm out of nowhere!
Is Styles turning heel? I sure hope so! It's a wait-and-see situation, though. He did attack the heel as well, so Styles could be sending a different message. I can't wait to see what Styles has to say and how all of this is going to develop.
The main event of Impact Wrestling's first live show on the road saw Sting go one-on-one with Austin Aries. The match would end in disqualification when the Aces & Eights ran in and attacked Sting, but before the DQ finish, he and Aries were having a solid match.
They were giving fans some good action throughout the contest, as Aries continues to show why he is one of the best in TNA Wrestling. He can perform with anyone and deliver in the match with them. I think it's only a matter of time before he's World champion again. With Bully Ray as champion, it just may not happen in 2013.
As for Sting, the Icon can still go in the ring. I've noticed he has started to slow down, though. At 53 years old, 54 in just a few days, Sting's time in the ring may be coming to a close. I think this will be Sting's final year as a wrestler for TNA Wrestling.
He'll stick around for as long as the Aces & Eights storyline lasts, which seems to me like Bound for Glory, and that'll be it. He can still get the job done in the ring, but I think it's just time. He's a 12-time World champion and has had a career some can only dream about; he has nothing else to prove.
At Lockdown, some new life was breathed into the Aces & Eights storyline. After everything that happened on Impact Wrestling, I have a renewed interest in the storyline.
They interrupted the opening Tag Team Championship before it got started and took out Chavo Guerrero and Hernandez, and Bully Ray cut a great promo afterwards. I'm so glad to see Bully Ray back as a heel. I liked how he blamed Hulk Hogan for what happened at Lockdown.
Before the match, Hogan told him to do something memorable, so the Aces & Eights cancelled their original plan with Wes Brisco and Garett Bischoff and did something memorable. Bully's great promo wouldn't be the last of the Aces & Eights, though, as they attacked Sting during the main event and challenged Hogan to fire them all.
Instead, Hogan sent out an impressive looking army, consisting of Jeff Hardy, Samoa Joe, Kurt Angle, Magnus, Joseph Park, Rob Terry, Chavo Guerrero and Hernandez. The Aces & Eights took all of them out, which is something new. Usually when the roster united against them, the Aces & Eights ran off in defeat.
With Bully Ray as the president and TNA World champion, the Aces & Eights are stronger than they have ever been. It took nine months to get to this point, and I think it was worth it! The Aces & Eights would also "hack" TNA's website, Facebook and Twitter. If you go to the site now, though, TNA has gotten back control. Even though it was for a short time, the situation really adds to their takeover of the company.
This storyline is still not as good as Ring of Honor's S.C.U.M. storyline, but at least it's finally leading somewhere.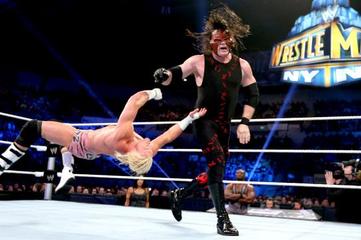 wwe.com
Kane and Dolph Ziggler had a solid match on SmackDown. They delivered some good back-and-forth action in the middle and toward the end of the match, while Kane showed his dominance in the beginning.
Kane was just destroying him for the first five minutes, which I think is great for Kane's character. He's been lacking in the monster side of him for a while now, and he's starting to show some signs that the monster is still inside him. It helps that he was still enraged about what happened on Raw, but he was a beast in the beginning nonetheless.
Ziggler picked up another win here, so that's good as well. With Kane's attack on Big E Langston during this match, and Langston attacking both Daniel Bryan and Kane in the post-match, it's starting to become clear what's going on.
Ziggler has a win over both World Tag Team champions, and with Langston attacking both of them as well, Team Hell No vs. Ziggler and Langston looks to be happening at WrestleMania. I'm thankful the undercard for WrestleMania is starting to take shape.
A match with The Shield, Sheamus and Randy Orton seems to be set with The Big Show possibly involved as well, while another featuring Mark Henry and Ryback is getting teased. With an Intercontinental Championship match occurring on this coming Monday's Raw, it looks like that will lead to something as well.
Alberto Del Rio and Ricardo Rodriguez finally did a new video mocking Jack Swagger and Zeb Colter, and this one was pretty funny as well. I liked the first one better, but this did get me laughing.
Talking about how Canadians are sneaking into the United States and how their maple syrup is destroying our country, Del Rio and Rodriguez delivered again.
I love Canada. I've been there many times, and the country is one of my favorite places to visit. I also love South Park, which is full of Canadian jokes. After 16 seasons of the animated show, I've heard just about every Canadian joke in the book.
Thanks to South Park, I can't help but laugh when somebody is throwing jokes out about Canada. What Del Rio and Rodriguez were doing was nowhere near as funny as what series creators Trey Parker and Matt Stone do, but they succeeded in mocking their rivals and advancing the storyline for WrestleMania.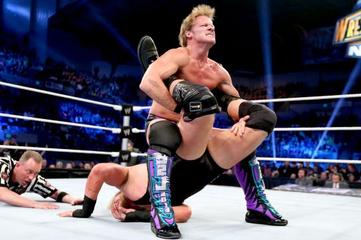 wwe.com
The main event of Friday's SmackDown saw Chris Jericho go up against Jack Swagger in a very good match. Both Jericho and Swagger delivered in a big way during this match. With solid back-and-forth action throughout, they had what was no doubt the match of the night.
Swagger has never been better. For the first time in years, I can believably see him as a main event Superstar in the WWE. Zeb Colter has given him new life.
It doesn't matter how many times Jericho leaves and comes back, he's still one of the best WWE has. He's also the best kind of veteran. Most veterans who return will just beat everyone they come across and only appear for the big paychecks. Jericho is different.
After touring with Fozzy, he returns to the WWE and actually puts over the other talent. He deserves major props for doing both. Touring with Fozzy and performing for WWE back-to-back has got to be tiring, but he finds the time to do both while entertaining the fans of both worlds.
Putting over talent is one of the best things a veteran can do, especially when that veteran has the accolades Jericho does. Seeing Swagger defeat somebody like Jericho makes him a major threat to Alberto Del Rio.
If he can defeat a six-time World champion and record nine-time Intercontinental champion, then it's definitely believable that he can defeat Del Rio.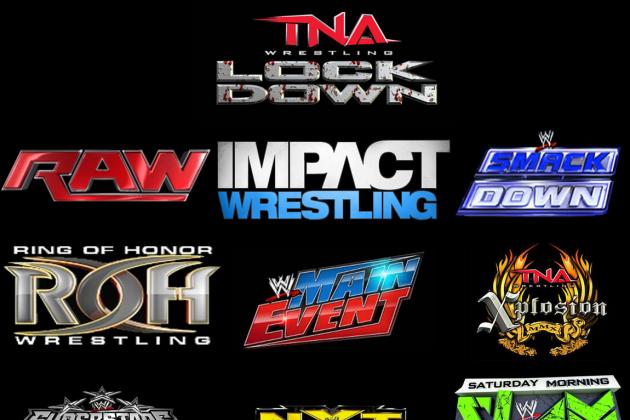 Logos copyright to their respective companies (WWE, TNA Wrestling, Ring of Honor)
Here are the polls results from what you thought was the best show last week!
WWE Raw: 29.9%

TNA Impact Wrestling: 21.2%

ROH Wrestling, March 9: 10.9%

WWE SmackDown: 10.3%

WWE NXT: 8.2%

WWE Main Event: 6.0%

WWE Superstars and Saturday Slam: 4.3% each

ROH Wrestling, March 2: 3.8%

TNA Xplosion: 1.1%
Thanks for reading, and don't forget to cast your vote on what you thought was the best show this week!
There may not be a list next Sunday. I am leaving for a vacation this coming Tuesday and will be gone for a week. If I am able to at least watch the main shows (Raw, SmackDown, Impact Wrestling and ROH Wrestling), then I will put something together. I can't guarantee anything, though.