New York Knicks vs. Portland Trail Blazers: Postgame Grades and Analysis for NYC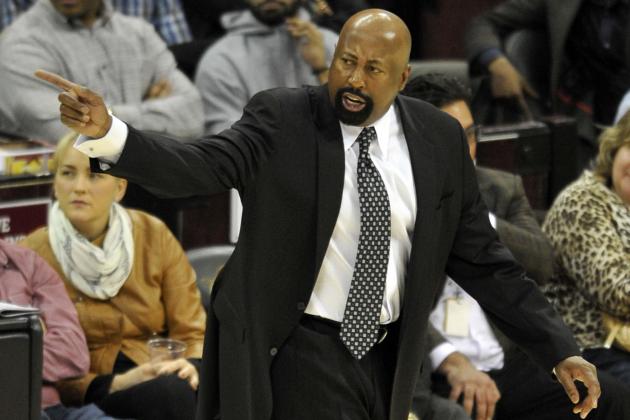 David Richard-USA TODAY Sports

After beginning their five-game West Coast swing with two brutal losses, the New York Knicks headed to the Rose Garden for a tilt with the Portland Trail Blazers. Clad in their "Rip City" jerseys, Portland came away with the 105-90 victory.
The Knicks' starting five on Thursday was one of the worst lineups fielded by any team in the NBA this year: Raymond Felton, Iman Shumpert, Chris Copeland, Kurt Thomas and Kenyon Martin.
With Amar'e Stoudemire already out for the rest of the regular season, Carmelo Anthony was back in New York with a drowning right knee and, Tyson Chandler did not dress because of a contusion to his left knee.
As a result, J.R. Smith led all scorers with 33 points.
The Knicks had been victimized by numerous point guards this year, so Damian Lillard—the consensus choice for Rookie of the Year—presented a terrible matchup for them. Unsurprisingly, Lillard finished with 26 points and 10 assists.
J.J. Hickson had 12 points and 15 rebounds, and all five Portland starters scored in double digits...through three quarters. LaMarcus Aldridge also notched a double-double as the Knicks D-League lineup allowed numerous Blazers to post pretty stats.
New York performed admirably in the early going and succeeded in limiting their turnovers, but Portland closed out the first half on a 13-0 run for a 51-48 lead.
New York had been dominating the points in the paint by a 22-10 margin before the run, but they allowed the Blazers to score 10 in the paint in final three minutes of the second quarter.
Then the Knicks failed to emerge from the locker room after the half. Just six minutes into the third quarter, the Knicks were losing by 10. They were down by 16 entering the fourth.
The final 12 minutes were inconsequential even though the Knicks made it somewhat interesting.
After trailing by just seven with six minutes remaining, Portland scored eight straight points over the next 82 seconds, capped by a Nicolas Batum triple to ice the game.
Though Portland are just 30-34, they are very tough at home, playing 10 games over .500. The Blazers are now just three games out of the last playoff spot, which could be up for grabs because of Kobe Bryant's severely sprained ankle.
The Knicks have been in a tailspin lately. They are 20-20 since December 16 and were utterly routed by the Golden State Warriors and Denver Nuggets in their past two contests. New York currently sits in third place, but they came in just four games ahead of seventh place.

Begin Slideshow

»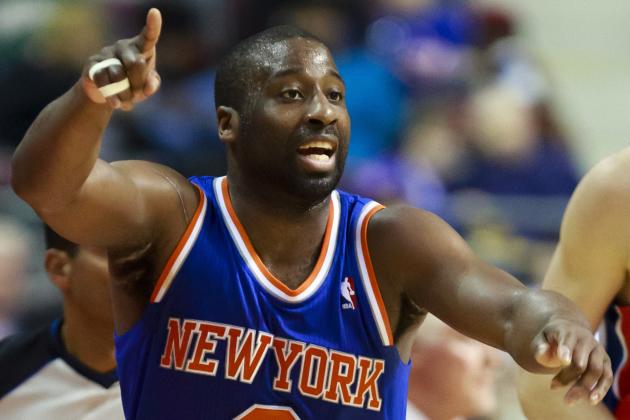 Rick Osentoski-USA TODAY Sports

Raymond Felton, PG: B-
Felton was the only true Knick starter on the court at tipoff. New York needed the sort of strong performance from their point guard that he had been demonstrating early in the season.
But Felton scored only four points in the first half to go with three assists. He finished with 11 points (on 4-of-11 shooting), three steals and two turnovers.
Felton looks like a shell of himself, regardless of who he's on the court with. His turnovers have risen while his scoring and assists have dipped.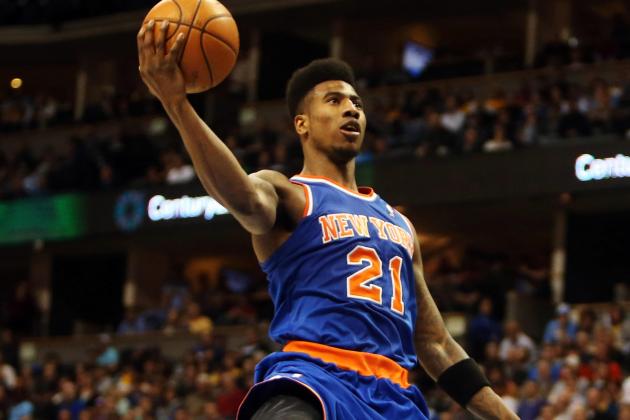 Chris Humphreys-USA TODAY Sports

Iman Shumpert, SG: C
Coming off a season-high 20-point game on Wednesday night, the Knicks needed another strong performance from Shumpert.
But he failed to stand out from the Knicks' mediocre starting lineup, managing just four points in the first half. Shump ended with six points on 3-of-9 shooting, with four boards.
It would have been a big positive for the Knicks to have Shumpert turn in solid back-to-back games, but he seems unable to offer consistent production, both on offense and defense.
Damian Lillard's quickness deked Shumpert on at least two occasions, just like Denver's Danilo Gallinari did on Wednesday.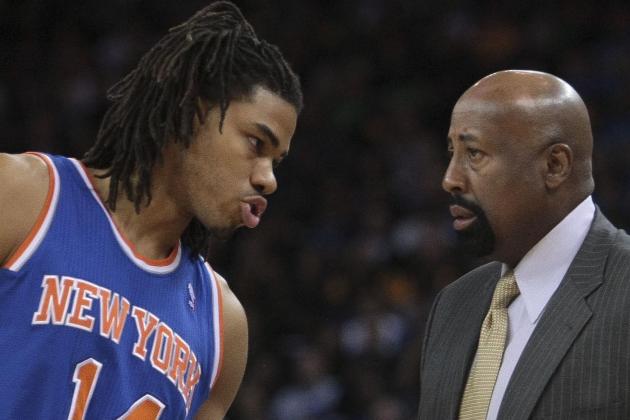 USA TODAY Sports
"Can I please have some more playing time?"
Chris Copeland, SF: C+
Instead of starting James White at the 3, as he had been doing, Mike Woodson chose to insert Chris Copeland in the hopes of generating more scoring. White had previously exited each of his starts after about five minutes to make way for sixth man J.R. Smith.
Copeland came in averaging 20.6 points on 48.2 shooting per 36 minutes on the season.
Strangely, Copeland played just six minutes in the first half, as he was the one to yield to J.R. Smith. While I understand Copeland's defense can be a liability, he was the second highest-rated Knicks player in the first half at plus-five.
Copeland ended the game with nine points on 3-of-8 shooting. He was in early in the fourth with the game still in the balance, but Woodson didn't allow him to become much of a factor from that point forward.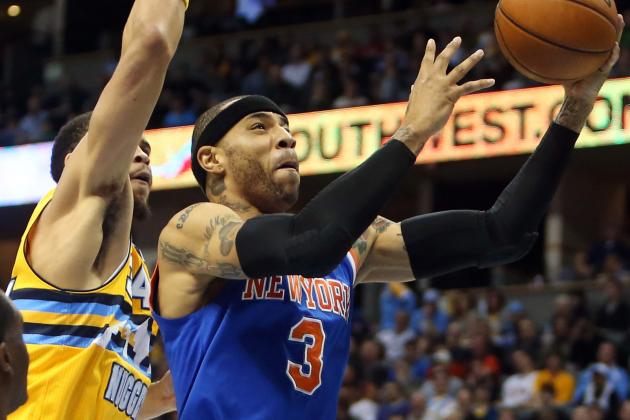 Chris Humphreys-USA TODAY Sports

Kenyon Martin, PF: B
K-Mart played a stellar first half, dropping 10 points on 5-of-7 shooting. He also added two boards, a steal and a block.
Understandably, for a 35-year-old who's still getting himself into game shape, K-Mart slowed substantially in the second half and finished with 12 points.
Martin played almost 31 minutes in this contest (the third-highest total on the team), which is about three times as many minutes as he should get.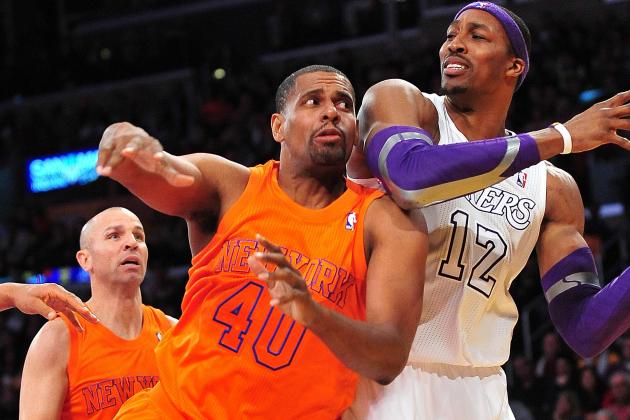 Gary A. Vasquez-USA TODAY Sports

Kurt Thomas, C: B-
Thomas only scored two first-half points, but he also pulled in five rebounds and dished out three assists.
The oldest player in the NBA had an efficient night, sinking all three of his shots and ending with seven boards and a block.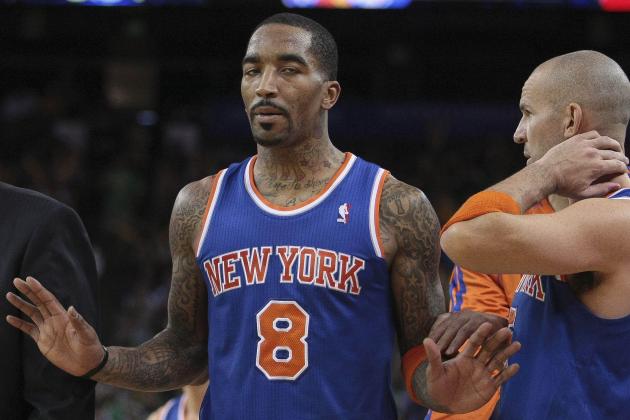 USA TODAY Sports

J.R. Smith, SG: A-
The Knicks' only true scorer on Thursday was J.R. Smith. With no Carmelo Anthony, New York was hoping for a big night from their mercurial sixth man.
Smith had a decent scoring first half, recording nine points on 3-of-6 shooting, but he also committed three of the team's five turnovers.
While Smith woke up in the second half, the rest of the team took a nap. Smith finished with 33 points, going 11-of-21 from the floor, but he still posted a minus-12 for the night.
Smith padded his stats, but he failed to lift his team late when the game hung in the balance.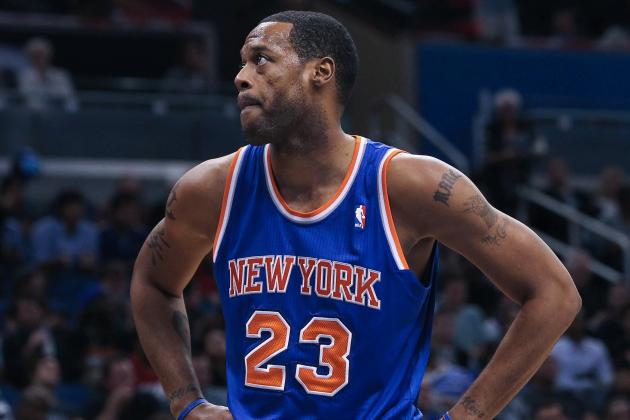 Kim Klement-USA TODAY Sports

Rest of Bench: C+
After being the only Knick to earn a DNP on Wednesday night, Marcus Camby turned in a fantastic first half, with eight points on 4-of-5 shooting and four rebounds.
Though he failed to score in the second half, he hauled in six more rebounds to finish in double digits. He also had three assists.
Jason Kidd played heavy minutes, took seven of his eight shots from three-point range and made just one of them. He also had two assists, two turnovers and a steal to round out a disappointing night.
Pablo Prigioni saw big minutes as well, dishing out five dimes. He also showed some kleptomania with four steals. But on one of them in the fourth quarter, as the Knicks were still within striking distance, Prigioni drove to the basket following a steal.
He pulled up after briefly losing the handle but completely failed to notice J.R. Smith wide open trailing the play. The Knicks did not score on the possession, and Portland drained a trey on the other end.
Though Steve Novak played only six-and-a-half minutes in the first half and did not attempt a shot, he owned a team-high plus-seven differential at halftime. That alone may be a condemnation of the plus/minus stat.
Novak barely played in the second half, and saw zero minutes in the fourth quarter when the Knicks sorely needed a long-range shooter.
Oddly, with the team shorthanded, James White remained nailed to the bench after starting every game this month.
The Knicks have a tall test in their next game: They face Chris Paul and the Los Angeles Clippers on Sunday afternoon, when they are sure to extend their losing streak to four games.