Picking 1 Free Agent to Fill Each of Minnesota Vikings' Holes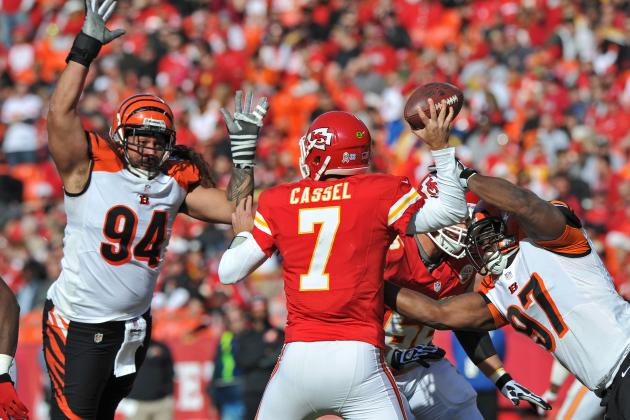 Peter Aiken/Getty Images

A wild NFL free-agency period kicked off on Tuesday, with the Minnesota Vikings finally dipping their toes in on Thursday afternoon, signing Matt Cassel to presumably be the backup quarterback to Christian Ponder.
The fun actually began a day earlier for the Vikings, when they made splashy news by trading disgruntled wide receiver Percy Harvin to the Seattle Seahawks for three draft picks, including the 25th overall pick in this year's draft.
The Vikings and general manager Rick Spielman have been pretty adamant that their philosophy is one of building a team through the draft first and foremost, only supplementing their roster with free agents.
The message was clear: Don't expect us to make any huge free-agent signings.
That might have changed Monday after Harvin was traded, when the Vikings found themselves with an unproven quarterback and just three wide receivers on their roster, none of whom had proved much of anything in the league.
With that in mind, the Vikings flew free-agent receiver Greg Jennings into town Thursday to see if they could knock out a deal that would land the former Packers receiver in Minnesota.
Other than that, Spielman has done what he said he was going to do and kept most of his own free agents, locking up six of their 10 unrestricted free agents.
Here we look at the moves the Vikings have made, and who might still be out there to fill a hole for the Vikings.
Begin Slideshow

»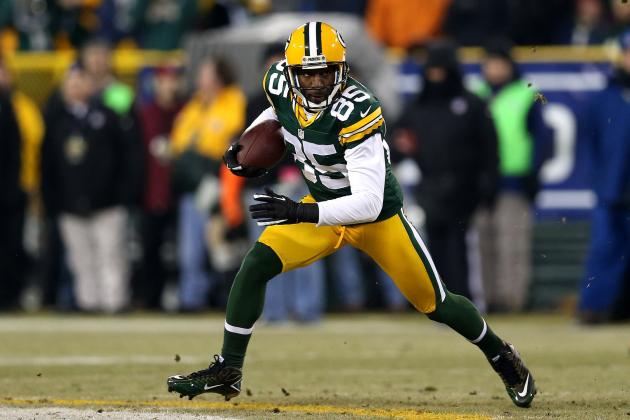 Jonathan Daniel/Getty Images

Wide receiver Greg Jennings is flying to Minneapolis on Thursday and will be dining with Vikings officials this evening.
Jennings is a much bigger and costlier name than anyone imagined the Vikings would go after in free agency, but things changed dramatically when they traded away Percy Harvin on Monday.
It remains to be seen how much money the Vikings are willing to spend on Jennings, who is 29 years old and missed half of 2012 with injuries. The market has been set pretty high by the contracts signed by Dwayne Bowe, Mike Wallace and Percy Harvin in the last week.
Those three all signed deals that will pay them over $10 million a year, a number that is certainly overpaying for Jennings—but he might cost Minnesota close to that if they want to see him in purple.
Both Wes Welker and Danny Amendola signed deals for around $6 million a year on Wednesday, so the Vikings are probably hoping to land Jennings for something between those numbers, or else ink Jennings for $10 million a year for three years.
Jennings knows the Vikings are desperate for receiver help and that the Packers would like him back, so he's sitting in a win-win situation.
Jennings would give the Vikings a legitimate No. 1 receiver and he might like the chance to be targeted a lot more than on a team that also has James Jones, Jordy Nelson and Randall Cobb.
If the Vikings can't come to terms with Jennings, then they'll have to look around to see if any of the second-tier receivers are worth bringing in. Whatever the case, it would be shocking if the Vikings don't draft two receivers in the first four rounds in April.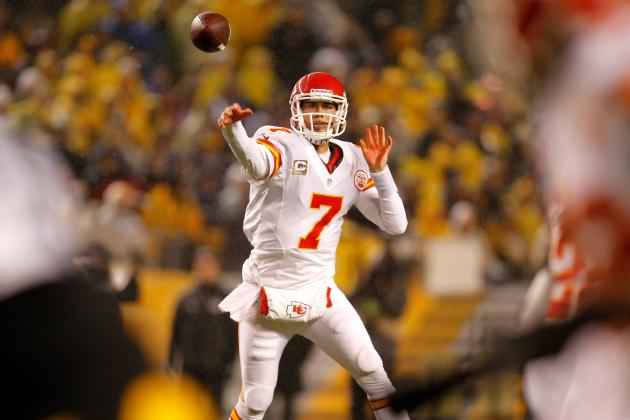 Gregory Shamus/Getty Images

The Joe Webb-as-backup-quarterback experiment officially ended Thursday afternoon when the Vikings quickly signed Matt Cassel, who had been released by the Kansas City Chiefs.
Webb's disastrous game against the Packers in the playoffs in January left no doubt that he's just not an NFL-caliber quarterback, and that a giant upgrade was needed at the backup position for the Vikings.
Rick Spielman and head coach Leslie Frazier have said over and over again that no one who had designs on starting would be brought in to challenge Ponder for the starting job.
They also said they had no interest in trading Percy Harvin a month ago.
Clearly Matt Cassel is not a long-term solution at quarterback for the Vikings, but he has plenty of starting experience in the NFL, and his best days have been far better than anything Ponder has done to this point.
The Vikings are obviously hoping that Ponder takes a huge step forward in his third season and that there is never a need to question his position as the starter. He'll need to, or Cassel will quickly become the most popular player on the team.
Any objective observer of Ponder's career so far would say that he doesn't pass the eye test as a legitimate NFL quarterback. In 26 career starts, he's thrown for 300 yards just twice, and has five games where he's thrown for under 100 yards. In 15 of 26 starts, he's failed to throw for 200 yards—in a league where 200 yards is not a very high number.
Yes, all the platitudes are still in place for Ponder: learning curve, it takes time, Eli Manning was bad his first two years, etc. For every Eli Manning (who's last name is Manning, by the way) there are 15 quarterbacks who fade into oblivion.
There's not one thing Christian Ponder can do on a football field as well as Colin Kaepernick, who was drafted 24 picks behind Ponder. That's not to say that Ponder won't become a good player, but it's perfectly legitimate to question the Vikings' all-in attitude in regards to Ponder.
The jury is still out on Ponder. At least now there is a viable backup in place.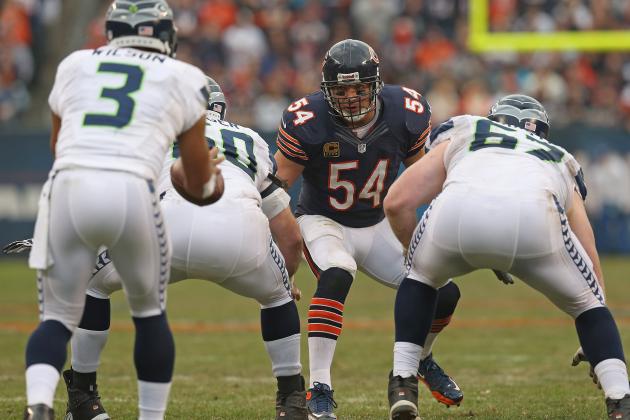 Jonathan Daniel/Getty Images

Ok, admittedly, that sounds crazy to even think about.
Brian Urlacher will be 35 years old when the 2013 season begins, and his best days are long behind him.
Having said that, Urlacher at 35 years old is still at least as good as Jasper Brinkley. As Brinkley flirts with both the Giants and the Cardinals, news broke Thursday morning that the Vikings were doing a little flirting of their own with the future Hall of Famer.
Reports are that Urlacher is looking for a final-year deal that is similar to the $5 million Ray Lewis played for last season. While no good argument can be made that Urlacher should ever play for anyone but the Bears, the idea of him getting a final season charge out of a change of scenery and the lure of teaming up with Jared Allen and Chad Greenway has to be somewhat intriguing.
The Vikings cut ties with Antoine Winfield early in the week, so who better to come in as a veteran presence to help tutor the likes of Harrison Smith and whichever linebacker the Vikings take in the draft?
The Vikings don't want to overpay to keep Jasper Brinkley in purple, so if he gets a bigger deal from one of his suitors, he's probably gone.
While bringing in an aging Urlacher doesn't solve anything long-term, the price just might be worth it for the short-term jolt and the "been there, done that" experience he'd bring to the defense.
A crazy idea? Welcome to NFL free-agency week.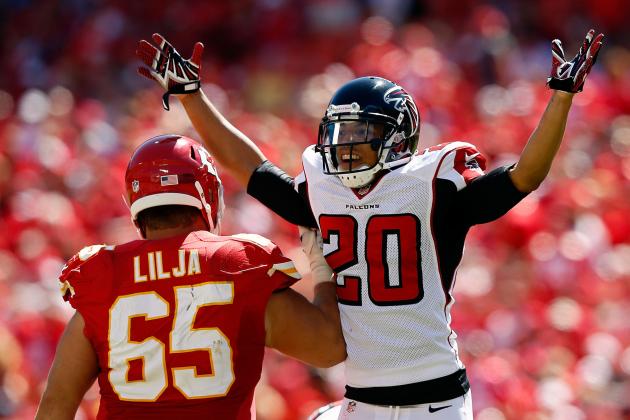 Jamie Squire/Getty Images

Reports Wednesday had the Atlanta Falcons re-signing cornerback Brent Grimes to a one-year deal. The reports turned out to be inaccurate.
Most Vikings fans had hoped that the reports that the Vikings had cut Antoine Winfield on Tuesday were false as well.
They weren't.
The hope is that the Vikings can re-sign Winfield for about half of the $7.2 million he was owed in 2013, but who knows if Winfield will want to come back to a team that dumped him so callously.
It's unclear why the Vikings didn't approach Winfield about a restructured deal, but for a defense that is very young in the secondary, having Winfield around for at least another year would be a huge plus.
It's doubtful the Vikings bring in any veteran cornerbacks, but without Winfield, Brent Grimes would be a nice addition. The 5'10", 190 pound Grimes plays a similar game to Winfield, he's a sure tackler and very good against slot receivers.
Grimes missed the entire 2012 season after tearing his Achilles tendon in the first game of the year.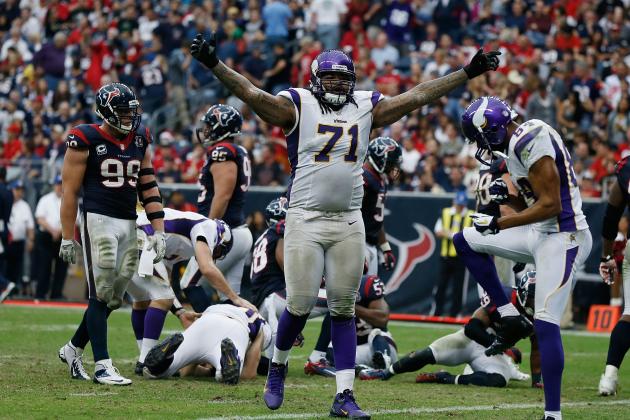 Scott Halleran/Getty Images

Vikings general manager Rick Spielman has stressed time and time again the importance of drafting well and then keeping your own when it comes to free agency.
On that note, the Vikings can take a bow for their work in this year's free agency.
Things were getting a little scary when the Vikings hadn't inked any of their 10 unrestricted free agents before teams were able to begin negotiating with players.
Things got even scarier, when an early rumor Tuesday morning had the Bears possibly making a big offer to right tackle Phil Loadholt. The Vikings snuffed out that rumor before free agency officially started, re-signing Loadholt on Monday to a reported four-year deal worth upwards of $25 million.
Loadholt was priority No. 1 for the Vikings in free agency, and keeping him was a huge move. The Vikings also got deals done with linebacker Erin Henderson, wide receiver Jerome Simpson, safety Jamarca Sanford, fullback Jerome Felton and utility offensive lineman Joe Berger.
Those signings were all expected and welcome. Eyebrows might have gone up at the re-signing of apparent flop Jerome Simpson, but he's still an intriguing talent, and with the cupboard so bare at receiver, re-signing him was not a tough decision.
Beyond that, the Vikings may bring in a lower-tier player or two, but all sights will now move to the draft in April. The Vikings have picked up an extra first-rounder and are stocked with picks in the first two days.
The Vikings appear to be sticking to their mantra of building through the draft and supplementing through free agency.