UCLA Basketball: Ranking Bruins' Most Likely March Madness Heroes
Stephen Dunn/Getty Images

It's a team game and UCLA must play that way if they are going to run deep into this year's Dance. Like all team games, though, it is the individual's performance within the system that determines the success of the unit.
March Madness—with the nation from coast-to-coast riveted to 40 minutes of do-or-die fury—presents a unique stage for players to step upon and reveal themselves as a true hero of the hardwood.
I have ranked UCLA's five starters in order of the likelihood of their becoming a high hero of the tournament for the Bruins, but also with the subheading of what type of hero they must be for UCLA to win.
One bench player with an opportunity to make a big impact completes the list. It is not as though the second bench player could not be a hero, or that his efforts would not make a welcome contribution. But this is a list of the most likely of heroes, and it ended at No. 6.
Begin Slideshow

»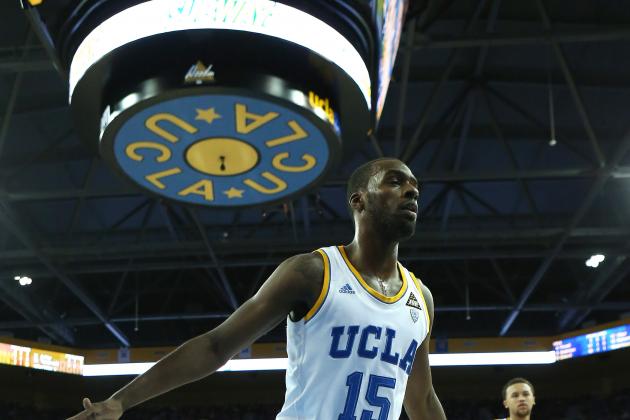 Stephen Dunn/Getty Images

Shabazz Muhammad makes me think of something John Calipari said last season about Michael Kidd-Gilchrist: We brought him to Kentucky to be the engine of this team.
That is not a direct quote, but it is exactly the essence of what Calipari said.
Muhammad does not play the all-court game like Kidd-Gilchrest, but he is definitely UCLA's biggest offensive engine, scoring 18.2 points a game to lead the team as a true freshman. Muhammad also brings in five rebounds a night, exactly even on the offensive and defensive glass with 71 on the season.
The rebounding numbers are mildly disconcerting, though, because generally speaking, if a player is committed to playing defense, and his rebounding effort is the same at both ends, the defensive number will have a decisive edge on the offensive one.
For Muhammad to be the Bruins' March hero he must be locked in every night defensively, especially on the glass.
Muhammad—with his big power plant competitive drive—has been the baddest dude on the floor several times when the Bruins have needed it most. Memories of the big shots buried late in the game against Missouri on Dec. 28, and his relentless effort to put the the ball in the basket against Washington late last Saturday to seal the Pac-12 conference championship stand out.
Without a doubt Muhammad could be the hero and Most Outstanding Player of the tournament for UCLA—running up numbers like Carmelo Anthony during his freshman season at Syracuse, or even Toby Bailey on UCLA's 1995 championship team.
He could put the baby Bruins on his back for a six-game run and a return to a fading glory.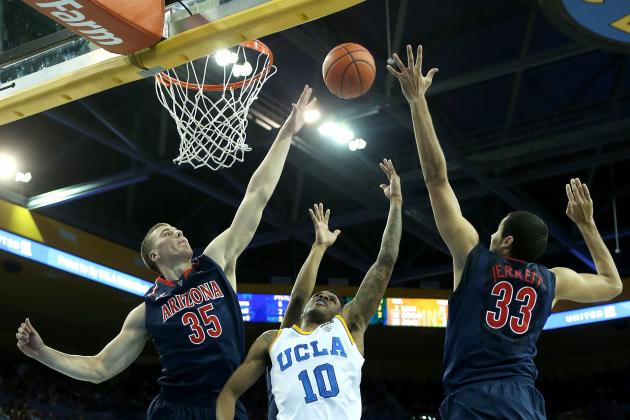 Stephen Dunn/Getty Images

It is easy to imagine Larry Drew II—as the hundredths of seconds tick rapidly from the game clock over the basket—blistering end-to-end in an all-out sprint to send home a shot that propels UCLA deeper into the nation's grandest tournament.
The memory of Tyus Edney saving the 32-1 national championship team from a second-round loss to Missouri in 1995 is as fresh as a rainstorm on a warm spring day.
Drew Two has already shown twice this season a sniper's nerve for sending a shot home when his squad had to have it: beating Washington at the horn in Los Angeles, and again putting the dagger in late against the Huskies during the rematch in Seattle.
As a senior, Two is a likely hero because the tournament will be his farewell to college basketball. That stomach-dropping abyss that a senior who loves the game feels when he knows a loss puts a sudden, final end to everything he had worked for, has compelled many players to extraordinary performances in March.
As the metronome for the offense, setting the pace and rhythm for the team, Drew Two is going to find himself in a position to assist on critical buckets every game UCLA plays, which he does 7.7 times per game.
There will also be chances to score if teams decide they will make him—an unheralded scorer on a team of aficionados—beat them.
If Drew plays with a pure conscience and like there is no day but today—giving the team a scorer at every position—he could easily be the Bruins' most distinguished hero of the NCAA Tournament.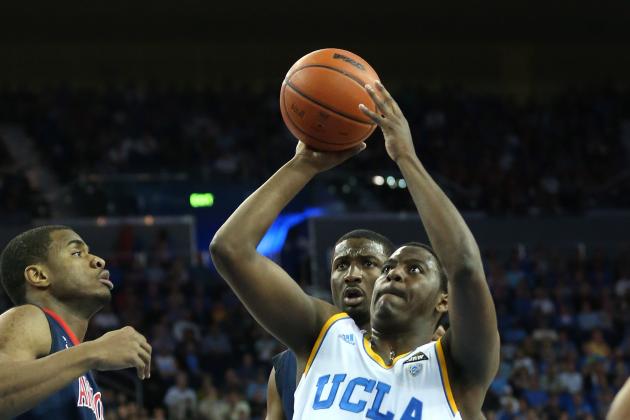 Stephen Dunn/Getty Images

Shooters—and pure scorers—like Jordan Adams can scorch a six-game trail through the tournament that ignites a monument to their prowess that will burn for decades. There is a Pantheon of March's high heroes who gunned their teams to far outposts of the contest, ballers like Glen Rice, Scotty Thurmond, Tony Delk, Seth Curry and Lee Humphrey.
Adams has also quietly made himself into a disruptive defender within Ben Howland's controlled system, averaging 2.2 steals a game and playing very actively through rotations and hedges. Adams consistently either gets his hands on a piece of an opponent's shot or forces shooters already in motion to change their delivery mid-stroke.
Adams' development on the defensive end has been somewhat surprising based on his play early in the season, when his foot speed seemed slow, his lateral quickness limited and his interest level low. It has been, for UCLA, one of the most critical individual improvements in the team's overall success.
So Adams—a kid who can flat-out score on what might be a slow night for the rest of the team—could make himself a Bruins hero if he carries his mates through an off night, or adds fuel to one of the blistering performances UCLA is capable of, marking notches on his belt like a calm sniper in the eye of a storm.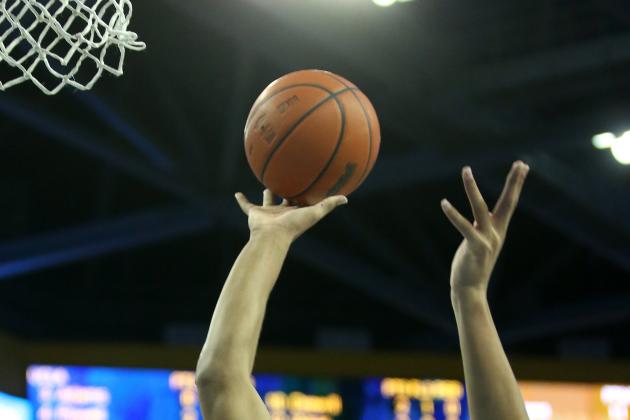 Stephen Dunn/Getty Images

Slo-Mo's all-around game could make him a tournament hero of the catalyzing variety. At nearly 10 points, nine rebounds, almost four assists and two steals per game, Kyle Anderson stuffs the stat sheet and compels the Bruins to run the floor alongside him to be better players.
One specific place Anderson could make himself a deadly piece of offensive weaponry is on the secondary break after UCLA's primary fails to finish at the rim. Anderson comes down the floor with that controlled pace and wide-angle vision, seeing everything happen an instant before the competition.
If the ball comes back out to him, his quick comprehension and passing ability can send it immediately back in for a one- or two-pass rotation to a basket. This can be of an immense help on the scoreboard.
Anderson is also capable of slipping around his primary defender on the dribble drive and, if he is unable to score himself, deliver the ball accurately to teammates ready and able to score.
If it is not with the ball directly for Anderson, then the second-best freshman rebounder in the history of the school has the opportunity to save possessions for the Bruins on the offensive glass, or get them off of the defensive end of the floor with critical rebounds. That is a phase of the game UCLA has struggled with all season.
Anderson can be a hero all right—though not of the world-beating variety—by being a steady all courts player who facilities offensive action to his teammates. He can also do this by consistently rebounding the basketball for his team on defense and initiating the break.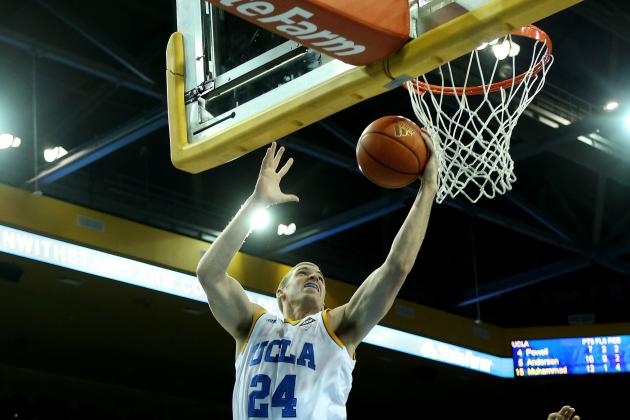 Stephen Dunn/Getty Images

Travis Wear will not likely be the big, mail-clad knight on a white horse carrying UCLA through the tournament—but steady scoring and defensive rebounding throughout the contest would make Wear as valuable as he could be to this team.
There is no doubt Wear is capable of big nights shooting if he can get the ball in rhythm. To advance deep into the dance, UCLA will need his 11 points a game and probably a game or two where he rises above his averages and scores more than 18.
If he puts his body into rebounding defensively he could literally save the season. When the Wear twins have not rebounded, the Bruins have had big trouble—most recently against Washington State when Travis was injured with two rebounds, and David Wear managed only three the rest of the night.
UCLA's rebounding can be so bad that they lose to a team like Washington State, who won four games all season in the Pac-12. Travis Wear can be a hero by doing his job as a power forward, controlling the glass and scoring points for his team along the way.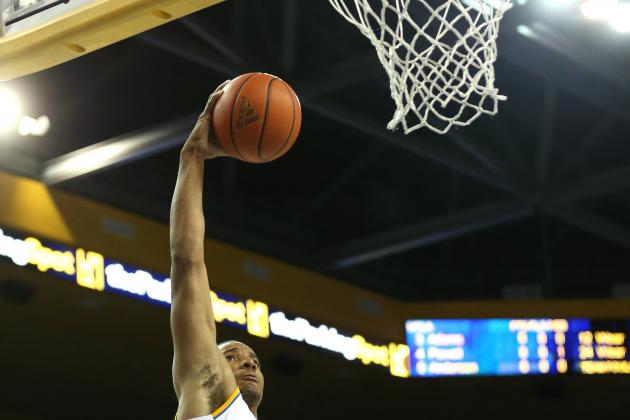 Stephen Dunn/Getty Images

Norman Powell will have an opportunity to do something heroic off the bench that could change the tone of any given game.
Back in 2007, during a second-round matchup against Indiana, freshman Russell Westbrook came off the bench in a lethargic, low-scoring game and stuffed a dunk on the break in the face of Roderick Wilmont, a senior guard for the Hoosiers.
It had been one of those games that a superior team sometimes gets lured into and then beaten during the tournament; the Westbrook slam put a charge into the entire team.
Powell has ignited this year's team several times during the season with either massive blocks, thundering dunks—against Oregon and Arizona, specifically—or big three-point buckets.
A big night for Powell in a lethargic game, or when the team needs scoring or a shut-down defender, could make the difference between an advance or an abrupt end to the season.
That would make Powell a March Madness hero who answered the bell for UCLA.