L.A. Lakers vs. Atlanta Hawks: Live Score, Results and Game Highlights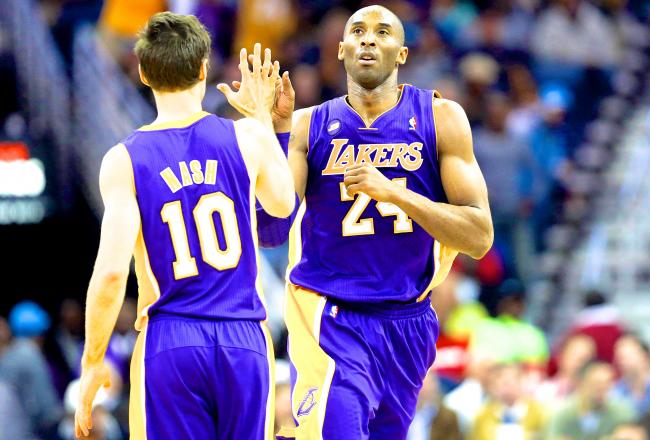 Despite playing without Josh Smith, Jeff Teague, and Zaza Pachulia, the Atlanta Hawks survived a third quarter onslaught by Kobe Bryant to top the Los Angeles Lakers 96-92 on Wednesday night.
Bryant led all scorers with 31, and Devin Harris led the Hawks with 15. Atlanta had six players score in double-figures.
After getting out to a 14-point lead in the third period, the Hawks saw Bryant go off for 20 points, hitting an array of jumpers and getting to the basket at will. Bryant even heard "MVP" chants from the large contingency of Lakers fans at Philips Arena when he stepped to the free throw line. Atlanta was able to hold on, with Harris making big bucket after big bucket down the stretch and Al Horford controlling the paint.
The loss snaps a four-game winning streak by Los Angeles and kept them from gaining ground on the seventh-seeded Houston Rockets and pushing the Utah Jazz further back in the Western Conference playoff picture.
Let's see how the Hawks were able to win this game and snap a three-game skid of their own.
1. Held Kobe in check for three of four quarters
If you take the third quarter out of the equation, Bryant scored 11 points off 3-of-19 shooting (he shot 11-of-33 overall). Atlanta held the MVP candidate to just three points on 1-of-8 shooting in the first half and also contained him in the fourth quarter, as Bryant missed shot after shot and was unable to carry over the unbelievable rhythm he had found in the third period.
2. Won the rebound battle
Both Horford and Johan Petro recorded double-doubles tonight, aiding the Hawks in outrebounding the Lakers 52-45. Dwight Howard was the only consistent presence on the glass for LA in this one, and he was actually outplayed overall by the Horford-Petro tandem. It was a huge offensive rebound putback by Ivan Johnson with 33 seconds left that proved to be the biggest bucket of the game, as Johnson outworked both Howard and Metta World Peace for the board.
3. Bench production
It should come as no surprise that Los Angeles' bench was outplayed, but that is putting it lightly in this one. Atlanta's reserves outscored the Lakers' 44-16, as the Hawks got 12 points apiece out of Johnson, Kyle Korver and John Jenkins and seven from Shelvin Mack. With Atlanta playing this game so depleted, their bench had no choice but to step up, and it did in a big way. Korver also extended his streak of games with a three-pointer to 57.
4. Great help defense
The Hawks held the Lakers to 39.6 percent shooting, and that was largely due to outstanding help defense. It seemed like every team Kobe attempted to do something with the basketball, someone was shading over to provide some assistance. Horford in particular did a great job with this, continuing to demonstrate that he is one of the league's most underrated players.
5. Played with no fear
When Horford dunked on Howard and then Antawn Jamison early on in the game, you could just tell that Atlanta was brimming with confidence. Horford's exuberance rubbed off on everyone else on the team, and the Hawks played with somewhat of a swagger for the rest of the way.

Once again, the shorthanded Hawks downed the Lakers, 96-92. Postgame coverage to follow.
HAWKS 96, LAKERS 92 - FINAL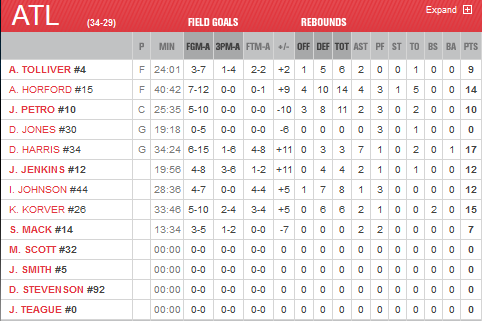 Hawks final box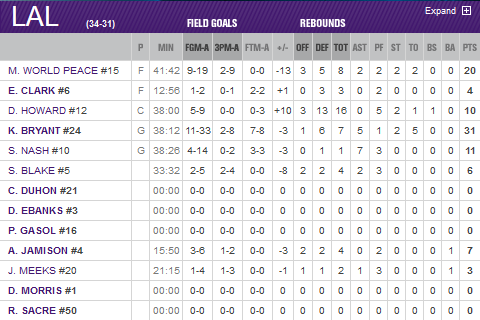 Lakers final box
And the final seconds tick off the clock. Atlanta wins it and hands the Lakers a crushing loss.
HAWKS 96, LAKERS 92 - FINAL
Korver hits a pair of FTs, and that'll do it.
HAWKS 96, LAKERS 92 - 1.5 SECONDS REMAINING IN 4TH QUARTER
Looks like Kobe rolled an ankle. He gets up and walks to the bench under his own power. Lakers don't have a timeout, so he has to come out of the game.
Korver hits one of two, and then Kobe misses a jumper on the other end. Hawks rebound and get fouled. Kobe is down and he appears to be hurt.
HAWKS 94, LAKERS 92 - 2 SECONDS REMAINING IN 4TH QUARTER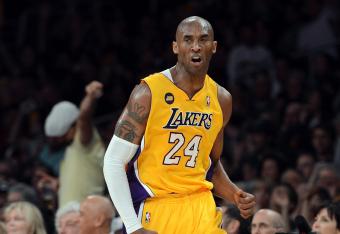 And Bryant hits a 3 from the left wing. Unreal. Blake fouls Korver.
HAWKS 93, LAKERS 92 - 16.9 SECONDS REMAINING IN 4TH QUARTER
Gotta think this is going to Kobe in the corner for 3 here.
Jenkins hits one of two FTs to make it a two-possession game. Timeout LA.
HAWKS 93, LAKERS 89 - 20.5 SECONDS REMAINING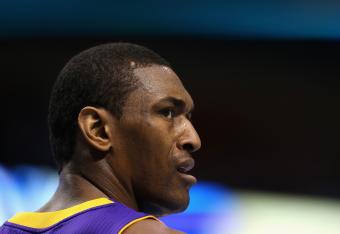 MWP tips in a Bryant miss from 3. Lakers foul ATL.
HAWKS 92, LAKERS 89 - 22.2 SECONDS REMAINING IN 4TH QUARTER
Lakers haven't hit a shot in nearly 5 minutes. 4-for-21 in the quarter.
Horford misses a shot, but Ivan Johnson comes up with the offensive board after MWP fails to secure the rebound. Johnson lays it in and puts ATL up 5.
HAWKS 92, LAKERS 87 - 33 SECONDS REMAINING IN 4TH QUARTER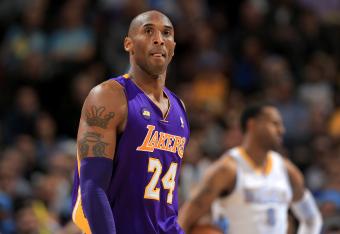 Kobe has gone cold. Misses a three from the corner and is now 10-for-30.
Still, the game is close enough for him to take over here.
HAWKS 90, LAKERS 87 - 1:05 REMAINING IN 4TH QUARTER
Bryant misses a jumper, gets his own rebound, and then misses a chip shot. Ball goes out of bounds, but stays with LA.
HAWKS 90, LAKERS 87 - 1:30 REMAINING IN 4TH QUARTER
More bad possessions for LA.
HAWKS 90, LAKERS 87 - 1:58 REMAINING IN 4TH QUARTER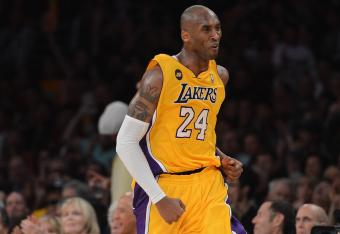 Kobe very quiet here in the fourth after an explosive third. Have to wonder if all of his energy has been sapped.
HAWKS 90, LAKERS 85 - 2:59 REMAINING IN 4TH QUARTER
Lakers getting stagnant. No movement offensively. Just Nash dribbling and running the shot clock down and getting it to Kobe late in the clock for low percentage looks.
World Peace gets free underneath the basket as the shot clock was at 1. Bryant finds him and he lays it in for his 18th points.
HAWKS 88, LAKERS 85 - 4:29 REMAINING IN 4TH QUARTER
Devin Harris is doing whatever he wants in the 4th Q, and has 9 straight ATL points (17 total) to put the Hawks up 88-83.

— Mike Trudell (@LakersReporter) March 14, 2013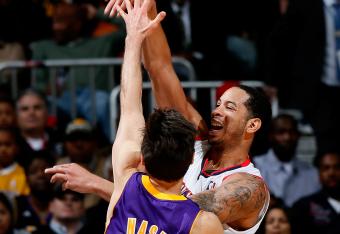 Make it the last nine straight points for ATL by Harris. D'Antoni is not too enthralled with the defensive effort and calls a timeout. Not surprising that the D collapsed the second Howard went to the bench. D'Antoni might have to get him back in now.
HAWKS 88, LAKERS 83 - 5:55 REMAINING IN 4TH QUARTER
Devin Harris has now scored the last seven Hawks points. He is taking over this game.
HAWKS 86, LAKERS 83 - 6:09 REMAINING IN 4TH QUARTER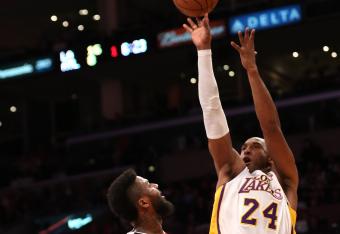 And Kobe cans a three with Jenkins draped all over him and the shot clock about to expire. Guy is unbelievable. Harris answers with two.
HAWKS 84, LAKERS 83 - 6:41 REMAINING IN 4TH QUARTER
Dwight just picked up his fifth foul at the 7:31 mark. D'Antoni pulls him. Kobe checks back in. Also, Harris hits one of two FTs.
HAWKS 82, LAKERS 80 - 7:27 REMAINING IN 4TH QUARTER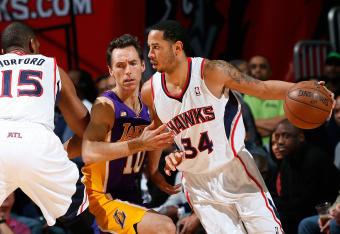 Harris with a beautiful drive inside to give ATL the lead back. Kobe getting set to check back in.
HAWKS 81, LAKERS 80 - 7:43 REMAINING IN 4TH QUARTER
This article is
What is the duplicate article?
Why is this article offensive?
Where is this article plagiarized from?
Why is this article poorly edited?

Los Angeles Lakers: Like this team?