UEFA Champions League: Ranking the Quarterfinalists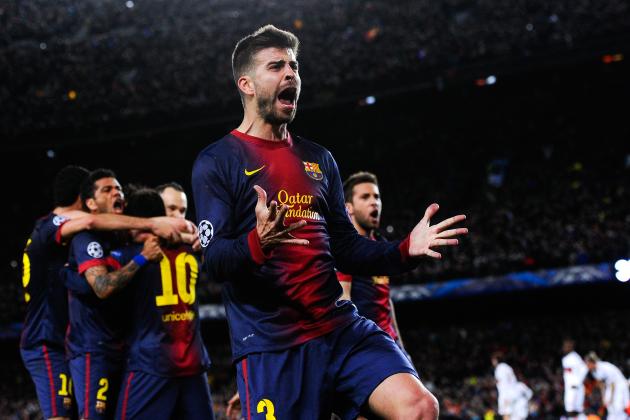 David Ramos/Getty Images

Eight teams remain in contention for European football's most prestigious club prize. Any of the eight could go all the way in the UEFA Champions League, but some teams have better odds than others.
With the Round of 16 wrapping up Wednesday night, here are B/R's rankings of the eight Champions League quarterfinalists. Teams were judged on past results, strength of squad, potential for success and, of course, a bit of personal opinion.
How would you rank the teams? Be sure to leave your thoughts in the comments below.
Begin Slideshow

»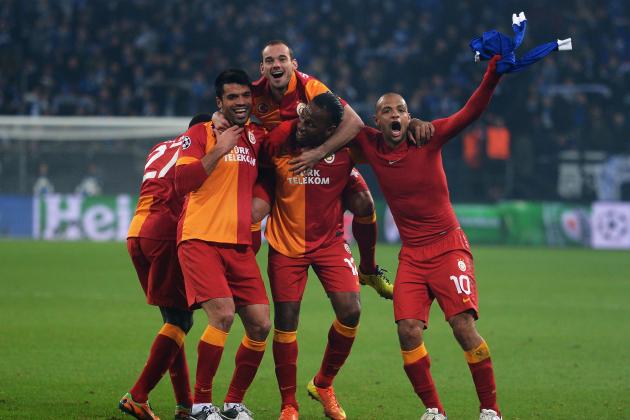 Lars Baron/Getty Images

8. Galatasaray
7. Malaga
Galatasaray (runners-up, Group H; beat Schalke 4-3 on aggregate in Round of 16) might have eked into the quarterfinals, but they will be no pushovers there. The arrivals of Didier Drogba and Wesley Sneijder helped bring legitimacy to Gala's European challenge.
But if any team from Group H deserved a spot in the quarterfinals, it was Manchester United. The Red Devils received a brutal draw in the Round of 16 and crashed out under controversial circumstances.
Galatasaray, on the other hand, received a favorable draw against Schalke but needed a Tuesday comeback to secure progress to the quarterfinals. On paper, even with Burak, Sneijder and Drogba, this team just can't compare with most of the quarterfinalists.
Malaga (winners, Group C; defeated Porto 2-1 on aggregate) have an exciting young talent in Isco, but it's hard to see the Spaniards advancing any further in their debut Champions League season.
Then again, how many expected them to reach this stage of the competition?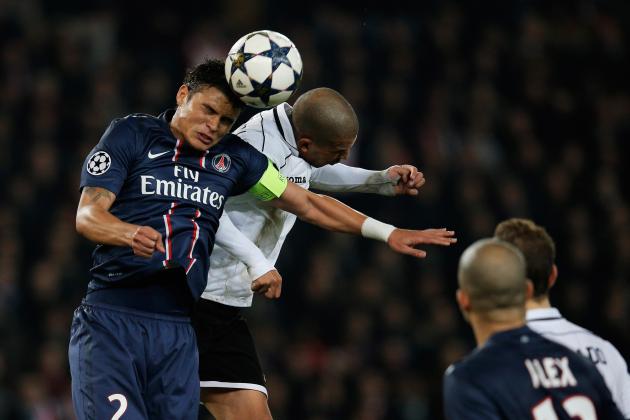 Dean Mouhtaropoulos/Getty Images

6. Paris Saint-Germain
How they got here: Won Group A; Beat Valencia 3-2 on aggregate
Why this is too low: Captain Thiago Silva is back from injury and leading the defense expertly. Zlatan Ibrahimovic is one of the most potent strikers in the world. Lucas Moura is a superstar set to blossom. Salvatore Sirigu is a top-class keeper.
The squad is packed with talent, and PSG can win in a number of ways, including the ugly variety.
Why this is just right: That second leg against Valencia was truly ugly indeed. Without Ibrahimovic up top, PSG looked rudderless. Zlatan will miss the first leg of the quarterfinals while serving the second of his two-match ban for a red card (via ESPN FC).
Besides, it's nothing against PSG. This season's field of quarterfinalists is particularly strong.
Forecast: If PSG can survive a first leg without Zlatan, they're dangerous. Fall too far behind, though, and trouble is brewing.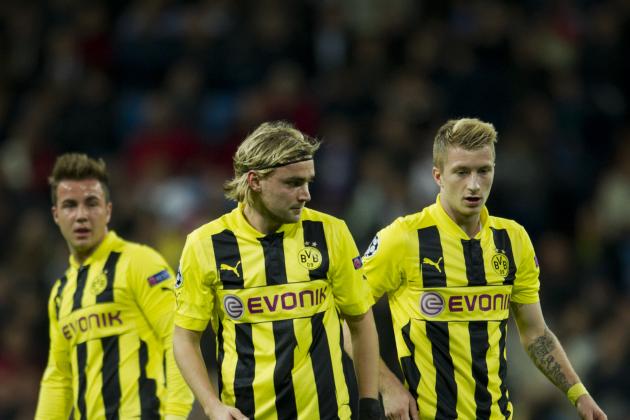 Jasper Juinen/Getty Images

How they got here: Won Group D; beat Shakhtar Donetsk 5-2 on aggregate
Why this is too low: Borussia Dortmund beat out Real Madrid, Ajax and Manchester City for the top spot in Group D, this season's so-called "Group of Death." Such a feat rightfully placed Dortmund, the two-time defending Bundesliga champs, among the favorites following the group stage.
Manager Jurgen Klopp has constructed one of Europe's most exciting attacking squads with promising young players like Marco Reus, Robert Lewandowski and Mario Götze among others. Mats Hummels, meanwhile, is one of Europe's top defenders.
Why this is just right: While it's true BVB have won the Bundesliga twice in a row, and it's also true they topped the Group of Death, they're largely inexperienced at this point in the competition. That's especially true compared to rivals Bayern Munich, who reached the final last season.
Following a recent derby loss to Schalke, Dortmund trail Bayern by 20 points in the league this season.
It wouldn't be quite fair to say that Dortmund have regressed over the course of the season, though. It's more like Bayern and a few other members of the Champions League field are exceptionally strong at this point in the competition.
Forecast: The biggest knock on Dortmund is their inexperience at this stage of the competition, but it only takes one statement win to change that.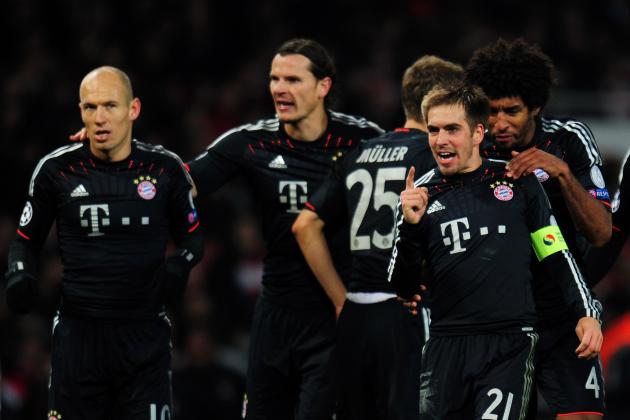 Shaun Botterill/Getty Images

How they got here: Won Group F; advanced on away goals over Arsenal (3-3 on aggregate)
Why this is too high: For all of Bayern's eye-popping success this season (see below), their record in the Champions League has been slightly less impressive. The Bavarians were stunned 3-1 at BATE Borisov in the group stage and only finished atop Group F above Valencia on goal differential.
Then, Arsenal nearly knocked them out of the competition Wednesday night. Heading into the second leg, Bayern might have been the prohibitive favorites. Not now.
Why this is too low: Have you seen them play this season?
If not, take a look at the stats. Through 25 matches in the German Bundesliga, Bayern have lost only once while scoring 67 times and conceding only 10 goals. On their travels in the league, the Bavarians stunningly have allowed only one goal.
And manager Jupp Heynckes has done it all with an attractive, possession-based brand of football. Bayern rank second in possession among teams in Europe's top five leagues (via WhoScored.com) and second in pass-completion rate.
Mario Mandzukic (15 league goals) and Mario Gomez serve as big, strong target men up front, while Thomas Müller (12 goals) and Franck Ribery (six goals) among others provide wide options. Toni Kroos, Bastian Schweinsteiger and Javi Martinez form a formidable midfield, and goalkeeper Manuel Neuer ranks among the best in the world.
Forecast: Bayern were one of favorites before, and they still could be with their combination of attacking verve and defensive dominance. Is this the year they right the wrongs of the 2010 and 2012 finals? Or was the second leg against Arsenal an omen?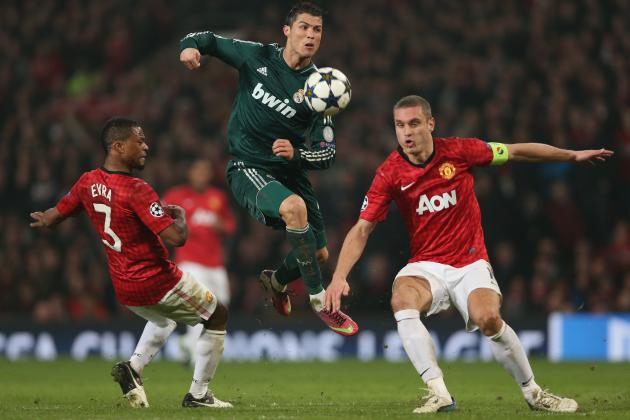 Jasper Juinen/Getty Images

How they got here: Runners-up, Group D; beat Manchester United 3-2 on aggregate
Why this is just right: The best team lost when Real Madrid beat Manchester United in the Round of 16. That's straight from Real Madrid manager Jose Mourinho's mouth (via The Guardian).
Until Nani's controversial red card in that memorable second leg, United had shut down Real and controlled the tie. Danny Welbeck rendered Xabi Alonso ineffective and Cristiano Ronaldo could not exert his influence.
The red card changed everything, but Real deserve some credit for taking advantage of their opportunity. Mourinho's introduction of Luka Modric as a substitute brought dynamism to the midfield and led to the all-important equalizer.
As an in-game tactician, Mourinho is one of the best in the business.
Why this is too low: Regardless of all that, though, Real are also a superb team. They recently defeated Barcelona twice in one week, and they've got Ronaldo and a squad full of experience at this advanced stage of the competition.
And remember: It's never wise to count out Ronaldo.
Forecast: That red card might prove to be the turning point of this tournament.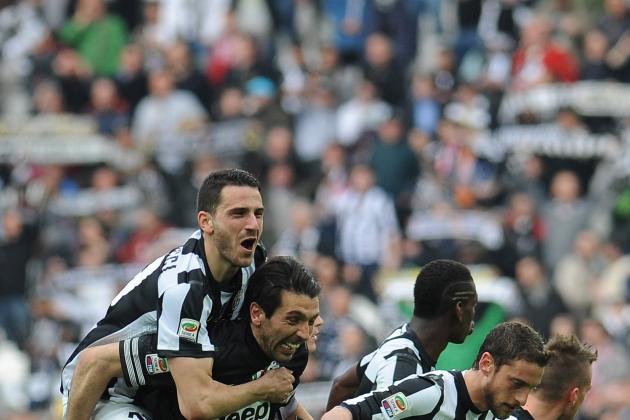 Valerio Pennicino/Getty Images

How they got here: Won Group E; beat Celtic 5-0 on aggregate
Why this is too low: Juventus might be the best defensive team in Europe, if not the world, right now. That makes them hard to beat. The Bianconeri are one of only two teams yet to have lost in the Champions League this season (Borussia Dortmund are the other).
After allowing only four goals in the group stage, Juventus blasted Celtic 5-0 on aggregate in the Round of 16, perhaps the most complete beating of the round.
Meanwhile, the ageless bearded wonder known as Andrea Pirlo continues to influence matches skillfully from his deep-lying playmaker position. Gianluigi Buffon remains one of the world's best goalkeepers.
Why this is just right: But it was only Celtic in the Round of 16, and the Scottish champs were simply overmatched. Plus, the offense isn't quite as imposing as the defense. The team lacks a single big-name, go-to striker. Fabio Quagliarella and Sebastian Giovinco lead the team with seven league goals apiece.
But while some might see that as a weakness, it could also be considered a balanced offense. Juventus, who lead Serie A by nine points, have scored 55 goals in 28 league matches this season.
Forecast: In their first season back in the Champions League, Juventus might have been correctly considered a dark horse at one point. That point has passed. This is a true contender.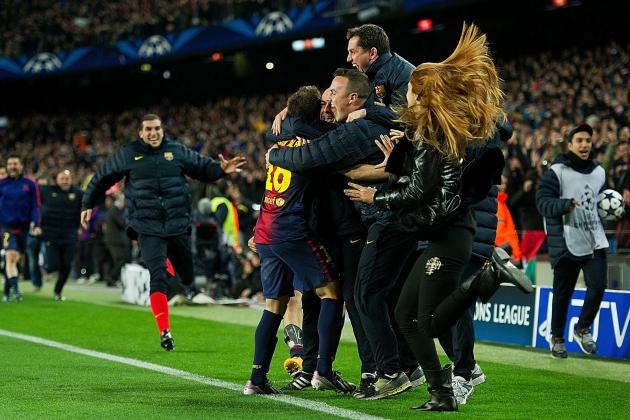 Gonzalo Arroyo Moreno/Getty Images

How they got here: Won Group G; beat AC Milan 4-2 on aggregate
Why this is too high: Barcelona are clearly beatable. They lost at Celtic in the group stage, at Milan in the first leg of the Round of 16 and twice more to Real Madrid recently (in the league and Spanish Copa del Rey).
Why this is just right: On their night, Barcelona are just as clearly capable of beating any team in Europe, including Real, Bayern or any other Champions League team. Lionel Messi remains the best player in the world and of his generation.
Also, as B/R's Xoel Cardenas points out, the Champions League is Barcelona's main concern now, having all but sewn up the league title and lost in the Copa del Rey. Key players can actually be rested in the league ahead of Champions League matches.
Perhaps most importantly, Barcelona seem to have a Plan B now. Unlike last season's aggregate loss to Chelsea in the semifinals, the Round of 16 tie with Milan ended in Barcelona adapting to a defensive opponent's tactics—and beating them.
After Milan stifled Messi in the first leg, Barca deployed David Villa as a central forward to take some of the heat off. It worked brilliantly, but was it really a Plan B or more like a return to the original Plan A before Villa's long-term injury absence?
Either way, manager Tito Vilanova is returning to the touchline soon (via Marca). He was obviously missed, both tactically and as a man-manager.
Forecast: With the tactics right and every player performing at his best, Barca will be nearly impossible to beat.