Barca 4-0 Milan: Why Epic Champs League Comeback Will Spark Another Barca Title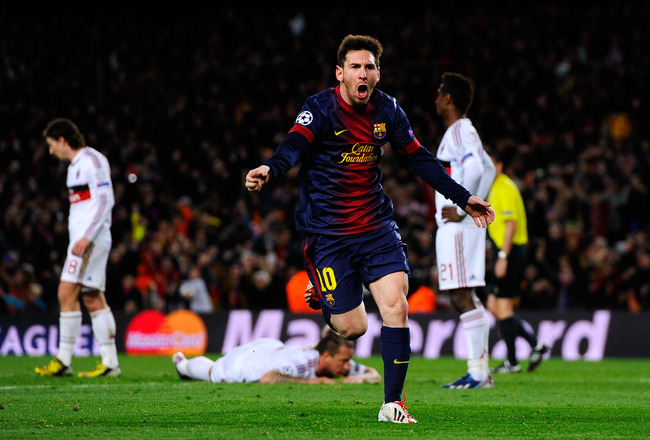 David Ramos/Getty Images
Xavi said a few weeks ago (via Marca.com), "This generation has yet to make a historic comeback."

On Tuesday night, we saw this generation of FC Barcelona players finally make that historic comeback.
It was a game and night for the ages, as Lionel Messi led FC Barcelona to a 4-0 blowout of AC Milan on Tuesday night.
Messi got things started just five minutes into the game, as some fancy footwork helped Leo blast a golazo from inside the box. Milan goalkeeper Christian Abbiati couldn't do a thing about it.
In the 39th minute, M'Baye Niang hit the post as Javier Mascherano made an error, leading to the opportunity for the 18-year-old to score. I nearly passed out.
After that ball hit the post, you knew luck and/or fate was on Barcelona's side.
Just a minute later, Messi tied up the aggregate score with a low shot to the right, putting it past a diving Abbiati.The Camp Nou exploded in joy as the little Argentine got a brace just before halftime.
In the second half, Messi's shot was nicely recovered by Abbiati in the 47th minute.
David Villa gave Barcelona an aggregate lead in the 55th minute. Xavi's pass to El Guaje was nearly stopped by a sliding Kevin Constant, but the pass got to Villa, and David blasted a curling shot to the top left of the net for the 3-0 scoreline.
Sergio Busquets made a tremendous stop in the 80th minute. Jordi Alba made a huge stop on a Robinho shot in the 82nd minute.
In stoppage time, Messi found Alexis Sanchez, who then made a tremendous pass to Jordi Alba on the break, who put it past Abbiati to secure Barcelona's ticket to the next round.
Tutti a casa!
Milan a casa!
Forca Barca!
FINAL: FC Barcelona 4 - 0 AC Milan
Remontada!
I believed in the comeback. I hope you did, as well. As I mentioned on Twitter, I'm not ashamed to admit that I shed a few tears of joy after this game. This is why we love football!
With this win, let me tell you "From the Mind of Xoel" why FC Barcelona's epic Champions League comeback will spark another Barca title.
Vamos!
Formula Found?: Bringing Back the Original Starting XI of 2010-11 Season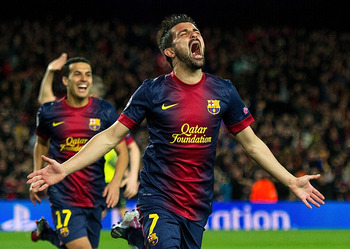 Gonzalo Arroyo Moreno/Getty Images
Most of us were wondering what kind of formation and lineup Tito Vilanova (via Jordi Roura) would present for this game against Milan.
3-4-3?
3-3-4?
3-1-3-3?
Tito made all of us look foolish when he decided to go with an old familiar lineup: the 4-3-3 with Messi, Villa, and Pedro in front—better known as the "MVP" front line.
And guess what? It worked to perfection.
This lineup in the Milan game was the starting XI used by Pep Guardiola for many games in 2010-11, including the 2011 UEFA Champions League Final at Wembley against Manchester United. The only difference is Jordi Alba in place of Eric Abidal.
I still don't trust Javier Mascherano as a CB, but the post saved him against Milan. Hopefully, Carles Puyol will get enough rest that he can play CL game. Leave the Liga games for Masche.
I must give credit to Tito for not changing the formation, but big kudos must go to Tito for trusting the MVP lineup. It has been successful in the past, and against Milan, it showed why it dominated in 2010-11 all the way to a Champions League title.
While Cesc Fabregas did not play in this game, believe me when I tell you he will make his presence felt in the next round. I'm sure he wanted to play, but the 4-3-3 lineup with MVP in the front was the best and most experienced choice to go with for this game.

The key factor in the MVP lineup is not Messi or Pedro. It's David Villa.
If Villa is able get more starts in Liga action to get him warmed up for the big Champions League games ahead, look out! El Guaje is still one of the most dangerous striker/wingers in the world, and he will be a major reason Barcelona wins the title.
You don't think Villa is hungry? Just look at how he celebrated his goal! He's been (wrongly) left on the bench for too long, and now he's going to take his frustration out on all opponents.
And if Pedro, Cristian Tello, and/or Alexis gets hot? This team will become even better and more dangerous. Trust me, one of those three will heat up in the next few weeks.
Rested Players: Not Much Left to Play for Other Than Champions League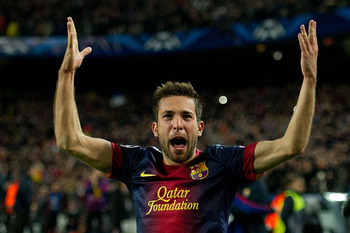 Jordi Alba
Gonzalo Arroyo Moreno/Getty Images
Rest is something most of these FC Barcelona players don't get this time in the season.
However, this season is an exception.
With Barcelona out of the Copa del Rey, and with La Liga essentially locked for El Blaugrana, this team doesn't have many more "meaningful" games other than the Champions League. It's all about Wembley and the UCL final now.
With that in mind, look for regular starters to get plenty of time off in Liga action, as they will be rested for Champions League games.
In La Liga, look for players like Thiago Alcantara, Alex Song, Cristian Tello, and other bench players to start more in Liga games from now until the end of the season.
Barcelona are still very thin on defense. Hopefully, Marc Bartra and Martin Montoya will get more time on the pitch to contribute.
Don't get me wrong: The starters will get regular time in Liga games, as they need to be kept fresh. But you will see plenty of rotation in Liga games.
And rest is what many of the key players of the Barcelona starting XI need, including Xavi, Carles Puyol, Andres Iniesta and even Lionel Messi.
Health always comes first. And this Barcelona team should stay relatively healthy for the remainder of the season.
There will be no need to risk injury by starting all of the starting XI players in a Liga game before a Champions League match.
FC Barcelona has the best and deepest bench in Europe, and the bench will help keep the starters fresh and rested heading into CL games, and also be ready to go if any one of the bench players are needed to start a CL game.
No Fear: Barcelona Is a Team of Destiny?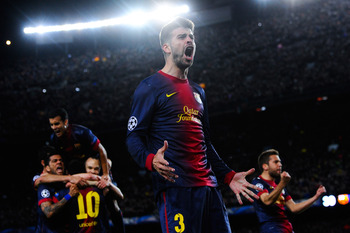 David Ramos/Getty Images
Disappointment, desperation, frustration, and the inability to come back from a first-leg deficit have been the reasons Barcelona has been out of the Champions League in the past few seasons. Not being able to make the "Remontada" (The Comeback) has been a mental barrier for this squad.
In 2010, Barcelona were not able to overcome a 3-1 first-leg deficit to Inter Milan, and they were frustrated to a 3-2 aggregate loss to the eventual champions. We all remember Jose Mourinho celebrating and running around the pitch like a chicken with its head cut off as Barca couldn't overcome Inter despite having a one-man advantage for most of the game.
Last year, Chelsea and their bus came into the Camp Nou with a 1-0 aggregate lead and frustrated Barcelona. We all remember Fernando Torres' goal at the end of the game to seal Barca's fate, as Chelsea eliminated Barcelona 3-2 on aggregate.
Facing a 0-2 deficit to Milan this year, it looked like history could repeat itself again at the Camp Nou.
As I mentioned, Xavi said that this generation's FC Barcelona team needed to make an epic comeback.
Mission accomplished. Remontada!
No one can now say that history is not on Barcelona's side. They have erased the idea—from their own minds, if not necessarily from all critics' minds—that they are unable to make comebacks.
It's one thing to believe you can come back. But it's a completely different thing to know you can come back because it's been done. This team now has had its belief in itself reinforced.
In my opinion, the biggest threats to Barcelona left in the Champions League this season are Bayern Munich, Juventus, and Real Madrid.
But this Barca team does not fear any of those teams—even a Madrid team that beat Barca twice recently. And we all know Barcelona has the talent, skill and experience to eliminate any team left in the CL.
The Barcelona defense is still a concern, but let's remember that this defense doesn't have to be great, just good enough. We've seen them hold on in the past (2011), and they are capable of doing it again. With Jordi Alba as both an offensive and a defensive threat, this defense is better than last year's "D" that went to the CL semis.
Games like we saw on Tuesday are what we call in sports "momentum-changers." Some call it luck, while others call it fate or destiny.
We see it every year in the Champions League. There are moments at which we look back and say, "That was the turning point." We saw it with Chelsea last year after their 3-1 deficit comeback against Napoli. The Blues fired Andre Villas-Boas, Roberto Di Matteo was given the manager job and Chelsea stood proud as they won 4-1 at Stamford Bridge to move on in the competition they'd eventually win.
Could Barcelona's comeback win over Milan be that momentum-changer for El Blaugrana that will lead them to a title? Or could M'Baye Niang's shot off the post be a sign that Barcelona has destiny/fate on its side?
I believe so. But only time will tell.
After being down 0-2 and facing a midseason crisis after tough losses, FC Barcelona overcame and are now fearless going into the next CL round and beyond.
Messi "Beast Mode" Has Been Awakened in This CL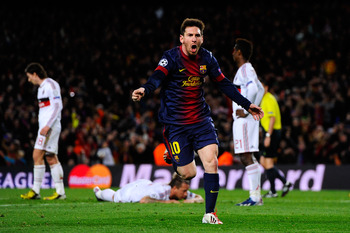 David Ramos/Getty Images
They say that big-time players step up in big-time games.
On Tuesday night, we saw the greatest of all time step up and deliver for his team.
Lionel Messi was on target against AC Milan. The man was not going to be stopped, as his magical left foot gave El Blaugrana the lead just five minutes into the game. Later, Leo delivered the second goal just before halftime. In stoppage time, we saw Leo make the needed pass to Alexis Sanchez, who then sent it to Jordi Alba for the fourth and final goal.
After he had two subpar games against Real Madrid, as well as a poor performance in the first leg of the Milan matchup, many critics began wondering if Messi had lost a bit of his magic.
To those critics, Tuesday night's game was Messi's way of saying, "Silence."
Let's not act like Messi doesn't hear what people say about him. It's not that he cares what critics say; it's more about shutting the critics up for shutting-them-up's sake.
Messi has now been awakened in this Champions League and will wreak havoc on any team that stands in his way to lifting the trophy in London once again.
The greatest athletes of all time have used motivation from poor performances and critics to inspire themselves to achieve greatness.
After the Madrid losses, elimination from the Copa del Rey, doubts from critics and the feeling that he had let his team down, Lionel Messi was bound to use these things to lift himself up and remind everyone that he is still clutch, not to mention the best in the world.
Mission accomplished, Leo.
Lionel Messi: Back to 100% Beast Mode.
To the rest of the Champions League teams: you have been warned.
Tito Vilanova Will Inspire and Guide Barcelona to a Title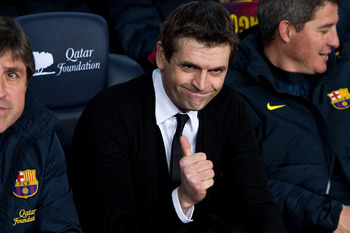 David Ramos/Getty Images
If this 2012-13 FC Barcelona team reflects one person, it does not resemble a certain player. It is, rather, a reflection of its beloved manager, Tito Vilanova.
This Barcelona team is just like Tito: it is a fighter.
Tito Vilanova has been in New York for the past few months, receiving treatment for parotid gland cancer relapse.
But just before kickoff on Tuesday, Carles Rexach, a former Barcelona player and the assessor for the club's board, told TV3 (Catalonia TV) that Tito will return to Barcelona on March 25th.
First off, let me say it is great that Tito will be able to come back home. He needs to be back with his family first. I hope he spends much time with his family.
Family first. Football comes second.
Tito will be back on the bench to guide Barcelona through the rest of their Champions League journey. For those who don't think Tito will make a difference in the team's performance, you are quite mistaken. Just look at what happened to this team without Tito over the past few weeks. Sure, it's not like Barcelona completely collapsed, but the team was not the same.
Tito's in-game tactics will make the difference throughout the rest of the Champions League run. His words, his leadership and even just his presence will motivate and inspire Barcelona deep into the tournament.
Tito has been with this squad for five years. Believe me: He makes a difference both through his interactions with the players and through his tactics. He knows this team better than anyone.
And let's be real: Tito's fighting spirit against the illness that's kept him away has and will continue to inspire this Barcelona team to fight on. Fight for Tito.
This Barcelona team was almost unstoppable when Tito Vilanova was there earlier this season. And this team will get back to that level with Tito once again.
As I have mentioned in the past, as much as I like Jordi Roura, he's not the leader of this team. Yes, he knows the system, and the players respect him. But he's not their manager. He's the interim manager.
If we want to take it even further: Jordi Roura is like the uncle of the team. You like your uncle, you respect him and you listen to his advice. But your uncle is not your father.
Tito Vilanova is the father figure of this team. There's no replacing your father, and there's no replacing Tito Vilanova's impact on the team.
Now, with Tito coming back, Daddy's home...and just in time!
As I said after the game:
This was for TITO! We love you, TITO! #Remontada

— Xoel Cardenas (@XoelCardenas) March 12, 2013
We'll see you soon, Tito! Can't wait to see you back on the Barca bench.
Conclusion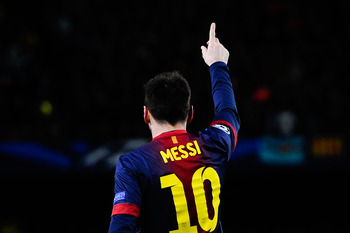 David Ramos/Getty Images
To review:
A solid rotation, the deepest bench in Europe, rested starters, no big games left other than CL games, no fear, the comeback this generation's squad needed, an angry Lionel Messi and the inspirational leader that is Tito Vilanova are all reasons that this 4-0 win over AC Milan will now spark FC Barcelona to win another UEFA Champions League title.
Let's look at some of the players' tweets after the game.
Amazing team and fans, all together we are invincibles!! We've got it!! #comeback #championsleague #viscaelbarça

— Cesc Fàbregas Soler (@cesc4official) March 12, 2013
Queria compartir con todos mis seguidores esa victoria, creo que tambien es vuestra, a todos que mandaran mensajes positivas graciassss

— Daniel Alves (@DaniAlvesD2) March 12, 2013
4-0 y a cuartos! Partido histórico! #remuntada #forçabarça #champions

— cristian tello (@ctello91) March 12, 2013
Incredible teammates and fans, you have carried us to the win, you are the best!! Together we are unstoppable!!!! twitpic.com/cauacn

— Andrés Iniesta (@andresiniesta8) March 12, 2013
Thank you, FC Barcelona for one amazing, historic and emotional night.
It's nights like Tuesday night that we love football.
It's nights like Tuesday night that make football the greatest game in the world.
It's nights like Tuesday night that prove that the Camp Nou is the most magical stadium in football.
It's nights like Tuesday night's 4-0 win and 4-2 historic comeback aggregate win over AC Milan in the UEFA Champions League that make me proud to be a Cule.
And it's nights like Tuesday night's win that remind the world that FC Barcelona is the best club in the world.
¡A CUARTOS!
O le le,
O la la,
ser del Barca es
el millor que hi ha
Xoel, The Voice of FC Barcelona.
Follow me on Twitter for continuous Barca news, live tweets of every game and your questions answered.
Keep Reading

FC Barcelona: Like this team?