Philadelphia Phillies' Biggest Winners & Losers Halfway Through Spring Training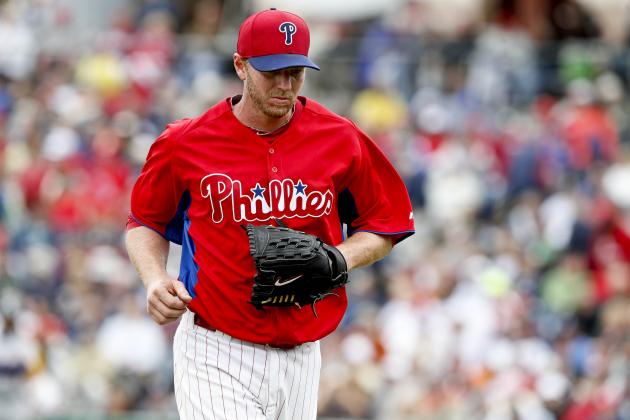 Derick Hingle-USA TODAY Sports

The Philadelphia Phillies have something to prove this season.
This is a theme that has already begun during spring training, as most of their regulars are fighting to prove that they can be healthy and effective and that they will extend these efforts through the regular season as they attempt to topple the reigning division champion Washington Nationals.
It's not going to be easy, though, especially if this spring is any indication. There have been very high notes for the Phillies this spring, but there have been some questionable moments as well.
While there is a strong sense of optimism in the air, one cannot go a full day without that pungent smell of doubt wafting across your nose.
At the outset of spring training, no one thought that this was going to be an easy season for the Phillies. Now, with half of the spring slate in the books, we can take a look at some of the club's winners and losers in camp so far.
Which players should the Phillies be concerned about, and which ones are ready to roll? With opening day roughly two weeks away, it's time to take stock once again.
All statistics courtesy of Baseball-Reference.
Begin Slideshow

»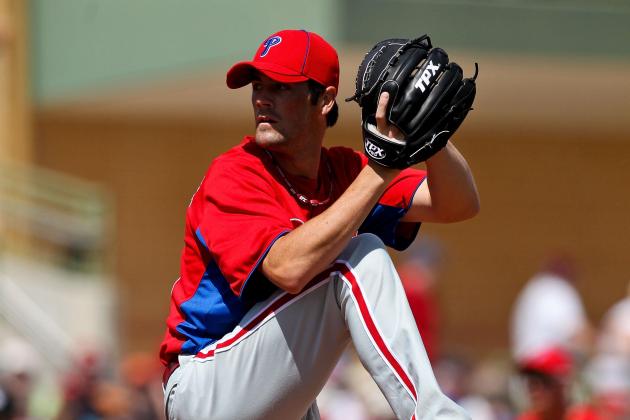 Daniel Shirey-USA TODAY Sports

Cole Hamels was roughed up by a Dominican Republic team preparing for the World Baseball Classic earlier this spring, but he approached the outcome with a positive outlook, telling Philly.com, "Thank goodness it doesn't count now."
Outside of that one appearance, Hamels has been great this spring. He's pitched 10 innings, allowing two runs (one earned) on six hits, and he has struck out seven while walking one.
While the Phillies have yet to make it official, Hamels is on pace to start on opening day in Atlanta. It is going to be imperative for this club to get off to a good start, and that begins with the only homegrown lefty in their starting rotation.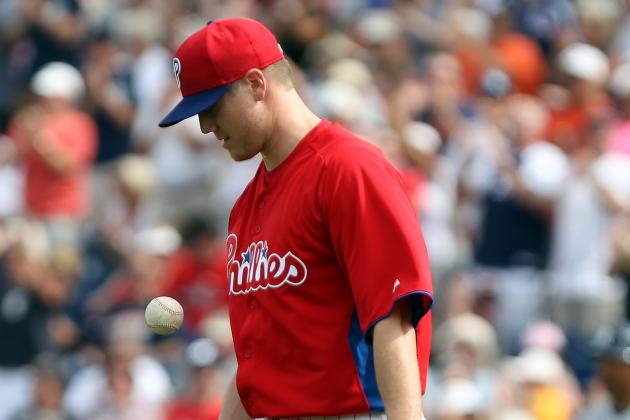 Kim Klement-USA TODAY Sports

Jonathan Papelbon's first appearance of the spring was absolutely miserable, but every appearance since then has gotten progressively better for him. That's the good news.
The bad news is that Papelbon hasn't given much indication that he is ready for the regular season, although he still has two-plus weeks to do that.
The Phillies' closer has made four appearances this spring, allowing eight earned runs, including two home runs. He has also walked three batters while striking out seven.
Papelbon's spring shouldn't be a cause for concern, though. He's the kind of guy that thrives in the ninth inning during save situations and he hasn't had that opportunity yet. He'll be fine come opening day.
Derick Hingle-USA TODAY Sports

The Phillies made their biggest splash of the offseason by sending a pair of talented pitchers, Vance Worley and Trevor May, to the Minnesota Twins in exchange for speedy outfielder Ben Revere. At the time of the trade, many fans didn't know what to expect.
Revere, 24, has been in the league for parts of three seasons and has played mostly right field in his career. In 2013, he'll be the Phillies' center fielder. He doesn't hit for much power and has never posted an incredible on-base percentage, but the Phillies will give him a look at the top of the order.
Early in his career, Revere's game has been predicated on contact, speed and defense. So have those attributes shown up in his first spring training as a a member of the Phillies?
Midway through the spring, Revere has been everything the Phillies could have hoped for. He has gone 16-for-47 and notched four doubles. He has stolen four bases and has been caught just once. He has also played an exceptional center field.
It's obviously too soon to tell what his exact impact will be this year, as he hasn't even played a regular season game for the club yet, but the Phillies sure seem to have made a nice trade over the offseason.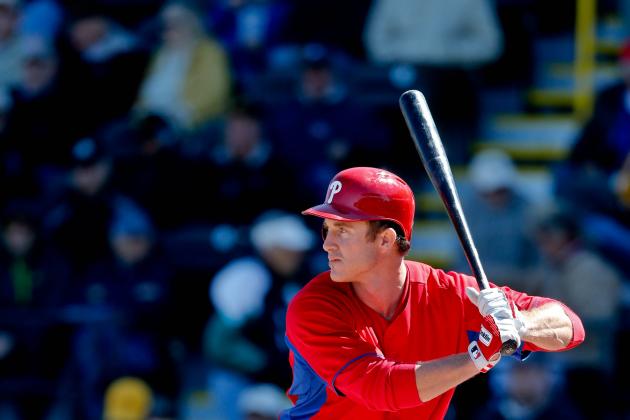 Derick Hingle-USA TODAY Sports

A lot of people would consider Chase Utley a "winner" just for appearing in a handful of spring training games this season—something that has not come easily for the second baseman over the last few years.
It should be noted, however, that Utley has struggled a bit on both sides of the ball this spring. He is just 7-for-34 at the plate this spring with three extra base hits (pair of doubles and a home run). But the Phillies can certainly benefit from his patient approach at the plate—he has more walks (seven) than hits this spring.
He has also struggled a bit defensively, but Utley is a guy that no one is all that concerned about. As long as he is healthy—and he certainly seems to be—he should be able to get into more of a rhythm with more consistent appearances.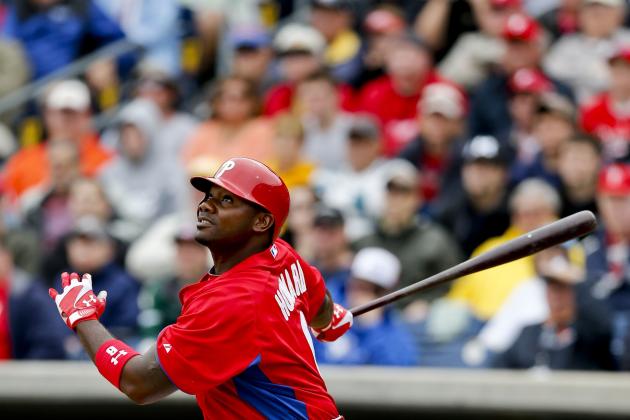 Derick Hingle-USA TODAY Sports

One of the biggest sources of optimism for the Phillies this spring has been the offensive success of first baseman Ryan Howard, who is finally completely healthy following his Achilles injury in October 2011.
When he returned to the field last season, something was missing for Howard. There was an obvious lack of comfort at the plate and the result was a poor offensive performance. The slugger has done his best to reverse those fortunes this spring, though.
Howard is 15-for-45 midway through the Grapefruit League schedule and has eight extra base hits with four doubles and four home runs.
While he has gotten off to a hot start, Howard's discipline is going to have to improve if he wants to be successful over the long haul. He has already struck out 12 times this spring.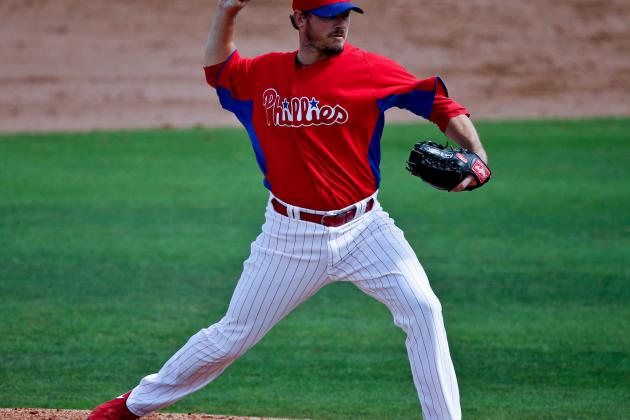 Derick Hingle-USA TODAY Sports

When the Phillies signed Chad Durbin over the offseason some questioned whether or not it was a move that the club needed to make. They have plenty relievers with upside higher than Durbin's at this stage in their respective careers.
What Durbin brings to the table is one of our favorite intangibles: "experience." He is a 13-year MLB veteran that will certainly serve as a mentor to others in a young bullpen.
But will he help that bullpen while he is on the field, and can he contribute?
Durbin has allowed four earned runs in just five innings this spring, although he has struck out five and walked one.
The best plan of attack here would be a "wait and see" approach.
After all, Durbin played a large role in that successful Phillies' bullpen of 2008 because of his ability to throw two innings at a time. If the club plans a similar role for him this time around—closer to a "long reliever" than a "setup man"—this could work out.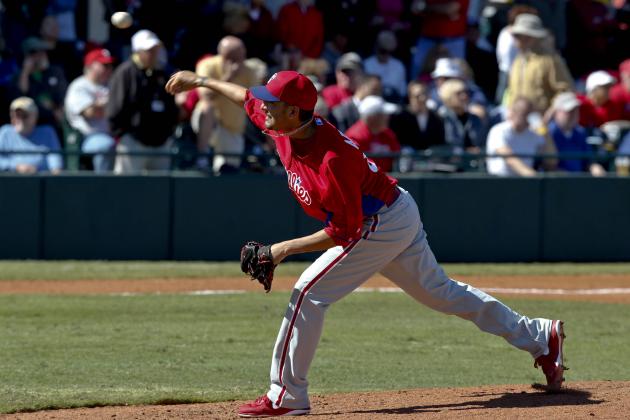 Derick Hingle-USA TODAY Sports

One of the areas that the Phillies absolutely had to improve coming into the spring was the bullpen, particularly the eighth inning role where they brought in Mike Adams to compete.
Adams, who is recovering from offseason surgery, has looked completely healthy in his first camp with the Phillies. He has made three appearances, allowing two hits and striking out two without issuing a walk.
The Phillies are hoping that Adams and Jonathan Papelbon can seal the deal over the last two innings, and it's easy to like those odds.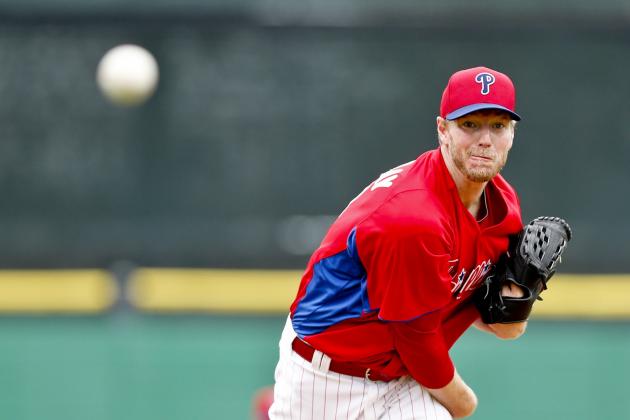 Derick Hingle-USA TODAY Sports

There are times during the spring when it is tough to get an accurate read on where a starting pitcher stands. They are usually still working on their mechanics during this time, and they'll often spend a lot of time throwing a single pitch to prepare it for the regular season. More often than not, spring training results should just be thrown out the window.
When it comes to Roy Halladay, however, there is going to be some concern over a poor spring performance, especially when a few of the contributing factors are a lack of velocity and command.
In my opinion, the velocity is not as big of a deal right now because Halladay is 35 years old. It's going to take a while for him to prepare for the regular season, and even if that velocity is gone for good, this is a pitcher who can get by on command and movement alone.
So, on that same note, it's the lack of command that should be a big concern at this point. Halladay spent his last start against the Detroit Tigers working on his mechanics, finding the right arm slot and things of that nature.
It just did not go according to plan.
Following his last start, Halladay told reporters, including the Philadelphia Inquirer's Bob Brookover, that he had changed his routine a bit to compensate for an off day and that was partly to blame.
But Halladay has struggled this spring. He has allowed nine earned runs over 11 innings, and he has issued six walks while striking out nine.
At this point in the spring, it may be too soon to be overly concerned about Halladay. He is an older pitcher that is going to take some time to prepare. Over his next few starts, look at the mechanical side of his outing and forget about velocity for a while.
If his mechanics, arm slot and command are good, there is nothing to worry about.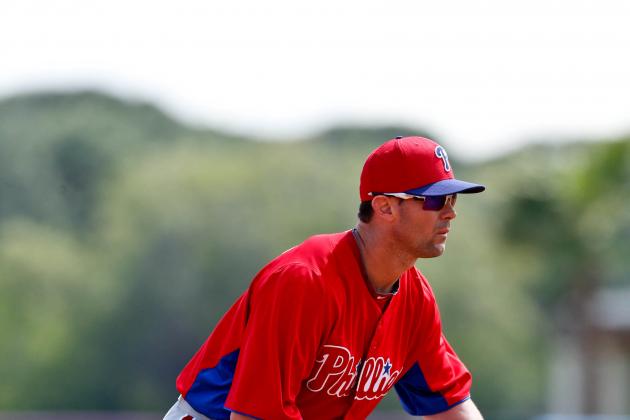 Derick Hingle-USA TODAY Sports

After a slow start to the spring, Michael Young has really turned things around lately to become one of the club's better performers.
The Phillies acquired Young from the Texas Rangers over the offseason with the hope that giving him a concrete spot in the everyday lineup would help him bounce back from the worst year of his MLB career.
Roughly midway through his first Grapefruit League, that certainly seems like a possibility. Young is 13-for-41 with a pair of doubles and a home run and has struck out just five times. He'll be the consistent right-handed bat that this club needs.
The biggest area of concern is his defense at third base. The Phillies are hoping that a full camp will have him looking spry over at the hot corner, but Young's range has obviously declined. He'll be able to make the routine plays, which is certainly a start, but he'll be in the lineup for his offense.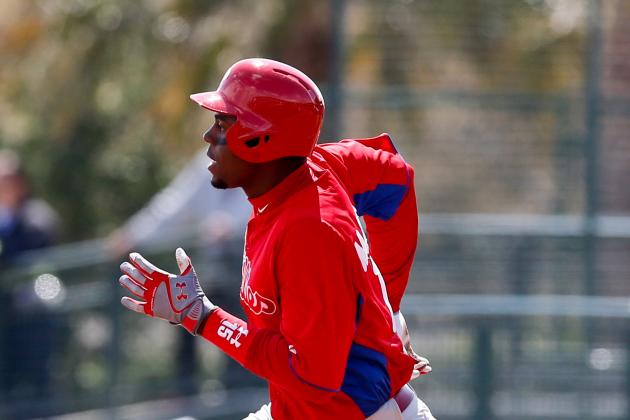 Derick Hingle-USA TODAY Sports

Over the last few seasons, few players have been as frustrating for the Phillies as John Mayberry, Jr. He's teased them with potential, but he has yet to make anything happen on a consistent basis. That's the main reason why he isn't fighting for an everyday role this spring, and the Phillies have all but given up on him.
Mayberry's spring has been a microcosm of his tenure with the Phillies: up-and-down. He got off to a dreadful start but has played better as of late, going 12-for-46 through the midway point of the Grapefruit League.
The Phillies would like to see him hit for more power, though, as he has just three extra base hits this spring, including a pair of doubles and a home run.
The real concern for Mayberry is whether or not he has done enough. Has he done enough to play in a platoon if the Phillies go that route? Has he done enough to earn a spot on the bench?
Mayberry needed to come out and have a spring that erased all of the doubt, and he certainly has not done that.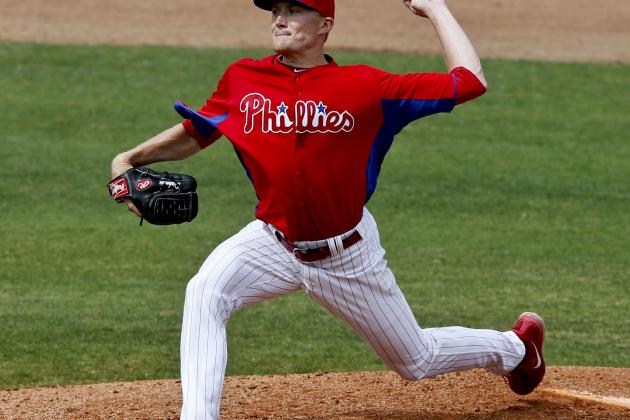 Derick Hingle-USA TODAY Sports

Jake Diekman has had a couple of rough outings this spring, but the first half of camp overall has been a huge success for the left-handed reliever.
Diekman is a guy who came into camp as an underdog. The Phillies were not particularly fond of the command he showed at the major league level last season, and Jeremy Horst arrived as the clear favorite for one of the last few spots in the bullpen.
At the very least, Diekman has kept the competition close. He has tossed nine innings and allowed five earned runs, and he has also struck out 14 batters while walking just two.
Diekman can be a weapon out of the Phillies' bullpen this season, especially if the club learns to utilize him solely as a left-handed specialist. He'll have to continue to fight for a job in these last two-plus weeks of the spring, though.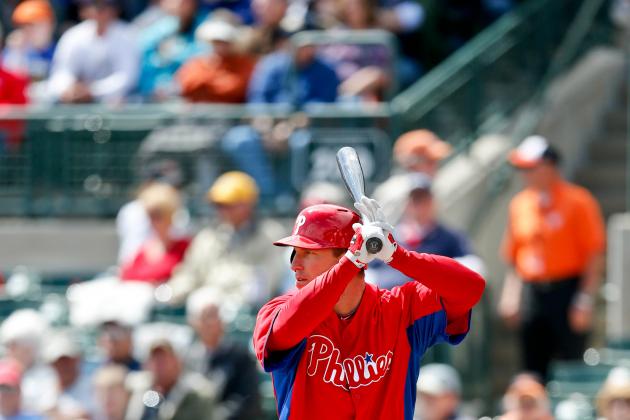 Derick Hingle-USA TODAY Sports

As the Phillies evaluate their club through the rest of the Grapefruit League, they'll have to ask themselves this question: what do we value more off of the bench—offense or speed and defense?
If the answer is offense, Nix is the guy by default. He missed more than 50 games last season with a strained calf and hasn't been overly impressive this spring, but the Phillies signed him because they believe he can provide left-handed pop off of the bench.
He'll need to prove it soon, however. Nix is just 7-for-32 this spring with one official home run and a round-trip against the Dominican Republic that doesn't count in the official spring statistics.
If the Phillies value speed and defense, Nix may be out of a job. Rule 5 pick Ender Inciarte has shown off his speed and defense this spring, and he is certainly an option for the bench when the club breaks north.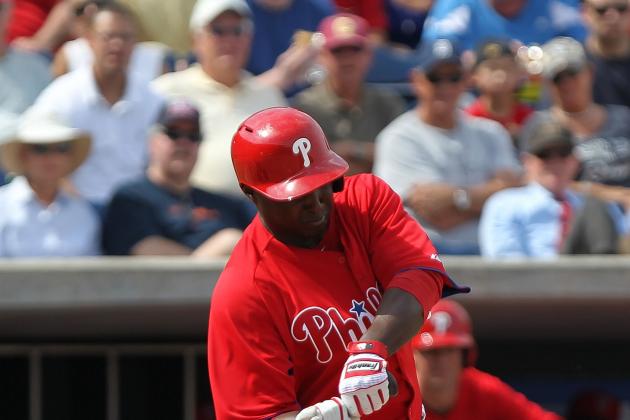 Kim Klement-USA TODAY Sports

Outside of Humberto Quintero, who will fill in temporarily as the Phillies' backup catcher, non-roster invitees are going to have a hard time making the major league club this spring. The Phillies just don't have many openings.
Infielder Yuniesky Betancourt is doing his best to force his way onto the roster, though.
Betancourt, 31, has played very well this spring on both sides of the ball. He is 11-for-29 at the plate with a double, two walks and just one strikeout, and he has played solid defense, primarily at shortstop.
But how much faith can you put in such a small sample size? Over the course of his career, Betancourt has become known as a light-hitting infielder and a bad defender. Can the Phillies afford to take a risk on the chance that he's turned it around completely?
Over a longer stretch, though, Kevin Frandsen is going to be the better offensive player and Freddy Galvis is going to be the better defender, so where does that leave Betancourt?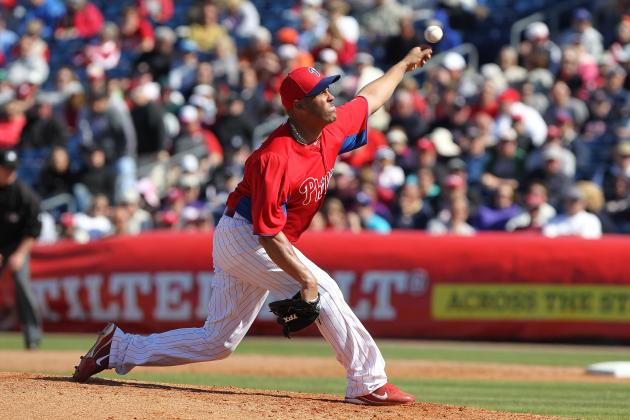 Kim Klement-USA TODAY Sports

Raul Valdes has had a mediocre spring. It hasn't been great, but it hasn't been terrible either. The real problem for the lefty is that he came into camp on the bubble, at best. He really needed a strong performance to make the club.
Valdes has made made five appearances this spring, logging 10.1 innings. He has allowed six runs on nine hits, while striking out 15 and walking one.
Does that warrant being called a "strong performance?" The Phillies clearly consider him to be "long relief" material and have stretched him out as so. The strikeouts are nice, but he has been hit around in other appearances.
Valdes is one to watch. I'm calling him a "loser" at this point in the spring, though, because I truly believe that he needed to come out and leave no doubt about what he can do at the major league level. He hasn't done that.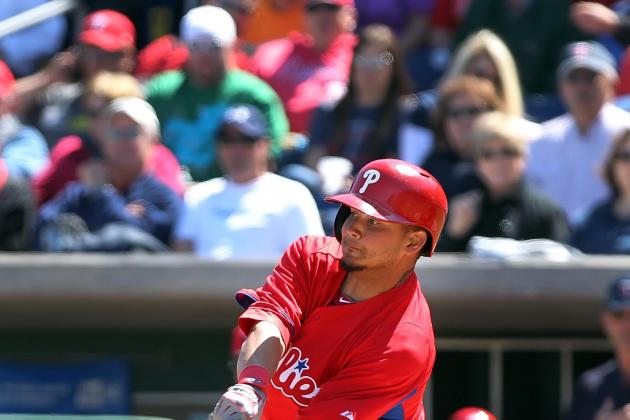 Kim Klement-USA TODAY Sports

Freddy Galvis has had a good spring, but will it be enough to keep him on the roster when the club heads north?
The infielder, coming off of a season that included a serious injury and a suspension, certainly has something to prove this spring. The common train of thought has been that he would compete with Kevin Frandsen for a spot on the bench.
Now, however, it looks as though there will be a spot on the bench for two infielders, but he isn't fighting off Frandsen any longer, as Frandsen has been one of the best hitters this spring. Instead, he finds himself fighting off a surging Yuniesky Betancourt, who is in camp on a minor league deal.
But Galvis has played well enough to make the club. He is 13-for-46 and has shown off some unusual power by logging five doubles, a triple and a home run. The downside, however, is that his plate discipline has clearly not improved. He's been punched out 13 times this spring while walking just twice.
This team values Galvis' defense, though. While Betancourt has played well, history tells us that he won't be able to hold a candle to Galvis on the defensive side of the ball, which is why I believe the latter will make the club.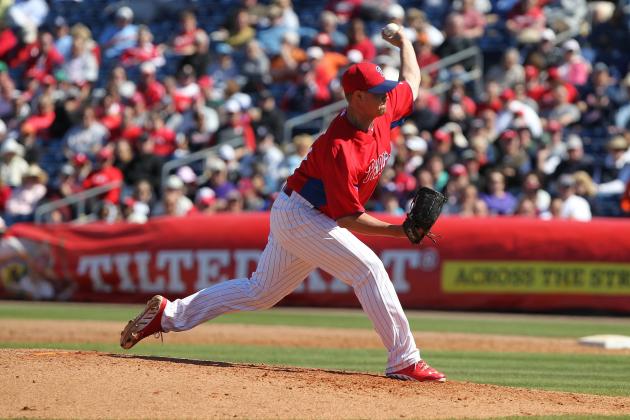 Kim Klement-USA TODAY Sports

After a fantastic 2012 season, Jeremy Horst had a job in the bullpen to lose coming into the spring. After a poor performance through the first few weeks of the Grapefruit League, however, we may have to be asking ourselves this: has he actually lost it?
Horst has allowed eight earned runs over just 7.1 innings this spring. He has surrendered four home runs and walked three while striking out five batters.
As the spring has worn on, Horst's outings have improved, if only slightly. But with other talented lefties like Jake Diekman giving him a run for his money, Horst should be looking over his shoulder at the midway point in camp.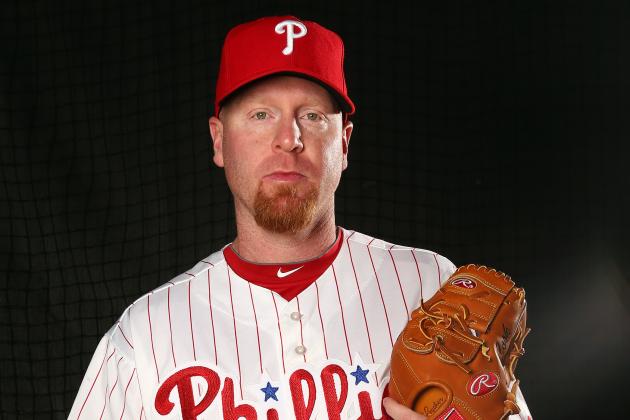 Elsa/Getty Images

Aaron Cook has had an excellent spring. Cracking the Phillies' roster is still going to be a challenge for the veteran pitcher, but he has certainly pitched himself into the conversation.
There are obvious roadblocks for Cook, though. First and foremost, he is a starting pitcher and the Phillies have a crowded rotation. If he makes the club, it will have to be as a long reliever and the Phillies don't have many available spots in the bullpen, particularly for a long reliever.
With that in mind, it wouldn't be surprising for Cook to opt out of his minor league deal if the Phillies don't add him to the roster. He has pitched 11 innings this spring, allowing just four runs (three earned).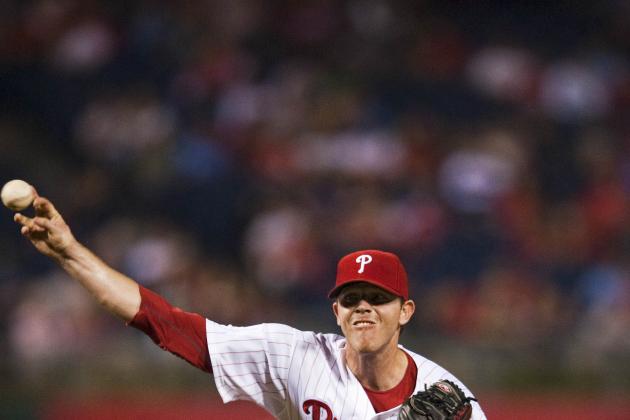 Howard Smith-USA TODAY Sports

Justin De Fratus came into camp as a favorite to crack the bullpen when the club heads north for opening day, but he hasn't exactly made a great first impression this spring. After getting a small taste of MLB over the last two seasons, this was supposed to be the year when he contributed full-time.
The right-handed reliever has gotten off to a slow start this spring, however. While he has turned it around a bit as of late, De Fratus has still allowed five earned runs over seven innings, walking three and striking out two.
De Fratus has one of the highest ceilings of any reliever in camp and, again, he has pitched better recently. He'll have some competition over the last few weeks of the Grapefruit League, but he should still be considered a favorite to make the club.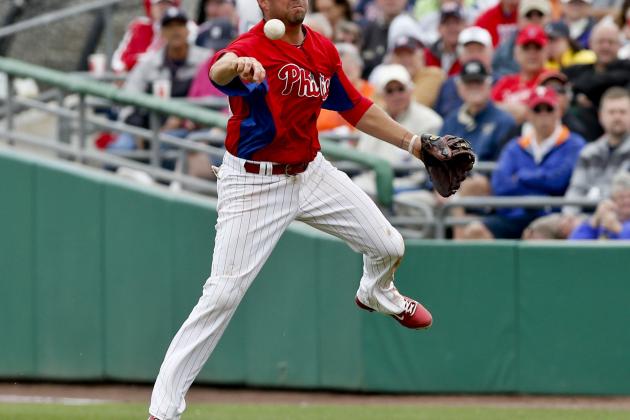 Derick Hingle-USA TODAY Sports

Kevin Frandsen arrived to camp this spring without a guarantee that he would travel north with the club when April arrived. Thought to be in a position battle with Freddy Galvis for a spot on the bench, he had something to prove this month.
Well, with about half of the Grapefruit League slate in the books, Frandsen has realistically been one of the club's best hitters this spring.
Frandsen's knack for making contact has been on full display. He is 12-for-37 this spring and has shown off some unusual power, recording four doubles, a triple and a pair of home runs.
His defense is not nearly as good as Freddy Galvis' and he doesn't have much power to speak of, but it would be a shock to see Frandsen left off of the bench when camp breaks. Right now, he may be the club's best pinch-hitter.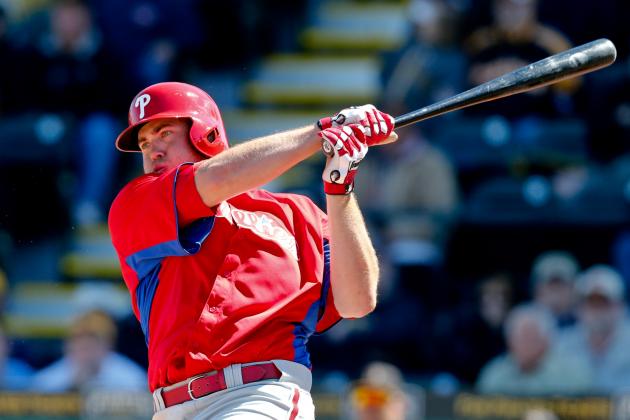 Derick Hingle-USA TODAY Sports

The big disappointment through the first half of the spring has been Darin Ruf. Not only has he failed to play defense that can be considered anything close to average, but those struggles have carried over to the plate, where he was ice cold to start the spring.
Ruf has played a bit better lately, though, and is now 8-for-38 in Grapefruit League play with three doubles and a home run. He has also struck out eight times and walked twice.
The Phillies want Ruf to pull it all together. He has the potential to be the right-handed power bat that they need in the middle of their order, but he needs to play better defense and look comfortable at the plate. Otherwise, he is ticketed for Triple-A.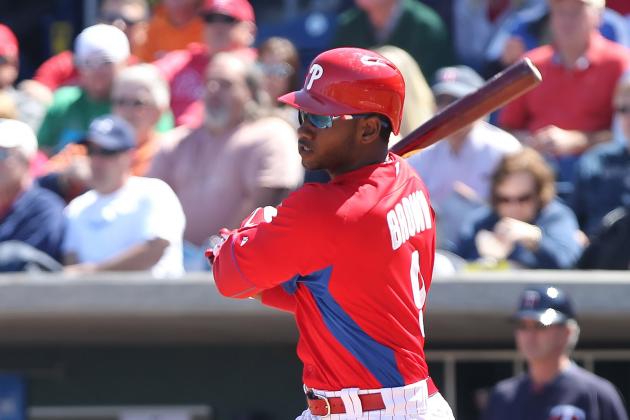 Kim Klement-USA TODAY Sports

With their offseason search for a corner outfielder largely unsuccessful, the Phillies' front office then turned to the baseball gods and asked for a sign.
The man that they brought in to do the deed, Delmon Young, will open the season on the disabled list, while a man that they have had little faith in, former top prospect Domonic Brown, has been the club's best bat this spring.
Have their prayers been answered?
Brown has had a spring to remember. He is 17-for-46 at the plate. He has hit three home runs and doubled twice, while walking nearly as many times (six) as he has struck out (seven).
Brown has always had the potential to become an excellent corner outfielder in this league. Now, it appears as though he is finally starting to put it together.