AC Milan: Projecting Rossoneri Young Gun M'Baye Niang's Career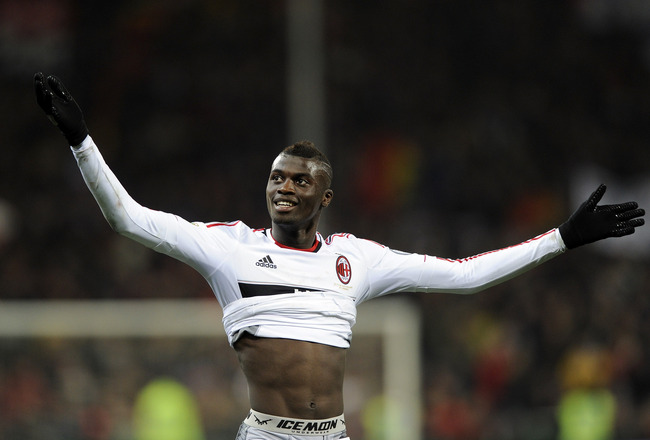 Claudio Villa/Getty Images
M'Baye Niang, the former Caen footballer and current French youth international, is one of AC Milan's brightest prospects.
This article will look at Niang's start with the Rossoneri and project his future with the club.
Don't hesitate to comment below with your views on the 18-year-old wide forward.
M'Baye Niang: From Caen to AC Milan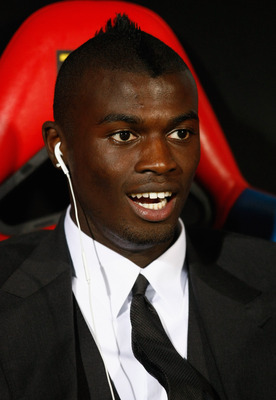 Maurizio Lagana/Getty Images
May 7, 2011. Caen versus Lens... an unglamorous matchup of two Ligue 1 cellar dwellers.
Raphaël Varane (yep, the centre-back for Real Madrid) was playing in Lens' midfield, whilst Alassane Toure and Franck Queudrue were the starting centre-backs.
Up front for Caen was M'Baye Niang—the football manager wonderkid—leading the line while teammate Youssef El-Arabi was utilised as a second striker.
Two minutes in, guess who scored?
M'Baye, who tore Lens to shreds with his movement and could have ended up with a hat trick if he was more composed in front of goal.
Raphaël was Patrick Vieira-ish with his runs into the opposing box and take-no-prisoners approach when going in to win the ball.
A year later, Niang was stuttering to the finish line as another victim of the sophomore slump (via French Football Weekly's Le 50):
The silver lining is his age; he has still got a long way to go before one should begin to worry.

Very strong on the ball and with pace to burst down the flanks.

There is no doubt in anyone's mind that this kid is very talented.

With Caen lacking a real goal-scoring threat and Niang lacking fitness and form, you really hope his progress doesn't stall in Normandy.
Meanwhile, Varane was now a Real Madrid player, having rejected the overtures of Manchester United and Paris Saint-Germain (per Patrick Haond at Sky Sports).
Instead of being another 'Vieira', José Mourinho saw Raphaël as a CB, who could surpass Laurent Blanc (by Santiago Siguero at Marca).
It was confusion all-round when AC Milan swooped in for the Caen Wunderkind.
Phil Thomas at The Sun prematurely reported Everton signing Niang for £2 million, a fee that contradicted the £6 million figure ESPN FC's Mike Whalley had put out.
M'Baye Niang... Future Star?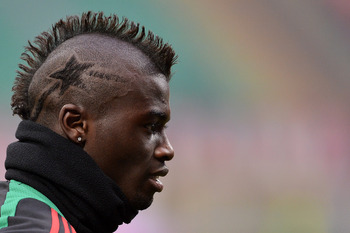 Tullio M. Puglia/Getty Images
An AC Milan star in the making, eh?
That's what they said about Élber, Pierre-Emerick Aubameyang, José Mari, Nicola Pozzi, Tabaré Viudez and others [1].
Despite our tendency to overrate teenage phenoms, what you see from M'Baye Niang reinforces Silvio Berlusconi's comments that the Frenchman will be better than Mario Balotelli [2] (per Four Four Two): "Niang is better than Balotelli."
M'Baye Niang, 18, has already participated in a Derby della Madonnina and experienced UEFA Champions League football against Barcelona.
Speaking about that 2-0 first leg win over Barça, there was a moment where he dropped Carles Puyol in a 50-50 contest—just pure strength from Niang.
Insignificant anecdote? Wrong.
By winning that challenge, M'Baye passed it to Stephan El Shaarawy, who flicked the ball towards Sulley Muntari—take it away, Tiziano Crudeli.
[1] Élber was the forward's answer to Patrick Vieira; didn't make the grade at Milan, but went on to become one of the greatest players of his generation.
PEA is a superstar for Saint-Étienne, who has scored eight goals and tallied up four assists in his last seven Ligue 1 games.
"They are who we thought they were...and we let them off the hook!" comes to mind when Rossoneri management look back at both players.
Mari never maximised his potential, whilst Pozzi and Viudez have yet to make the next step.
[2] Silvio made this observation when Balotelli was still a Manchester City player.
Projecting M'Baye Niang's Career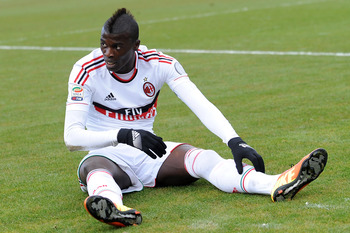 Valerio Pennicino/Getty Images
M'Baye Niang is pacey, skillful, he tracks back and he has a great connection with Super Mario.
RF: M'Baye Niang
CF: Mario Balotelli
LF: Stephan El Shaarawy
Kevin-Prince Boateng's future belongs in midfield (remember, he's a natural box-to-box midfielder) because he is taking up M'Baye's minutes.
Massimiliano Allegri, think long-term!
By the way, here's an awesome photo of the trio (via registv.tumblr.com).
Niang hasn't scored a goal (from 18 shots) in 12 Serie A games, but he did hit the woodwork against Lazio and Udinese.
Stephan El Shaarawy's offensive numbers were subpar last season...look at him now.
If we are to project M'Baye's future, you have to heavily factor in his raw athleticism coupled with his exquisite skill, meaning he's headed for elite/world-class status from a tangible perspective.
The intangible element is his discipline which could derail his development.
He was one of the five players banned by the French Football Federation for abandoning training camp to go nightclubbing in Paris (per BBC Sport).
Then there was the stranger-than-fiction case of him impersonating Bakaye Traoré after being caught driving without a license, as reported by Metro.co.uk.
Niang cleared things up (by Meytar Zeevi at Rossoneri Blog):
The car incident? I have never pretended to be Traoré.

It was his car, but I had just arrived in Italy and I didn't know Italian.

I was just saying "yes" to all the questions that the cops were asking me. I admit my mistakes.

I didn't appeal against the ban that the French FA gave me (he was banned for breaking curfew and partying late).

It's water under the bridge, and I've decided not to go back to doing those things.
Paolo Bandini at the Score shed more light on M'Baye's behavioural problems:
The Caen manager Franck Dumas had gone to significant lengths to try to discourage Niang from just this kind of behaviour.

"One time I asked a friend of mine who is a policeman to stop him outside the stadium," said Dumas. "I wanted to frighten him."

Nor have his misdemeanours been limited to driving offences.

Dumas recently recounted the story of how he had been planning to start Niang against Paris Saint-Germain last year, only to find out on the morning of the game that the player had been arrested the night before at a hip-hop concert after a fight broke out.

"He didn't hit anyone," said Dumas, "but, as he was a minor, he wound up getting held overnight."
Niang has shown glimpses of superstar qualities, but his minor wrongdoings are a concern.
Please comment below with your opinion of M'Baye.
Ranking European Football's 20 Most Improved Players This Season
Statistics courtesy of WhoScored.com, EPLIndex.com and Squawka.com.
Keep Reading

AC Milan: Like this team?