Full Update of Surprises, Busts and Injuries at Los Angeles Dodgers Camp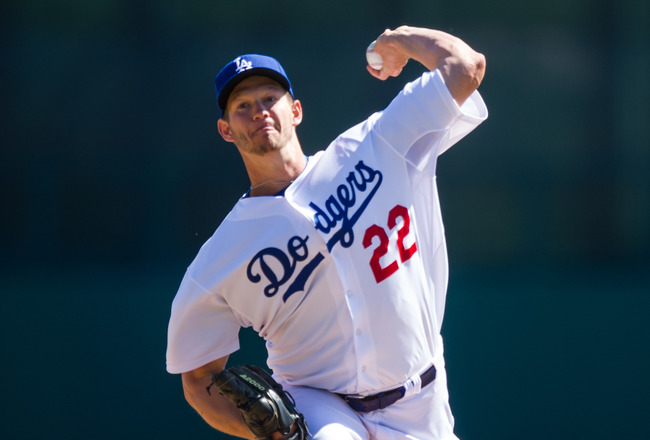 Rob Tringali/Getty Images
As we inch closer to Opening Day, MLB teams are experiencing their fair share of hiccups.
Whether it be a slumping star player, an injury or a failed position battle, this is about the time in the spring when everything starts to shake into place.
For example, the Dodgers may not have Carl Crawford or Zack Greinke available for Opening Day due to arm injuries. Meanwhile, Yasiel Puig and Jeremy Moore continue to rake, and the team's two best players continue to struggle.
While there isn't necessarily anything going on to make fans lose hope for this season, there are bits of news that are worth poring over.
Read on for a full roundup of surprises, busts and injuries at Dodgers camp.
Surprises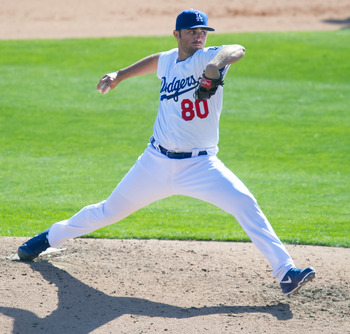 Rob Tringali/Getty Images
Yasiel Puig: I mentioned him in the opener and have been raving about this kid all spring. Puig has been arguably the most consistent hitter on the Dodgers since spring training started and hasn't even reached his power potential yet.
The comparisons to Yoenis Cespedes are on point, as Puig seems to spray to all fields with good power and has surprising speed on the base paths.
In my opinion, Puig's performance thus far makes him the favorite to be called up if the Dodgers need outfield depth.
Jeremy Moore: A .333 batting average, five doubles, four RBI and an on-base percentage over .400 definitely qualifies as a "surprise" here. Even though Moore is a long-shot to make the roster, he's revived his own career in Arizona this spring.
A former Angels prospect, Moore has shown remarkable gap power and could be a nice steal or a valuable trade chip for the Dodgers—if he continues to produce in the minor leagues early on.
Luis Cruz: Don't pretend that you thought Cruz would be this good. There is a reason that Ned Colletti was peeking into the possibility of adding Scott Rolen as insurance at third base this offseason.
Cruz earned a chance to start, and he's taking full advantage of that distinction so far this spring. World Baseball Classic awkwardness aside, Dodger fans should be ready for even better production out of Cochito in 2013.
Just don't expect his .444 average and 1.333 OPS to become the norm.
Kevin Gregg: Signing the veteran Gregg was more of a "why-not-just-in-case" move on the Dodgers part. All he's done in spring training so far is pitched five scoreless frames, allowing one hit, no walks and holding opponents to a 0.67 average.
While I highly doubt he replaces anyone in an already strong Dodgers bullpen, Gregg is definitely making a case for himself.
Matt Magill: Though he was recently reassigned to minor league camp, Magill is having himself one heck of a spring training.
As if the 0.00 ERA in four innings wasn't enough, Magill has struck out eight batters and walked just one. The 23-year-old has been a favorite son of the Dodgers' farm system for a couple of years, and should get a shot at the bullpen at some point in 2013 if he continues to progress.
Honorable Mentions: Brian Barden, Elian Herrera, Josh Wall, Juan Abreu, Chris Reed
Busts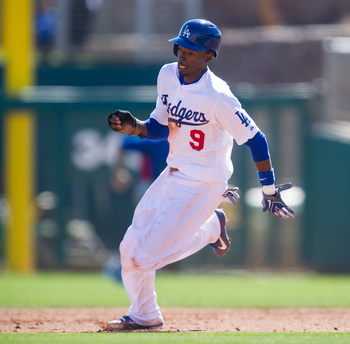 Rob Tringali/Getty Images
Matt Kemp: Oh yes I did! This spot will be short-lived, as Kemp has already started fixing the mechanical flaws in his swing. That's what happens when you spend an entire offseason recuperating instead of playing ball.
But the 0-for-everything streak to start spring training was still worrisome to Dodger fans. As long as he's completely healthy, Kemp will produce in the regular season. But so far, Kemp has been nothing short of disappointing in a small spring training sample size.
Dee Gordon: It seems like just a few days ago that I was raving about how good Gordon looked. Such is the life of a Dodgers fan when it comes to the top prospect.
He was brought up too early last year, and it showed. But there was hope this spring when he started getting on base at a ridiculous clip, stealing bases and just being a general nuisance to the opposing teams.
Since, he's cooled off significantly. While Gordon is still getting on base (.400 OBP) and swiping bags (5 for 5), he's hitting just .211 now.
J.P. Howell: I'm not extremely worried about Howell yet, as he's only tossed three innings in spring ball to this point. But the results haven't been pretty so far.
While Paco Rodriguez was a dependable lefty out of the bullpen late last year, he's still very young and inexperienced. We know about Scott Elbert's injury woes, so Howell is the guy as far as the southpaw relievers go.
A 6.00 ERA and .250 opponent's batting average has to have Dodger fans a little bit on edge.
Clayton Kershaw: Again, there is nothing to worry about here long-term. But Kershaw has looked mediocre in most starts this spring.
That's a bit surprising, too, given that he has 14 strikeouts in 13 innings. But opponents are crushing him for a .352 average so far, resulting in an ERA over 5.50.
While this isn't the Kershaw we're accustomed to seeing, fans can take solace in the fact that pitchers need time in spring training to nail down their mechanics.
Brandon League: My worst fears may be realized sooner than expected. I've mentioned throughout multiple articles that I don't think League is the guy for the closer's role.
I'm hoping that he proves me wrong, but nothing he's done up to this point in spring training is deterring me from thinking Kenley Jansen will be in place closing games before the All-Star break.
Again, it's a small sample size, but League is sporting an ugly 6.00 ERA in three innings so far.
Honorable Mentions: Peter Moylan, Mark Lowe, Tim Federowicz, Alex Castellanos, Hyun-Jin Ryu
Injuries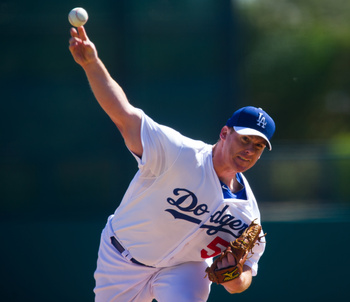 Rob Tringali/Getty Images
Zack Greinke: The Dodgers may have avoided a major problem recently, as Greinke went to see an arm specialist in Los Angeles to check on "elbow tightness."
Any time a pitcher feels something wrong with an elbow, it should be cause for concern. Luckily, an MRI revealed no structural damage, meaning that Greinke should be able to rest and get back out there sooner rather than later.
If they lose their No. 2 starter, division-title chances take an immediate hit.
Javy Guerra: Guerra has a groin that's been bothering him recently, but it's still undecided whether that is affecting his performance this spring.
I'm sure hoping so, because the normally dependable Guerra has looked very hittable so far, and would be in danger of losing his spot in the bullpen if the struggles persist.
He is pitching through the "minor" strain, but is just recovered from knee and shoulder operations a season ago.
Chad Billingsley: Oft-injured starter Billingsley has looked shaky in his return to live game action since missing a large chunk of last year's season with a UCL tear in his throwing elbow.
As the Dodgers ease him back in, Billingsley is focusing on getting his mechanics back so he can snag the fourth or fifth spot in the rotation.
Recently, he also strained his groin, but is already taking it slow and should be good to go for Opening Day barring any further setbacks.
Matt Palmer: He's not a big name, but notable nonetheless, as Palmer was having a decent spring for the Dodgers.
Making the roster was already a long-shot for Palmer, but being out six-to-eight weeks with a meniscus tear in his left knee really cripples his chances. The 31-year-old has been a serviceable spot-starter in the past (most notably going 11-2 for the Angels a few years ago), but may find himself moved because of the knee injury.
Carl Crawford: I don't know about the rest of Dodger nation, but I have no expectations for Crawford this year. I'm definitely excited to see how he performs in a new atmosphere when fully healthy, but I expect nothing.
When Crawford went down with nerve irritation in his surgically-repaired elbow, it became apparent that this process wouldn't be as easy as we Dodger fans hoped.
He will likely be held out past Opening Day, meaning someone like Puig or Castellanos could get a call for the Opening Day roster.
You can follow Jeremy Dorn on Twitter @Jamblinman.
Keep Reading

Los Angeles Dodgers: Like this team?