We all know the situation regarding the Giants and Victor Cruz.
Cruz wants to remain a New York Giant for a long time.
He would also like to get a new contract this offseason as well.
The Giants seem to be hesitant on pulling the trigger on a deal with their restricted free-agent wide receiver.
On Monday, the Giants placed a first-round tender on Cruz which, if it got signed, would pay him around $2.9 million for 2013.
John Mara says Cruz will be tendered today at first-round level. #nyg

— Jenny Vrentas (@JennyVrentas) March 11, 2013
With the first-round tender, Cruz could still try to sign a deal on the market with another team, but the Giants have a right to match any offer another team could make.
What could help Cruz in the pursuit of a new deal in 2013 is the hiring of a new agent in Tom Condon, according to Ohm Youngmisuk of ESPN New York.
RT @mikegarafolo: Victor Cruz's new agent will be Tom Condon of CAA, who has done deals with Giants for Manning and Kiwanuka in recent years

— Ohm Youngmisuk (@NotoriousOHM) March 11, 2013
Condon is also the agent for current Giants Eli Manning and Mathias Kiwanuka and negotiated both of their deals to keep them in New York.
Does Victor Cruz changing agents bode well for the Giants in negotiations?
Cruz has made it very clear that he wants to remain with the Giants, as he grew up in Paterson, N.J. and has been with the team since 2010.
He's also become a very popular player among Giant fans all over and has had two consecutive 1,000-yard seasons in New York.
Mike Garafolo of USA Today said that Giants owner John Mara knows the team is taking a very big risk by putting the tender on Cruz and could even see teams making an offer to him.
However, Mara is still very hopeful that he remains with the team for a long time.
"If somebody wants to make him an offer, we'll evaluate whether it makes sense for us. My hope is he's a Giant for many years."
The way I look at it, the hiring of Condon for Cruz can go one of two ways.
The first: Condon helps Cruz get offers from other teams in the NFL and forces the Giants into a decision.
Or the second: Because Condon has dealt with the Giants in the past, he could be able to negotiate and get done a new deal for Cruz.
You also have to wonder if a team in the NFL is willing to part with a first-round pick and give Cruz a big-time contract as well.
The Steelers were in the same situation last year when they placed a first-round tender on Mike Wallace, and he ended up staying for the 2012 season.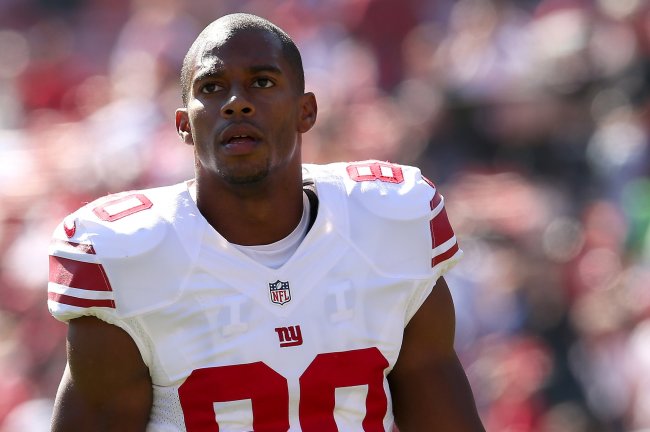 Stephen Dunn/Getty Images
But then again, you have a team like the Seattle Seahawks who just gave the Minnesota Vikings their first-round pick to obtain Percy Harvin on Monday.
This tender is a major risk for the Giants to take, and they know that.
In the end though, all they want is for them to have Cruz back catching touchdowns and salsa dancing at MetLife Stadium for a long time.
It's just the price that determines if that happens or not.
Will the change of Cruz's agent make that kind of situation happen?
Only time will tell.
Stay tuned, Giants fans.