Oklahoma Football: 5 Most Important Lessons Landry Jones Could Teach Blake Bell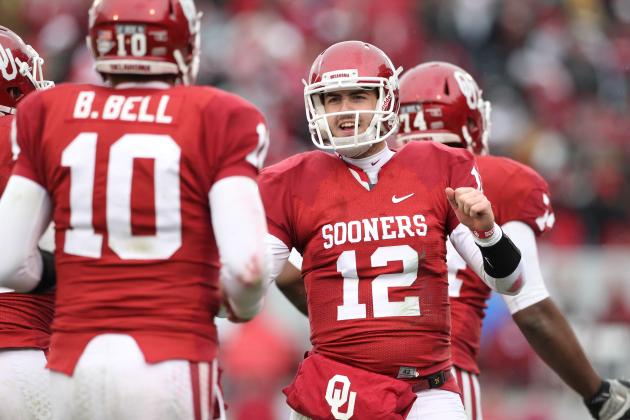 Matthew Emmons-USA TODAY Sports
Landry Jones must have valuable wisdom from four seasons as a starter.
If you're an Oklahoma football enthusiast, you know the Sooners' quarterback competition will be a key storyline for spring practice.
Some think Blake Bell, departed quarterback Landry Jones' backup the past two seasons, is the Sooners' next starting quarterback.
Granted, it's way too early to say Bell will be the starter, but let's assume he will be for the purposes of this article.
There are many different opinions about Landry Jones as a quarterback. Regardless of what you may think of him, it's hard to deny he would have helpful advice for his successor.
So, what are the essential pieces of wisdom Jones would impart on Blake Bell if he took the reins as the starter?
Here are the five most important lessons Landry Jones could teach Blake Bell. Since this is hypothetical, some of the lessons could be more relevantly described as areas in which Landry Jones was lacking and Blake Bell should focus on.
Begin Slideshow

»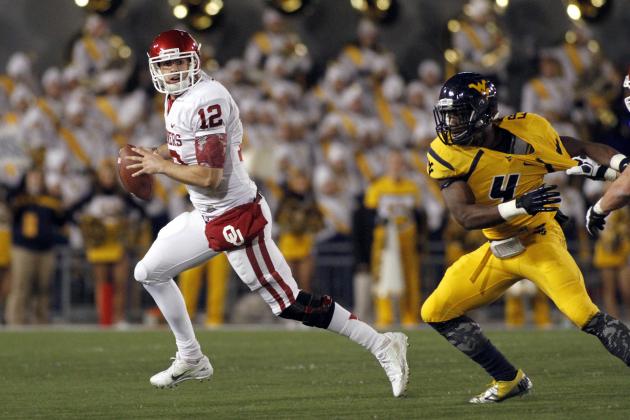 Justin K. Aller/Getty Images
Landry Jones often struggled when faced with pressure.
When Landry Jones had good protection, he usually delivered. When he was pressured, Oklahoma fans held their collective breath.
Jones under pressure (literally, not mentally) often led to ugly outcomes, including interceptions and fumbles. If Jones simply threw the ball away when he faced pressure and didn't see an open man, many problems could've been averted.
Blake Bell has the advantage of being a capable runner, something Jones lacked. Therefore, he may be able to elude pressure more gracefully than his predecessor.
Regardless, Bell should learn from Jones' troubles with pressure that it's imperative for the quarterback to get rid of the ball as quickly as possible.
Of course, this doesn't mean he should treat the football like a hot potato. The adage "Be quick, but don't hurry" is a wise one to live by as a signal-caller.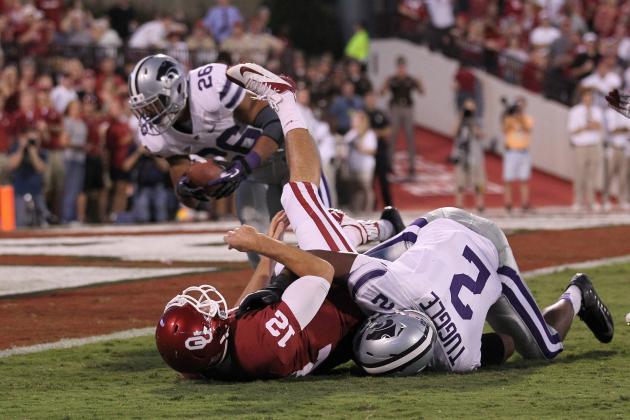 Matthew Emmons-USA TODAY Sports
Jones knows as well as anyone that turnovers can lose games.
It's obvious that a quarterback should do his best to limit turnovers. But Jones, who threw 52 interceptions in four seasons and fumbled several times, knows just how crippling relinquishing the ball can be.
The Sooners' 24-19 loss to Kansas State in 2012 and OU's 44-10 defeat to Oklahoma State in 2011 are good examples of the consequences of turning the ball over. Turnovers make beating any team harder, but beating a very good team is extremely difficult if ball protection is lacking.
Thus, despite its triteness, simply appreciating the importance of avoiding turnovers can go a long way for Blake Bell. Simply protecting the ball should put the Sooners in position to win every game on their schedule.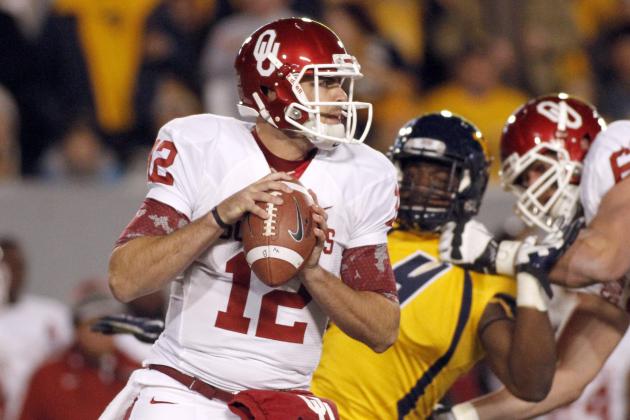 Justin K. Aller/Getty Images
Jones threw for 554 yards and six touchdowns against West Virginia in 2012.
Some people aren't sold on Landry Jones as a quarterback, but one at the very least must give him credit for rallying his team to several key wins over his Sooner career.
The 47-41 win over Oklahoma State in 2010, the 50-49 triumph over West Virginia and the 51-48 overtime escape over the Cowboys in 2012 were all contests in which Jones shone brilliantly.
The statistics alone are worth gawking over. In the three wins, Jones threw for 1,522 yards and 13 touchdowns.
More important, though, were Jones' resolve and resilience in those contests. Instead of being demoralized by his team's inability to pull away, he persevered and led his team to thrilling and important victories.
Blake Bell would be wise to look at these three games for inspiration. In order to be successful in the Big 12, he will need to be very tough mentally and physically. The Sooners will be in high-scoring games. Escaping these games victorious requires a driven and mature quarterback.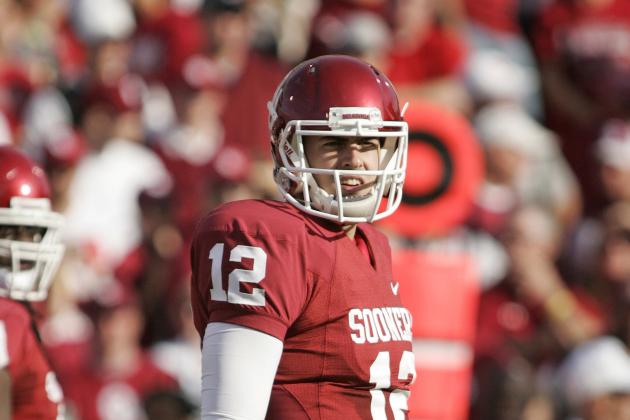 Brett Deering/Getty Images
Running the hurry-up requires impeccable communication.
Jones and the Sooner offense sometimes struggled with efficient communication. One of the maddening elements of their hurry-up attack was the potential for lag between plays.
The offense clearly requires a sharp quarterback with excellent communication skills and composure. Overall, Jones was mostly effective at making sure his players were on the same page.
Both Jones' success and difficulties at running the Sooner offense should be valuable teaching tools for Bell. They make it clear that it's essential the quarterback be assertive and clear in communicating with his colleagues.
Failures in communication can result in many negative consequences, ranging from delay of game to turnovers to loss of morale.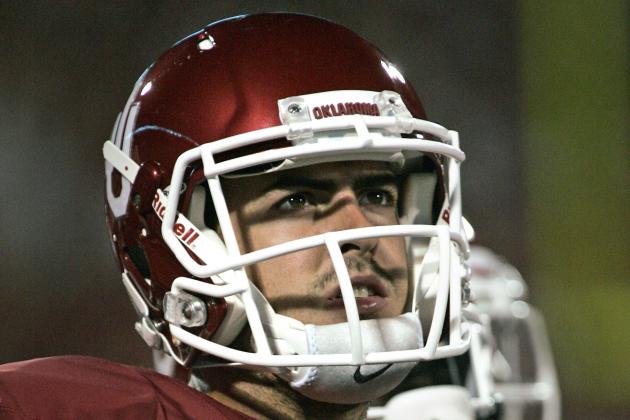 Brett Deering/Getty Images
Jones occasionally seemed to lack fire as OU's signal-caller.
Some quarterbacks lead by being fiery and demonstrative, like Tim Tebow. Others, like Sam Bradford, don't show much outward energy but prefer to simply lead by example.
Landry Jones falls into the latter category, which is fine.
However, sometimes Jones seems almost lethargic in his style of play. In the second half of the 2013 Cotton Bowl humiliation at the hands of Texas A&M, for example, he seemed to lack desire.
This certainly doesn't mean Jones was responsible for the loss to the Aggies. It's merely an example of his apparent lack of fire and inspiration, which was visible on multiple occasions throughout his career at OU.
Based on what we've seen so far from Blake Bell, he seems to be naturally more fiery and energetic than Jones. Regardless of his leadership style, he must show vigor and passion at all times, regardless of the circumstances.
Momentum is a huge aspect of success in college football, and the quarterback can be a key catalyst for generating the precious commodity. Doing so, however, requires showing enthusiasm and confidence.