World Baseball Classic 2013 Results: Pool D's Biggest Stars, Goats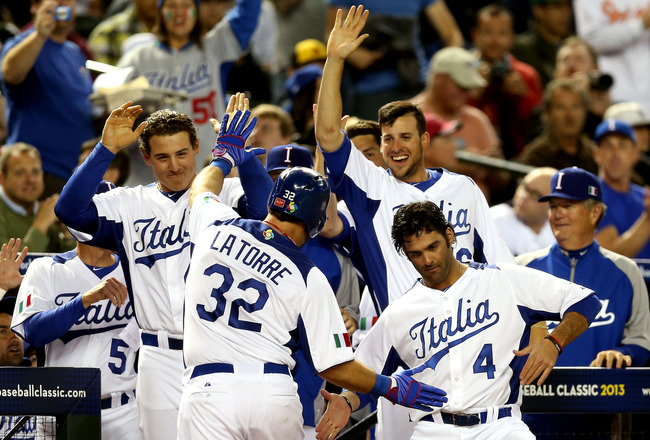 Italy will be one of two teams advancing to the semifinal round.
Christian Petersen/Getty Images
As the four teams of Pool D wrap up the first round of the World Baseball Classic, many storylines have emerged that summarize the past two days of play in Phoenix, AZ.
The Italian team's hot start out of the gate has propelled them to a semifinals appearance, highlighted by its 14-4 drubbing of Team Canada.
The United States hopes to avoid an early exit with a win against their northern rival this afternoon.
And, most notably, the nasty brawl between Team Mexico and the Canadians has the baseball world reeling and the WBC Committee reflecting upon the tie-breaking run-differential rule.
Which players have shined and which wish to return to their spring camps? Pool D has given us plenty to talk about, but who are the biggest stars and the lowliest goats?
Goat: Edgar Gonzalez, Mexico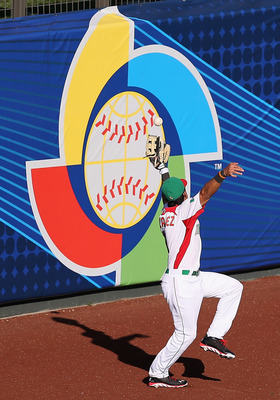 Gonzalez dropped a ball in left that allowed the winning run to score for Italy.
Christian Petersen/Getty Images
There are few things worst than being overshadowed by a sibling, but in the Gonzalez family, younger brother Adrian undoubtedly outshines Edgar.
If Team Mexico pins its early elimination on any particular player, left fielder Edgar Gonzalez likely has all the fingers pointing towards him.
With Sergio Romo on to close out the opening game of Pool D and Mexico leading 5-4, Italy's Anthony Rizzo drove a ball deep to left field and high into the afternoon sun. Gonzalez dropped the ball, allowing Italy to take the lead and ultimately win the game, 6-5.
It didn't help that he struck out three times in the game (and six times in 10 at-bats during the WBC).
Poor Edgar is also an MLB free agent after being cut by the Chicago Cubs last April.
C'mon, someone help a brother out!
Star: Chris Colabello, Italy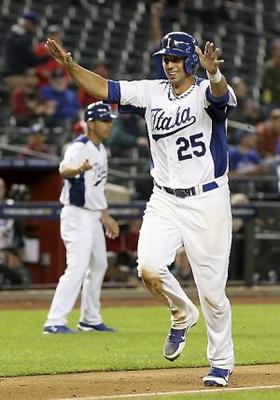 Colabello celebrates as he scores in the eighth inning of Italy's match up with Canada. (Photo courtesy of TwinCities.com)
Team Italy's Chris Colabello played Independent baseball for seven years before breaking into Double-A ball with the Minnesota Twins last season, where he hit .284 with 19 home runs and 98 RBI.
He certainly made a name for himself in the Italian's rout of Team Canada on Friday.
Colabello went 4-for-5, blasting a home run and driving in four runs, as he led his Italian squad to a 2-0 start in pool play.
The 29-year-old hit .455 and sported a .727 slugging percentage in three games and led the team in RBI, total bases and hits.
Goat: Canadian Pitching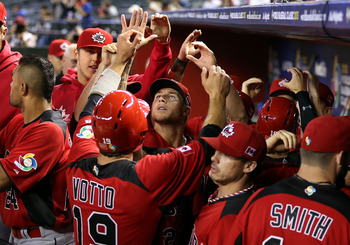 Things were rarely looking up for Team Canada in its game against Italy.
Christian Petersen/Getty Images
When a team scores 14 runs and forces the mercy rule to end a game, there's a surefire goat somewhere on the opposing squad. In this instance, it's Team Canada's whole pitching staff.
Starting Canadian pitcher Shawn Hill threw 2.2 innings, allowing two runs on as many hits before being pulled ahead of the 50-pitch limit, which allows a pitcher to throw again within the next four days.
Then, the game got out of hand.
Reliever Scott Mathieson allowed four runs over the next 1.1 innings on five hits and two walks.
After a brief scoring hiatus—thanks to two solid innings from Dustin Molleken—Phillippe Aumont, Jimmy Henderson and R.J. Swindle combined to succumb eight runs on nine hits in a single inning of work.
Team Canada now owns a hefty 9.00 team ERA going into its final matchup with Team USA this afternoon as it attempts to advance to the semifinals.
Star: Yovani Gallardo, Mexico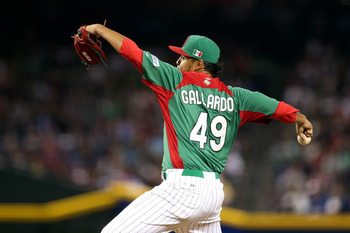 Gallardo shut down the offensively-minded U.S. squad.
Christian Petersen/Getty Images
Milwaukee Brewers hurler Yovani Gallardo was outstanding against a potent Team USA lineup that features multiple All-Stars and former MVPs.
Gallardo threw 3.1 innings before being pulled in the fourth inning after a Jimmy Rollins single and a walk to teammate Ryan Braun. He struck out four batters and allowed just one run on two hits in his outing.
It was an important win at the time for Team Mexico, who had dropped their first game to the Italian squad.
Gallardo spoke to the Milwaukee-Wisconsin Journal Sentinel about his solid performance, "They've got a good lineup. You don't get any easy breaks on the other side with Team USA. I just went out there and pounded the strike zone and got out of some jams when I needed to."
Goat: R.A. Dickey, USA
The knuckler didn't knuckle right for Dickey against Mexico.
Christian Petersen/Getty Images
Opposing Gallardo for Team USA was reigning N.L. Cy Young winner R.A. Dickey. Unfortunately, he didn't look like one.
Dickey took the loss for the U.S. in their first game of the WBC, allowing four runs on six hits in four innings. His outing was highlighted by a two-run tape-measure home run by Adrian Gonzalez in the third inning.
His knuckleball was no match for Mexican hitters, who seemed to be hitting the ball hard even when they were being retired.
Team USA may have the last laugh, however, as Mexico was eliminated after a 10-3 loss to Canada on Saturday afternoon.
Star: David Wright, USA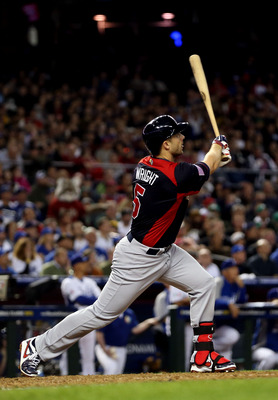 Wright watches his ball sail over the left field wall.
Christian Petersen/Getty Images
In the top of the fifth inning of their game against Italy, third baseman David Wright kept the American's hopes alive in the WBC with one swing of the bat.
On a pitch low and away from reliever Matt Torra, Wright jacked the ball over the fence in left center field, clearing the bases in the process.
His grand slam extended Team USA's lead to 6-1 and was the deciding factor in its 6-2 victory.
In fact, that one swing is responsible for half of the total runs the U.S. has scored in two games of pool play, and Wright is the owner of five of the team's eight runs driven in so far.
Can the hot bat continue in today's crucial game against Canada?
Goat: Arnold Leon, Mexico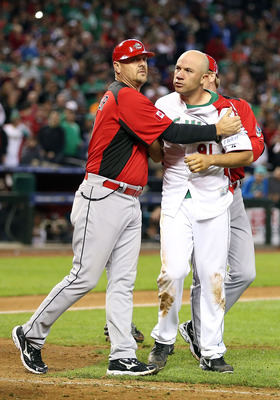 Oh yes, there was a fight. And Aceves most definitely got in on the action.
Christian Petersen/Getty Images
Because there must be a scapegoat in the momentous brawl between Mexico and Canada, the instigator, reliever Arnold Leon, was given the dubious honor.
Truthfully, there are positives and negatives to be taken away from the on-the-field (and off-the-field) skirmish between the two teams.
First, the bad: This is not the example of a global sport the WBC committee wants to promote, especially on this large stage that is supposed to be unifying cultures together through the wonderful game of baseball.
Now, the good: While the WBC is still attempting to sell itself to baseball fans around the world and has been waiting to be accepted as legitimate competition, the tournament may have gotten it with this brawl.
As Jeff Passan of Yahoo! Sports explains:
But for all of the people who consider the tournament a glorified exhibition, it at least showed the seriousness with which the participants take it. When selling something new to the masses, as baseball continues to try with the WBC, the genuineness of the players matters.
We saw real raw emotion. The players cared, which made us as fans care too.
And to put the cherry on top, it was a great game (albeit the final score, 10-3, does not reflect it).
An inciting moment (Canada's Chris Robinson's bunt single in the top of the ninth), a brawl featuring countless haymakers and dangerous fan involvement and some serious welts on Alfredo Aceves' head all make for a fun, yet unconventional, day at the ballpark.
Let's hope the rest of the tournament will live up to the excitement.
Keep Reading