The Mozgov Factor: NBA Players We Love to See Get Dunked On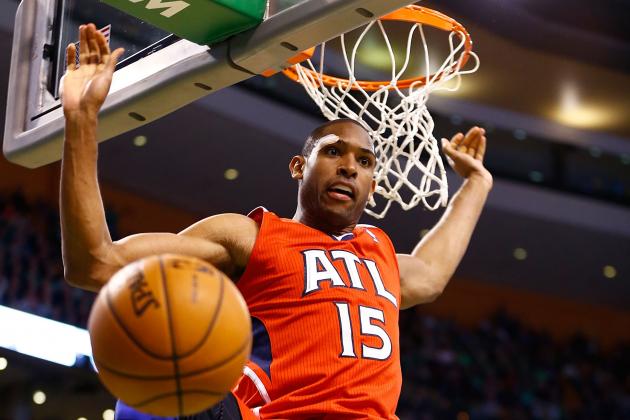 Jared Wickerham/Getty Images

In Yiddish, a schlemiel is a waiter at a restaurant who spills soup. A schlemazel is the guy he spills it on.
The following are the NBA's biggest schlemazels. They have had the misfortune of falling victim to some of the league's most vicious dunks and dunkers...some of them time and again.
And when it happens, they don't got game. No.
These guys got lame.
The hapless bumbling you're about to witness carries on the great tradition of posterization, a term coined in the '80s to describe the incredible sight of players dunking on huge lumbering defenders. Mark Eaton was the prototypical posterization victim, but guys like Greg Ostertag, Shawn Bradley and my hometown poster child, Chuck Nevitt, made posterizing a game within the game.
Whence came the name 'posterized?' Simple: The defender—the guy who's being posterized—is allowing a dunk spectacular enough to be on a poster.
Anyway, instead of focusing as you usually would on the authoritative, stadium-shaking slams themselves, or on the guys who flush it down, keep your eyes this time on the dunks' victims. Watch with delight as they get transformed from NBA players into pathetic doofuses, with a front-row seat to their own humiliation.
And enjoy how badly they stunk on the dunk.
Begin Slideshow

»
The Denver Nuggets backup center is originally from Moscow. That's appropriate, because he must see red after getting jammed on like Blake Griffin does here.
Mozgov looks less like a defender, and more like a male cheerleader helping his teammate get to the top of the pyramid. Good thing it's not still the old USSR. Guys were executed for defending like he does.
This is just one of the many I could have used featuring the hapless Mozgov.
But it seemed fitting to start with this career lowlight for Mozgov…and posterization for the ages for us.
Kris Humphries has had quite a fall from grace. And I'm not even talking about him being out of the Brooklyn Nets' rotation.
No, simply put, Kris has gone from sleeping with Kim Kardashian to getting posterized more than Farrah Fawcett. And hey...since he's been where we'd all like to be, can you blame us for enjoying his occasional facial?
Humphries is not playing defense here so much as he's rushing to give Kobe Bryant a high-five, congratulating Kobe on making him look like Wile E. Coyote in a Roadrunner scheme gone awry.
Hey, Kris: Consider this a divorce.
I've always liked home-state hero Chris Kaman, who starred at Central Michigan before going on to a fine NBA career.
But I gotta admit, he's been the fall guy for some pretty jaw-dropping facials.
Here, Kevin Durant puts such a move on the Dallas Mavericks center, it looks as if Kaman has paused for a TV timeout.
No, Chris, the ball's still alive. And you just got faced.
He's a nice guy, so I feel guilty saying this, but on slams like this, dude can look awfully Forrest Gump-ish.
Block, Kaman, block!
UNLV product and Miami Heat center Anthony doesn't get into games much anymore. Which makes the fact that he gets dunked on so often all the more amazing.
An undersized center, Anthony plays solid team defense and blocks his share of shots. But get him mano a mano and it's like giving the "action" cue on a movie set. The opposition knows it's time to crush one.
Just so we can see Derrick Rose in action, check out this stunning show of helplessness from Anthony. It looks less like defense, and more like he's waving hello from a passing train.
Somewhere, Jerry Tarkanian is puking into a towel.
If you want a dunk on Anthony that's a real scream, click here.
Anthony is originally Canadian. All I can say is: oh, Canada...
He's still very young. Which means Valanciunas has a lot more moments like this to give us.
Here, Kevin Durant welcomes Valanciunas to the NBA's big time. If you're going up to swat a shot, son, make sure to keep your eye on the ball. It looks for all the world like Jonas shut his eyes here.
I can't say I completely blame him. I would too.
But I'm not getting paid millions.
My grandfather, like Jonas, was from Lithuania, so I mean no offense when I say this, but I'm guessing the game isn't quite as physical in the old country.
That, or they don't have guys like Durant.
Straight up, the Chicago Bulls would have no chance at the playoffs without Noah. He's played really well, and he does block a ton of shots.
But when he misses…the results are unforgettable.
In this phenomenal sequence from last season, Rudy Gay first blocks Noah's shot, then leaves him standing like the house by the side of the road as he powers one home.
It's well-known that Noah has one of the weirdest shots in the game. It has no grace, no form, no style, and no description.
Similarly, when he is the victim of a big-time throwdown, it ain't pretty.
Nevertheless, I'd still take him on my team any day.
Maybe it's how famous he is, or the fact that he's a Laker, or that he and his team are struggling this season.
Or maybe it's that stupid James Franco-esque, barely-there beard.
Whatever it is, it's fun to watch Pau get pounded.
Here Blake Griffin turns Gasol into mashed potatoes. Griffin actually bounces off the big man, but still has no problem slamming it down.
Gasol is inching closer to coming back for the Lakers, though coach Mike D'Antoni won't say whether it's as a starter or as a reserve.
Aw, put him in, coach—and give us more time to see Gasol hit the deck on power dunks like these.
I'm sorry to pile on after the Phoenix Suns center just found out his sprained foot means he's done for the season. And if it is a Lisfranc sprain, it can be really serious.
Let's go back to more carefree times and watch Gortat get tasered by this Kevin Durant dunk.
His nickname is the Polish Hammer. But it sure looks like Durant brought the hammer down on him.
Marcin, seriously, wishing you good health. Everybody wants you back on the court real soon.
Especially Durant.
OK, so he's not as big as some of the other guys. But he plays big. And he did body-slam Shaquille O'Neal to the ground—at just 15 years of age.
So yeah, stuffing on him still feels real good.
Watch as former Detroit Piston Tayshaun Prince and current Piston Jason Maxiell both take their frustrations of a disappointing season out on Big Baby.
To his credit, he didn't cry. But he probably should have cried mercy.
Is he still playing? Yep, but since he was traded to the lowly Washington Wizards, you probably didn't know.
Truth is, Nene's still doing pretty well in general. But with those long flowing locks, it's as fun as ever to cram one down on him.
Here, he tries to stop Damian Lillard, who says "no no, Nene."
And then proceeds to makes Nene look more like NeNe Leakes.
The Real Dunkees of the NBA. I'd watch that reality series.
The Orlando Magic are fortunate to have Vucevic. The big man, not very well-known outside of the Amway Center, has emerged as a sometimes-dominant potential franchise player.
But when he gets burned, there's something about Vucevic that's reminiscent of the Golden Age of posterization.
So it's with pleasure that I offer you this clip. It was between this and a DeAndre Jordan double-stuff, but this one is more fun, because Vucevic is so remarkably ineffective on this spike.
The Philadelphia 76ers are kicking themselves for giving up this guy.
But they can take some consolation when he gets demolished like this.
I cannot say enough good things about Varejao. He plays hard, he plays efficiently, and he makes the players around him better. It's a shame he's missing the rest of this season, as Cleveland could have desperately used him.
But because he throws his body around with such abandon, the facials he receives can be true classics.
Take a look at comparatively tiny Dwyane Wade absolutely Mack-trucking the curly-haired Brazilian.
Varejao dodged a bullet with his life-threatening blood clot. He's a joy to watch play, and we want him back on the court soon to marvel at his great putbacks.
And occasionally, to revel in his stunning dunkovers.
What's happened to Lopez since the All-Star Game? Much like Samson, Lopez cut his hair and his game took a hit. His shots are just not falling like they were before he played with the league's best in Houston.
It's certainly temporary. So I hope his fans won't mind if we enjoy his posterizations, because when he gets beaten, it can be a posterization—fitting for his Samson-like story—of Biblical proportions.
Lopez flails at this Josh Smith special more pathetically than I may have ever seen. I think he would have been better off to just run away screaming.
There's something about that mop of hair: I think it's gonna be a lot less fun to see Lopez get posterized with his short hairdo.
But when we get the chance, we'll make do with the new 'do.
It's simple logic: any time you don a Superman costume, you'll have a target on your back.
Sometimes it'll be Lex Luthor. Sometimes it'll be a villain disguised as mild-mannered Gerald Henderson.
Howard's stat line may be decent, but this is not a season to remember for him. The degradation of this throwdown from the little tiny Henderson makes it even more forgettable.
Howard, becoming legendary more for his inability to keep his mouth shut than his on-court prowess, just made more headlines with another bone-headed quote. This time, he claimed that his "team in Orlando was a team full of people that nobody wanted."
Guess what, Superman? Even Lois Lane wouldn't want you after this colossal debasement.
For a guy who's pretty good defending down low, Perkins gets posterized at a pretty high rate.
In this teeth-rattler from last season, the seemingly omnipresent Blake Griffin rains unholy terror down on Perkins. This is a facing so devastating, you'll see Perkins just wanders afterwards, itinerant, like a man without a country.
Or a man-card.
Perkins has never been much of a contributor on offense. So maybe every once in a while, it's good for him that these feats of strength are performed over his head. This way, he can learn by watching.
Although it's difficult to learn when you're just hoping not to get killed.
It's OK, Kendrick: you're on the Oklahoma City Thunder and they're not. So you'll get the last laugh in the West.
We'll finish up with one of my personal favorite dunkees.
I remember Amir Johnson well from his Detroit Pistons days. He's still just as scrawny, still just as awkward, and still just as ripe for a posterizing as always.
Johnson is the last high school player taken in the NBA draft. So it only seems appropriate that C.J. Miles would take him to school.
Truth is, Amir played decently during Andrea Bargnani's injury, and I'm happy that he's finally found a home in Toronto. But Amir, despite your Cuba Gooding Jr. lookalike facial hair, you still look like you're in high school.
And you should be, if your high school were 21 Jump Street. Because you'll have to jump a lot higher to cause any trouble on monster jams like this.