Kansas City Chiefs: Where Does Dwayne Bowe Fit Amongst Team's All-Time Best WRs?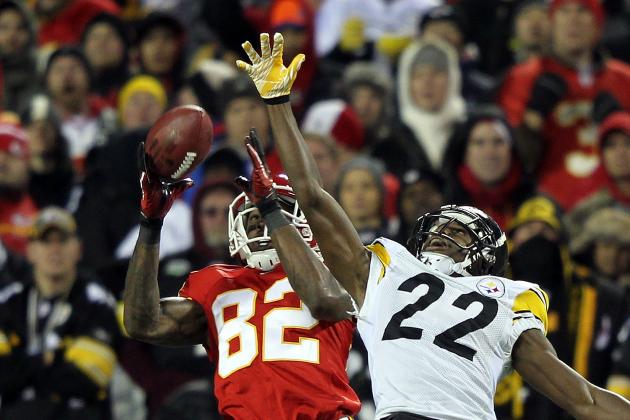 Jamie Squire/Getty Images

In the week leading up to the start of free agency, the Kansas City Chiefs have made the biggest headlines.
After completing a trade (via ESPN) with the San Francisco 49ers that allowed them to acquire a new franchise quarterback in Alex Smith, the team then announced that it had struck a new five-year deal (NFL.com) with pending free-agent wide receiver Dwayne Bowe.
Suddenly, the Chiefs seem like a team ready to turn things around quickly in 2013.
While the franchise has never been known for a bevy of great wide receivers, Bowe is a consistent playmaker and is essential to the team's success going forward.
So just how important is Bowe, and where does he rank amongst the best wide receivers in team history?
Click forward for a look at the top five players to line up at the position for the Chiefs.
Begin Slideshow

»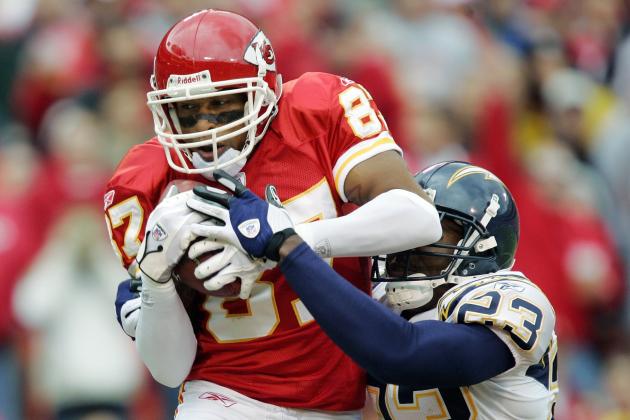 Brian Bahr/Getty Images

After bouncing around between the St, Louis Rams, New Orleans Saints, Chicago Bears and Denver Broncos, Eddie Kennison found a home in Kansas City and enjoyed the best years of his career there.
The former first-round draft pick spent seven years with the team, piling up some good numbers.
Kennison caught 321 passes for 5,230 yards while scoring 25 touchdowns as a member of the team.
His best years came between 2004-05, where he combined for 130 catches and 13 touchdowns while going over the 1,000-yard receiving mark in each of those two seasons.
Chris Burford
Burford is worthy of an honorable mention, at least. From 1960-67, Burford caught 391 passes for 5,505 yards. His 55 touchdown receptions are the second highest of any receiver in team history.
Burford could easily be on the list, but there are five other very deserving players as well.
Carlos Carson spent 10 seasons in Kansas City after being selected in the fifth round of the 1980 NFL draft out of LSU.
Carson ranks sixth all-time in team history among wide receivers with 352 catches. He had 6,360 yards receiving in his career and found the end zone 33 times.
Carson had a huge season in 1983, making 80 catches for over 1,300 yards and seven touchdowns. That year, he was selected to the Pro Bowl.
His 18.1 career yards per catch average ranks as the best in team history.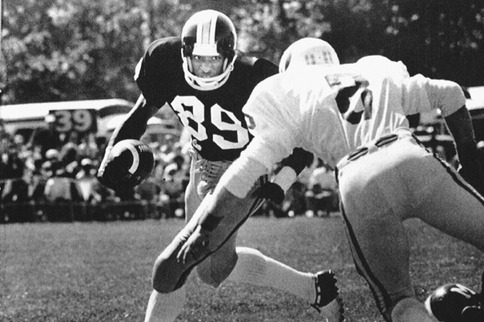 rockmnation.com
A third-round pick out of the University of Missouri in 1976, Henry Marshall still stands as the Chiefs' all-time leader in receptions amongst wide receivers. Only Tony Gonzalez had more than his 416 career catches.
Marshall spent his entire 12-year playing career in Kansas City and was one of the team's main focal points on offense for many of those years.
A very consistent player, Marshall had his best season in 1984, catching 62 passes for 912 yards.
To go along with 33 career touchdown receptions, Marshall finished his playing days with 6,545 yards receiving, enough for second-most for any wide receiver in team history.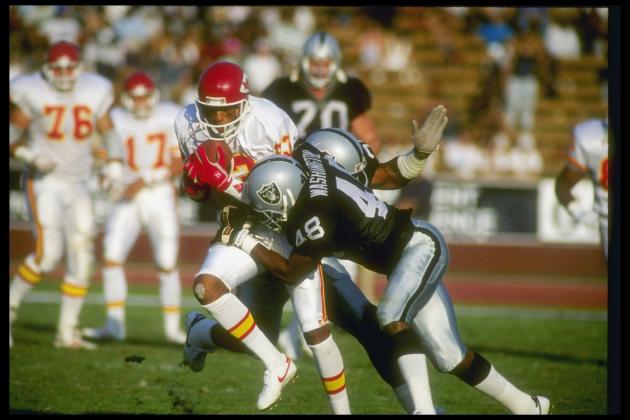 Stephen Dunn/Getty Images

Stephone Paige is one of the greatest players in Kansas City Chiefs' history—and he started off in 1983 as an undrafted player out of Fresno State.
Paige finished his Chiefs career with 377 receptions for 6,341 yards and a whopping 49 touchdowns. Paige was at his best during the 1985-86 seasons, scoring 21 touchdowns during those years.
The 309 yards he recorded against San Diego in December, 1985 has only been eclipsed once, standing for 27 years as the second-most receiving yards in a single game in NFL history.
It would be many years before Chiefs fans would be able to see success on the level of Paige.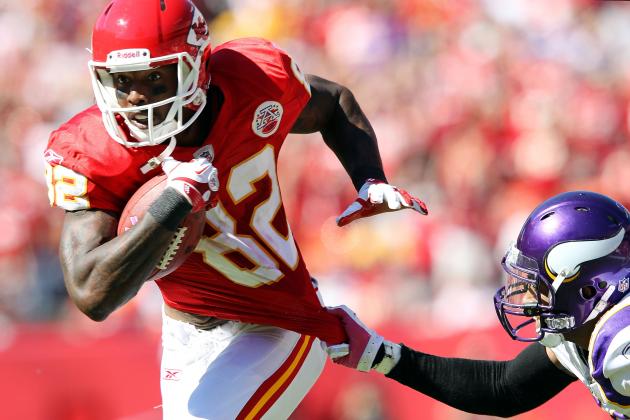 Jamie Squire/Getty Images

Bowe comes in at No. 2, but that is only temporary.
The Chiefs were very wise to make sure he wasn't able to hit the free-agent market. Now he can continue his career with the team that drafted him.
In six seasons, Bowe has 415 catches, just one behind Marshall for the most for a wide receiver in team history. He has also amassed 5,728 yards and 39 touchdowns in that time.
Bowe will be Smith's best friend in 2013, as the former San Francisco signal-caller will quickly realize that he is one of the toughest receivers to defend in the entire league.
Bowe will be No. 1 on this list very, very soon. It could even be as soon as next season. He'll go down as the best wide receiver in team history, and by the time things are said and done, it probably won't be very close.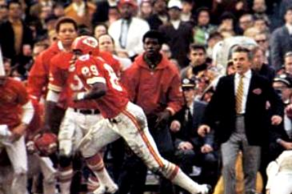 bestsportsphotos.com
For now, Otis Taylor holds onto the top spot as the best wide receiver in team history.
Taylor finished his playing career, which started in the AFL, with 410 catches. His 7,306 yards are easily the most in team history for a wide receiver. His 57 touchdown receptions are the most for a Kansas City wide receiver as well.
What separated Taylor from the rest were his intangibles. He was as good a blocking receiver as there has ever been, and he had a great pair of hands, catching most anything thrown his way from Hall of Fame quarterback Len Dawson.
Taylor holds the second-longest reception in team history of 89 yards.
He was a member of the 1966 AFL all-star team and was selected to the Pro Bowl in 1971 and 1972.