Evan Dunham vs. Rafael Dos Anjos Head-to-Toe Breakdown
At UFC on FX 8, dark horses of the lightweight division collide when Evan Dunham and Rafael dos Anjos meet in the center of the Octagon. Both fighters have won three of their last four contests, and each are ranked according to various sources.
In the official UFC rankings, Rafael dos Anjos is the No. 8 contender for champion Benson Henderson, while MMAJunkie.com's rankings show Evan Dunham as the No. 10 lightweight contracted to Zuffa.
Who will win this clash between rising stars? It's hard to say. However, by taking a look at their fighting styles, strengths and weaknesses, we can make an educated guess as to how the action will go down.
Here is a head-to-toe breakdown of Evan Dunham vs. Rafael dos Anjos.
Begin Slideshow

»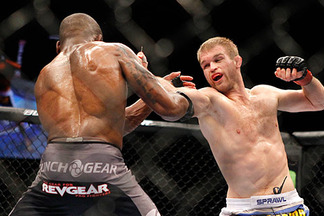 Photo: ESPN.com
In a battle of jujitsu wizards, fans are often treated to a standup battle between fighters who don't always prefer to strike. In this matchup, there is a solid chance that we will witness exactly that.
Rafael dos Anjos has recently displayed crisp boxing and good head movement. This aspect of his game has improved tremendously since joining the UFC in 2008 and the Brazilian's striking is no longer as predictable as it once was.
Evan Dunham, however, is a more diverse striker who is dangerous with his hands, as well as his knees and feet. With a voluminous punching style that mixes in head kicks and body strikes, Dunham is fearless on his feet.
dos Anjos showed off his one-punch KO power in a bout with George Sotiropoulos, so a fearless Dunham could end up being a sleeping Dunham. However, on the whole, the American will control this aspect of the fight.
Advantage: Dunham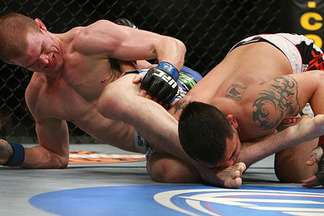 Photo: ESPN.com
This battle of BJJ black belts has the potential to be a grappling chess match. Aside from their 14 collective victories by submission, these men have used their impressive jitz to control the likes of Mark Bocek, Tyson Griffin and Marcus Aurelio.
Neither man will have a distinct advantage whatsoever, as they are adaptable and capable off their back as well as from top position.
Advantage: Push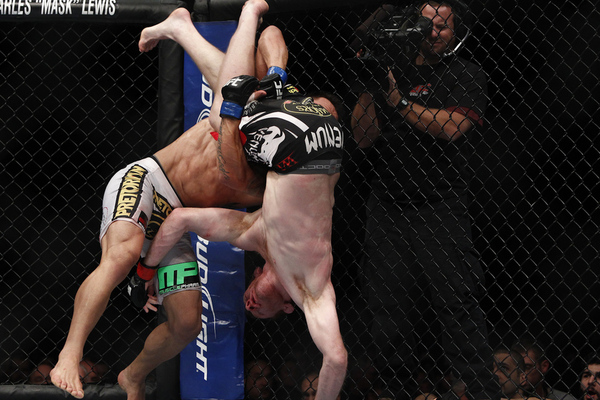 Josh Hedges/Zuffa LLC via Getty Images
Anyone who saw UFC 154 was likely blown away by the drastic improvement that Rafael dos Anjos displayed in terms of his takedowns. Accomplished grappler Mark Bocek had absolutely no answer for them, as he was taken down on four of five attempts.
Not only did dos Anjos deliver takedowns at will, but he shut them down time and time again, leaving Bocek 0-for-11 on his attempts.
Dunham is no slouch in the wrestling department either. Accomplished wrestlers Gleison Tibau, Nik Lentz and Sean Sherk had immense trouble scoring takedowns against the Xtreme Couture fighter. Not only that, but once Dunham was on his back, it took no time at all for him to return to his feet.
Because dos Anjos is stronger in scoring takedowns, he has the advantage here. Whether or not he can keep Dunham down is another story entirely.
Advantage: dos Anjos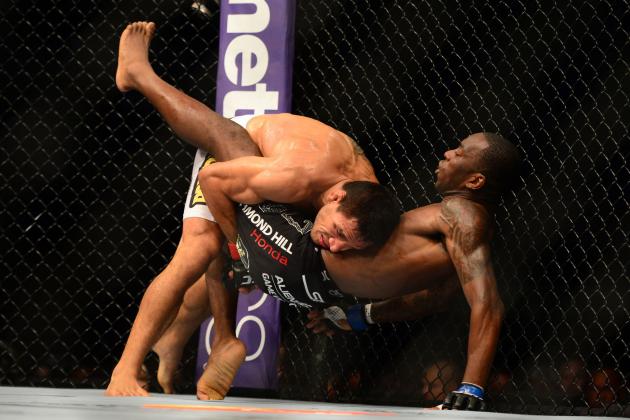 Kyle Terada-USA TODAY Sports

Evan Dunham is the wild type of brawler who is so comfortable anywhere that the fight goes, that he can become reckless at any time. Sticking to a game plan is not his strong suit.
Rafael dos Anjos, however, is incredibly disciplined and rarely strays, even when in trouble. However, when his primary attack isn't successful, the Brazilian isn't great at calling audibles on the spot.
The wildness of Dunham lends itself to exciting matchups, however, it can hurt him in the long run.
Advantage: dos Anjos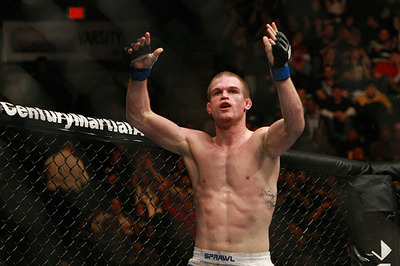 Photo: sherdog.com
Make no mistake about it: This is one of the closest matchups that the UFC has put together in recent memory. Ultimately, whoever dictates the location of the action will have his arm raised.
Typically, Rafael dos Anjos won't look to put a fight on the canvas unless his opponent is trying to put the Brazilian on his back. If Evan Dunham is willing to stand and bang (he will be), dos Anjos is more inclined to oblige.
However, dos Anjos is on a three-fight winning streak, which is largely thanks to his wrestling. It's hard to imagine that he would turn his back on a game plan that has been so successful as of late.
Dunham is dangerous from the clinch, which is where dos Anjos will look to score takedowns.The Brazilian will score a time or two, but he won't keep top position long enough to steal rounds.
Between the damage scored from close quarters and the high volume of strikes that he will land during standup exchanges, if he keeps it standing, this is Dunham's fight to lose.
Prediction: Evan Dunham defeats Rafael dos Anjos via unanimous decision.