UCLA Basketball: 5 Biggest Questions Bruins Face as March Heats Up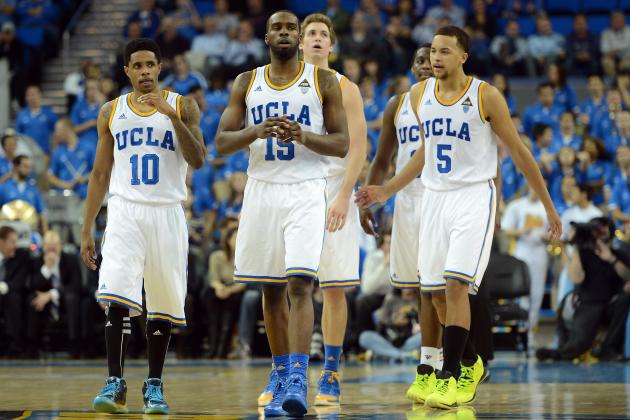 Harry How/Getty Images

UCLA followed an exhilarating win on Saturday against top-ranked Arizona with a lackluster loss to last-place Washington State on Wednesday, further raising questions as the team continues to trek into the wild terrain of the month of March.
All doubts about the Bruins seemed to be extinguished with a powerful stream when they defeated Arizona, but a loss to follow once again ignited the same doubts that have lingered all season.
As the hunt for the Pac-12 title is reduced to one game and UCLA looks forward to the conference tournament and beyond, the team's inconsistency is alarming.
How can a team that can't harbor momentum win in a tournament with the best 68 teams in the country if it can't beat the worst team in the Pac-12 after beating the nationally top-ranked team in its conference?
That's a question to ponder.
Here are five more question marks for UCLA as madness ensues in March.
Begin Slideshow

»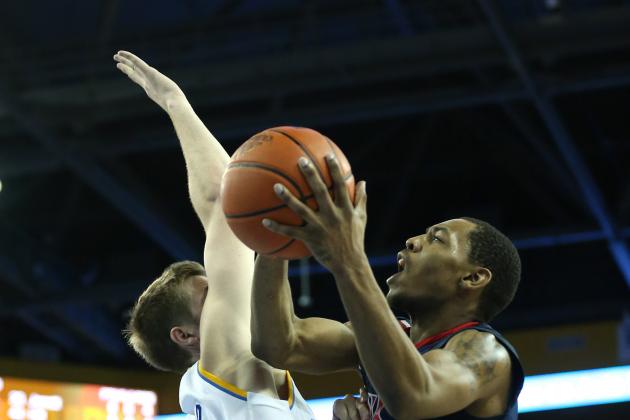 Stephen Dunn/Getty Images

One of the biggest issues UCLA has had all year is its weak interior presence.
Junior forwards Travis Wear and David Wear may be 6'10", but they simply don't have the physical presence to combat tough forwards, even those a few inches shorter than them.
As a result, the Bruins are often out-rebounded, most especially on the defensive glass, which has proved extremely costly, as they often surrender second-chance points.
Although 6'9", 275-pound freshman center Tony Parker provides a more physical presence in the paint—which is backed by his teammates, who refer to him as a "banger"—his minutes (seven per game) are expected to remain the same in the NCAA tournament unless some extraordinary circumstance presents itself.
That leaves it up to the Wear twins to hold down the fort, which leaves uncertainty in the air as to how well they'll do that.
As was confirmed in UCLA's defeat of then-No. 11 Arizona, the Wears have no trouble with smaller and more docile forwards, but they have struggled against taller, more physical big men (e.g. Arizona State's 7'2" Jordan Bachynski and Washington's 7'0" Aziz N'Diaye).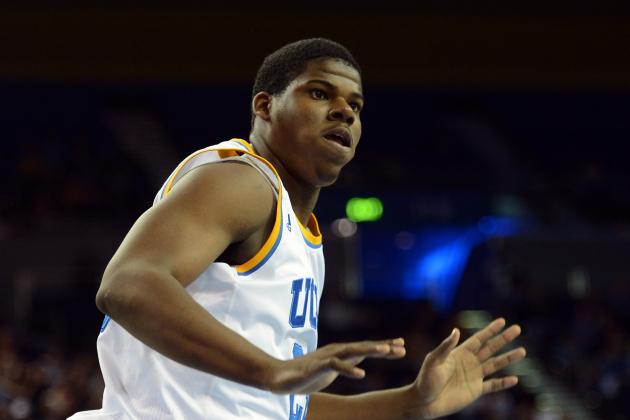 Harry How/Getty Images

The transfers of juniors Tyler Lamb and Joshua Smith haven't affected UCLA much in terms of their talent, but they have significantly affected the depth of its bench.
With Travis Wear, Larry Drew II and freshmen Shabazz Muhammad, Jordan Adams and Kyle Anderson starting, the Bruins are reduced to three principal bench players: guard Norman Powell and forwards David Wear and Tony Parker.
While each Bruins sub has provided their boost to the team (i.e. Powell's excellent defense and momentum-changing dunks, Wear's jump shot and Parker's physicality), coach Ben Howland nevertheless faces the reality of having a short bench.
UCLA has been fortunate enough to survive most of its conference games with wins (12-4), but has developed a bad habit throughout the season due to its short bench.
The Bruins often surrender large leads instead of blowing out lesser teams, which is partially due to the fatigue they suffer in the middle stages of the second half.
The team has been able to get away with this in conference play, but it will become more of an issue in tournament play, as it will be playing games in consecutive days.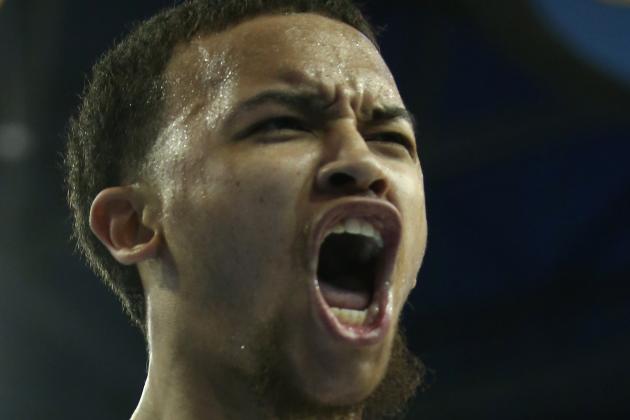 Stephen Dunn/Getty Images

As impressive as UCLA's freshmen Jordan Adams, Kyle Anderson and Shabazz Muhammad have been this season in their starting roles, they are still freshmen, and they play as such.
Even the team's hardest-working, beyond-his-years player, Adams, has had his share of ill-advised passes and unwise defensive play.
This question was further punctuated on Wednesday when UCLA lost to Washington State in Pullman for the first time in 20 years after defeating then-No. 11 Arizona.
It seemed from the onset of the game that the Bruins, most especially their freshmen, underestimated the Cougars and felt as though they wouldn't have to exert much effort in order to beat them on their home court.
That apparent naive mindset proved to be lethal for the Bruins, who fell down as many as 21 points midway through the first half.
The UCLA freshmen's lack of experience and perspective was displayed not only by underestimating Washington State, but also by the way in which they attempted to narrow the large deficit.
With plenty of time left on the clock and Washington State being the worst team in the Pac-12 (2-14 prior to defeating UCLA), the Bruins could have gradually chipped away at the lead by playing tougher defense (which they eventually did by switching up a zone) and making easy baskets.
However, the freshmen instead got desperate, and perhaps anxious as well, being down by double digits to the last-place team in the conference and tried to do too much.
Muhammad, who posted his career-worst shooting night (4-of-19: 21%), began taking a surplus of three-pointers and kept shooting when he was off, making only two out of 11 attempts (his previous career-high in three-point shot attempts was seven).
Anderson, who unlike Muhammad (42% 3PFG) is an atrocious three-point shooter (6-of-33: 18%), also began shooting threes and missed all three of his attempts.
Bad shooting nights will happen for any player, but it's the approach and poise of UCLA's freshmen that is worrisome.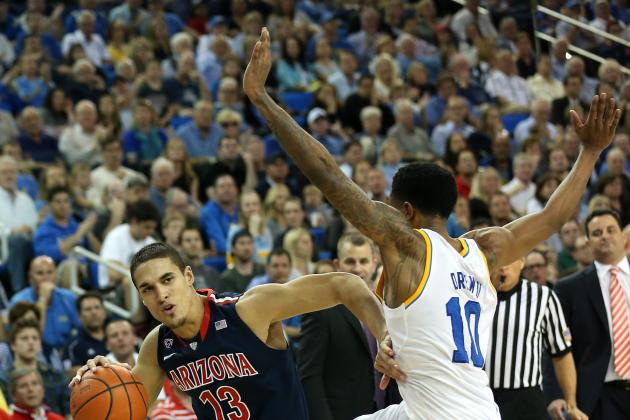 Stephen Dunn/Getty Images

This is a question that UCLA faces not just as a member of the Pac-12, a traditionally soft conference.
The Bruins will almost certainly face a team from the nation's elite conferences—the Big Ten, SEC, Big 12 and Big East (the ACC is having an off-year)—if it makes it past the first round of the NCAA tournament, and physical play will abound in those games.
Although the Bruins' guards, led by senior point guard Larry Drew II, have been fire-tested and can hang with anyone on the defense end, that seems to be the extent of their physicality.
UCLA has a major void of physicality on offense, mostly due to its forwards Travis and David Wear, who haven't been able to handle any big man that rivals or nears their size at 6'10".
The main concern with the Bruins' physicality is not necessarily that they don't have the will, it's that they can't execute it properly.
Freshman substitute forward Tony Parker has a tremendous physical presence but unfortunately hasn't yet figured out how to properly utilize his physicality, a deficiency also possessed by the remainder of the Bruins' freshmen on the offensive end.
Can the Bruins hang with a physical Big Ten team like Ohio State or the Big 12's Kansas in the big tourney?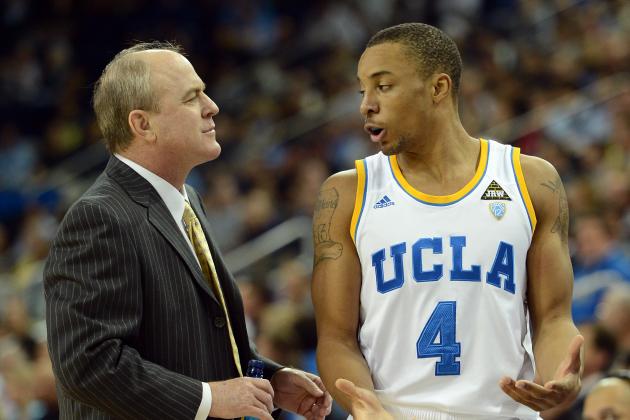 Harry How/Getty Images

As was demonstrated by their loss to Washington State after a monumental win over Arizona, the Bruins are one of the most inconsistent teams out there.
They've developed the unappealing pattern of botching games against lesser opponents after defeating top-tier opponents.
After each morale-boosting win that UCLA has achieved over top-ranked Arizona, the team has botched the following game.
This is of major concern for the Bruins as they head into the Pac-12 tournament and beyond. If UCLA is unable to bank on big wins by garnering momentum and executing on a game-by-game basis, it won't hang with the madness of March.
Moreover, UCLA is a team that often seems dejected when it is faced with a challenge such as a big deficit.
While the Bruins have improved their composure as the season has progressed, it still remains a major uncertainty as to how they'll perform when the pressure's on in a big tournament game.
This team has proved that it has the will to win, but can it maintain perspective in tough situations?