Each Top Contender's Biggest Roadblock to UFC Gold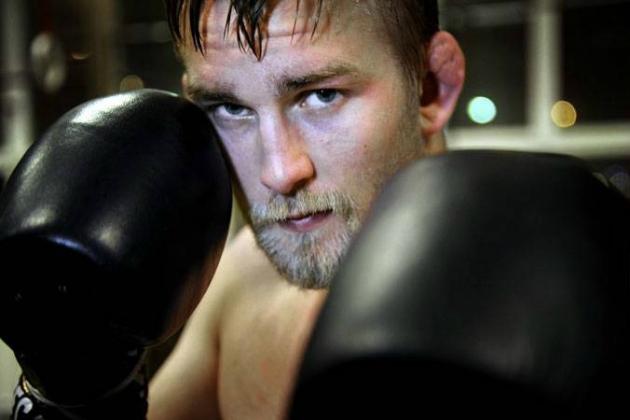 yellmagazine.com
The UFC sports the most talent-rich divisions in mixed martial arts today.
Due in part to the promotion's ability to attract the world's best fighters, each weight class has become an evolving masterpiece full of skill, potential and sheer dominance.
Consequently, a variety of formidable contenders are constantly pushing and shoving their way through tightly knit rungs atop each divisional ladder. It never seems to stop.
But which top title threats this year have the potential to actually win the big one?
What do these elite artists have to overcome, in or out of the cage, in order to capture UFC gold?
Look no further.
Begin Slideshow

»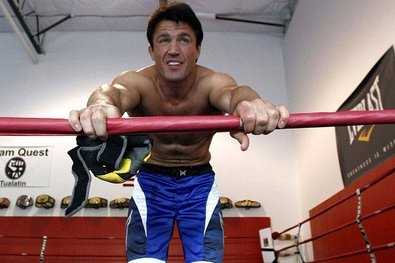 articles.latimes.com
For obvious reasons, the following names are not on this list: John Moraga, Eddie Wineland, Anthony Pettis, Gilbert Melendez, Nick Diaz, Chris Weidman, Chael Sonnen, Antonio Silva.
It's quite clear what they have to overcome in order to capture UFC gold. They have to beat the formidable champions who stand in their way.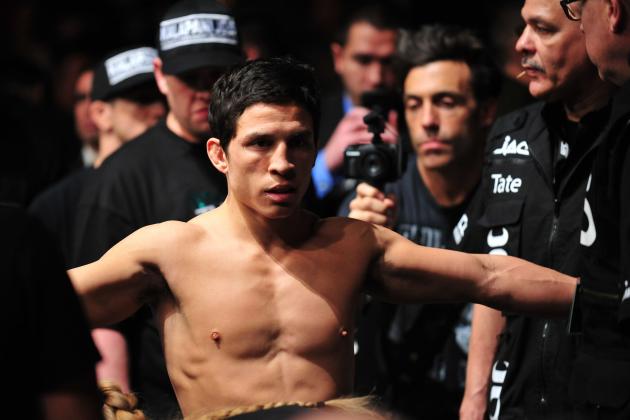 Gary A. Vasquez-USA TODAY Sports

Biggest Road Block: Regaining Momentum
As shallow as the UFC flyweight division is, Joseph Benavidez still needs to reclaim his title-contending role before capturing another shot at Demetrious Johnson.
A championship rematch between the two would be in the UFC's best interest, but a sole win over Ian McCall isn't going to give Benavidez that luxury.
He now has his sights set on Darren Uyenoyama.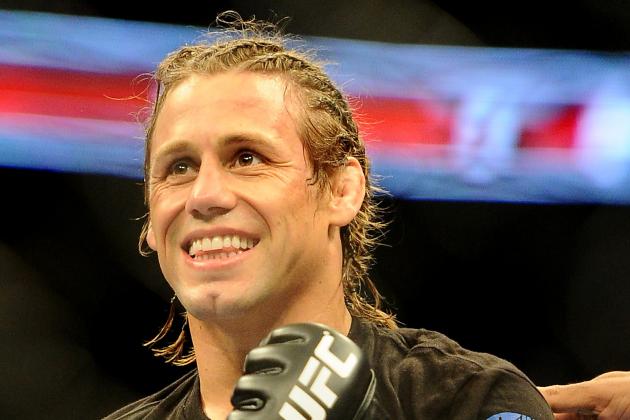 Jayne Kamin-Oncea-USA TODAY Sports

Biggest Road Block: Regaining Divisional Respect
Not only does Urijah Faber have to string more meaningful wins together other than his recent submission victory over Ivan Menjivar, but he also has to regain respect amongst fighters and fans.
Remember, it wasn't too long ago (nearly a few weeks) that Faber was rumored as being the next key fighter to be cut by the UFC.
He isn't going to reclaim a title shot overnight, but if Dominick Cruz happens to come back strong and knock off Renan Barao to unify both bantamweight titles, the trilogy could be completed.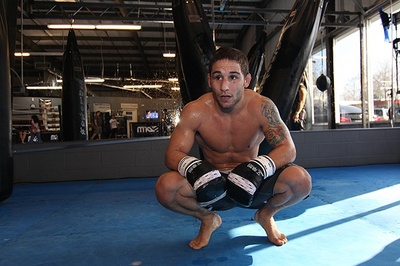 www.srmma.com
Biggest Road Block: Beating a Crazed Lightweight
Don't look now, but Chad Mendes is on the fast track to getting yet another shot at Jose Aldo's elusive featherweight title.
The only thing he needs to do is get past the wildly crazed Clay Guida, a former top lightweight contender who has decided to make a run at his own Aldo upset.
Either way, if Mendes can stop Guida and polish off three straight finishes, he'll make a case for a rematch.
Remember, Mendes was literally one second away from prolonging his first championship bout with Aldo in Brazil. Unfortunately, he was not the one doing the crowd surfing.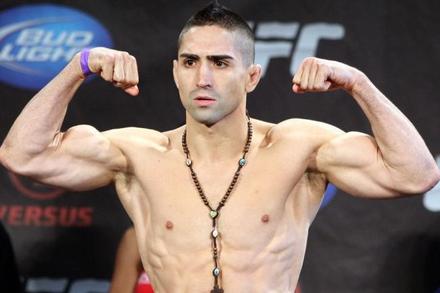 Getty Images
Biggest Road Block: Anthony Pettis
If it wasn't for Anthony Pettis and the new UFC rule that a top contender in one division can decide to fight for a title in another, at any time, Ricardo Lamas would currently be scheduled to take on Jose Aldo.
Instead, Pettis' overall lightweight appeal swiftly and sneakily claimed No. 1 contender rights in the featherweight division.
It's a true testament to the future of title fights. Guys no longer have to compete in a division to fight for the top spot.
Sorry, Ricardo. Looks like Frankie Edgar or Cub Swanson is up next.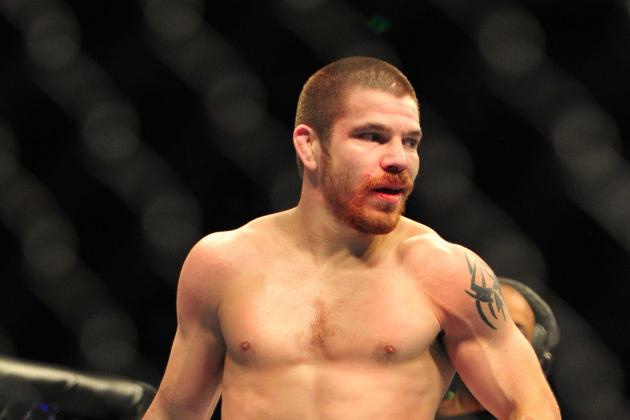 Don McPeak-USA TODAY Sports

Biggest Road Block: Keeping Benson Henderson Interested
There's a reason Benson Henderson recently professed his desire to move up and fight Georges St-Pierre. It's the fact that, after Gilbert Melendez, the UFC lightweight division doesn't really possess a core group of top contenders.
That's unfathomable considering the 155-pound pool is usually the deepest, especially towards the top.
However, on the heels of Nate Diaz getting rag dolled around the cage and the bon voyages put forth by Frankie Edgar, Anthony Pettis and Clay Guida, there aren't too many fighters who possess the immediate title appeal to keep Henderson in check.
That's where Jim Miller comes into play. Miller needs one more demonic performance similar to the one he produced opposite Joe Lauzon to make people want to see him in a championship showdown.
He'll have his chance against the always tough Pat Healy in April.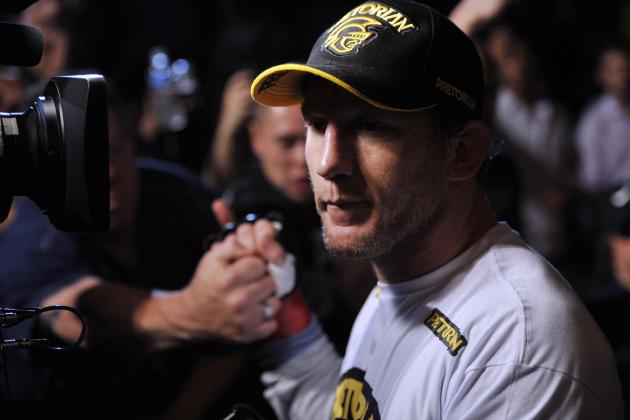 Joe Camporeale-USA TODAY Sports

Biggest Road Block: No More Duds

After witnessing Gray Maynard go toe to toe with former lightweight champion Frankie Edgar on two separate occasions, it was hard to imagine he could ever produce a boring fight.
That was until he met Clay Guida inside the cage back in June. It was truly a clash of styles, but one that produced countless numbers of boos.
Now, in the midst of multiple key departures from the division, Maynard has a chance to regain his status as one of the best lightweights in the world.
If he wants a shot at Benson Henderson or a chance to take out the winner of Jim Miller vs. Pat Healy, he'll have to finish the rising TJ Grant at UFC 160.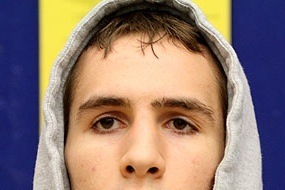 mmaweekly.com
Biggest Road Block: Challenging His Mentor
Even at the young age of 23, Rory MacDonald possesses the elite skill set to defeat any welterweight in the UFC.
The only problem is that the head honcho at 170 pounds, who also happens to be the No. 2 pound-for-pound fighter in the world, is MacDonald's fellow Tristar Gym training partner Georges St.-Pierre.
It's going to be interesting to see how this whole things plays out if MacDonald comes back strong from yet another injury and defeats another top contender in the division.
Will he wait for GSP to lose his title? Will he wait for GSP to fight Anderson Silva and leave the welterweight scene in the rear-view mirror?
We'll soon find out. Companionship, especially in MMA, is sometimes worth more than a gold belt.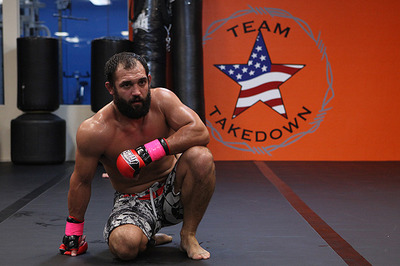 sherdog.com
Biggest Road Block: Prolonging His Success
The only reason why Nick Diaz got a welterweight title shot over the red-hot Johny Hendricks is the fact that Diaz's mouth, popularity and ego are substantially bigger than the humbled wrestler's.
If Hendricks wants to continue to make his case as the perfect combo of power and skill to dethrone Georges St.-Pierre, he'll have to fend off the very dangerous Carlos Condit at UFC 158 next weekend.
If the powerhouse happens to secure yet another divisional knockout over a guy like Condit, Dana White and company may opt to bump Diaz off the card and have Hendricks fight twice in the same night.
Well, maybe not. But you catch my drift.
mmafrenzy.com
Biggest Road Block: Impressing Anderson Silva
Luke Rockhold's biggest road block to UFC gold is, well, Anderson Silva.
Not because he's physically and mentally capable of beating the greatest fighter of all time but, instead, because Silva calls all the shots.
He doesn't defend his UFC middleweight title against just anybody. Sure, the UFC can throw enough money his way, similar to what they're doing to have him fight Chris Weidman, but the Brazilian ultimately says when, who, where and how much at this point in his illustrious career.
If Rockhold wants a shot at the elusive "Spider," he'll have to impress him first.
Maybe Luke can say something nice about Brazil. You know, do everything that Chael Sonnen didn't do.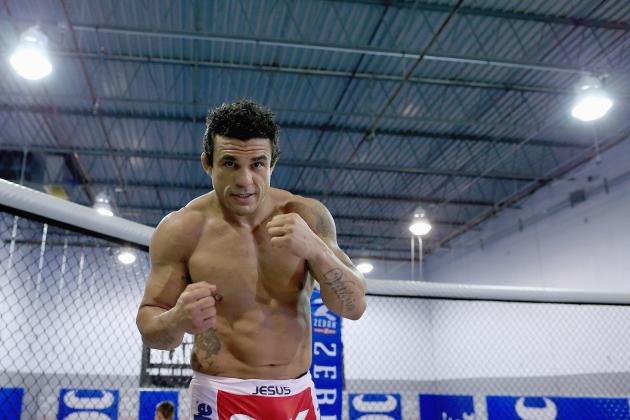 Chris Trotman/Getty Images

Biggest Road Block: His Popularity
This doesn't make much sense, does it?
In hindsight, no. But when you consider Belfort loves to take fights in the best interest of the UFC and its fans, it's easy to see what he has to do in order to regain contention.
No longer can Belfort move up and fill in to fight bigger and more diverse light heavyweights. No longer can he take fights that appeal to the fans more than his hopes for a shot at a title.
Belfort has to do Belfort. He has to maintain his own good fortune and make sure he picks the fights he wants. Once that happens, he'll have no trouble keeping focus and forging a rematch with Anderson Silva.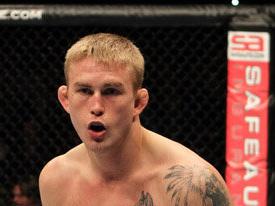 forums.sherdog.com
Biggest Road Block: Lyoto Machida
If Lyoto Machida's name didn't possesses such pizzazz, the winner of Alexander Gustafsson vs. Gegard Mousasi would be in line for a light heavyweight title shot.
Instead, a lackluster performance from Machida in his bout with Dan Henderson will win the rights to challenge the winner of Jon Jones vs. Chael Sonnen.
If the UFC is smart, it will pin Gustafsson against Machida for true No. 1 contender rights if the Swede out-duels the underrated Iranian kickboxer.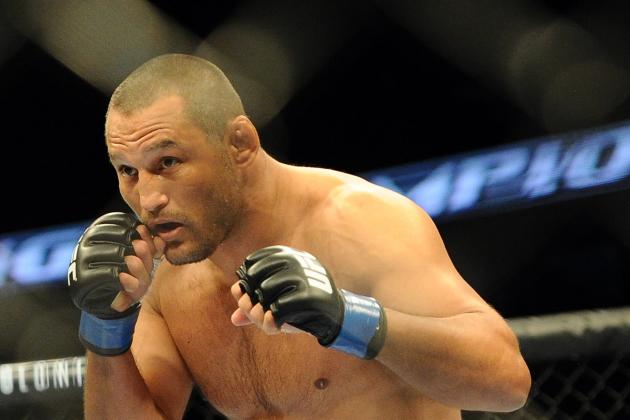 Jayne Kamin-Oncea-USA TODAY Sports

Biggest Road Block: Father Time
Unprecedented flop or not, Dan Henderson's performance opposite Lyoto Machida at UFC 157 was nothing to worry about.
Henderson still looked fresh off a serious knee injury, and he still pushed the pressure against one of the most technical strikers in MMA history.
The only problem now is whether or not Henderson can prolong another year of fights before getting his long-awaited shot at Jon Jones' title.
A future bout opposite perennial light heavyweight standout Rashad Evans may be the motivation "Hendo" needs.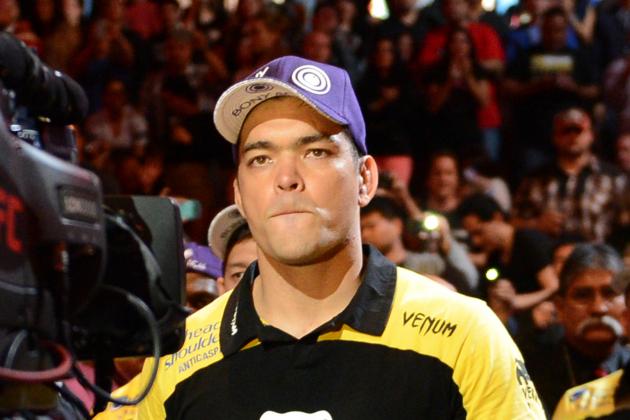 Jayne Kamin-Oncea-USA TODAY Sports

Biggest Road Block: His Last Victory
In what was quite possibly the most boring No. 1 contender fight of all time, Lyoto Machida captured a split-decision victory over MMA legend Dan Henderson at UFC 157.
The win has consequently set Machida up for a rematch against Jon Jones if the light heavyweight champion can get past the gritty Chael Sonnen in April.
The problem is that, despite how technical and exciting he has been in the past, Machida looked pedestrian and simply unwilling to strike in his last fight. That doesn't bode well for a guy seemingly entering a title fight later this year.
To be honest, not too many people would be surprised if Dana White and Joe Silva decide to revoke Machida's rights and give him one more fight before a shot at the belt.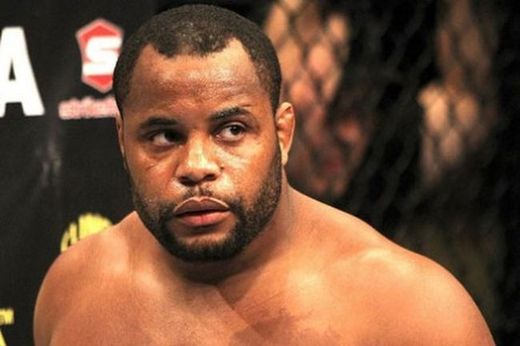 lancenet.com.br
Biggest Road Block: Cain Velasquez's Friendship
Daniel Cormier isn't going to beat Frank Mir then get a shot at the light heavyweight championship.
That's just not the way it works.
And even though a potential matchup against Jon Jones or Chael Sonnen would draw in the masses, there are too many readily available challengers at 205 for him to leap frog.
Therefore, Cormier's best chance for UFC gold lies within the heavyweight division. If he blankets Mir and captures a decisive victory, the power wrestler should be no more than one fight away from a title shot.
The only problem is that Cormier currently trains alongside UFC heavyweight champion Cain Velasquez. To fight him would mean he'd have to channel his inner Rory MacDonald and challenge a guy who has helped him prepare for numerous battles inside the cage.
If somehow Velasquez gets caught by Antonio "Big Foot" Silva later this year, then an immediate title shot for Cormier would be in the works. But that heavyweight outcome seems unlikely considering how good the champ looked against Junior dos Santos.
usatoday.com
Biggest Road Block: Finding A Relevant Opponent
Now that Alistair Overeem has pulled out of his long-awaited bout with Junior dos Santos, the Brazilian is in search of a relevant opponent to put him back into title contention.
Mark Hunt recently threw his name into the mix after knocking Stefan Struve's face off, but is he really the big draw that JDS needs to regain divisional dominance?
Whether he is or isn't, the UFC probably isn't going to book that fight. The winner of JDS vs. Overeem was supposed to fight the winner of Cain Velasquez vs. Antonio "Big Foot" Silva, which is going down on the same night.
It's really hard to picture Dana White and Joe Silva giving Hunt that opportunity after a win over Struve. So what are the other possibilities?
Maybe Shane Carwin can come back in time. Maybe Daniel Cormier will be rested and giving an immediate chance to fight for a title shot.
Maybe dos Santos will get an automatic matchup against the winner of Velasquez vs. Silva. Maybe the UFC will pull Travis Browne out of his fight in April and give JDS a chance to fight another heavyweight striker.
At this point, who knows. It's all speculation. But until the former heavyweight champion gets the nod to train for an opponent, he won't get a chance to prove that his defeat at the hands of Velasquez is correctable.
For more UFC news and coverage, Follow @DHiergesell