Biggest Winners and Losers of Phillies' Second Week of Games
Kim Klement-USA TODAY Sports
The Philadelphia Phillies have a pitching staff built to contend. You can't win ballgames without giving those pitchers a lead, however, so the Phillies spent most of the offseason retooling their lineup, both in and out of house.
Through the second week of games, most of those new additions are playing well. That includes newcomers like Ben Revere and Michael Young, and returning superstars like Chase Utley and Ryan Howard.
With the second week of games coming to a close, it's time once again to see how some of those aforementioned names and the rest of the club have fared early in the spring.
The usual spring training caveat applies here: Numbers aren't everything. For most of this club, spring training is going to be a time of preparation—not performance. Keep that in mind as we evaluate the winners and loser from the second week of Grapefruit League action.
Winner: Mike Adams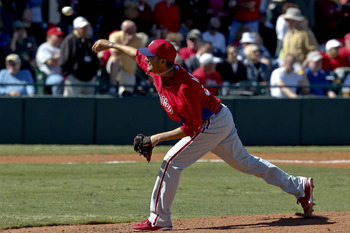 Derick Hingle-USA TODAY Sports
We haven't seen much of Mike Adams this spring, but the few appearances that he has made have been very good.
Adams, who is recovering from offseason surgery, has allowed just one hit over two innings thus far in the spring, striking out two in the process.
The goal for the Phillies is to ease him into action. He represents a key upgrade in their bullpen and has the chance to make them very good this season. Staying healthy is going to be a key, and so far, so good.
Loser: Raul Valdes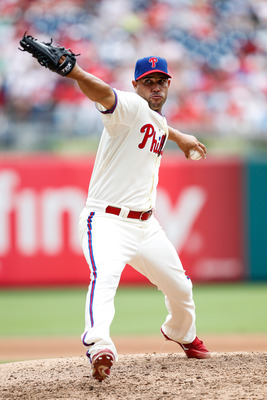 Brian Garfinkel/Getty Images
Raul Valdes was a long shot to make the club at the beginning of the camp, but with Jeremy Horst struggling big time, you would have to assume that a door could be opening up for left-handed relievers.
Well, Valdes has certainly not made the most of his opportunity.
Valdes, who is recovering from knee surgery, has made four appearances this spring and has not looked particularly comfortable in any of them. He has allowed six earned runs on eight hits—four of which were home runs.
There is a bright side. The lefty has also struck out 11 batters and issued just a single walk. Would that be enough to save a spot for him on the roster? I seriously doubt that.
Winner: Michael Young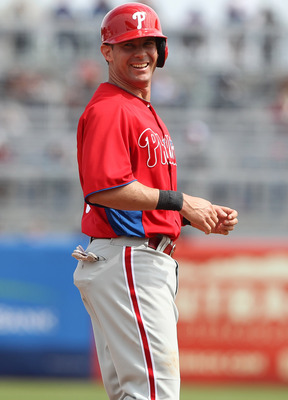 Kim Klement-USA TODAY Sports
Michael Young got off to a very slow start this spring, struggling both at the plate and in the field.
The Phillies' new third baseman has turned things around a bit as of late, however. While being 9-for-29 at the plate does not sound terribly impressive, Young had a solid second week and has looked much better at the plate. Two of those six hits have been for extra bases—a double and a home run.
Young's defense is a work in progress, but that has to be expected. He has not played there full-time in a couple of years and is expected to do just that for the Phillies this season. That kind of thing takes time.
Young has had a solid week.
Loser: Cole Hamels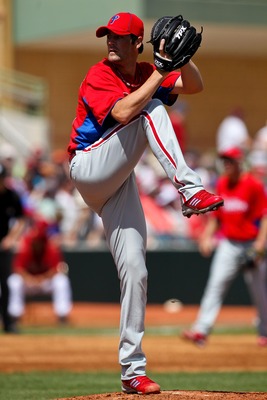 Daniel Shirey-USA TODAY Sports
Imagine yourself in camp as a big league starting pitcher. You're sailing along nicely, mowing through spring training lineups that don't feature many regulars, and even fewer players who are ready to face MLB-caliber pitching.
And then, all of the sudden, you're asked to go out and pitch against a team preparing for serious competition that looks like a small All-Star club.
That's what happened to Cole Hamels this week, as he was taken to town by the Dominican Republic club, which was preparing for the World Baseball Classic.
Hamels was roughed up big time, allowing eight runs over 2.1 innings before getting the hook.
The Phillies' ace has been much better than that would suggest this spring, however, especially since that nightmare outing doesn't count against his Grapefruit League record.
Winner: Roy Halladay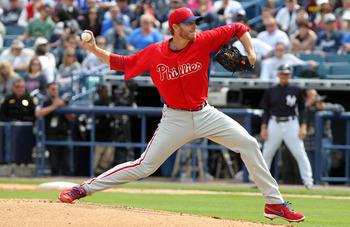 Kim Klement-USA TODAY Sports
Roy Halladay looks like a man who doesn't have any health concerns this spring, which is a good sign for both him and the Phillies moving forward.
Halladay, 35, battled a few different ailments last season and that showed in both his performance and the results. Early in the spring, Halladay appears to be at full strength.
The right-handed starter has now made three starts this spring, tossing 8.1 innings and allowing six hits, two walks, seven strikeouts and just a pair of earned runs.
In his start against the Washington Nationals this week, Halladay matched up with Stephen Strasburg and looked very comfortable, getting lots of movement on his pitches and locating them. A healthy Halladay will go a long way for the Phillies in 2013.
Loser: Jonathan Papelbon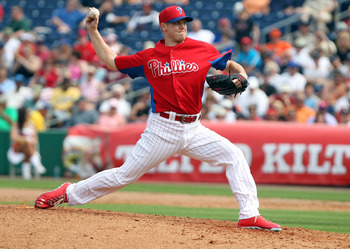 Kim Klement-USA TODAY Sports
Jonathan Papelbon has not gotten off to a great start this spring, landing on the wrong side of this list for the second time in two weeks. But again, if there is one guy who is struggling whom the Phillies aren't all that worried about, it's Papelbon.
The Phillies closer has struggled in non-save situations since joining the club and pitching in the middle innings just doesn't generate the same intensity.
Papelbon has made two appearances this spring and allowed eight runs in less than two innings. He has surrendered a pair of home runs and walked three, although he has also struck out four batters.
Winner: Ben Revere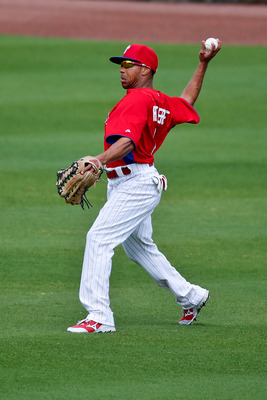 Derick Hingle-USA TODAY Sports
It's still very early in the preseason, but dealing for Ben Revere over the offseason already seems like a trade that is going to work out well for the Phillies.
Revere didn't come cheap, as the Phillies had to move a big piece of their starting rotation (Vance Worley) and a top prospect (Trevor May), but their need for a center fielder was extensive.
Early in the spring, Revere has played very well. He has gone 10-for-33 at the plate, including a double. He has also used his speed on the base paths, swiping three bases without being caught.
Because he has no real power to speak of, the Phillies are going to need Revere to work his way on base to make things happen. While it has been a small sample size early in the spring, the club's new center fielder looks as though he can make this work.
Loser: Kyle Kendrick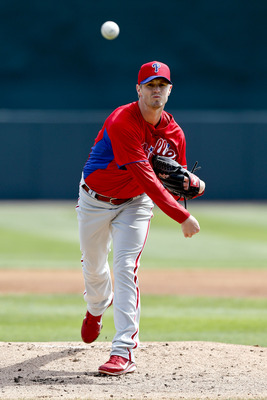 Derick Hingle-USA TODAY Sports
Kyle Kendrick didn't get much help from a blustery breeze in Sarasota, Fla. earlier this week as he took on the Baltimore Orioles, but then again, he isn't the kind of pitcher that should be recording many fly ball outs either.
Kendrick is at his absolute best when he is able to work in the lower half of the strike zone and out of the middle of the plate. When his pitches run right over the heart, he gets hit around a bit.
A two-homer outing that saw him surrender four runs lands Kendrick on this list, but he hasn't pitched all that poorly this spring. He has allowed five runs over four innings, but has made just two starts.
Winner: Ryan Howard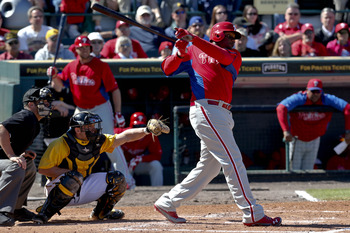 Derick Hingle-USA TODAY Sports
There is a sense of growing optimism that Ryan Howard can regain some of his past form at the plate this upcoming season, and that is because he has been fantastic at the plate this spring.
Howard is 12-for-33 at the dish and has appeared in every game this spring. He has six extra base hits, including three doubles and three home runs.
If the Phillies are going to have a successful offense, Howard is going to be a big part of the reason why. He brings a presence to the middle of the order and the legitimate power that this club lacked when he was out of the lineup last season.
Loser: Tyler Cloyd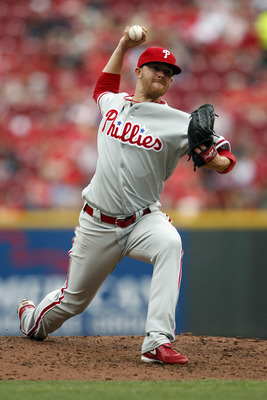 Frank Victores-USA TODAY Sports
Tyler Cloyd spent most of the offseason being passed over by the Phillies. He was solid in his brief MLB stint last season, but the club added John Lannan to round out the starting rotation in the winter and he isn't really fit for the bullpen.
So what's left?
Theoretically speaking, Cloyd had an opportunity to fight for a spot in the rotation this spring, but is coming up short. He has allowed six earned runs in four innings, giving up seven hits, two walks and a home run, while striking out just one.
More likely than not, he'll return to Triple-A following the spring.
Winner: Chase Utley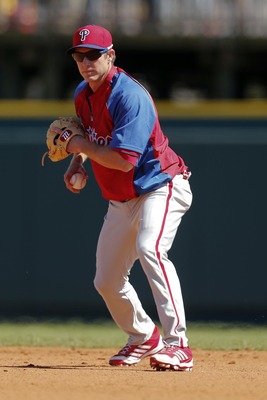 Derick Hingle-USA TODAY Sports
Just being on the field this spring is a big win for Chase Utley. Getting off to such a hot start at the plate has been an added bonus.
The Phillies second baseman looks like his old self early in camp, going 4-for-17 with a double and four walks. He has also looked very mobile at second base with good range to either side of his body—a good sign that his knees are healthy.
But this is a marathon and not a sprint. The goal for both the Phillies and Utley will be to keep him on the field for something that can be considered an entire season. This is an older club that needs him in the lineup to contend.
Loser: Erik Kratz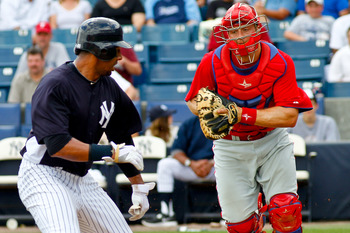 Derick E. Hingle-USA TODAY Sports
It's a good thing that Erik Kratz earned his role of temporary starting catcher last season, because he hasn't looked very good at the plate this spring.
Defensively, Kratz is the kind of guy that the Phillies like having around as a backup catcher. He's a solid defender with a strong arm and a good rapport with the pitching staff.
As a starting catcher—even if it is only for one month—Kratz is going to have to hit a little bit.
With just three hits so far this spring, a few eyebrows have been raised. Kratz is now hitting a paltry .200 over the Grapefruit League slate and is going to have to find a way to turn this bad boy around.
He can't go into the regular season looking completely lost as an everyday player.
Winner: John Lannan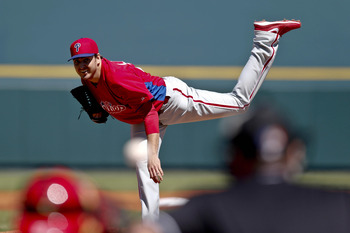 Derick Hingle-USA TODAY Sports
Statistically speaking, John Lannan has been one of the Phillies' best starting pitchers this spring.
Lannan has made two starts this spring—including a shutout performance against the Pittsburgh Pirates this week—logging five innings and surrendering five hits, three walks and one earned run, while striking out one in total.
The command is a bit of a concern early on because you want to see a pitcher like Lannan keep batters off of the base paths. But that's a small negative. Otherwise, it has been all positive for the Phillies' fifth starter this spring.
Loser: Laynce Nix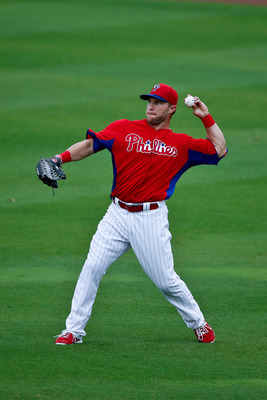 Derick Hingle-USA TODAY Sports
The one thing that Laynce Nix could not afford to do this spring was get off to an abysmal start. He is coming off of a year that saw him miss more than 50 games with an injury and in his return, fail to do the job that the Phillies had envisioned for him.
Well, guess what? Nix has gotten off to an abysmal start this spring.
The left-handed bench player has gone 2-for-15 in the Grapefruit League, with more strikeouts (five) than walks (two). It should be noted, however, that Nix hit a home run in that blowout against the Dominican Republic, but those statistics do not count towards his spring totals.
While it may not be the most talked about aspect of the spring, Nix does have competition, and that competition has impressed the right people. With Rule 5 pick Ender Inciarte playing well, could Nix—currently the highest paid outfielder on the Phillies' roster—conceivably be cut before the season begins?
Winner: Kevin Frandsen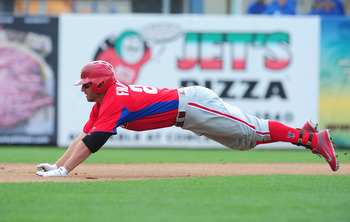 Scott Cunningham/Getty Images
Kevin Frandsen is having a very good spring.
The Phillies acquired Michael Young from the Texas Rangers over the offseason to play third base for them this season, but Frandsen has not been deterred. Instead, he has gone 8-for-23 with three doubles, a triple and a home run. He has walked once and struck out three times.
Frandsen has also played solid defense for the Phillies this spring both at second and third base. He is making a strong case to be the club's top utility infielder this season.
Honorable Mention: Freddy Galvis
I'm not sure if Galvis is having a good week or a bad one. He has gone 7-for-27 with a pair of doubles, a triple and a home run, but has also struck out nine times without walking.
Loser: Jeremy Horst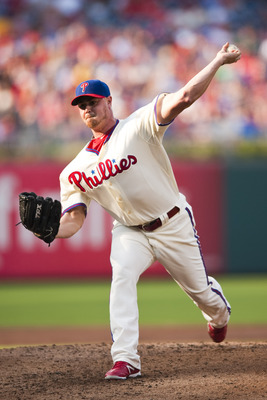 Howard Smith-USA TODAY Sports
There are four "locks" in the Phillies' bullpen right now: Jonathan Papelbon, Mike Adams, Antonio Bastardo and Chad Durbin. Outside of those four, three spots are assumed to be up for grabs.
Jeremy Horst has been a consensus favorite to land one of those spots after a terrific season in 2012, but he is having a rough spring and may be losing ground.
Horst has allowed eight runs over just five innings. He has surrendered four home runs, walked three and struck out two. The bottom line is that the lefty reliever is struggling mightily early in camp.
If the Grapefruit League slate ended today and the Phillies were ready to head north, it would be hard to have Horst over fellow left-handed reliever Jake Diekman on the depth chart.
Winner: Ender Inciarte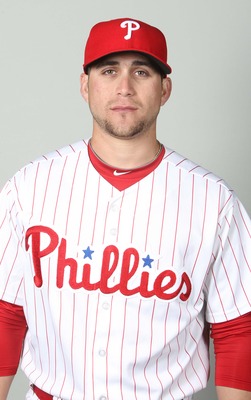 Kim Klement-USA TODAY Sports
It's never as simple as this, but at this point in camp you would have to believe that the only person standing between Ender Inciarte and a spot on the major league roster is Laynce Nix. Both are left-handed hitting bench players that bring different styles to the club.
Inciarte, a Rule 5 draft pick, has been impressive early in the spring. He has collected three hits in 12 plate appearances while also drawing three walks.
He's not going to be known for his bat, however. If Inciarte makes the club out of camp it will be because the Phillies value a bench player that can run and play defense, and Inciarte is above average in both of those areas.
Loser: Justin De Fratus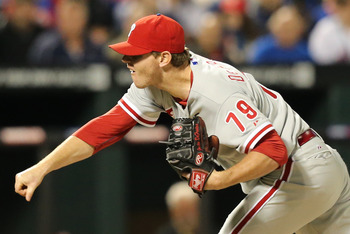 Anthony Gruppuso-USA TODAY Sports
At the outset of the spring, Justin De Fratus was a favorite to make the Phillies' bullpen. Fast forward a couple of weeks and the case for this right-handed reliever is much less certain.
After missing the first half of the 2012 season with an arm injury, De Fratus came into camp surrounded by lofty expectations. He has long been one of the club's top prospects and many envisioned him stepping into a new role at the major league level this season.
He still has a ton of talent and potential, but De Fratus has just struggled this spring. He has given up five earned runs in just five innings and has shown unusually poor control, walking three and striking out one.
Because there hasn't been any one reliever to really step up and take advantage of his poor performance, I still think that De Fratus makes the club. But he is going to have to pitch more effectively, without a doubt.
Winner: Jake Diekman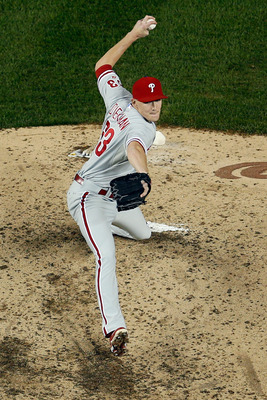 Rob Carr/Getty Images
Jake Diekman's chance of making this club rests solely on his ability to throw strikes—something that he struggled with following his MLB debut last season.
With Jeremy Horst struggling a bit this spring, Diekman has the opportunity to put himself in a good spot moving forward if he can impress the right people.
Diekman has already struck out nine batters this spring, but has also walked two. He has allowed four hits and two earned runs over four appearances.
If you're looking for a dark horse to make this club, Diekman is as good a choice as any.
Loser: Darin Ruf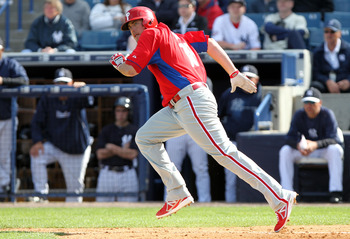 Kim Klement-USA TODAY Sports
A crude estimation says that there may not have been a player in camp this spring with more to gain from a solid showing than Darin Ruf. It wasn't going to be easy, but if he could prove that he can play a passable left field and hit, he had a job.
Well, it's never that easy. Ruf looks like a first baseman roaming around in the outfield early in camp and has had a miserable showing at the plate.
Ruf, who is currently 5-for-27 at the dish, has not utilized a solid approach. He has three times as many strikeouts (six) as walks (two) and has just two extra-base hits—both doubles.
He has also played a defense fairly categorized as "well below average" in left field, and if the spring training ended today, it would not at all be a surprise to see him optioned back to Triple-A.
Winner: Domonic Brown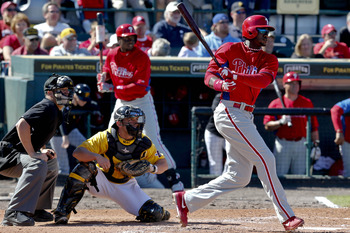 Derick Hingle-USA TODAY Sports
Throughout the offseason, much of the conversation about the Phillies' outfield situation has been dominated by the need for Domonic Brown to not only embrace a full-time role, but to excel in one. Early in the spring, he looks to be ready.
Brown has been one of the club's best hitters early in the Grapefruit League slate, going 12-for-30. He has hit three home runs this spring, including a couple of monstrous blasts, and two doubles. He has also walked more times (six) than he has struck out (five).
The one area that there has not been much talk of Brown this spring is on defensive, which is a good thing. He has made all of the routine plays and showed off a strong arm.
This could be a huge year for Brown.
Keep Reading

Philadelphia Phillies: Like this team?