LA Lakers vs. Oklahoma City Thunder: Postgame Grades and Analysis for LA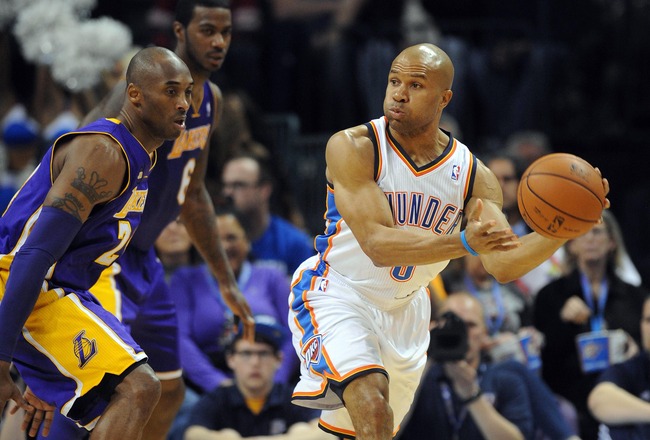 Mark D. Smith-USA TODAY Sports
The Los Angeles Lakers entered Tuesday having won five of their last six games, but an ugly 122-105 loss to the Oklahoma City Thunder has pushed them back below .500 heading into the home stretch.
From the start of this contest, the Thunder were the more efficient, energized team. They were forcing turnovers, making shots and challenging every attempt the Lakers took at the rim.
L.A. couldn't handle the athleticism of OKC, and that would prove to be a problem the entire way through.
The Lakers didn't score their first bucket until about the six-minute mark of the opening period. Their offense was struggling, but defense would be the theme when it was all said and done.
By halftime, L.A. had given up 71 points to the Thunder. It had turned the ball over 11 times to OKC's one, and it had given up a combined 39 points to Kevin Durant and Russell Westbrook.
But as bad as the first half was for the Lakers, the third quarter began, and momentum turned in their favor.
L.A. began attacking the rim, which ultimately opened up looks on the perimeter. The big difference, though, was pace, as the Lakers took away OKC's ability to score in transition by sticking to their half-court offense.
The Lakers outscored the Thunder 34-26 in the third period, and they had cut the lead to eight for the final 12 minutes.
Unfortunately for Los Angeles, it proved to be too little, too late. The team expended all its energy in the early stages of the comeback, and the final three minutes belonged once again to the Thunder at home.
A competitive fourth quarter kept this one interesting, but horrible ball control and subpar athleticism proved to be the Lakers' downfall in Oklahoma City.
Point Guard: Steve Nash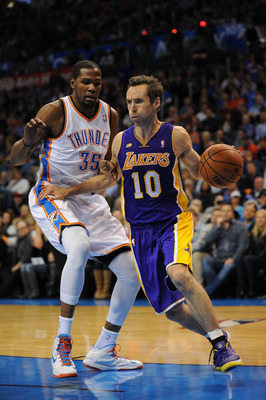 Mark D. Smith-USA TODAY Sports
Steve Nash has been known as a facilitator throughout his career, but Tuesday night, he displayed his ability to create his own shot.
Despite finding open looks, Nash's shot wasn't falling early. He missed his first six looks of the contest, and he couldn't convert whether he was at the rim or on the perimeter.
Luckily for L.A., when the third quarter began, he started scoring the ball, and the team began staging a comeback.
Nash's struggles from the three-point line are tough to ignore—he made just two of his six attempts—but he boosted his field-goal percentage to 46.7 percent by the time the game was over. He only collected four assists to go with his three turnovers, but he was a big part of the Lakers' surge, which can't be ignored.
Grade: B+
Shooting Guard: Kobe Bryant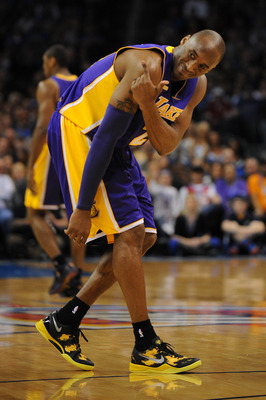 Mark D. Smith-USA TODAY Sports
Kobe Bryant has been more injured throughout his career than he'll ever let on. He's played hurt for so many years now that it's no surprise he ended up with a great performance against the Oklahoma City Thunder.
After leaving in the first quarter with an apparent elbow injury—and favoring it throughout the night—Bryant put the team on his shoulders and scored 18 points in the first half alone.
His efforts weren't enough to make up for a slow start, but his being on the floor showed that he's still the heart and soul of the Los Angeles Lakers.
This wasn't one of Bryant's famous all-around performances where he got his teammates involved. His only goal was to score the basketball, and it was clear that if the team had any chance of coming back, he was going to be the one to get them there.
Bryant couldn't get this team back on top, but he did keep the Thunder honest. He scored from virtually everywhere on the court, as he finished with 30 points on 8-of-19 shooting, including 11-of-12 from the foul line.
Grade: A
Small Forward: Metta World Peace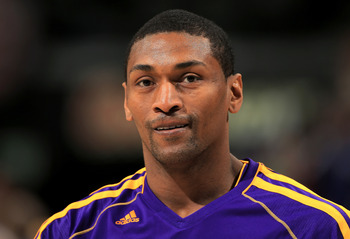 Doug Pensinger/Getty Images
Metta World Peace was as guilty as anybody when it came to starting this game slowly. The 33-year-old didn't make his first shot until the second half, and he was completely ineffective in containing Kevin Durant.
But as we've seen many times during his stint in L.A., the forward can surprise you once his shot begins to fall.
After making his first three-pointer in the third quarter, World Peace seemingly found the touch. As the Los Angeles Lakers executed their half-court sets, World Peace began to find his stroke, and even more important, he began to find his confidence.
After his quiet start, World Peace went on to finish with 16 points on 5-of-11 shooting. He made three of his six shots from deep range, and he ultimately became an integral part of the team's attempted comeback.
Grade: B
Power Forward: Earl Clark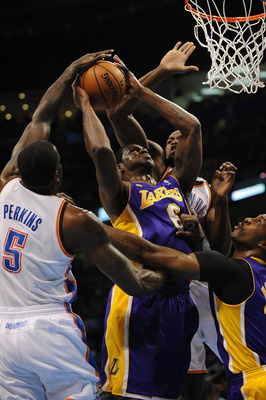 Mark D. Smith-USA TODAY Sports
In what was a dreadful opening period, Earl Clark came out and played as efficiently as we've come to expect from him.
The starting power forward scored 10 points in the first 12 minutes, making half of his first-quarter shots. He got to the line six times in that time frame—making five of them—and he also managed to pull down five rebounds.
Even when things weren't going right, Clark remained aggressive, and that's what you love to see out of the 25-year-old forward. Unfortunately for the big man, his aggressiveness caused him to turn the ball over five times in the first 14 minutes, but you need aggression when you're down early.
As the game continued, and as Kobe Bryant began to take over, Clark became less vital to the team's offense. He deserves credit for what he did early, and he also deserves credit for the 11 rebounds he pulled down in 30 minutes, but he'll most likely be an afterthought in postgame recognition.
Grade: B
Center: Dwight Howard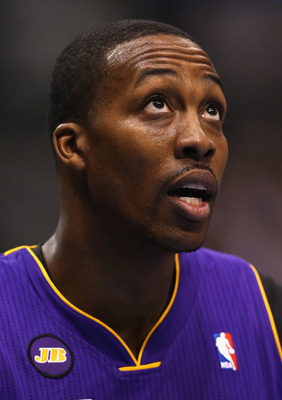 Ronald Martinez/Getty Images
If Dwight Howard proved anything Tuesday night, it's that getting 16 rebounds and having an awful game are no longer mutually exclusive.
The Lakers big man could not figure out how to score on the block during this contest. The combination of Serge Ibaka and Kendrick Perkins proved to be too much to handle, and even when Nick Collison was on the floor, he had trouble finding good positioning.
What Howard did do well was crash the boards. Not only was he pulling down rebounds on both ends of the floor, but he was preventing his adversaries on the block from doing the same.
But as masterfully as Howard dominated the glass, you can't ignore that he was just 1-of-7 from the field when it was all said and done. Even when the team slowed down the game and played in the half court, the big man was never part of the offensive scheme.
You can't take away from what Howard did well, but with no blocks and nearly no field goals, you would have liked to see a better all-around effort from the best center in the game.
Grade: C
Sixth Man: Antawn Jamison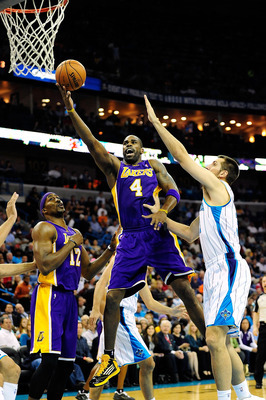 Stacy Revere/Getty Images
Antawn Jamison had been playing well coming into this game, and while he did manage to score eight points in 22 minutes, consistency was a problem throughout the duration of the contest.
Jamison is at his best when his shot is reliable. He pulled down an impressive eight rebounds Tuesday night, but in a game where the team desperately needed stops and scores, Jamison was tough to trust.
Defensively, the 36-year-old was lost trying to keep up with the pace of the Oklahoma City Thunder. He did better when the game slowed down, but it's tough to body up an opponent when he's running down the floor past you.
On offense, his jumper was never consistent enough to make a difference. He finished just 1-of-4 from behind the arc, and he completed just three of his eight total shot attempts.
Grade: C-
Bench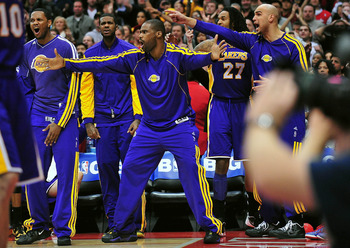 Gary A. Vasquez-USA TODAY Sports
Alongside Kobe Bryant and Earl Clark, Jodie Meeks was the only player on the Los Angeles Lakers who helped put points on the board in the first quarter.
Meeks, who played seven first-quarter minutes, made both of his early shots, including one from deep range. He was one of the few Lakers making his way up and down the court in transition, and his energy is something that won't show up on the stat sheet.
Steve Blake also played decently, as he took mostly smart shots in his 18 minutes. He struggled defensively, as he oftentimes does against quicker guards, but he did what he was supposed to do while on the floor, which was defer to the scorers.
Overall, the Lakers got good balance out of their second unit, but nobody could make up the difference from the early struggles. None of the three players—including Antawn Jamison—ever truly stood out, but in a game that seemed so lost from the very start, energy is all you can ask for.
Grade: C
Keep Reading

Los Angeles Lakers: Like this team?