The Ultimate Fighter 17, Ep. 7 Live Play-by-Play: Clint Hester vs. Jimmy Quinlan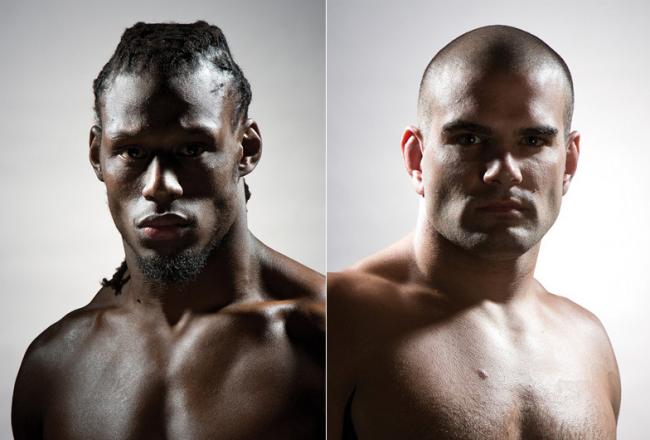 Team Sonnen's Jimmy Quinlan faces a big task against Jon Jones' No. 1 pick. (Photo Credit: UFC)

Season 17 of The Ultimate Fighter continues Tuesday at 9 p.m. PT/ET on FX with the middleweight tournament between Team Jon Jones and Team Chael Sonnen—and we're getting into the home stretch.
With season villain Josh Samman scoring an upset, knockout win over Team Sonnen's Tor Troeng in Episode 6, things are set for Team Jones to even up the score with three wins apiece.
(Check out the full list of competitors and team rosters.)
In order to do that, Clint Hester must put his powerful striking to the test against a stylistic challenge in undefeated grappler Jimmy Quinlan.
As Jon Jones' No. 1 pick, the matchup seems expected to move Hester along safely to the next round of the competition—but Chael Sonnen thinks otherwise.
In last week's episode, Sonnen made reference to Quinlan's ground game and how it gives him an immense tactical advantage. Will that make the difference and increase Team Sonnen's lead?
UPDATE: Check out the full episode recap and results right over here, with full impressions and thoughts on the Clint Hester vs. Jimmy Quinlan fight.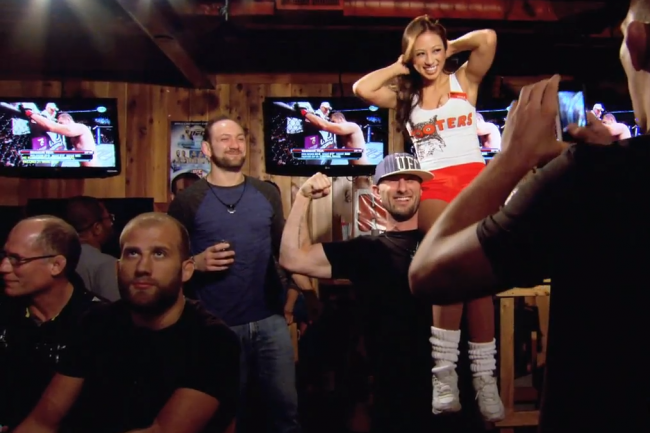 Hooters is an awful, awful place.
Great service, depending on the spot, but all their wings menus need work.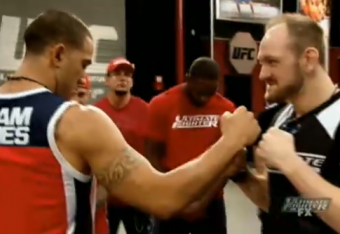 That's the whole episode folks.
We'll be posting the full episode recap in a short while.
There's no point in fight control here, and Chael lets Jones announce the next match.
By process of elimination, it's Zak Cummings (Team Sonnen) against last-pick Dylan Andrews (Team Jones).
Preview for next episode shows the coach's challenge, where Jones and Sonnen are driving construction vehicles—hope Jones watches out for poles.
Additionally, there's some big twist coming up, and both coaches have to make some sort of roster pick, although the footage is pretty vague about it.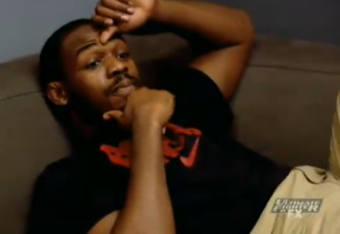 Aw.
Poor Jones.
Heh.
Sonnen comes into Team Jones' locker room and hands him a Team Sonnen jersey, per their bowling bet from the last episode.
Jones barely looks at it before tossing it aside.
Obviously, Jones doesn't look too happy as they go to the fight picks.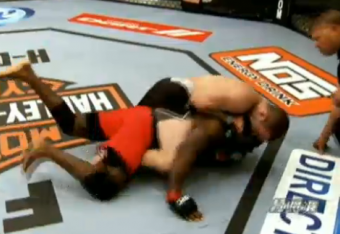 Even Sonnen says that Hester won the first round.
Sonnen: "Hester was able to generate power from the ODDEST positions. We heard them throughout the arena."
Quinlan is glad that he made it though the round, but notes that he's all lumpy everywhere but his face.
Hester is pretty down, but vows to climb back through the wild card—somebody better ask Samman for his approval, then.
Result:
Jimmy Quinlan def. Clint Hester via Submission (Rear-Naked Choke), Round 2
Team Sonnen leads Team Jones, 4-2
Clint Hester vs. Jimmy Quinlan
Round 2 - We start off and it's Hester who initiates the first takedown, surprisingly. Quinlan isn't giving it up, but Hester grabs a Thai clinch and goes to the mat.
Bad move. Quinlan grabs a hold of his legs and drags Hester down to the mat. Team Jones is going frantic, trying to coach Hester back to his feet.
Quinlan is trying his best to smother Hester, but Hester is huge and lanky.
Hester gives up his back, and Quinlan starts to rain down punches. Jones says that Quinlan isn't hurting him and YUP—Quinlan sinks in a rear-naked choke the minute Hester lifts his neck.
Hester doesn't wait for it to tighten and he taps out.
That's another upset, and coming from the guy with the least MMA experience on his record.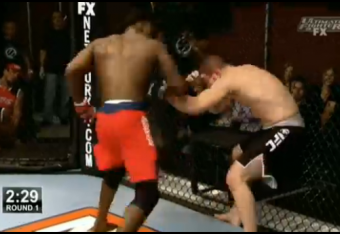 Looking back at the tape.
I'm scoring that first round for Quinlan, but it could've gone either way. Hester was throwing practically all the punches, but very few of them were clean, significant hits.
Clint Hester vs. Jimmy Quinlan
Round 1 - Quinlan comes out with a pawing jab and immediately starts to grapple against the fence. DAMN.
Quinlan wastes no time grabbing Hester, lifting him up and slamming him on his back.
Hester gets to his feet, but Quinlan dives on a double-leg. Hester hammers downward with elbows, but Jimmy gets another takedown in the process.
Ouch. Hester gets slammed again, and Quinlan is completely controlling him against the fence. Hester can barely get an inch of space, with Quinlan muscling him against the fence.
Hester brute strengths his way off the cage and puts Quinlan's back on the cage.
Oh! Hester lets loose with a combo and hits some good hooks. Quinlan ducks under for a double leg. Hester backs up while punching downward, but gets pushed to the fence. This is pretty competitive.
Quinlan is committing heavily on takedown, which lets Hester punch away on the feet. That doesn't last, though, and Hester goes to the ground.
Nice, Quinlan hits another slamming takedown. Hester doesn't bother getting up this time, and throw elbows on Jimmy's skull from the bottom. Hester gets up on his butt and tries to punch away, but Quinlan stays on top until the round ends. That's probably a 10-9 for Quinlan, but Hester landed a LOT more punches.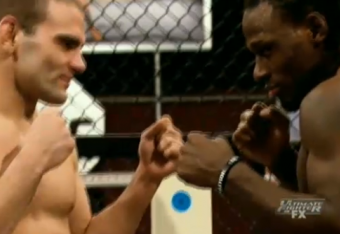 We're back at the house, where Quinlan and Hester are trading jokes.
Hester: "I love his sense of humor and personality."
Looks like there's on animosity between the two at all, so there shouldn't be any hard feelings after the match is over.
Hester says he's got hands, elbows and knees to keep Quinlan busy, while Quinlan restates that he needs to grab takedowns as soon as he can.
Both guys are gearing up, and it's Team Jones' chance to even up the series.
For the record, I was predicting a KO for Hester last week.
We're back at the weigh-ins.
Dylan Andrews states that Hester is "an animal" and Quinlan is going to sleep.
Kevin Casey says that Quinlan gets a submission if he gets close.
Both guys are on-point and set to go.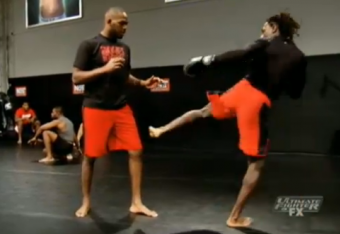 Jon Jones takes his turn with the camera talking up Hester's game.
Overall, Jones has nothing but glowing praise for his No. 1 pick, but here's the highlights.
• Hester is a fast learner, and he implements techniques as soon as learns them.
• He needs to improve his cardio, but overall, he's very well-rounded.
• Hester's attitude is great, and he's a receptive student.
• Jones says that Hester can deal with Quinlan's grappling, even if he is on his back.
Hmm, that's high praise.
Fight's coming up next, so we'll see how good Hester looks in a bad style match-up.
Gotta say, Clint is pretty likeable.
Hopefully that helps his name value out if he can get some UFC wins.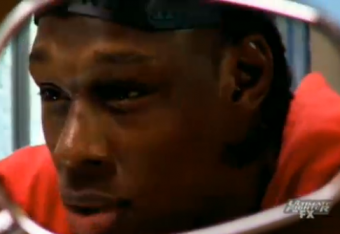 Back at house, we get an interview with Clint Hester.
He talks about wanting to be the "same guy" even after he get famous. He grew up in Georgia with family and didn't have any complaints.
Hester says he started boxing at age nine or 10, until his boxing gym closed down.
He went looking for another gym and happened to find an MMA gym first, and there's history as we know it. Hester says his mother is proud of him, as is the rest of his family.
We talked last week about how Hooters is awful, right?
Just checking.
Hooters is awful.
And for the money you spend, they're super stingy with their wings, too.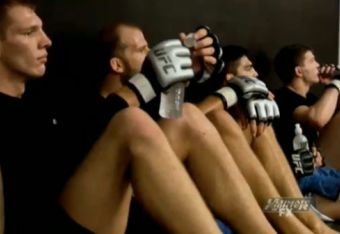 Jimmy Quinlan (a police officer) is chatting up Uriah Hall in the kitchen.
Both guys are hamming it up, trading stories about getting in trouble with the cops. Quinlan says that he's the same guy whether or not he's wearing a badge.
Quinlan recaps his fighting history, and we learn that his own commanding officer gave him the go-ahead to try his fighting career.
Chael Sonnen talks up Quinlan's grappling credentials, noting that he's a 10-time Pan American Games champion.
Sonnen tells us that they both wanted Clint Hester, but Jones got to him first. Interesting.
More footage of the team at work, and Sonnen is giving his team another rousing pep talk. He tells Jimmy that he shouldn't have a problem with Hester hitting him, and the team shouldn't have a bad attitude about it.
Josh Samman takes a trip to the ER as he complains of crippling pain in his quad.
It turns out that he's had a family history of blood clots which killed one of his family members, and his right leg may be in danger.
We go to the hopsital, and Samman tells the doctor about "crazy surgery" he's had in the past.
Samman worries that he may have to pull out of the competition.
We come back from the commercial, and there's no blood clot, so the whole preview angle was a big tease.
No telling whether or not it'll be an issue later on in the season.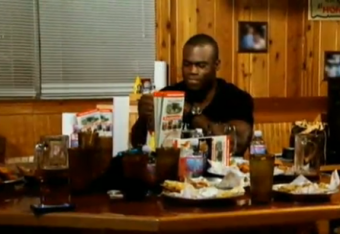 Uriah Hall is the one guy not participating at the celebration in Hooters.
Everyone takes turns talking about how he's turned on the whole house, and the whole thing seems like a pretty cold turn of editing.
We cut to some gym time, and the guys talk about Hall being his own hardest critic.
Pretty consistent stuff, if you've been following Hall's twitter.
We tune in as the whole TUF cast gets a night out at Hooters.
My wife is openly disgusted by how much the camera is taking ass shots, as if she's never seen a UFC broadcast in her life.
Of course, Gilbert Smith Jr. can't keep his shirt on.
(Note: Hooters is a UFC sponsor/partner, so this was inevitable.)
We go to the locker room and Team Jones is talking about the wild card.
Jon Jones and everyone is telling Bubba McDaniel that he's a shoo-in for the wild card.
Samman tells the team about his little beef with Uriah Hall at the house, while Jones and crew immediately start planning for those two to fight in the semi-final.
Gee, what a sensible way to bury the rest of your team all at once, guys.
Alright, show time.
Episode starts off with a recap of Josh Samman's leg problems, and Uriah Hall calling Samman's girlfriend a bitch.
They also show Samman and his KO win over Tor, but you already knew about that.
Here we go, Clint Hester vs. Jimmy Quinlan coming up next.
OK, this is everyone's 15-minute warning!
Here's one more preview trailer to keep things lively until start time.
All New Episode of TUF 17 Tonight on FX
Let's also take a look at the roster line-up so far.
It's probably not a spoiler to tell you guys that the final match of this round in the tournament will be Zak Cummings vs. Dylan Andrews, barring any injuries.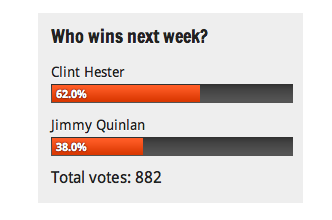 Team Jones:
1. Clint Hester (7-3)
2. Josh Samman (9-2)
3. Robert "Bubba" McDaniel (20-6)
4. Gilbert Smith Jr. (5-1)
5. Collin Hart (4-1-1)
6. Adam Cella (4-0)
7. Dylan Andrews (16-4-1)
Team Sonnen:
1. Luke Barnatt (5-0)
2. Uriah Hall (7-2)
3. Zak Cummings (15-3)
4. Tor Troeng (15-4-1)
5. Jimmy Quinlan (3-0)
6. Kevin Casey (5-2)
7. Kelvin Gastelum (5-0).
[Note: Winners are in bold, losers are scratched off the list and the next competitors' names are in italics.]
As per last week's poll, most of us picked Clint Hester to beat beat Jimmy Quinlan, which makes sense given their respective performances in the TUF house qualifiers. Plus, Quinlan has the least professional MMA experience on the cast.
Besides, at this point, it's probably time to think about the wild card entries, too.
Right now, it seems like Bubba McDaniel and Kevin Casey would be the front-runners. Of course, that could change if the next two fights turn out to be some real barnburners.
This article is
What is the duplicate article?
Why is this article offensive?
Where is this article plagiarized from?
Why is this article poorly edited?