The Complete Guide to the Philadelphia Eagles' Free Agency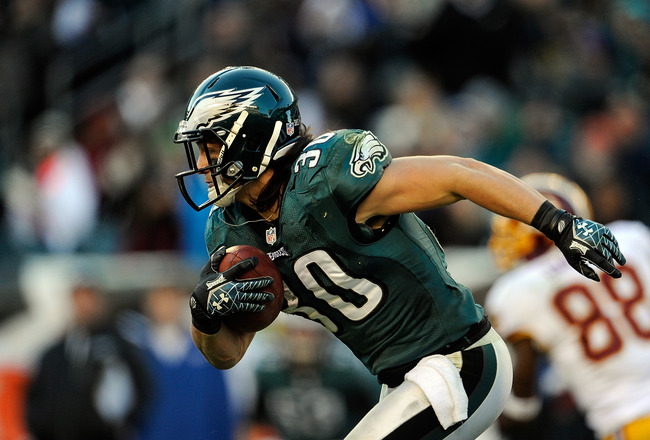 Patrick McDermott/Getty Images
Free agency is fast approaching, and the Philadelphia Eagles have already been very busy leading up to it. They have kept some players, such as Michael Vick, and released others, such as Cullen Jenkins. The way they handle free agency will have drastic results on their strategy in the draft and with how Chip Kelly shapes the team in his image.
Throughout free agency, the Eagles must keep many factors in mind. How will they manage the salary cap? Which free agents will they bring back? And which available free agents will they target?
If the Eagles followed a plan similar to this, they could feel pretty good about the team's prospects going forward.
1. Salary Cap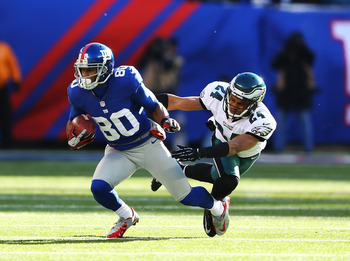 Al Bello/Getty Images
The Eagles have already been very aggressive with clearing out much-needed salary cap space. They have done away with Mike Patterson and Cullen Jenkins, and have re-signed Vick to a substantially smaller deal.
Now, all that is left is to either cut Nnamdi Asomugha loose or to restructure his contract to a significantly smaller price. Asomugha was signed to a five-year, $60 million deal, and his play on the field has done nothing to justify that.
As a report by CSN Philly's Geoff Mosher stated, the Eagles have already asked Asomugha to take a massive pay cut; the issue seems to be resolving itself already.
2. Free Agents to Retain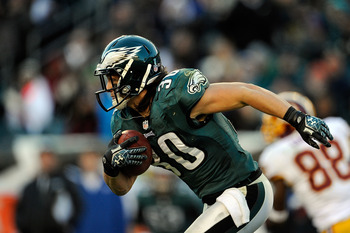 Patrick McDermott/Getty Images
This season, the Eagles have eight players who are restricted and unrestricted free agents. Out of these players, the Eagles must make it a priority to retain those most important to the team's future success.
Colt Anderson is a restricted free agent, and the Eagles must make their special teams ace an offer quickly and lock him up long-term.
In terms of their unrestricted free agents, Jon Dorenbos is the best long snapper in the game, and Dominique Rodgers-Cromartie is inconsistent but was still the best player on the Eagles secondary last season. They should also be retained.
Jake Scott and Darryl Tapp should be retained for depth.
3. Free Agents to Let Go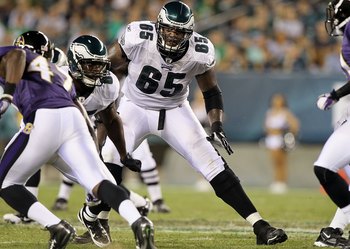 Jim McIsaac/Getty Images
As for the rest of the free agents, the Eagles cannot keep every one of them just for depth. Some of them need to be let go due to poor performance and to further relieve pressure off the salary cap.
King Dunlap has struggled all season and did not show enough improvement to justify another chance. Derek Landri had great performances in 2011, but failed to replicate that in 2012. And Akeem Jordan unfortunately struggled for much of the 2012 season and was a disappointment.
All of those players should be let go and not offered new deals.
4. Players Already Re-Signed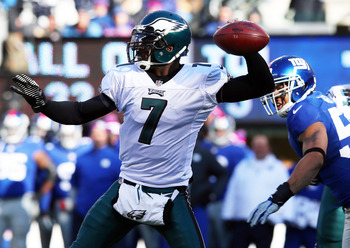 Elsa/Getty Images
So far, the only player the Eagles have re-signed is Michael Vick, signing him to a new one-year contract that has the potential to be worth up to $10 million.
The Eagles did an excellent job in the last offseason, signing many key players to long-term deals. This included DeSean Jackson, LeSean McCoy, Trent Cole and Evan Mathis. Brent Celek was offered a long-term deal after the 2009 season.
Jeremy Maclin is expected to be a free agent in 2014. Perhaps the Eagles will offer him a new deal to lock him up long-term.
5. Team Needs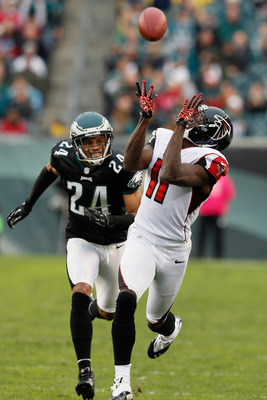 Rob Carr/Getty Images
The biggest priorities this offseason will be the O-line and the entire secondary. After the injury to Jason Peters, the entire O-line played abysmally, giving its quarterbacks little comfort in the pocket.
While the O-line will be improved with the return of key players from injury, it is in desperate need of more depth and playmakers.
The entire secondary needs to be overhauled. Every single player on it has played very poorly, and the only one worth retaining is Dominique Rodgers-Cromartie due to his age and talent. But finding new cornerbacks and safeties is a must.
Other than that, the Eagles could always use more depth at D-line and linebacker, especially if they are going to change to the 3-4 defense.
6. Cornerback: Sean Smith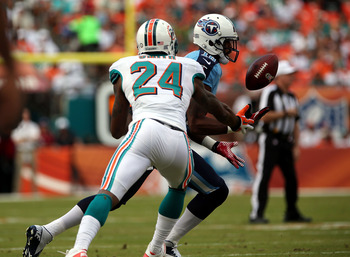 Marc Serota/Getty Images
Sean Smith is a player the Eagles should keep their eyes on in free agency. Smith is not the most consistent player out there, but he is still one of the better corners in the game. And at only 25 years of age and standing at 6'3", he has both talent and upside.
He is a player who plays with a great deal of physicality, something that was desperately lacking in last year's Eagles. He would be a great signing and would aid the Eagles secondary.
7. O-Line: Andy Levitre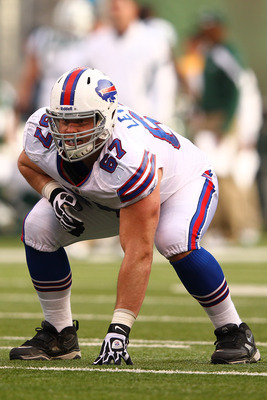 Al Bello/Getty Images
The Eagles could have a very real shot at courting Andy Levitre, as the Bills have not yet begun serious contract talks with him and his agent.
If Levitre is added to the Eagles roster, he would be a welcome addition.
He has started 64 straight games and is one of the most consistent players out there. He is also an excellent run-blocker, which would greatly favor Chip Kelly's offensive coaching style.
8. Safety: Charles Woodson
Andy Lyons/Getty Images
Charles Woodson will surely be highly sought after in free agency, but he would be a very welcome addition to the Eagles.
He no longer possesses the speed to play cornerback or free safety, but he can still be a very effective strong safety.
Woodson still tackles with consistency, is a smart player and would bring much-needed veteran leadership into the locker room. Signing him would provide short-term relief to a secondary that is devoid of playmakers.
Keep Reading

Philadelphia Eagles: Like this team?