Fitzmagic or Fitztragic? What to Do with Bills Quarterback Ryan Fitzpatrick?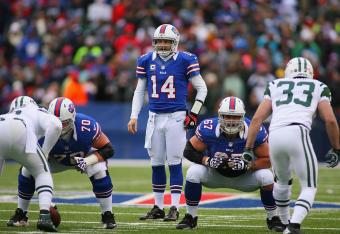 If Ryan Fitzpatrick is released, his last game with the team will be remembered as a win over the Jets.
Rick Stewart/Getty Images
March 12th is an important date for the Buffalo Bills.
First and foremost, it's the start of free agency. The true start of the Doug Marrone era in Buffalo. Fans will get a glimpse of what players the Bills' coaching staff covet in their new offense and defense.
March 12th is also the last day that the Buffalo Bills can release Ryan Fitzpatrick if they don't wish to pay him his a roster bonus of $3 million dollars.
If Fitzpatrick is on the Bills roster as of March 13th, he'll net his roster bonus and likely be the favorite to start at quarterback in 2013.
Unfortunately for Buffalo, releasing Fitzpatrick will not help them with their salary cap. Cutting Fitzpatrick will only give the team an additional $500K to spend in free agency and his $10 million salary would count against the cap.
That said, the team has an important decision on its hands and based on comments from GM Buddy Nix, it's apparent the Bills are still unsure of what to do.
"I don't know," Nix told The Associated Press, when asked if the team had reached any decisions regarding Levitre and Fitzpatrick. "We're still in the process of working on it."
Buffalo could also look to restructure Fitzpatrick's deal but again, Nix did not give any hints as to if the team has approached Fitzpatrick:
"Any talking, I'll do with him," Nix said.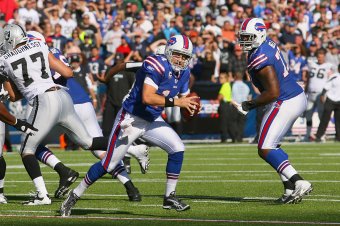 Rick Stewart/Getty Images
Things haven't been pretty for Buffalo since Fitzpatrick signed a six-year, $59 million extension in October of 2011. The Bills were 4-2 at the time of Fitzpatrick's extension. Since signing, Buffalo has gone 8-18 between the end of the 2011 season and the 2012 season.
Before signing his extension, his TD-INT ratio in 2011 was 12-6. Over the last ten games, his TD-INT ratio was 12-17, finishing the season with 24 touchdowns and 23 interceptions.
The 2012 season wasn't much kinder to Fitzpatrick. His TD-INT ratio improved to 24-16, but his 212 pass yards per game ranked him 23rd among NFL starters.
It's pretty evident that the first six games of the 2011 season were an anomaly. Perhaps it was the lack of an offseason in 2011. Maybe it was the schedule, although the New England Patriots were a strong team. Whatever the reason, Fitzpatrick played extremely well and teams struggled to stop the Bills offense.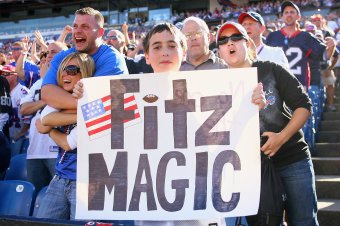 Rick Stewart/Getty Images
During this time, Bills fans referred to the QB as Fitzmagic. However, it's clear that, like an actual magician, it was all just an illusion.
Once teams caught on to Buffalo's quick toss offense, Fitzpatrick's numbers plummeted and the team's losses started to pile up. By the end of the season, Fitztragic was the QB's new nickname.
What Should the Buffalo Bills do with Ryan Fitzpatrick?
So what are the Bills to do?
If the team cuts ties with Fitzpatrick, Tarvaris Jackson will be the only QB on the roster. The team would then have to draft a rookie quarterback within the first two rounds of the 2013 NFL Draft. Cutting Fitzpatrick may actually hurt Buffalo's salary cap as they may be inclined to bring in another veteran to compete with Jackson and a rookie.
Bills President and CEO Russ Brandon has been saying that it's a different day in Buffalo:
"I have all the confidence in the world in Buddy and the personnel department to make those decisions," Brandon continued. "That's what they do in their evaluation process. We're two weeks away from the start of free agency and with the draft coming up in April, there's a lot of work to be done. I'm very confident we will put the right pieces in place to make a significant run."
However, by keeping Fitzpatrick on the roster as is, the team is showing that they are the same old Bills and are content with mediocrity.
To me, there are only two choices: Having Fitzpatrick restructure or cutting ties with him all together. By restructuring, Fitzpatrick could help the Bills by giving them additional cap space. He'll still keep his roster spot and bonus while getting an opportunity to compete for the starting job.
By cutting ties with Fitzpatrick, the Bills will be admitting that they made a costly mistake, but that they are ready to move on from it. By doing this, the Bills truly will be entering a different day.
Bills fans, what do you believe the Bills should do with Fitzpatrick? Vote in the poll and then add your voice in the comments section.
This article is
What is the duplicate article?
Why is this article offensive?
Where is this article plagiarized from?
Why is this article poorly edited?

Buffalo Bills: Like this team?