5 Reasons Why Miami Heat Are on Franchise-Best Winning Streak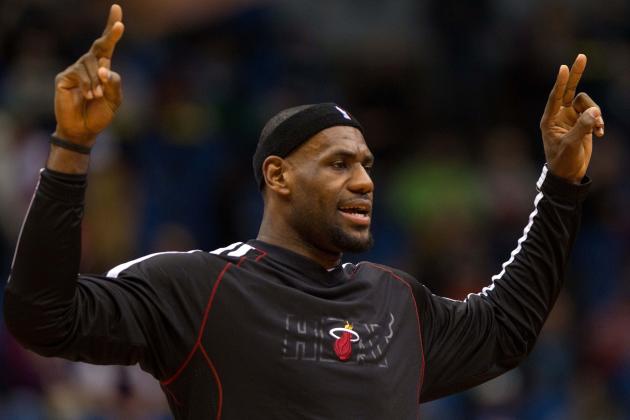 Brace Hemmelgarn-USA TODAY Sports
LeBron James has been able to raise his hands after each of the past 15 games.
Around the Miami Heat, streaks are a bit like no-hitters or "Fight Club."
It's not really proper to discuss them.
"I haven't even addressed it with the team, so it feels awkward focusing on it with you guys," Heat coach Erik Spoelstra said after Miami won its franchise-record 15th straight game, 97-81 against the Minnesota Timberwolves. "I don't want the guys focusing on the record. I want us focusing on trying to improve."
That doesn't stop anyone on the outside from trying to put the Heat's record run into some perspective.
The Heat last lost on Feb. 1 in Indiana against the Pacers.
Now it's quite likely—with visits from the Orlando Magic and Philadelphia 76ers upcoming—that they will enter next Sunday's home against against Paul George and Co. with a 17-game streak, tied with the Los Angeles Clippers for the longest in the NBA this season.
"We're just playing some really good ball," LeBron James keeps repeating.
They are, and unlike in the 12-game streak in 2010-11, they have beaten a good number of quality teams, the Clippers, Oklahoma City Thunder, Memphis Grizzlies, Chicago Bulls and New York Knicks included.
And unlike early in the season, they have performed consistently well on the road, with seven of the 15 wins coming away from AmericanAirlines Arena.
So what's gone right—well, other than their recent rendition of the Harlem Shake?
Plenty.
(All quotes for this piece were collected through the course of the author's coverage of the Miami Heat for the Palm Beach Post. All statistics were accurate as of Monday afternoon.)
Begin Slideshow

»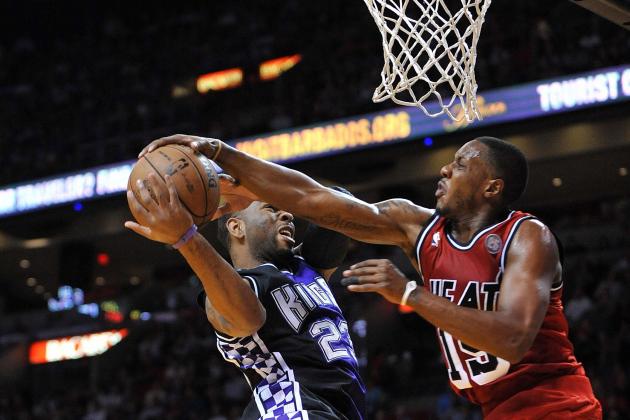 Steve Mitchell-USA TODAY Sports
When it mattered, the Heat finally slowed the Kings down.
Not every game in the Heat's 15-game winning streak has been easy.
Sure, there have a few blowouts, including a surprising one against the Los Angeles Clippers, one produced by stifling defense against the Chicago Bulls, and one against the Philadelphia 76ers that basically left the chatty coach Doug Collins in absolute awe.
But even against some of the weaker squads, such as the Sacramento Kings, Cleveland Cavaliers and Charlotte Bobcats, Miami has needed to make critical plays on late possessions in order to close out. In other wins, such as those against the Atlanta Hawks, Toronto Raptors and Minnesota Timberwolves, flurries earlier in the fourth quarter created the necessary distance.
Several of these players—including the three stars—played on the 2010-11 that kept tripping over itself and fumbling leads down the stretch, a trend that continued in the NBA Finals the Heat lost to the Mavericks.
That seems like a long time ago.
According to the NBA.com advanced stats site, Miami is a plus-114 in the 31 games—and 144 minutes—that it has played this season with five or fewer minutes left, and the margin no more than five points in either team's favor.
The next-best team?
That's the Golden State Warriors, at plus-52.
Miami shoots 50.8 percent from the floor in those situations, by far the best in the NBA—14 teams don't even crack 40 percent.
"We're getting better with that," Chris Bosh said. "As many times as we run through the offense, we should be getting better. We've seen those situations so many times, especially early on, so we were forced to get our late-game packages together and really start building chemistry and knowing what we want to get to."
They're getting wins.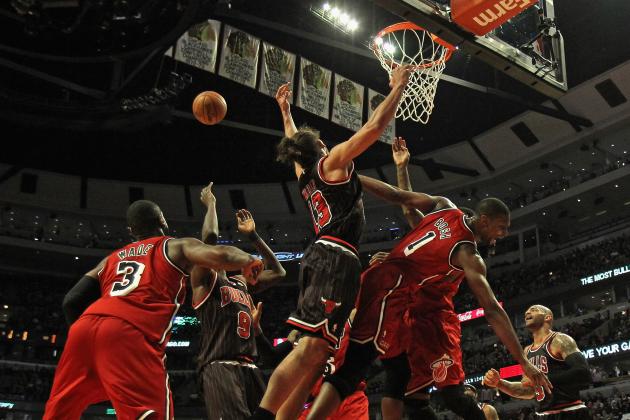 Jonathan Daniel/Getty Images
Even while undersized, Miami has been battling on the boards.
Whatever you do, don't call him Chris.
"It's Bird," Chris Andersen sternly reminds, before smiling.
Since arriving in late January, the colorful veteran has played in 18 games.
Miami has won 17.
Certainly, he's not solely—or even primarily—responsible.
But Andersen has been an extremely active participant in Miami's rebounding revival, averaging 10.7 boards per 36 minutes, just ahead of previous leader Udonis Haslem. He's done so while still getting his legs under him, with Erik Spoelstra stating his satisfaction recently that Andersen can play four straight minutes "without looking like he's going to faint."
Meanwhile, even with Chris Bosh's inconsistency, the rest of the team has made more of a collective effort. And over the course of the 15-game streak, Miami is actually a plus-22 in rebounding differential. That may not seem like much, but it is 11th in the NBA during that stretch.
And, considering all of the Heat's other advantages, it is more than sufficient.
Miami has even held its own against some of the better rebounding teams, such as the Memphis Grizzlies and Chicago Bulls.
"For us to lose the rebounding battle by three is equivalent to winning by 20 against a normal team," Erik Spoelstra said of the Grizzlies.
The result of that was that Miami won the game by seven, for its 13th straight victory.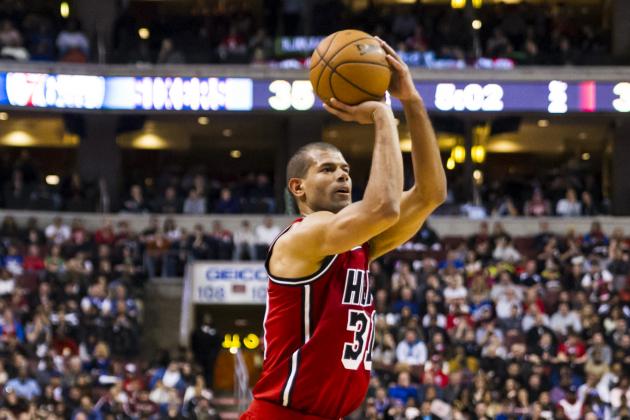 USA TODAY Sports
Lately, when Shane Battier shoots, it's safely to assume it's in.
It took a while for Shane Battier to get comfortable in his first season in Miami.
As he has openly acknowledged, he struggled to get his legs, and then to adjust to the culture of the organization and the city. In fact, it wasn't until the postseason—when the Heat needed him most—that he provided consistent scoring punch to go with his assortment of intangibles.
This time around, he's gotten going a bit earlier... and he's never been better than during the Heat's 15-game streak.
Battier has played in 14 of the 15 games, all but three off the bench.
He has taken 72 shots, all but five from behind the three-point arc.
His percentage from deep?
It's become one of the most automatic plays in the Heat's arsenal—LeBron James or Dwyane Wade drives, draws the defense, finds Battier parked in the corner, and watches as Battier knocks it down.
Battier's explanation?
I'm open. That's how we drew it up early on, playing me at the (power forward). I've got to take a lot of punishment on the defensive end, but on the offensive end, I'm going to be open most times.
And it has been open season on opponents.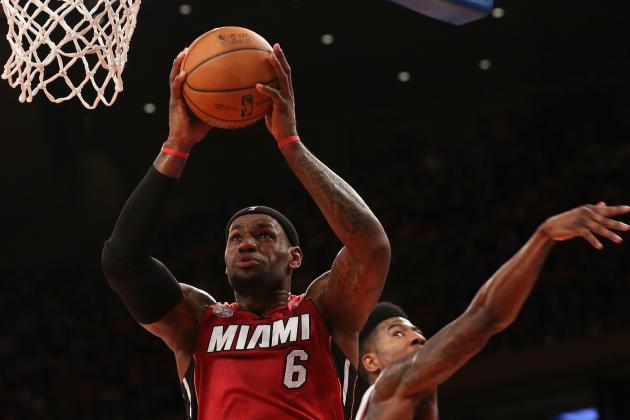 Nick Laham/Getty Images
You want to stop that man?
You probably didn't expect LeBron James to show up on this slide, one short of No. 1.
It's not due to anything that he hasn't done during the Heat's 15-game winning streak, the longest not only in the franchise's history, but also the longest of his career.
As usual, he's done everything.
During the streak, he's averaging 28.3 points, 8.0 rebounds, 8.0 assists and 2.0 steals, while shooting 61.3 percent from the field, a number that has actually come down some from where it was a week ago.
He's closed out several contests with clutch play, most recently with a sore knee in New York—which didn't stop him from blocking Tyson Chandler or punctuating the victory with a soaring slam.
Still, while everyone on the Heat keeps repeating the mantra that "we do not take him for granted," the reality is that this type of performance has become expected from James at this stage. He's the best player in the world, and he's playing better than ever before.
He's also showing leadership, not only in the words he's saying, but the team activities he's organizing, most recently the rollicking rendition of the Harlem Shake.
This was how he puts things in perspective after the 15th win:
Any time you get an opportunity set a record, it's great for the organization and the guys involved But we want to keep going. We want to keep winning each game by itself. We don't talk about the streak, we just go to the next game and play it out. We look forward to the next one.
As does anyone watching him lately.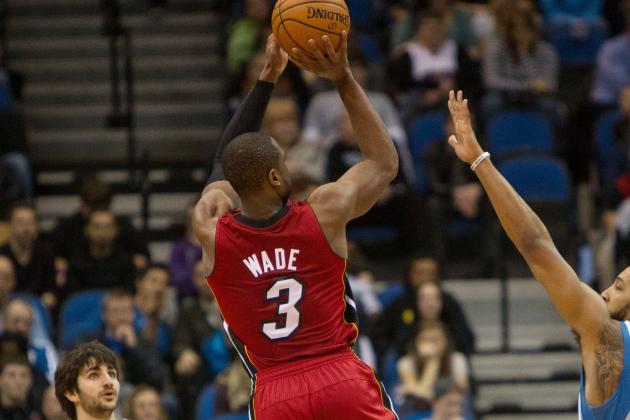 Brace Hemmelgarn-USA TODAY Sports
Reports of Dwyane Wade's demise have proven premature.
The sacrifices that Dwyane Wade has made—to play with LeBron James—aren't measured merely in shots.
They play out in terms of acclaim and accolades as well.
So it wasn't a surprise that, on this rare time that James did not win Eastern Conference Player of the Week, Wade lost out to a player at his own position (Milwaukee's Monta Ellis) who actually posted slightly inferior statistics.
Apparently, the decision-makers had Miami Heat overload.
It's likely that, no matter what Wade does, he will be working in James's shadow, something James noted recently when speaking about how everyone—even his nine-time All-Star sidekick—is sometimes overlooked.
He shouldn't be in relation to the Heat's 15-month streak, however, because his ever-improving performance has been the biggest difference in the Heat since the start of the season.
During the streak, he's averaging 24.5 points on 54.7 percent shooting, with 6.2 rebounds and 6.2 assists.
In the clearest sign of his health, he's shooting even better (56.3 percent) in the second halves and overtimes of those games, and Miami is a plus-137 with him on the floor.
"Early in the year, it was a bit tough, trying to get back into it, we maybe didn't have the focus that we needed," Wade said. "Now we're at the point we're locking in, we know what we need to do."
He needs to be properly acknowledged, for his role in all this recent success.