The Complete Guide to Dallas Cowboys Free Agency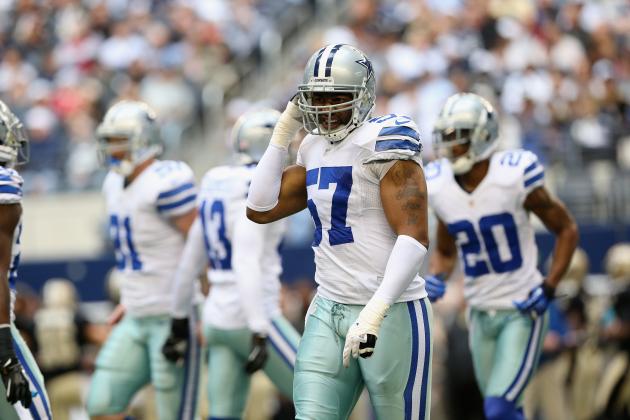 Ronald Martinez/Getty Images

Defensive transitions, another 8-8 season without a playoff berth and the always-present "win now" atmosphere in Dallas all adds up to the Cowboys having a hefty laundry list to take care of before the 2013 season kicks off.
Unlike last offseason, however, don't expect Jerry Jones and company to be snagging Brandon Carr-caliber players left and right. The Cowboys are going to be bargain-shopping this free-agency period.
Here's a breakdown of Dallas' situation and outlook this free-agency period.
Begin Slideshow

»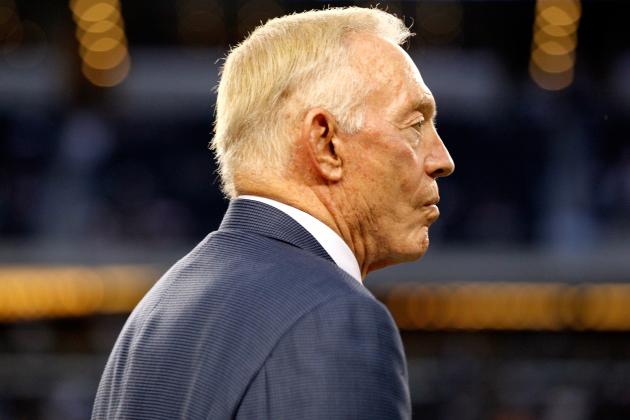 Tom Pennington/Getty Images

The Cowboys were $18 million over the salary cap as recently as Feb. 14 and are currently a little over $5 million over, according to Sportrac. Releasing safety Gerald Sensabaugh on March 4 and restructuring DeMarcus Ware's contract on Feb. 28 helps, but the 'Boys still have a ways to go before getting under that magic cap number.
Dallas and Tony Romo are still working toward a contract extension, with the quarterback's current deal counting almost $19 million against the 2013 cap. Brandon George of the Dallas Morning News believes that the new deal could be struck sometime this month, and that deal could bring Romo's cap hit down by 50 percent.
Jerry Jones told George that he'd like No. 9 to wear the star on his helmet for the rest of his career, saying: "That mean's we've had some success."
And don't forget that the NFL handed the Cowboys a nice $5 million salary-cap penalty for playing over the cap in the uncapped 2010 season.
The Cowboys are strapped by the NFL salary cap this offseason and will have to plan accordingly in order to better the team yet stay under that number.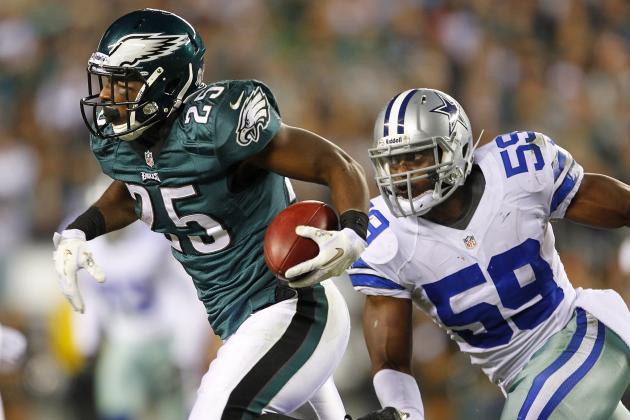 Rich Schultz/Getty Images

The Cowboys have a long list of free agents, but the most important break down to the following:
| | | |
| --- | --- | --- |
| Position | Player | Type of Free Agent |
| CB | Mike Jenkins | Unrestricted |
| RB | Felix Jones | Unrestricted |
| DE | Victor Butler | Unrestricted |
| CB | Danny McCray | Restricted |
| WR | Kevin Ogletree | Unrestricted |
Jones and Ogletree are likely out of Dallas due to mediocre seasons the last two years. McCray will likely stay with the team since his contract won't break the bank by any means. He was also adequate at strong safety after Barry Church was lost for the season to injury.
It'll be interesting to see if Dallas tries to re-sign Victor Butler, who has been a solid contributor for the team for years now. Like McCray, the defensive end won't put a dent in Jerry Jones' wallet. His status will likely be determined by whether Monte Kiffin wants him in his 4-3 scheme or not.
The entire list of Cowboys free agents is available at Sportrac.com.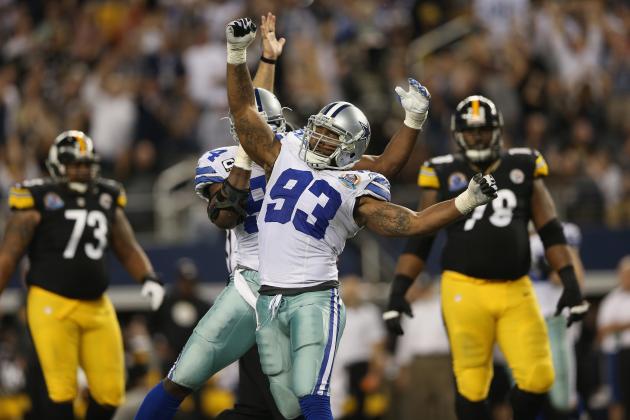 Ronald Martinez/Getty Images

For the second consecutive season, the Dallas Cowboys decided to use their franchise tag on Anthony Spencer. Jordan Woy, Spencer's agent, tweeted out the news on March 4.
Dallas Cowboys will franchise tag Anthony Spencer for 2nd year in a row. We will work on long term deal.

— Jordan Woy (@JordanWoy) March 4, 2013
The Cowboys could hold on to Spencer and work on that long-term deal. They could also deal him at a time where the price tag for his services couldn't be higher, as NFL.com's Ian Rappoport said on NFL Total Access.
With a $10.6 million contract and Spencer coming off a Pro Bowl year, it's not surprising Rappoport heard from a team source that the 'Boys would be open to moving him for the right price.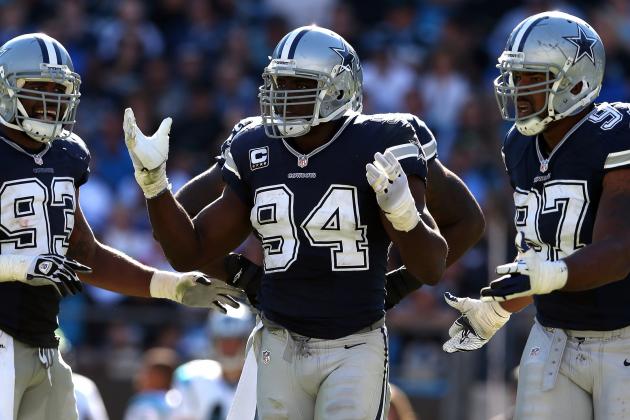 Streeter Lecka/Getty Images

Aside from DeMarcus Ware restructuring and technically re-signing his contract and center Phil Costa inking a two-year deal (according to ESPN), Dallas has been quiet on this front.
This could easily change within the next few weeks, however, with the Cowboys currently working on re-signing Tony Romo to a longer deal that's much more cap-friendly.
It would also be shocking to see unrestricted free agent role players like Charlie Peprah or Ernie Sims not re-signed. Both players filled in well for the Cowboys' injury-riddled defense in 2012 and would be nice re-signings to add depth to the safety and linebacker positions.
Other than a few cheap re-signings and restructuring the deals of already existing contracts, don't expect Dallas to be running out to pay a whole lot of its free agents.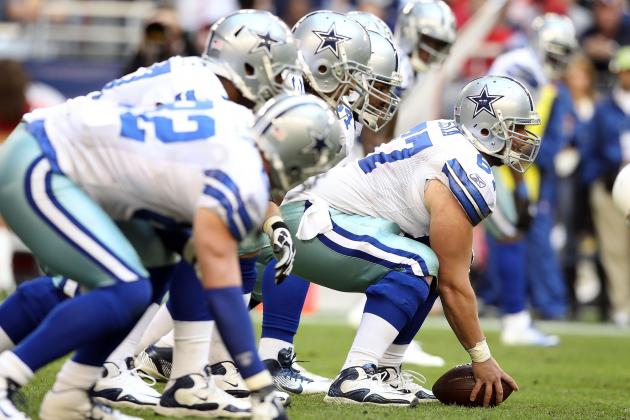 Christian Petersen/Getty Images

If you're a Cowboys fan who caught any of the team's 16 games this season, then you know offensive line is a big need this offseason.
Quarterback Tony Romo was on the run more than ever in his career in 2012, and Dallas needs two starting guards who can stop their assignments—something Nate Livings and Mackenzy Bernadeau failed to do last year.
With the salary-cap problems, the team might be forced to roll out both players again in 2013, however, and focus on this need solely in the draft.
Another need for America's Team can be found in the secondary, where Gerald Sensabaugh used to play. The Cowboys are now dangerously thin at safety if they don't re-sign Charlie Peprah. The team should look for a veteran to plug right in and take Sensabaugh's old spot.
With the switch to the 4-3 defense coming this offseason as well, Monte Kiffin will be looking for another defensive tackle to line up inside with Jay Ratliff. This is arguably the team's second-biggest need heading into the free-agency period with a few suitable veterans on the market.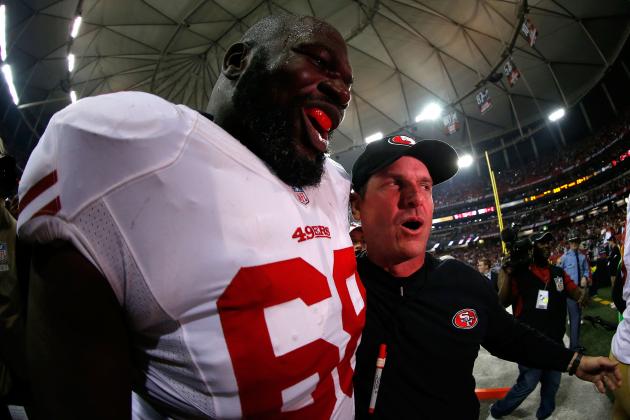 Chris Graythen/Getty Images

The Cowboys are familiar with the work of big man Leonard Davis, considering he was a member of the team from 2007-2011.
Davis made the Pro Bowl his first season wearing the star in 2007 and was a reliable blocker during his time with Dallas and over his career. His issue has always been with his mind more than his brawn, as he tends to draw too many false starts or holding penalties.
The Cowboys cut Davis for salary-cap reasons, but with his price tag much cheaper than it once was, he could be a great option for his former team. It's debatable that the old Dallas offensive line with Davis, Marc Colombo and Kyle Kosier was more effective than the 2012 bunch.
Assuming that's a valid statement, it'd be smart to bring in a guard who knows the Dallas system and coaches rather than trying to stick with the same cast from last season at the position.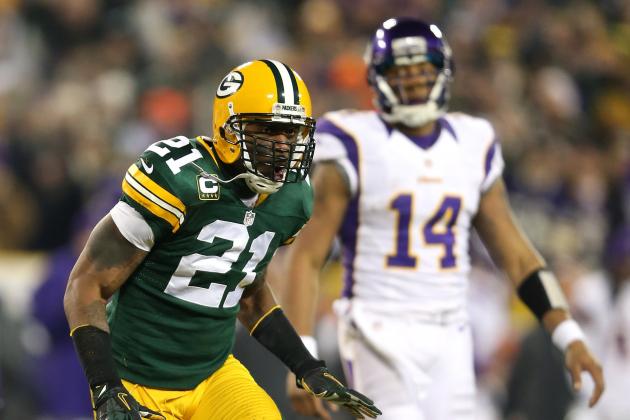 Andy Lyons/Getty Images

Charles Woodson only has so many seasons left in the NFL at age 36, which means he won't be signing any long-term or big-money contracts this offseason.
Dallas is in need of a veteran presence at the safety position, and there's few better in the game even at his age than the future Hall of Famer Woodson. With Ed Reed also on the market at the safety position, Woodson will garner less money and that might be enough to put him in Dallas' price range.
It would be a huge signing for the Cowboys if they could lure someone with the leadership and skills of Woodson to Big D. The move would also give the team time to develop a safety if one was drafted either in 2013 or 2014, which is likely to happen.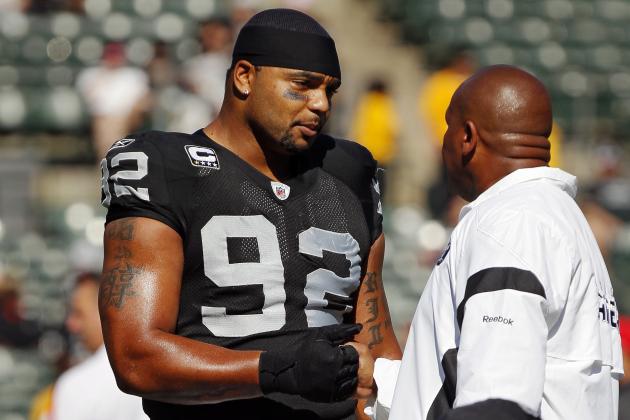 Brian Bahr/Getty Images

A great option to help Jay Ratliff clog up the inside at defensive tackle would be multiple-time Super Bowl champion and Pro Bowler Richard Seymour.
Like many greats who have gone to the Black Hole in Oakland, Seymour has seen more losses than he probably would like to recently in his career.
His name has been floating around the NFL for a long while now due to his success in New England, but he's only 33 years old. That's not exactly young, but that does mean Seymour has a few solid years left in his tank.
The seven-time Pro Bowler would be another great bargain basement kind of signing that would benefit the team's 4-3 switch. Seymour is well versed in this style of defense and would be a great character to have in the locker room for the younger Cowboys.
Considering the cap situation for Dallas this offseason and the need to draft some young talent, Seymour, Woodson and Davis would be great stopgap signings.