UCLA Basketball: 5 Keys to Peaking in the Postseason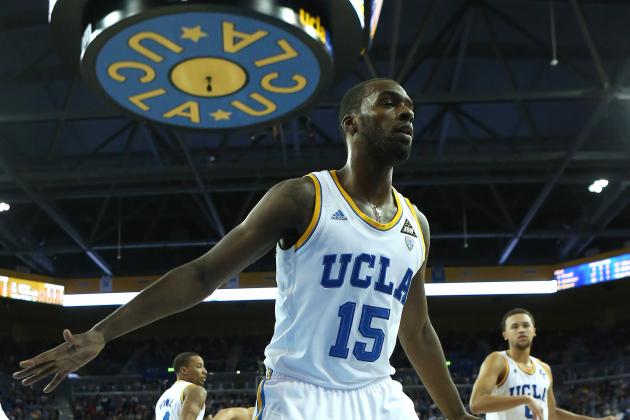 Stephen Dunn/Getty Images

It is amazing, the calendar has again rolled over to March, that most bewildering and promising of months. There is more snow hung in the trees and covering the ground here in Chicago than there has been for the entire ten weeks of winter preceding it, and a fresh white blanket of the stuff is forecasted to fall tomorrow.
But the weather does not change reality in the least—the sun is longer and higher in the sky, and spring is just less than three weeks away—and with that season of new life comes, like clockwork, the yearly pageantry of sudden death tournament basketball.
These UCLA Bruins are going to get their chance to attack in this year's NCAA tournament, and they have a team that can hold its own in certain formidable ways.
These slides propose to show how the season might reach for this group its best conclusion, and how these Bruins can be ready to send up their best shot when the only way to extend the season is to win.
Begin Slideshow

»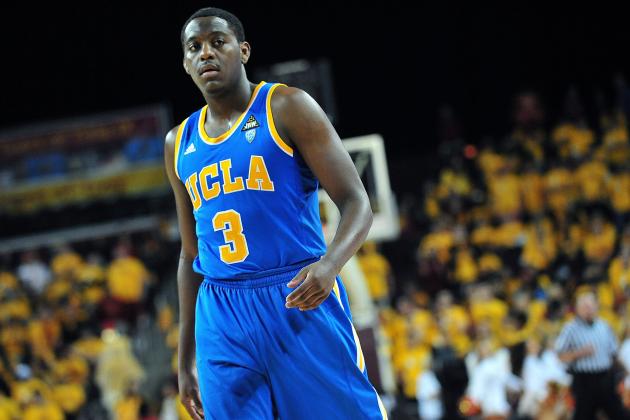 Gary A. Vasquez-USA TODAY Sports

The Bruins have to haul themselves out to the rolling wheat fields of eastern Washington to play the Washington State Cougars in Pullman, and then to the pristine mountain-shadowed perfection of Peugeot Sound and Seattle to scrap with the Washington Huskies. That is where their regular season will end.
A slip-up in Pullman is not likely, with the Cougars 2-14 and stuck at the bottom of the Pac-12. UCLA, under Ben Howland, has been dominant in Beasley Coliseum, running a 9-0 record back to 2004.
But coming off a big high after sweeping the preseason favorite in Arizona on Saturday night in Los Angeles, this is the kind of dangerous trap game where a young basketball team can walk carelessly into a fight with the home team laying low in the weeds and nothing to lose.
The trip into Seattle is different in every way. The Bruins are 1-8 since 2004 at Hec Edmundson Pavilion, which is more of a Wolf Den for the Huskies than anything else. Washington has won 83.6 percent of its games at home since 2007 and beat all three of UCLA's Final Four teams there going back to 2006.
This is the best opportunity the Bruins have had in years to get a win in Seattle, with Washington 8-8 in conference and 16-13 overall—though still 10-6 at home. The Huskies top four scorers are juniors and seniors, but the show hasn't come together for them and a tournament appearance is a long shot at this point.
These Washington players have never lost to UCLA at home, and the Bruins can count on facing senior-led Washington's best, wiliest game on Saturday afternoon.
Assuming the coaches have them back up and ready to go physically and mentally, it will be the players who get it done: senior leadership from Larry Drew II, that grinding, relentless scoring from Shabazz Muhammad, confident playmaking from Kyle Anderson and everyone else filling their roles.
It is not absolutely critical that UCLA win both of these games, but if they do, there is a chance for an outright conference championship if Oregon falls down out in the Rocky Mountains against Utah or Colorado. Beyond that, there is the belief a team can instill in itself from playing smart, gritty, tough basketball in an arena hostile to every move it makes.
Over the course of the year, this UCLA team has made itself into something; there are identifiable attributes and characteristic ways it plays when it wins.
There are two regular-season games and the conference tournament to make that identity as perfect as it can be—an identity to go with as far as it will take them.
These Bruins are a fast-breaking, ball-secure, ball-sharing, shot-shooting, point-scoring squad.
Their offensive tempo is the 25th fastest in the country and No. 1 in the Pac-12. UCLA shoots the most shots, makes the most shots and carries the highest field-goal percentage in the league at 46.3.
The team has the most assists per game in conference at 17.2, which is fifth best nationally. The assist-to-turnover ratio is 1.52, fourth best in the country and tops in the league.
There are also two critical role players off the bench in David Wear and Norman Powell to keep securely in the orbit of what this team is doing. Powell—the big-energy, big-plays-at-both-ends guy—had another highlight-reel facial dunk against Arizona (that's the video at the top of the page). It might have been the most unforgettable play of the game.
Wear had 10 points and nine rebounds that were critical in the five-point, 74-69 win.
Both Wear and Powell play a little more than 21 minutes a night, and each must make an impact now and until it ends for this team to go as far as it can go.
Tony Parker, the only other bench contributor, played nicely when Travis Wear was out, but Parker is being brought along slowly and for good reason—he is not quite ready physically or mentally to steadily compete and be considered reliabe at this level in this system.
If he gets his chances, he knows what to do: bang hard on both windows and in the paint, move his feet on his hedges, set big, well anchored screens, rebound and score if he gets the ball around the rim.
Parker is steadfastly improving. He will be much more a part of this conversation next year.
The rest of this year, the Bruins needs to settle in and play their style of game to the best of their abilities. What they have created for themselves could be enough to win their own share of the glory.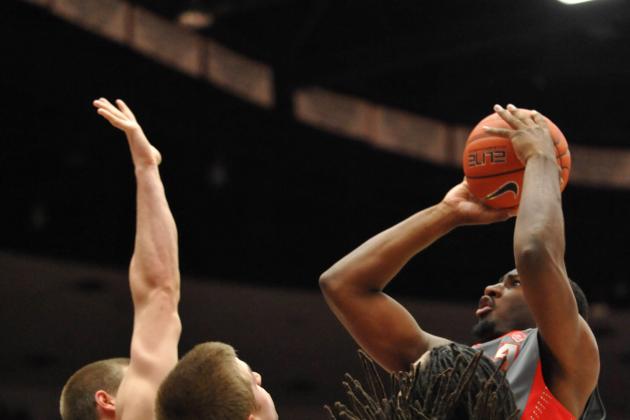 Chris Morrison-USA TODAY Sports

On the opposite side of the gilded offensive identity has been a tarnished reputation for playing first poor, then mediocre defense, giving up too many uncontested shots, surrendering copious offensive rebounds and allowing too many points.
UCLA is seventh in the Pac-12 in field goal defense, with opponents shooting 42 percent a game, and second to last in the league in points, allowing opponents to score 69 a game.
Their defensive rebounding percentage is last in the conference at 66.9 percent. However, during the current four-game winning streak, UCLA has been -16 in rebounding margin, an average of only four boards a night, with several flurries surrendered late in games as the opponent heaved shots in desperation skewing the numbers slightly.
But "reputation is what others perceive you to be, character is who you are," as John Wooden liked to say it.
This team, from the Wear twins on the defensive window, to Shabazz Muhammad, Jordan Adams and Kyle Anderson on the perimeter and post, has displayed the personal character it takes to improve both as individual and team defenders within Coach Howland's advanced scheme.
The team's defensive performance—especially in terms of pure effort—has gone from dangerously low to good enough to win games in the post-season. The level of execution has certainly increased, but it is also a mentality that has hardened as the trials have grown more difficult and as the stakes have been raised.
Larry Drew II has played stiff, energetic defense the entire season and ought to be recognized for it. He, along with Anderson and Adams, are why UCLA is second in the Pac-12 at 8.2 steals per game.
This weekend is the test, after pulling even in the conference race and winning two clutch, emotional games at home, will this group put the lash to themselves and burn up whatever is left to keep their opponents off the window and scoreboard in their own gyms?
If they're up to it, the Bruins should touch down in sunny Los Angeles having done everything they could do to win the school's 41st conference championship. There will also be that peace of mind—as Wooden liked to say it—which is the result of self-satisfaction in knowing they did their best to become the best they were capable of becoming.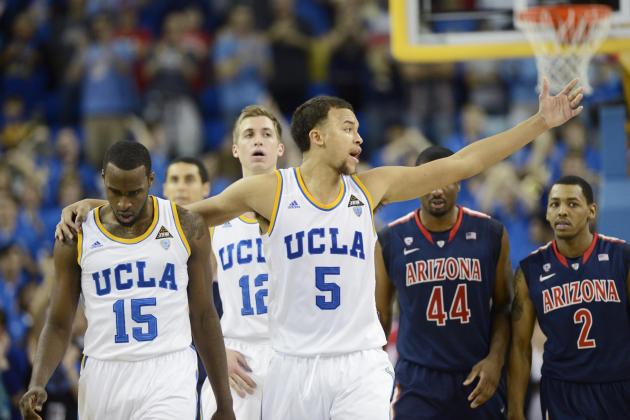 Richard Mackson-USA TODAY Sports

Conference tournaments are technically part of the postseason, but for the purpose of this piece—getting ready to peak when it is win or go home—the NCAA Tournament is the only one that really matters.
Some coaches don't like playing in conference tournaments. Lute Olsen was vocal about his indifference—if not outright hostility toward them—while he was at Arizona.
Other coaches, like Jim Calhoun at UConn, framed for his teams the Big East tournament at Madison Square Garden as the ultimate big-stage brawl on the eve of March Madness.
For this UCLA group, I think the conference tournament is a tremendous opportunity.
Being freshman-led in so many ways, but also with upperclassmen in the Wear twins and Larry Drew II who have minuscule NCAA tournament experience, the Pac-12 tournament could be a crucial trial run for that urgent, no more chances mindset that gives you 40 minutes of focused intensity in the face of a season ending loss.
Not only would winning the conference tournament improve the Bruins' NCAA seed, it would lend them that confident swagger that comes from knowing that not only were they the league's best team, they proved it to millions under the bright lights in Las Vegas.
Of course, losing early there does not necessarily matter—it may flatline the team's tournament seed—but not much else. Back in 2007, UCLA lost the final regular-season game of the year, 61-51, to Washington in Seattle, then got beaten by Cal, 76-69, in overtime of the first round of the conference tournament in Los Angeles.
That team "fell" to a No. 2 seed in the NCAAs, but beat Weber State, Indiana and Pitt before crushing No. 1 seed Kansas in the West Regional final and heading to the Final Four in Atlanta.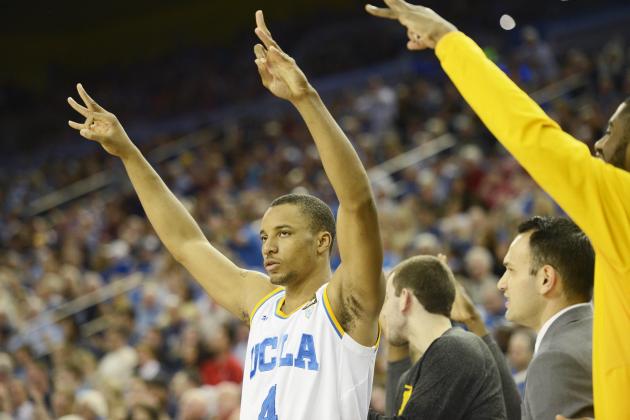 Richard Mackson-USA TODAY Sports

This is it. This is everything Shabazz Muhammad, Kyle Anderson, Jordan Adams and Tony Parker signed up for when they chose to attend UCLA together—an opportunity to win a conference crown and make an NCAA championship run.
When the Wear twins and Larry Drew II left Chapel Hill, N.C., and returned home to Southern California, the goal was to take UCLA to a 12th national championship and hang a banner of their own from the augustly bunted rafters inside Pauley Pavilion.
It is the same for Norman Powell, and every bench and practice player on the roster—a chance in March to don the true blue and gold with the glitziest four-letter championship tradition spangled across the front of the jersey.
They have done everything they could, played with heart and determination and all the skill and endurance they could develop to get to this point. Now, it's theirs to do what they can with.
It is that sacrifice, those months of practice, the heat of games and the pressure from the media and fans that has given whatever steel this team has its strength.
In the final two regular-season games, and the conference tournament, this squad should play loose— because they are playing for themselves and each other—for it is their team and ultimately their legacy that is going to be placed in the balance for judgement.