Philadelphia Phillies ST Stock Watch: Which Players Are on Fire and Slumping?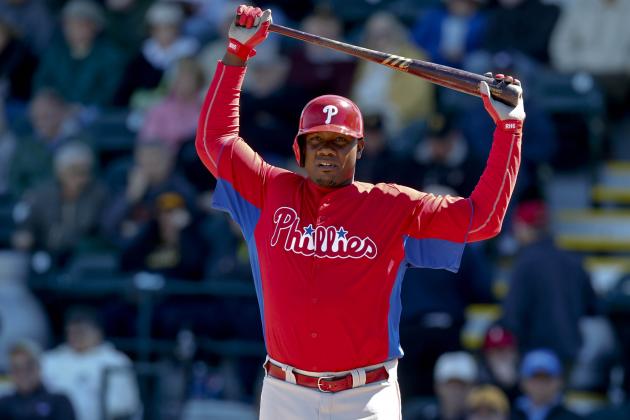 Derick Hingle-USA TODAY Sports

With Opening Day less than a month away and a full week of spring training games in the books, the Philadelphia Phillies' roster is taking shape.
Few spots are actually up for grabs on the Opening Day roster, but players are still able to position themselves for early season call-ups.
As for the players already projected to make the Opening Day roster, they must now prove that they are progressing towards being ready for Game No. 1, or risk losing their grip on a roster spot as spring training progresses.
So far players such as Ryan Howard and Domonic Brown are giving fans a glimpse as to what the middle of the Phillies' lineup may look like this season.
At the same time, players such as Jonathan Papelbon and Jeremy Horst are serving as reminders that spring training is still used for working out the kinks.
Plenty of time still exists, but each poor performance from one player allows another to improve his stock.
This list features players that had high chances of making the major league roster prior to the start of spring training.
Spring training statistics may not matter once the regular season begins, but they give an indication as to how players are progressing towards Opening Day.
Here is the Phillies' stock watch for players that are either on fire or slumping.
Begin Slideshow

»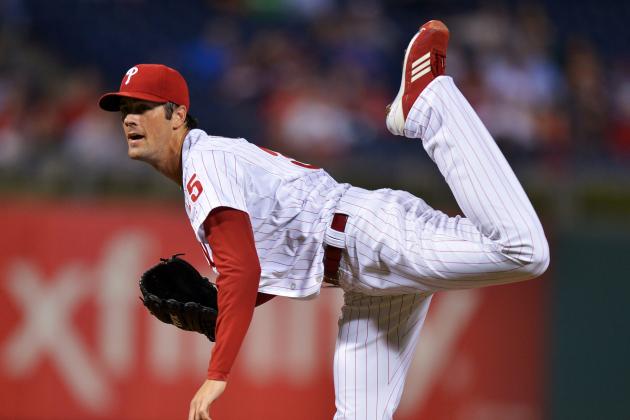 Drew Hallowell/Getty Images

If the Phillies are leaning towards making Cole Hamels the team's Opening Day starter, they certainly are not disappointed with his play early on this spring.
In two spring starts, Hamels has six strikeouts in five innings and has yet to allow an earned run.
Additionally, Hamels has not walked a batter yet this spring.
Every pitcher needs time during spring training to build up endurance and velocity, and to fine-tune each of their pitches. However, Hamels doesn't look like he's too far away from being ready.
Hamels' promising early results come on the heels of one of his best major league seasons, in which he went 17-6 with 216 strikeouts and a 3.05 ERA.
If Hamels is given the nod on Opening Day, the Phillies will have a left-handed, right-handed, left-handed trio at the front of their rotation that few other teams can match, on paper.
Hamels will have an interesting test Tuesday.
The Phillies face the Dominican Republic team that is preparing to begin play in the World Baseball Classic.
It's early, but Hamels has continued to look like a No. 1 starter.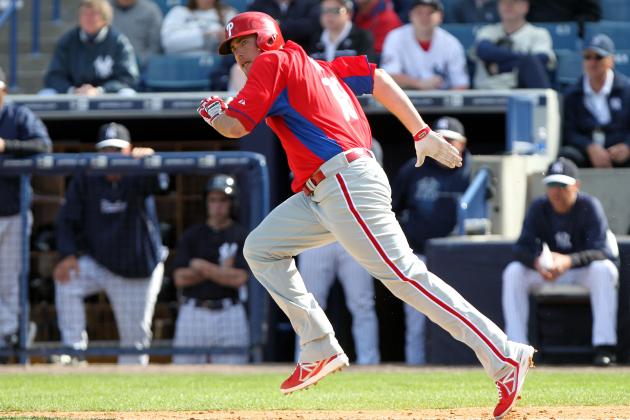 Kim Klement-USA TODAY Sports

Darin Ruf is a player who likely needs an entire spring training to win a starting job on Opening Day, and to keep his spot once Delmon Young returns.
However, the early results are leaving plenty of room for improvement.
Ruf has battled soreness in his arm, but has still managed to appear in eight games.
In that time, he is batting .130 with just three hits.
In 23 at-bats, Ruf has yet to homer, has struck out six times and has an OBP of .286 after being hit by two pitches yesterday.
The early struggles at the plate could be a result of his transition from first base to left field, as Charlie Manuel alluded to in an article by Adam Berry on the Phillies' website.
It's reasonable to think that Ruf's defense could be impacting his offense.
He has already committed two errors in left field and doesn't appear to have the strongest throwing arm. However, he did throw a runner out at home plate on a tag up against the Toronto Blue Jays this past weekend.
Ruf looks as if he will eventually be able to play at least an adequate left field, but it's the question of when he will be able to do so that must be answered this month.
If Ruf can improve on both sides of the ball, his spot on the Opening Day roster should be a lock.
However, to avoid being sent to the minor leagues once Young returns, he will need to quicken his learning process.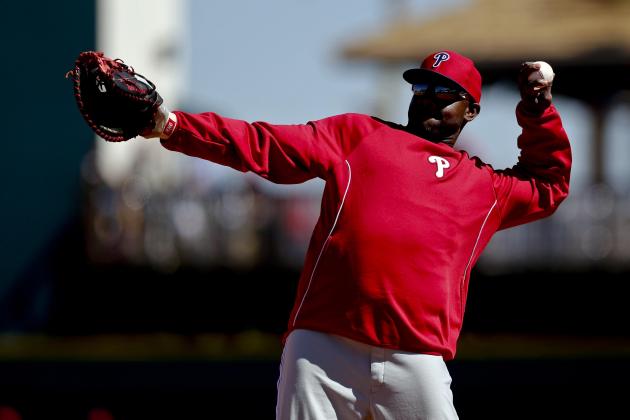 Derick Hingle-USA TODAY Sports

Ryan Howard appears to have recovered from the Achilles' injury that cost him 84 games last season.
Not only because he has played in nearly every spring training game so far, but also because he is producing at a high level.

In 27 at-bats, Howard is batting .370 with three home runs, 10 RBI and 10 hits.
Howard has also played 49 innings in the field, trailing only Domonic Brown.
The additional time spent in the field and in the lineup appears to be helping his base running ability. Last season saw his conditioning hampered by his Achilles' injury.
Howard is trying to bounce back from a season that saw him bat .219 with 14 home runs and 56 RBI in 71 games, including a .173 average against left-handers.
This spring, although he has had only 11 at-bats against left-handers, Howard is batting .455.
The Phillies realized how important Howard is to the middle of the lineup during his absence last season, but also witnessed one of his worst statistical seasons upon his return.
A healthy and productive Howard is much preferred.
It will be interesting to see if Howard continues to play every day as spring training continues, but the initial results may even be exceeding the Phillies' expectations.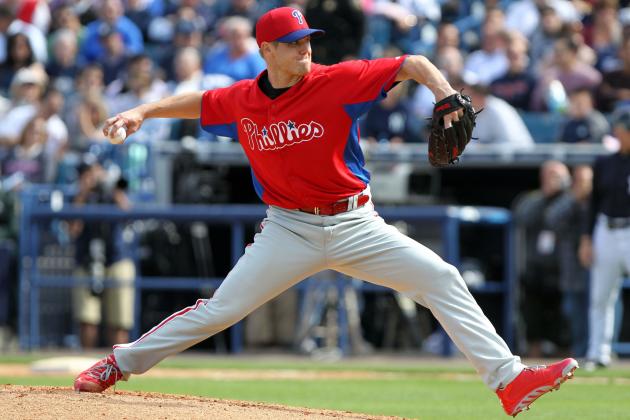 Kim Klement-USA TODAY Sports

It can be difficult for a closer to feel the same type of adrenaline rush with a four run lead in the fifth inning of a spring training game as compared to a one-run, ninth inning regular season save opportunity.
Let's hope that's the case for Jonathan Papelbon.
In two spring appearances, Papelbon has lasted only 1.2 innings, has given up eight earned runs and three walks, and has an ERA of 43.20.
Last season, Papelbon gave up his eighth earned run after pitching 26.5 innings.
The good news is that Papelbon appears healthy, and has plenty of time to settle down by Opening Day.
However, early struggles to this extent from a $50 million closer are still not preferred.
Papelbon had 38 saves in 42 chances, 92 strikeouts in 70 innings and a 2.44 ERA during a 2012 season that also earned him an All-Star selection.
Papelbon's spring ERAs have routinely exceeded his regular season marks in recent years, and he has still struck out four batters in 1.2 innings.
However, an improved performance in his next appearance would be a welcome sight.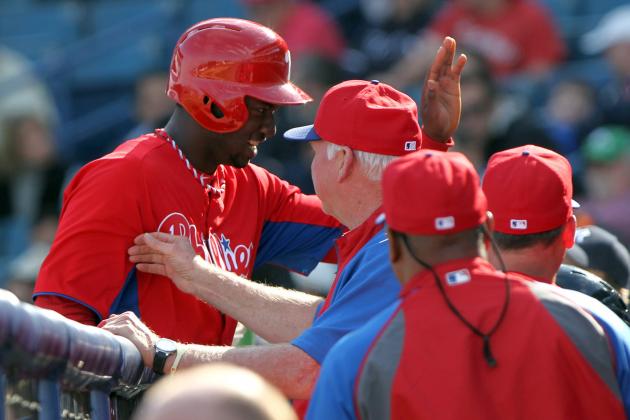 Kim Klement-USA TODAY Sports

The Phillies' most pleasant surprise this spring may be Domonic Brown, whose performances could soon officially earn him a starting job.
Brown is essentially on his third opportunity to become an everyday starter, although this is his first chance to win a job for Opening Day.
So far, he is having a great showing towards winning that Opening Day job.
Brown is tied with Ryan Howard and John Mayberry, Jr. for the most games played this spring, and is batting .348 with three home runs, 11 runs scored and a .500 OBP.
His run and walk totals currently lead the team.
The Phillies hired Wally Joyner as the team's assistant hitting coach during the offseason, and his work with Brown is providing positive early results.
In an article by Matt Gelb on Philly.com, it is noted that Joyner has adjusted Brown's grip, and wants him to use his size to his advantage.
Brown has batted .235 with 12 home runs and 58 RBI in 147 career games.
The former top prospect has not enjoyed success at the major league level, but is working towards receiving another opportunity with another year of experience under his belt.
Brown currently has played in only 32 fewer games than another former top prospect, Mike Trout.
If Brown can have anywhere near the type of season that Trout had last year, the optimism surrounding the Phillies' future, as well as their chances for success this season, will be greatly impacted.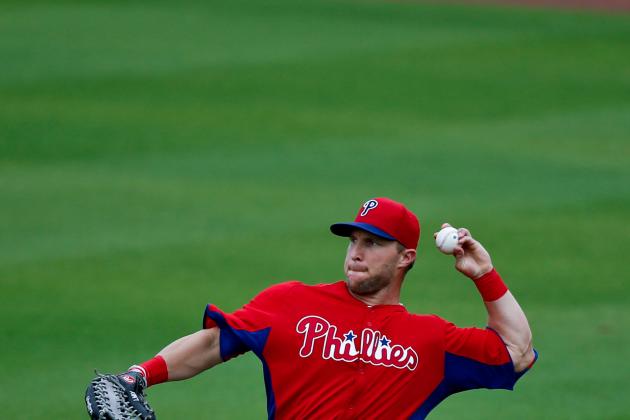 Derick Hingle-USA TODAY Sports

Laynce Nix entered spring training as a player projected to make the Opening Day roster, and serve as a left-handed bat off the bench.
However, he may soon be in jeopardy of losing his roster spot with the Phillies.
Nix projects to be the Phillies' fifth outfielder, meaning that players such as Darin Ruf (following Delmon Young's return) and Ender Inciarte are looking to take his spot in order to make and remain on the roster.
Nix has only appeared in six games this spring, but in 15 at-bats he has just one hit to give him a .067 batting average and a .176 OBP.
It's still early for a player to officially lose their spot, but an opportunity now exists for a player such as Ruf or Inciarte to make a run at the Opening Day roster.
Nix missed 63 games while on the disabled list last season, and batted .246 with three home runs and 16 RBI.
If Nix can show signs of a return to his 2011 form, when he batted .250 with 16 home runs, or 2010 when he batted .291, he will become the left-handed reserve option that the Phillies envisioned.
If not, the Phillies have other outfield and first base options, especially if Nix and his $1.35 million salary can be moved.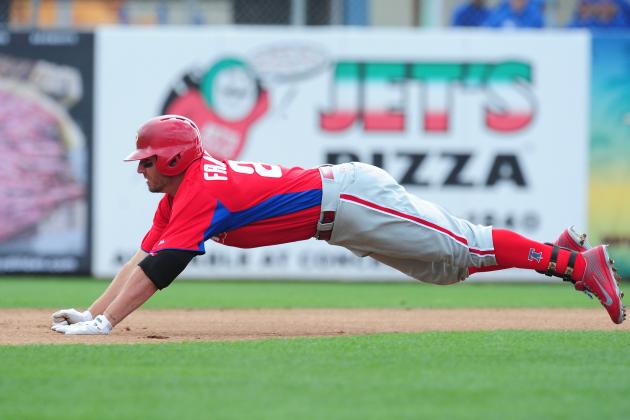 Scott Cunningham/Getty Images

Among players with at least 20 at-bats for the Phillies this spring, only Ryan Howard has a higher batting average than Kevin Frandsen.
Frandsen did not earn a major league call-up until late July last season, but appears to have inserted himself firmly into the Phillies' plans this season.
In eight games, Frandsen is batting .364 with a home run, three doubles, a triple and three RBI.
He has also played 46 innings in the field combined between first base, second base and third base.
Frandsen could be turning into the Phillies' utility infielder this season, and would give the team some versatility in the infield. If he is able to play first base, it could even make moving Laynce Nix more of an option as the spring continues.
The Phillies acquired Michael Young this offseason to take over at third base and move Frandsen into a reserve role.
However, Frandsen's early performances could put him in the lineup fairly often in order to give Young, Chase Utley and possibly Jimmy Rollins and Ryan Howard time off this season.
Frandsen batted .338 with two home runs and 14 RBI in 55 games last season.
The question surrounding him this spring is whether he can have a similar average during a 162-game season. So far, it appears that Frandsen will be able to provide a high average off the bench.
Having players capable of filling in for extended periods off the bench, especially in the infield, is crucial for the Phillies, making Frandsen a valuable option.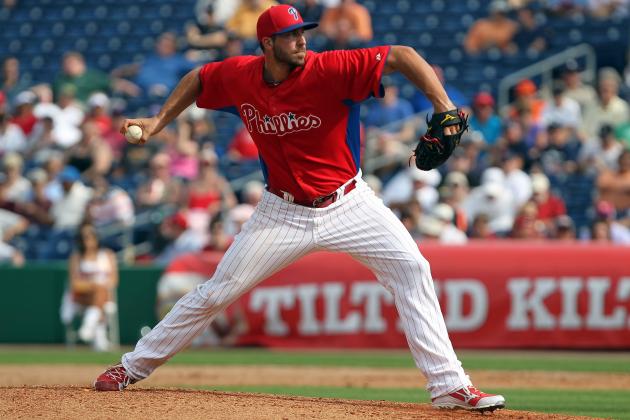 Kim Klement-USA TODAY Sports

The Phillies' bullpen battle has already had its share of twists and turns, but two of the candidates for a final roster spot have found early success.
Left-hander Jake Diekman has yet to fully squash his control issues, but he is also currently tied for the team lead in strikeouts.
In four innings, Diekman has seven strikeouts and has given up two earned runs.
Diekman has walked two batters, but his most recent performance saw him rack up five strikeouts, throwing 18 of his 20 pitches for strikes. Diekman struck out the side in his first inning of relief in the game.
Phillippe Aumont, meanwhile, does not have high strikeout totals, but has been impressive in his two spring outings.
Aumont has struck out two batters in two innings, and given up just one hit.
The Phillies will have to monitor Aumont's performances during the World Baseball Classic as he pitches for Canada, but if Michael Stutes and Justin De Fratus fail to heat up, his place on the Opening Day roster could be solidified.
Both pitchers must continue to improve and maintain any success for the duration of spring training, but both have also kept their names in the running for final bullpen spots while other relievers have faced some early struggles.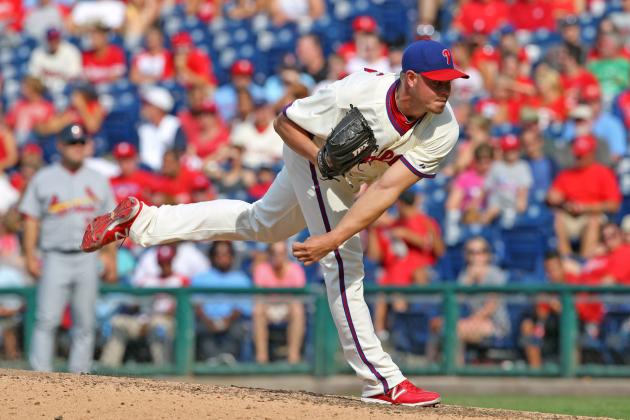 Hunter Martin/Getty Images

Justin De Fratus battled injuries last season before earning a September call-up for the second straight season.
De Fratus has little left to prove at the minor league level, but must still beat out several relievers for a spot in the Opening Day bullpen.
In three games this spring, De Fratus has walked three batters in four innings, has not recorded a strikeout and has given up five earned runs.
De Fratus can still improve and make a case for a major league roster spot, especially if he can catch fire while fellow right-hander Phillippe Aumont is out of camp.
As for left-handers, Jeremy Horst entered spring training with a great chance of joining Antonio Bastardo in the Phillies' Opening Day bullpen.
However, early results may lead to some hesitation.
Horst has allowed three home runs in 3.2 innings, has not struck out any batters and has given up seven earned runs.
A few solid outings from Horst could help him once again become a favorite for a bullpen spot.
But with a great deal of competition and few available spots, both of these pitchers could use quick turnarounds to improve their chances.