Boston Celtics head coach Doc Rivers has mixed and matched nearly every possible lineup variation he could throw together with this roster. Yet, he still has not quite found a combination that has clicked on all cylinders.
Then again, maybe he already has.
On Feb. 22 against the Phoenix Suns, Rivers made a drastic, yet necessary alteration to the lineup by choosing to rest Kevin Garnett for the night.
The Celtics responded by putting together one of their finer performances of the year, walloping the Suns 113-88—Boston's largest margin of victory since Feb. 1, 2012.
But while the victory was over a Phoenix team that was only 18-38 at the time, Rivers' starting five during the game—Avery Bradley, Courtney Lee, Paul Pierce, Jeff Green and Brandon Bass—could very well prove to be the lineup for the Celtics going forward.
As it stands, Boston's most utilized lineup since Jan. 1 has been Bradley, Lee, Pierce, Bass and Garnett. They have logged in a total of 13 games and 160 minutes on the floor together.
Here's how the two lineups compare:
Surprisingly, the lineup without Garnett has been far more efficient on both offense and defense. The only time it falls short is with a slight difference in rebounding and a 2.9 difference in assists.
Then again, one must keep in mind that the lineup has only been together for 32 minutes of floor time. The Garnett lineup has logged in over five times the minutes at 160.

However, it does at least beg the question: Why haven't we seen more of this five-man unit?
Green Machine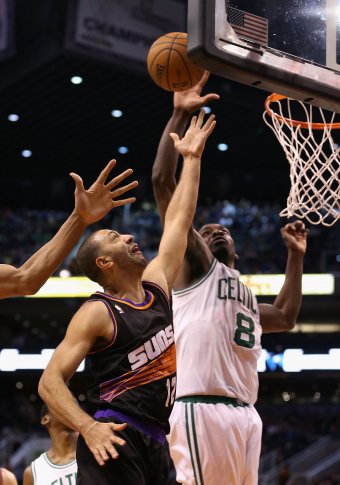 Christian Petersen/Getty Images
The biggest reason the Celtics should utilize this lineup more is because it gives Green more playing time.
After missing all of last season after undergoing heart surgery, Green got off to a rather slow start. His minutes were down, he hesitated with the ball in his hands, and he just could not find a rhythm during his scattered time on the floor.
While nobody can blame Rivers for being cautious with Green's return, it would be foolish to count the 26-year-old out.
I mean, this is a guy whose aortic root aneurysm could have killed him. You think a little slump is going to stop him?
Please.
Through Boston's first 42 games of the season, Green played 27 or more minutes in just 13 of them.
Lately, it's been another story.
In the 16 games since, Green has logged in 27 or more minutes in 13 of those contests, averaging 15.6 points and 4.6 rebounds over 32.3 minutes per game. He's also shooting 53 percent from the floor and 46.2 percent from beyond the arc.
During that Feb. 22 matchup against the Suns, Green came full circle.
Receiving his first start of the season, Green put together a masterpiece, netting 31 points in just over 39 minutes. He was a staggering 11 of 14 from the field and three of five from distance. Green also recorded seven rebounds, five blocks and four assists.
Green was dominate in every facet.
Green is finally finding his footing with the team, and nobody could be happier than the Celtics.
According to Hoopsstats.com, Boston is 16-9 when Green scores 12 or more points. The team is also 6-1 when he attempts 13 or more field-goal attempts and 9-3 when he converts on six or more of them. When Green gets others involved, recording two or more assists, the Celtics are 15-5.
Simply put, the more floor time Green receives, the better off Boston are.
All the Little Things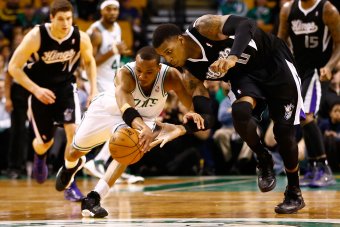 Jared Wickerham/Getty Images
Stats such as points, rebounds and assists usually get all the attention. But they are not enough to tell the whole story.
Sometimes, it's the variables that fly under the radar that make all the difference.
That's something the Green lineup can show for.

As you can see, the advantages over the Garnett lineup are significant almost across the board.
Replace Garnett's tired legs with Green's athleticism, and suddenly, the Celtics are an up-tempo squad that makes you pay dearly for your mistakes.
Not to mention, Boston suddenly seems to have a solution for its lack of offensive production inside the paint—the team averages 37.5 per game on the season.
But what this lineup does on the offensive side, they seem to do almost as well on the defensive side.
With this five-man unit, the Celtics are holding opponents to nearly no easy buckets. Whether it's a fast break or off a turnover, Boston is making the opposition work for their points.
The harassing defense of both Bradley and Lee has a lot to do with that.
Furthermore, the lineup has held opponents to just 40-percent shooting from the floor and 16.7 percent from three-point range. They also only allow a total of 76 points per game.
When you perform like this on both sides of the floor, good results are likely to come.
Summing It All Up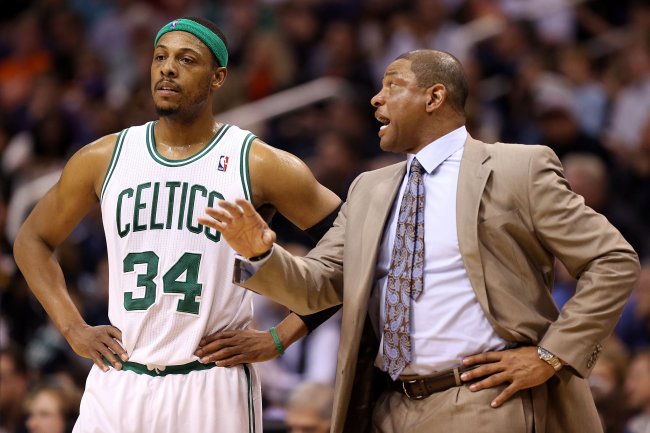 Christian Petersen/Getty Images
There's no doubt that the Green lineup's numbers look impressive, but one has to keep in mind that they are also very likely inflated.
But then again, maybe they're not.
It's no secret that these five players have helped the Celtics play some of their best basketball of the season. The Phoenix game made that quite clear.
Combining the team's top-two scoring threats—Green and Pierce—with its top-two defensive stoppers—Lee and Bradley—has all the signs of being a winning mix.
However, we'll never know for sure until we see more of them on a consistent basis.
So what are you waiting for, Doc?
All stats used in this article are taken from NBA.com's Media Central
Also check out: Blueprint for Jeff Green, Avery Bradley to Become Celts' Next Stars
For complete team coverage and everything Celtics, follow Sebastian on Facebook and on Twitter