New York Yankees: Biggest Surprises for Bombers So Far in Spring Training
Kim Klement-USA TODAY Sports

This past week, we all flipped the calendar to the month of March.
To me, that's really when the baseball season starts to get underway—especially spring training.
Games are being played every day and players are battling it out to see if they can make an impact and impression on a manager or coach.
For the New York Yankees, it's been a very different feel while the team has been down in Tampa.
Quite a bit of the roster is either recovering from a major injury (Alex Rodriguez, Derek Jeter, Curtis Granderson, Mariano Rivera) or will be participating in the World Baseball Classic (Mark Teixeira, Robinson Cano.)
So with many of the big names not participating at Yankee camp right now, fans are seeing a lot of new faces and unknown names playing.
What have been the biggest surprises so far for the Bombers while at spring training?
Begin Slideshow

»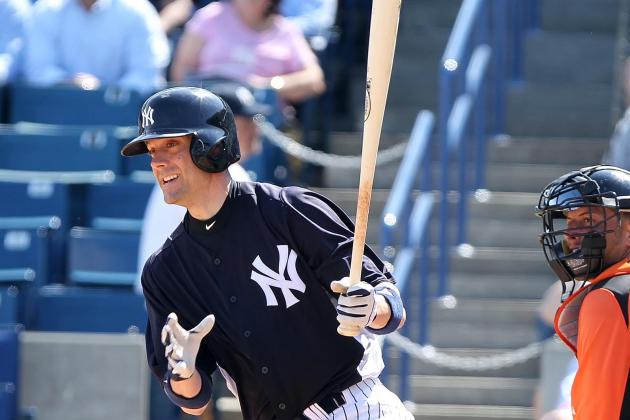 Kim Klement-USA TODAY Sports

Heading into spring training, I had penciled in Francisco Cervelli as the Yankees' potential starting catcher.
Thus far, though, it's actually Chris Stewart who is in the lead for the spot.
So far, Stewart is hitting .429 in the spring (3-for-7) with a home run and two RBI.
Cervelli is hitting just .250 (3-for-12) with no home runs and no RBI.
Defensively, Stewart is more skilled as a receiver behind the plate, which is the reason why the team demoted Cervelli last April to bring in Stewart.
What Cervelli might have had over Stewart, though, was the edge offensively, but so far, it hasn't been the case.
If Stewart continues this trend, he may end up being the Yankees starting catcher on April 1.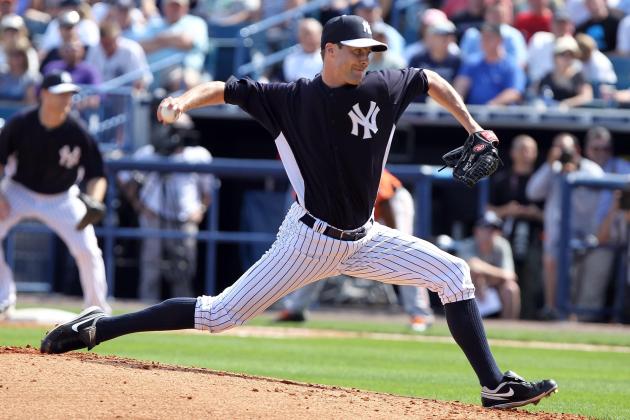 Kim Klement-USA TODAY Sports

The Yankees bullpen has been a strength of the team over the last couple of seasons.
Brian Cashman has been able to find players who other teams have cast off and who've ended up getting a chance to produce in pinstripes.
Players like Cory Wade, Clay Rapada and Cody Eppley got a chance to pitch for the Yankees in recent times and did a great job for the team.
One reliever looking for that kind of opportunity is right-hander Matt Daley.
When you look at Daley's career numbers in the three years with the Colorado Rockies, nothing jumps out at you: a 1-2 record with a 4.71 ERA in 92 appearances with 80 strikeouts in 80.1 innings.
However, he's been solid this spring for the Yankees.
In three relief appearances, Daley has pitched 2.1 innings, allowed just one hit, one walk, no runs and struck out four.
Batters are also hitting just .125 against him so far during the spring—all great numbers for the 30-year-old.
If he keeps this up for the rest of the spring, Daley could find himself making the team in 2013.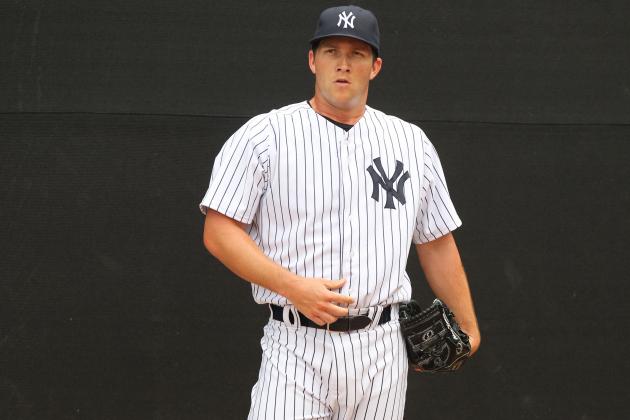 USA TODAY Sports

Last year, we got to see the pitching debut of Adam Warren, who pitched against the Chicago White Sox.
He was not impressive at all, and never got a second chance to pitch in the majors.
The 25-year-old is doing everything he can to make Joe Girardi consider giving him a second look.
In his last appearance on Sunday, Warren pitched three innings, allowed one run on one hit, walked one and struck out two.
The lone hit was a solo home run to Mike Napoli—that was it.
This spring, Warren has tossed five innings, allowed one hit, one run, walked one and struck out four with an ERA of 1.86 and batters are hitting .067 against him.
I really think Warren should be a serious candidate for the Yankees' long-reliever spot for 2013, and this spring could get him that chance.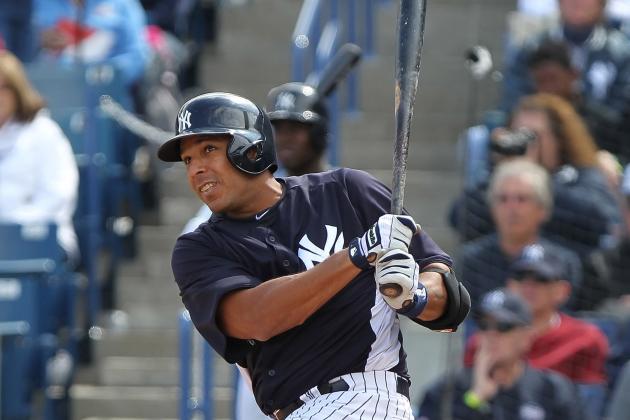 Kim Klement-USA TODAY Sports

When Curtis Granderson went down with a broken forearm last week, we all wondered who would take his spot in left field for the beginning of 2013.
With the team not willing to allow Johnny Damon to compete for a spot on the team, the Yankees are going to try to fill the void internally this spring.
Two of the competitors who could fill in for Granderson were brought in on minor league deals this winter: Juan Rivera and Matt Diaz.
Both are right-handed bats who were originally vying to get the spot that Andruw Jones vacated.
And so far, Rivera is winning the competition between the two.
In six games, Rivera is hitting .375 (6-for-16) with three doubles.
Diaz, on the other hand, has hit .231 (3-for-13) with an RBI in five games.
With Granderson out until May, I think both Diaz and Rivera will end up making the team anyway.
But Rivera may get the nod as the starting left fielder, while Diaz is the fourth outfielder.
But Diaz better step it up, because Ronnier Mustelier could giver him a run for that spot, too.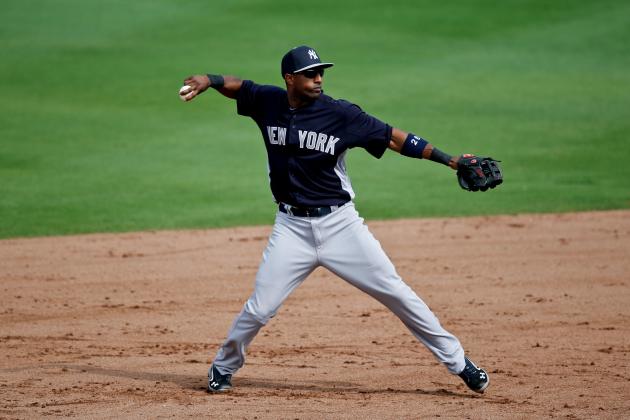 Derick Hingle-USA TODAY Sports

For four seasons, we've all waited for Eduardo Nunez to get a chance.
His defense has held him back, but his ability to swing a bat is quite decent; decent enough to be a potential everyday player.
But Brian Cashman certainly doesn't see it that way.
In a story reported in the New York Post, the Yankees GM absolutely refused to put Nunez at third base or in the outfield.
When Curtis Granderson went down with his injury, fans were hoping to see Nunez get a shot at playing the left field spot.
But the Yankees GM has no intentions of doing so.
In 2013, Nunez will continue to be the reserve utility infielder with hopes of one day taking over for Derek Jeter at shortstop.
That is unless the Yankees GM finds someone else to be the heir for Jeter at short.