Charting Arsene Wenger's Highs and Lows at Arsenal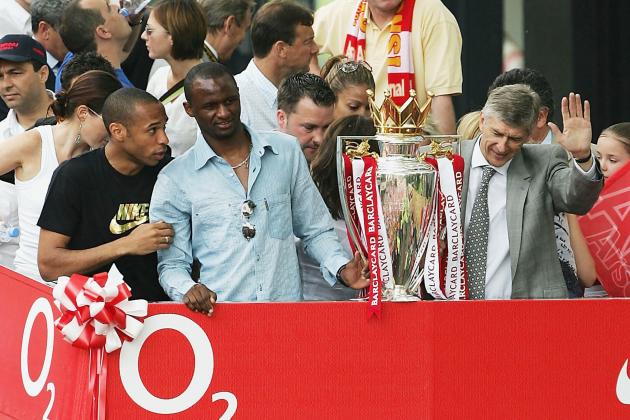 Clive Mason/Getty Images

Football is a game of opinions.
Depending on which section of the Arsenal supporter fanbase you listen to, Arsene Wenger is either a genius or a madman. Once heralded as unquestionably the greatest manager in the club's history, the Frenchman has now become a divisive figure.
In an attempt to arrive at some degree of objectivity, this article charts the various highs and lows of Wenger's time with Arsenal.
Unsurprisingly, his spell in English football can be divided into two main parts: the fist littered with silverware; the second bereft of trophies.
Begin Slideshow

»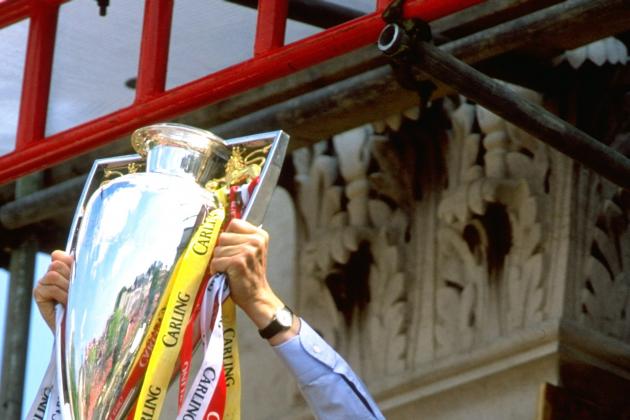 Gary M. Prior/Getty Images

After guiding Arsenal to a third-place finish in his first season with the club, Arsene Wenger didn't wait long to get his hands on some silverware.
He revolutionised training methods at the club, introducing plyometrics and psychometric testing. He changed the dieting habits of the existing English players, and supplemented them with some outstanding foreign talent.
Patrick Vieira and Emmanuel Petit arrived to shore up the midfield, while the attack was laced with the lightning speed of Nicolas Anelka and Marc Overmars.
Arsenal won nine matches in a row to clinch Wenger's first Premier League title, before beating Newcastle at Wembley to add the FA Cup to the trophy cabinet.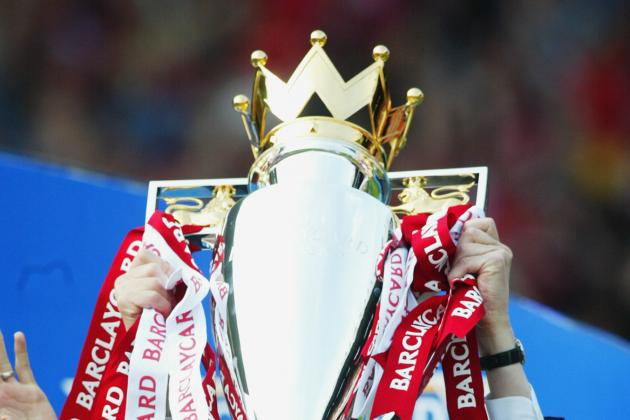 Ben Radford/Getty Images

After a couple of seasons of Manchester United dominance, Arsene Wenger's Arsenal returned to the summit of English football in 2002.
The addition of Sol Campbell on a free transfer in the summer of 2001 had given Arsenal's defence renewed athleticism and steel. Meanwhile, Thierry Henry was now settled as Nicolas Anelka's successor at centre-forward.
Robert Pires and Fredrik Ljungberg had arrived to add guile to the midfield, and Arsenal were now evolving into the slick attacking force that would define their style for a decade.
After wrapping up the Premier League, Arsenal beat Chelsea at the Milennium Stadium in the FA Cup Final.
Arsene Wenger had a second double and a place in Arsenal history.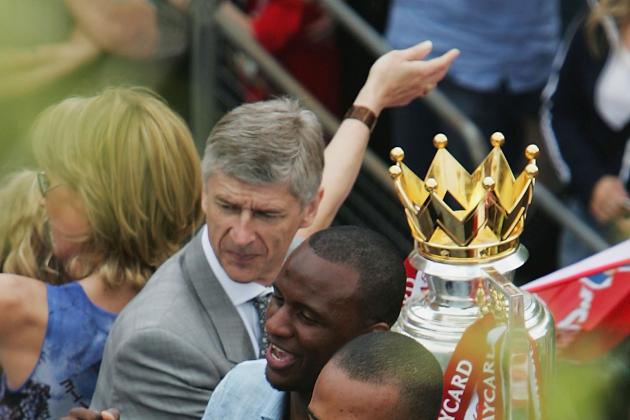 Clive Mason/Getty Images

The 2003-04 season will surely go down as Arsene Wenger's finest achievement.
In 2002, he had been widely mocked for boasting that his Arsenal side could go a season unbeaten. In 2004, they managed exactly that.
Incredibly, Arsenal finished the Premier League with 90 points and a record that read: PLD-38 W-26 D-12 L-0.
At this time, it was impossible to foresee the decline that awaited.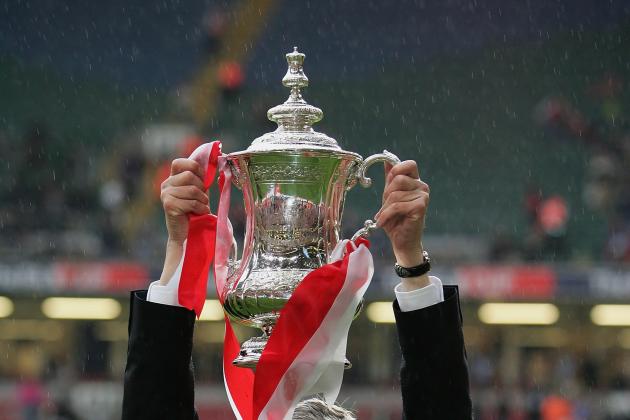 Ross Kinnaird/Getty Images

2004-05 was a season marked by the loss of Arsenal's "Invincible" tag. Defeat to Manchester United at Old Trafford halted their unbeaten run at 49.
However, Arsenal claimed the ultimate revenge when they beat United in the FA Cup Final to secure a heartwarming victory. United had been the better side on the day, but Arsenal clung on to win on penalties.
The winning kick was taken by captain Patrick Vieira. It would prove to be his last action in an Arsenal shirt. Vieira left, and with him went some of the aura that defined these great Arsene Wenger sides.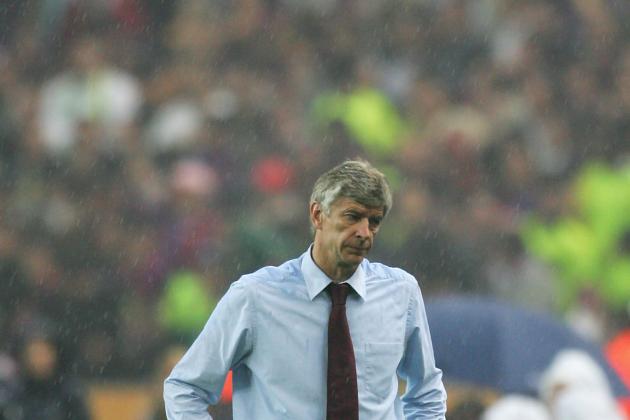 Alex Livesey/Getty Images

If Arsenal had won the Champions League in 2006, Arsene Wenger might have felt inclined to leave the club with his mission complete and his reputation intact.
Europe's major prize has long been his obsession, and 2006 was certainly his best chance to achieve it. Arsenal had endured a relatively poor league campaign but muddled their way through to the final in Paris to face Barcelona.
They took the lead through Sol Campbell but eventually succumbed to Barcelona pressure and two late goals.
Wenger's anguish was palpable.
The one saving grace was that Arsenal had managed to qualify for the Champions League at the expense of Tottenham, thanks to a Thierry Henry hat-trick against Wigan and some dodgy lasagne.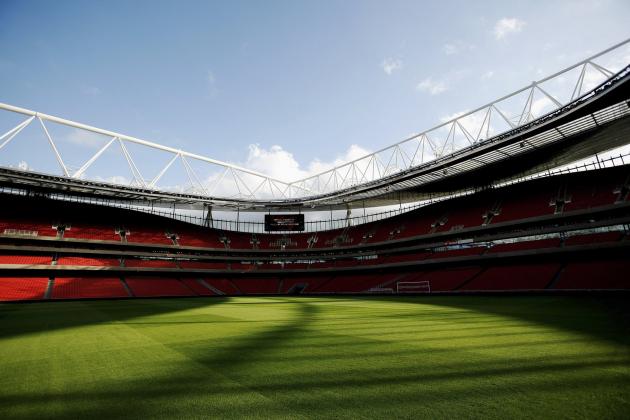 Daniel Berehulak/Getty Images

For all the trophies that he has won, Arsene Wenger may well consider the Emirates Stadium to be his finest achievement.
He was a crucial part of the stadium's development, with his eye for detail being used to ensure it was the perfect football arena. The Emirates will stand for generations as a testament to Wenger's legacy.
However, in order to pay for the stunning new stadium, Wenger was forced to radically alter his transfer policy, with disastrous results.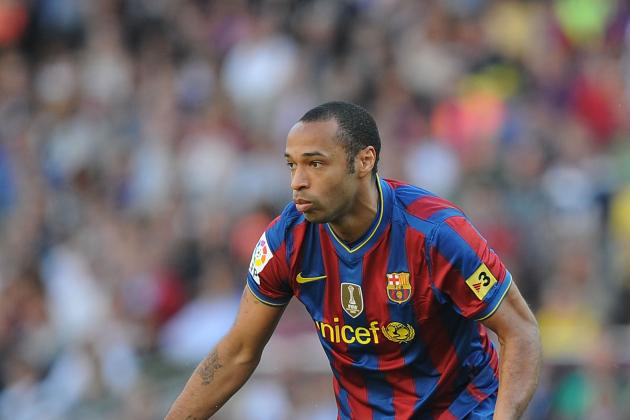 Denis Doyle/Getty Images

The period since the move to the Emirates Stadium has been defined by the loss of Arsenal's major stars.
After the Champions League Final defeat to Barcelona, Ashley Cole and Sol Campbell left for Chelsea and Portsmouth respectively. That was only the beginning.
Over the next few seasons, Arsenal fans became accustomed to seeing their heroes depart. Thierry Henry defected to Barcelona, and was later followed on that path by Alexander Hleb, Cesc Fabregas and Alex Song.
Most recently, Robin van Persie has left to join Manchester United.
Arsenal had become a selling club and since have struggled to be competitive at the elite end of European football.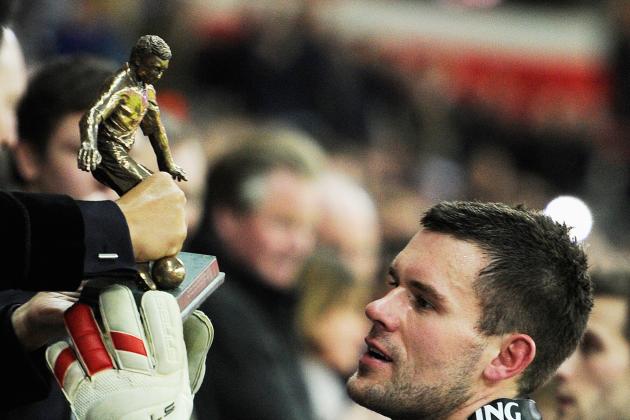 Pool/Getty Images

Throughout the barren period at Arsenal, there has been a suspicion that lifting one trophy might spark a domino effect and help the Gunners rediscover the winning habit.
Arsenal supporters hoped that day had arrived in February 2011. There was hope that victory in the League Cup Final against Birmingham at Wembley might be a catalyst to greater things.
Instead, it ended as one of the darker days of Arsene Wenger's reign, as some dreadful defending allowed Birmingham to pull off a major shock.
It is sad to think this game could be remembered as Arsene Wenger's last major final.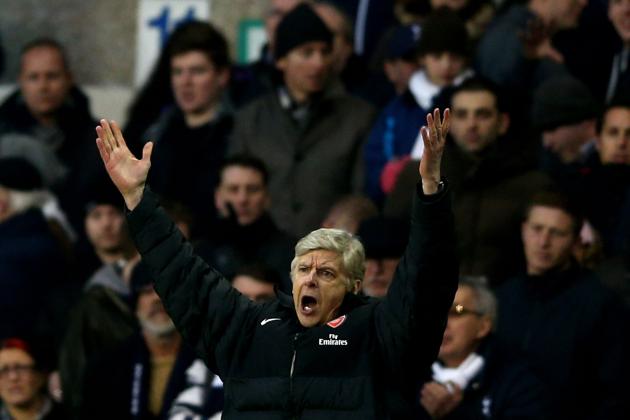 Paul Gilham/Getty Images

This season is surely the worst of Arsene Wenger's mammoth reign.
There have been two humiliating cup exits to lower-league opposition in Bradford City and Blackburn Rovers, and the trophy-less run looks set to continue barring a miracle in Munich.
Worst of all, yesterday's derby defeat to Tottenham threatens to rob Arsenal of a Champions League place. For the first time under Wenger's stewardship, the Gunners could fall out of Europe's top competition.
All is not lost. There is still time this season for things to turn around. Even beyond that, Arsene Wenger has another year to go on his contract. The Frenchman will be desperate to rescue the situation and thus his legacy.
A look at the history books suggests he has the ability to do it. Let's not write him off just yet.