Philadelphia 76ers vs. Chicago Bulls: Postgame Report Card for Chicago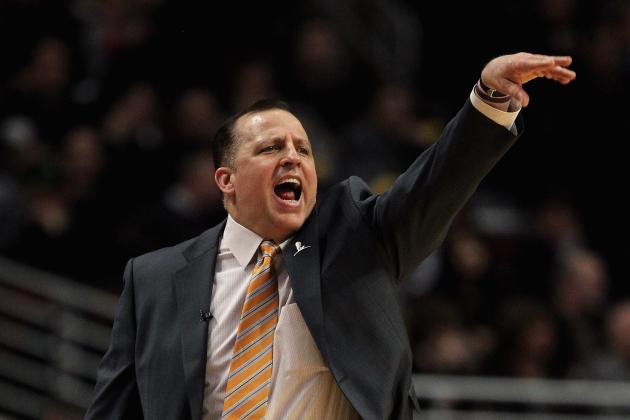 Jonathan Daniel/Getty Images

The Chicago Bulls avoided their second three-game losing streak of the Tom Thibodeau era with a 93-82 win over the Philadelphia 76ers.
Prior to the contest, Thibodeau preached the need for his team to come out with energy and intensity. Message received, as both Joakim Noah and Carlos Boozer pounded the Sixers inside, combining for 44 points and 33 rebounds.
Jrue Holiday led the Sixers with 22 points, but it was not enough to defeat a Bulls team that was in desperate need of a win.
With the victory, the Bulls improved to 33-25, but more importantly ended February on a high note, as the team had won just four of its previous 12 games prior to this contest.
Begin Slideshow

»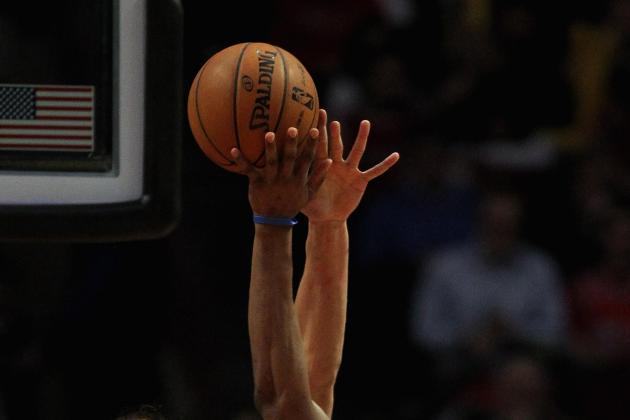 Jonathan Daniel/Getty Images

Grade: A++
There are not enough superlatives in the English language to describe Noah's contribution to this victory. The All-Star center scored 23 points, hauled in 21 rebounds, while turning away 11 shots.
In addition to those impressive numbers, Noah also had three steals in what was one of the best games of his career.
With this performance, Noah not only tied the franchise record for most blocked shots in regulation, but he also became the first player to record a 20-20 game with 10 swats since Shawn Bradley accomplished the feat in 1998.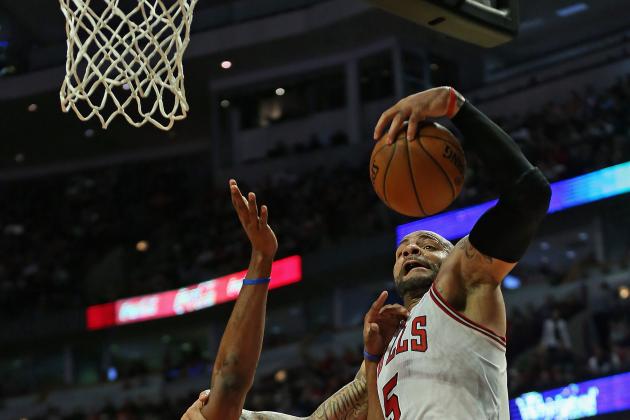 Jonathan Daniel/Getty Images

Grade: A
While most Bulls fans will focus on Noah's performance, Carlos Boozer had another solid outing, with 21 points and 12 rebounds.
What was even more impressive was that more than half of his points came from the free-throw line (11-of-12), which signifies that Boozer was taking advantage of the Sixers' lack of size.
Following the loss to the Cavaliers, I mentioned that Boozer needed to make more of an effort to play down in the low post, and that is exactly what he did in this game, allowing the Bulls to dominate inside.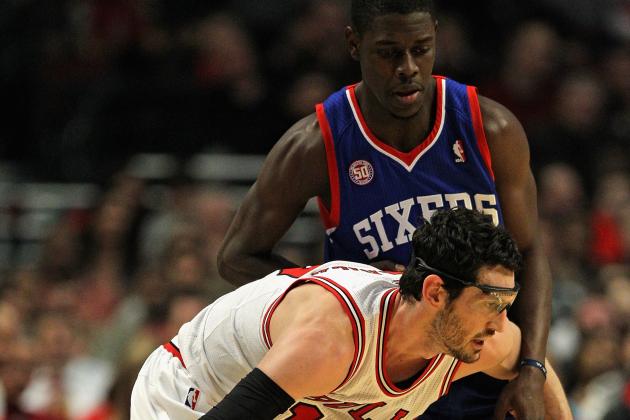 Jonathan Daniel/Getty Images

Grade: C
Kirk Hinrich is one of those players for whom stats do not always tell the entire story.
Although he did not have a great shooting night (5-for-15), he did hand out six assists, and he consistently provides stability for an offense that struggles when he is out of lineup.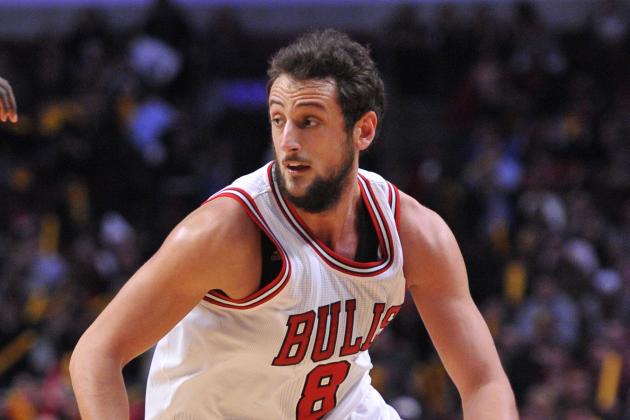 Rob Grabowski-USA TODAY Sports

Grade: C-
Rip Hamilton was a late scratch with back spasms, resulting in Belinelli's 13th start of the season.
Belinelli was not a huge factor in this game, scoring just six points (3-of-10 shooting), but he did add three rebounds and two assists.
His defense on Nick Young was solid, limiting him to just five points on 1-of-5 shooting from the floor.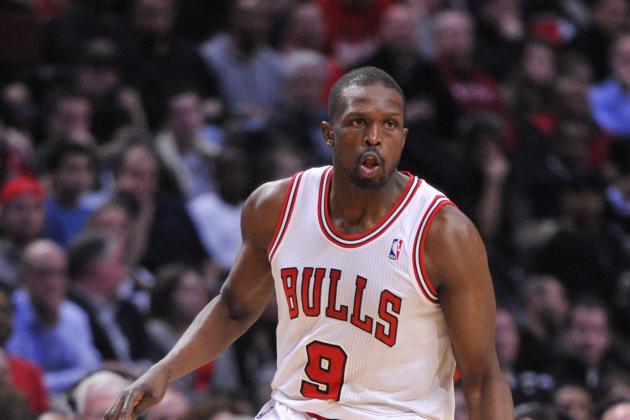 Rob Grabowski-USA TODAY Sports

Grade: B-
Luol Deng scored 12 points, but needed 14 shot attempts to do so. However, he did round out his game with eight rebounds, four assists and two blocks in 42 minutes of action.
Deng also did a good job of shadowing the Sixers' Evan Turner, holding him to just 12 points on 6-of-16 from the floor.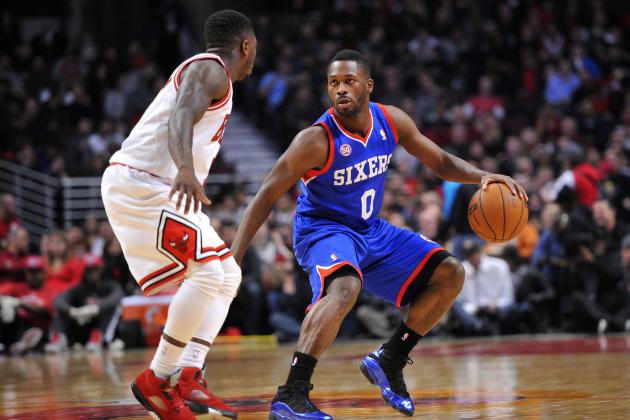 Rob Grabowski-USA TODAY Sports

Grade: C-
For the second consecutive game, the Bulls' second unit provided limited contributions.
Jimmy Butler scored five points in 21 minutes
Nate Robinson chipped in with 9 points, but connected on just three of his 11 shot attempts
Nazr Mohammed added two points and two rebounds in only three minutes of playing time.