Lakers News: Mitch Kupchak's Comment About Being Impatient Don't Add Up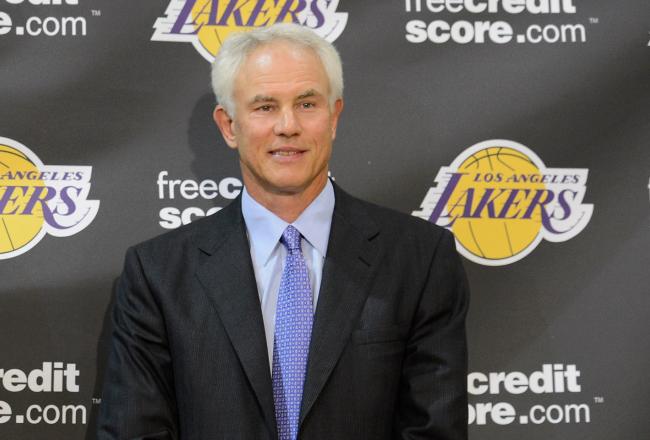 Kevork Djansezian/Getty Images
Los Angeles Lakers general manager Mitch Kupchak spoke more candidly than usual in a recent radio interview, but his comments still do not explain the perplexing decision to hire Mike D'Antoni over Phil Jackson.
Kupchak spoke with bestselling author John Feinstein on CBS Radio and discussed recently deceased Lakers owner Jerry Buss. CBS Sports' Royce Young provided the following quote from the interview:
The one thing that was a big factor is our lack of patience. When we made the changes we made in the offseason, we really did it with a two- or maybe even a three-year window, probably a two-year window to do our best and win a championship. And clearly we knew Dr. Buss was not in great health, and we were hoping for the next year or two we could put something on the court that would result in being in the hunt at the end of the year for a championship.
Kupchak suggested that Dr. Buss' failing health was a major factor in management's decision-making. It ultimately contributed to the front office propagating a win-now mentality and trusting veterans to lead the team to a championship.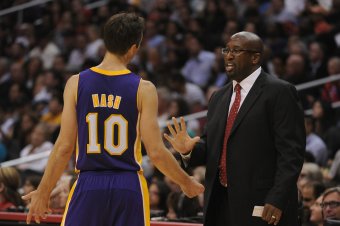 Harry How/Getty Images
It also caused Kupchak to have little patience with Mike Brown's 1-4 start, leading to a coaching change just 12 days after the season started.
The comments offered a fascinating inside look into the mindset of the Lakers' brass during one of the most unexpected seasons the franchise has ever experienced. Kupchak is often cryptic and dismissive in interviews, but in this instance, he offered genuine statements about how much Dr. Buss meant to him and the team.
Buss was a Titan of professional sports, as well as a friend and a mentor to Kupchak. The general manager's open admission that his boss' failing healthy very much affected the mindset of him and other front office employees was refreshing.
But it still doesn't explain one thing.
Impatient or not, firing Brown was the right move. Without a coherent offensive system, the Lakers had no chance at striking a balance that maximized the loaded roster's talent.
But impatient or not, hiring Mike D'Antoni was also the wrong move. In addition, it was a decision that does not fit the win-now mindset.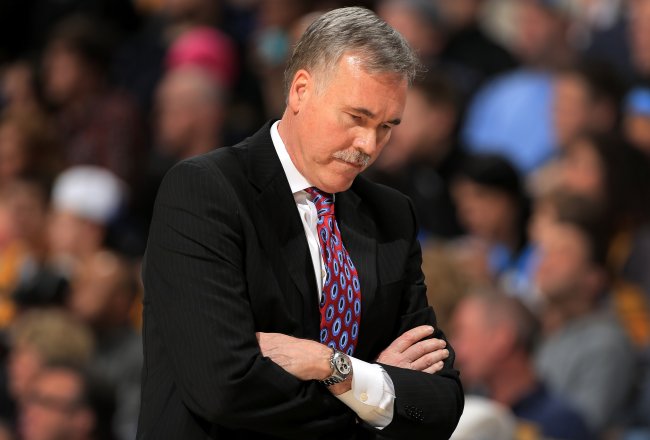 Doug Pensinger/Getty Images
D'Antoni is known for having a coherent offensive system, but the Lakers' struggles this season show that his scheme is not an ideal fit for this roster. Los Angeles has two of the NBA's best big men in Dwight Howard and Pau Gasol, but D'Antoni's offense places little emphasis on getting the ball in the post.
It was obvious from the start that it would take time for the team to figure out how to play under D'Antoni, and the growing pains may cause the unthinkable to happen, with the Lakers in danger of missing the playoffs.
If Kupchak truly wanted to put full emphasis on winning in the next two seasons, Phil Jackson was the obvious choice to replace Brown.
Where would the Lakers be if they hired Phil Jackson instead of Mike D'Antoni?
Not only is his résumé unparalleled by any coach in NBA history, but several members of this roster executed his triangle offense well enough to win a championship.
The Los Angeles Times' Mike Bresnahan details the contact between the Lakers and Jackson in the days before D'Antoni was hired, and ultimately, Jackson was not given an opportunity to officially accept of reject the job offer after requesting two days to reflect on his options.
Bresnahan notes that the decision to make D'Antoni the new coach came 30 hours after Jackson asking for a short period to think things over. Kupchak mentioned being impatient, but opting not to hold out 18 hours for a chance to rehire the greatest coach the game has ever seen is simply inexcusable.
Kupchak was using the term "impatient" to discuss the huge amount of importance the team placed on competing for a title both this year and next year, even if it meant compromising L.A.'s ability to win in the seasons after that.
With that as the mindset among management, it simply makes no sense that Jackson is not coaching the Lakers right now.
This article is
What is the duplicate article?
Why is this article offensive?
Where is this article plagiarized from?
Why is this article poorly edited?

Los Angeles Lakers: Like this team?