UCLA Basketball: 5 Keys to Beating Arizona in Pac-12 Showdown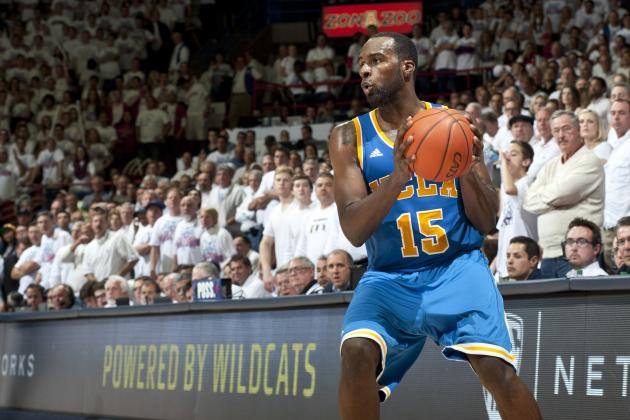 Casey Sapio-USA TODAY Sports
Shabazz Muhammad helped UCLA beat Arizona in Tucson. Will he do it again in Pauley Pavilion?
The outcome of Wednesday's Pac-12 action has further amped up the importance of UCLA's showdown against Arizona this Saturday
While the Bruins were expected to improve to 11-4 in conference play with a win over Arizona State, Arizona was not anticipated in the least to fall to USC on the road and fall a half-game behind in the conference race with an 11-5 record.
Prior to Wednesday's action, this game was tagged as important to the conference title race. With Wednesday behind us, it has now become a must-win for both teams.
Although various scenarios may play out in the two teams' conference games, the game will essentially determine which team will be crowned regular-season champion.
While UCLA has two games remaining after facing Arizona, the Wildcats only have one left, which would cause a loss to almost certainly nullify them from title contention, unless an unlikely combination of UCLA and Oregon losses and an Arizona win versus ASU were to unfold.
The Bruins are under tremendous pressure to win the game as well. While a win nears them to the conference title, a loss requires them to win both games on the road in Washington.
Arizona may be coming off an upset, and UCLA is carrying momentum after enacting revenge on ASU, but it will be no easy task for the Bruins to defeat the Wildcats.
Arizona approaches Saturday's game adamant to fend off UCLA from reaching the top of the conference. The Wildcats also have a chip on their shoulder after falling to the Bruins in a stunning upset in McKale Center in the teams' first matchup.
It's set to be a thrilling game, as UCLA heads into the teams' second matchup realizing the tremendous opportunity for it to climb one step closer to a conference title.
Begin Slideshow

»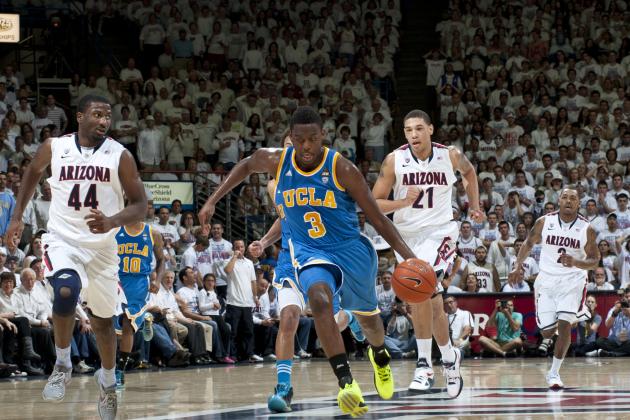 Casey Sapio-USA TODAY Sports

UCLA is a team that feeds off the energy of the initial stages of the game. Although the Bruins control their own destiny, it seems as though it plays out vice versa.
Like all their games this season, UCLA's big Pac-12 matchup against No. 11 Arizona will be determined in the first 10 minutes of the game.
While the game will ultimately be decided in 40 minutes, the Bruins will have their best chance at winning this key game in the conference race if they can get out to an early lead.
An early surge from UCLA would not only set the tone for the game, but would also put the pressure on the visiting Wildcats to perform on the road, where they have struggled this season.
The Bruins reaped the benefits of an early lead in their first matchup against Arizona, as they stunned the Wildcats with a 21-5 run to start the game, which they eventually won by an 11-point margin.
Momentum will be key in this game and UCLA needs to set the tone early on and put the pressure on Arizona in Pauley Pavilion.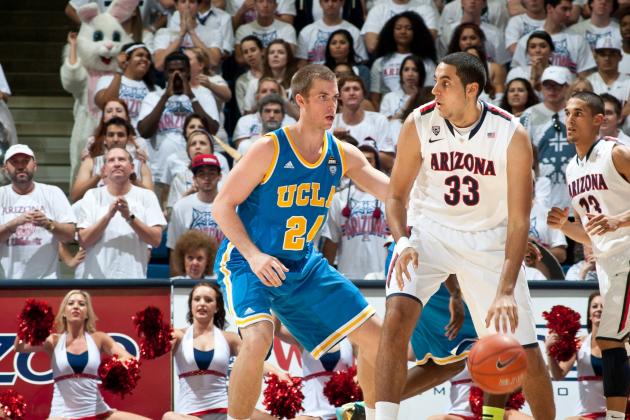 Casey Sapio-USA TODAY Sports

While it's important that the Bruins come out surging in this game, it's just as important that they preserve the energy of the first half after emerging from the locker room.
UCLA has an overarching tendency to surrender sizeable leads, which has blighted its success throughout the season.
Instead of closing out a game by continuing to build on a sizeable lead, the Bruins tend to let up and allow their opponent an opportunity to hack away at the lead and surge back into the game.
Although UCLA has grown significantly as a team throughout the season, it was revealed during its recent defeat of USC, in which it allowed the Trojans within nine points in the second half after establishing a 21-point halftime lead, that the Bruins still have trouble closing out games.
This may not be an entirely mental deficiency, as the team is likely fatigued in the second half due to its lack of depth on the bench, especially with the bench shrunk to two principal players with forward Travis Wear injured.
Nevertheless, the Bruins need to find a way to maintain intensity and momentum in the second half, regardless of whether they are winning or losing at that stage in the game.
Arizona is a quick team with a high-powered offense that will make UCLA pay if it becomes sluggish at any point, let alone in the late stages of the game.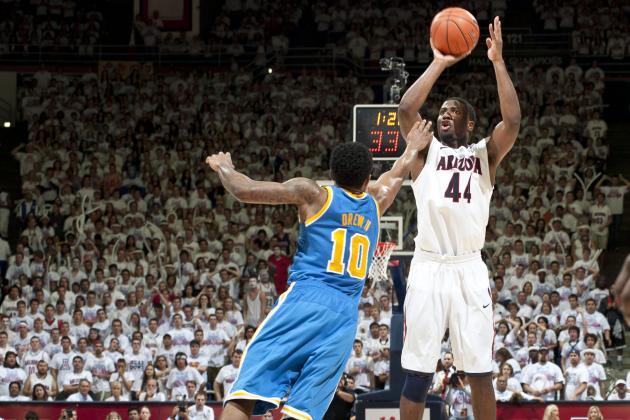 Casey Sapio-USA TODAY Sports

Arizona is not only a team that can effectively penetrate the lane but is also the Pac-12's leader in three-point shooting percentage (36.2%) and three-pointers made per game (7.6).
The Wildcats will undoubtedly score points in the paint with the likes of swift-footed guard Nick Johnson and 7'0" freshman center Kaleb Tarczewski.
However, UCLA can stymie Arizona's offense if it can shut down its prolific perimeter shooting as it did when the two teams squared off in McKale Center in January.
In that game, the Bruins held the Wildcats to a then-season-low 20.8 percent (5-of-24) from beyond the arc, which halted their usual offensive strategy.
Arizona's efficient ball movement often frees up shots along the perimeter, which allows it to hurl up a conference-high 21 three-point attempts per game.
Nevertheless, if the Bruins can contest the bulk of those outside shots and pester the opposition with persistent defense as they did in their first game against Arizona, they'll likely stump the Wildcats' offense once again.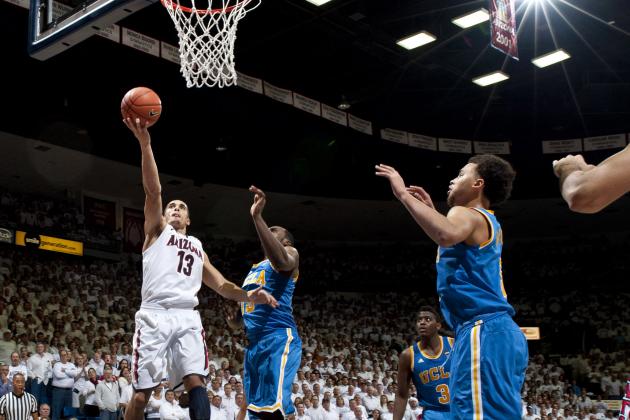 Casey Sapio-USA TODAY Sports

While the Bruins have been getting battered on the boards, Arizona's interior presence didn't overwhelm UCLA in their first matchup and likely won't in this game either.
Seven-foot freshman center Kaleb Tarczewski and 6'7" senior forward Solomon Hill will attack the lane but shouldn't be too much for David Wear, Tony Parker and Kyle Anderson to handle.
The players that could potentially become too much for the Bruins to handle are speedy guards Nick Johnson and Mark Lyons, who can both shoot from virtually anywhere on the court and also carve their way through the lane.
Although the two guards eventually combined for 39 points in their first matchup against UCLA, the Bruins interrupted their rhythm with tough defense.
Not only were most of those points scored in the second half when the game was nearly unsalvageable for the Wildcats, but Johnson and Lyons took 36 shots attempts, including 12 three-point attempts, to post that point total.
Although the Bruins top three defenders—Norman Powell, Jordan Adams and Larry Drew II—will be pitted against the two Wildcats guards, it will be a difficult task to replicate their defensive success against Arizona in their first matchup.
Nevertheless, it's a possible feat if UCLA makes a concerted effort, with the help of Coach Howland, to subdue Johnson and Lyons.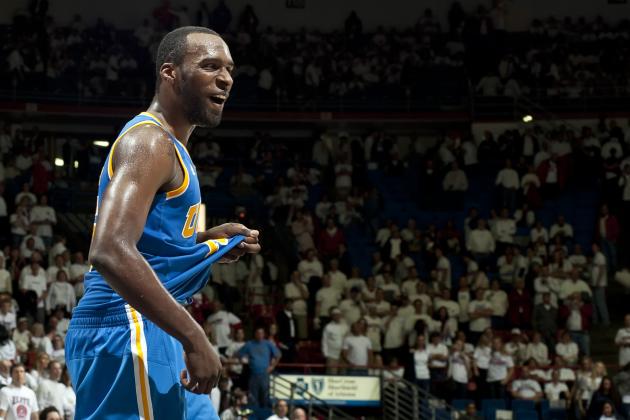 Casey Sapio-USA TODAY Sports

Shabazz Muhammad lives for a challenge, which is part of the reason the No. 1 recruit elected to attend UCLA.
The talented freshman guard has consistently proven to be a clutch player who can take over a game at will. That was particularly emphasized with his astounding performance against Arizona in January.
Not only did Muhammad put up 23 points at an even 50 percent (8-of-16) with two three-pointers that night in the McKale Center, but he also displayed dominance in key stretches.
There has been plenty of chatter about Muhammad's scarcity of sharing the ball with his teammates (he averages one assist per game on the season, with a total of 15 assists in 15 conference games); however his talent shouldn't be harnessed in any way—either by Coach Howland or himself—for a big game like this.
The 6'6" guard has had his share of off shooting nights, but the undeniable fact remains that he has produced double-digit scoring performances in all but one of his games in a Bruin uniform.
More importantly, Muhammad is an extremely accurate shooter at 46 percent from the field and 43 percent from beyond the arc.
This game will undoubtedly be about the UCLA's collective performance on both ends of the floor, but Muhammad's performance will be a key component to the Bruins defeating Arizona in Pauley Pavilion on Saturday.