Scouting Combine Stock Report for the Kansas City Chiefs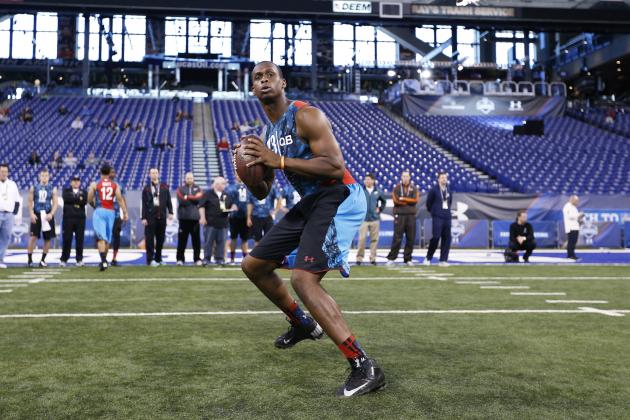 Joe Robbins/Getty Images
Geno Smith looked good at the combine, but rumors about Alex Smith persist.
The Kansas City Chiefs have said repeatedly that they are looking for the best player available with the first overall pick. General manager John Dorsey has the 300 prospects at the scouting combine under consideration, but in reality that number is much smaller.
Only one player can be the best available player, but there isn't a clear-cut player who has distinguished himself from the others. Dorsey will have to split hairs to find out which prospect is best one, which means minor fluctuations will make a difference.
Maybe a player doesn't come across well in the interview process or his athletic ability and game tape don't match. For a player to truly be the best available, they need to have it all. Although the Chiefs have a good idea of the player from the game tape, there's still plenty of learning to do.
Begin Slideshow

»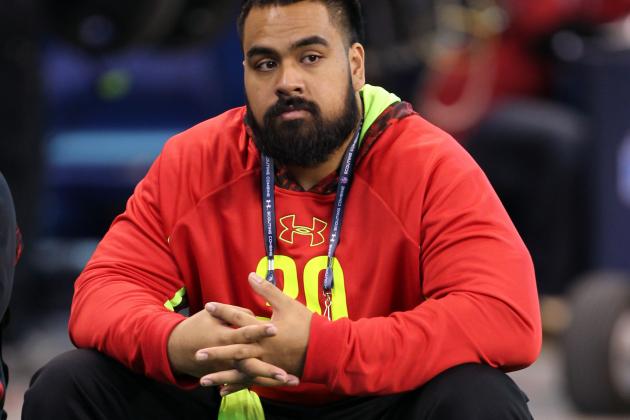 Brian Spurlock-USA TODAY Sports
Lotulelei has to sit out the combine drills.
Unfortunately, Star Lotulelei didn't work out at the combine because of a heart condition. It's everyone's hope that the condition is something minor like dehydration, but that still has to be determined by a specialist.
Lotulelei obviously still interviewed with teams, which is a big part of the process. Specifically, Lotulelei might have to answer questions about his road to the NFL because he was out of football for a short time. Even if Lotulelei impressed the Chiefs in the interview room, his medical is now a red flag that will need to get cleared up before he can be considered the best player available.
STOCK: Down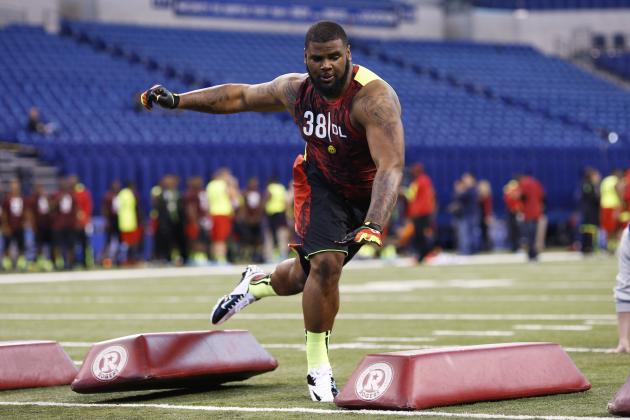 Joe Robbins/Getty Images
Sheldon Richardson looked agile for a man his size.
There will be some teams that have Sheldon Richardson as the best defensive tackle in the draft based on his game tape. Since he doesn't have any medical red flags, the Chiefs might consider him the best available player in the draft.
Richardson tested well at the combine, with 30 reps on the bench press and a 40-yard dash of 5.02 seconds. Richardson's broad jump of 9'8" was also good for a man who weighs in close to 300 pounds. He's clearly an athlete, but he also has a relentless motor.
If Richardson interviews well, there's not a lot to keep him from being considered the best player available.
STOCK: Up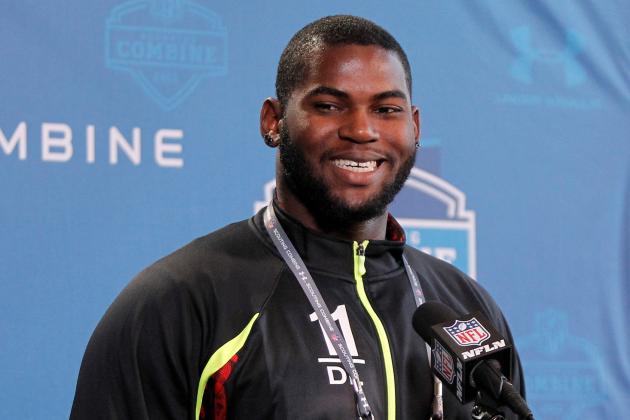 USA TODAY Sports
Sharrif Floyd doesn't watch much football.
Despite a blazing 40-yard dash of 4.92 seconds at close to 300 pounds, Sharrif Floyd has some questions to answer. In his interview with the media, Floyd explained that he doesn't really model his game after anyone because he hasn't watched the league in a long time.
For a guy who many think didn't produce up to his ability at Florida, it's a little unusual that he wouldn't watch the sport he plays. There is a fine line between a draft bust and a good pick, and what separates a good player from a bad one is often how much the player loves the game.
In fairness to Floyd, he might love the game and just not watch the NFL. Unfortunately, Floyd will now have to answer this question in his interviews. If there is any doubt in Dorsey's mind about his commitment to the game, he'll probably be better off with one of the other defensive tackles.
STOCK: Neutral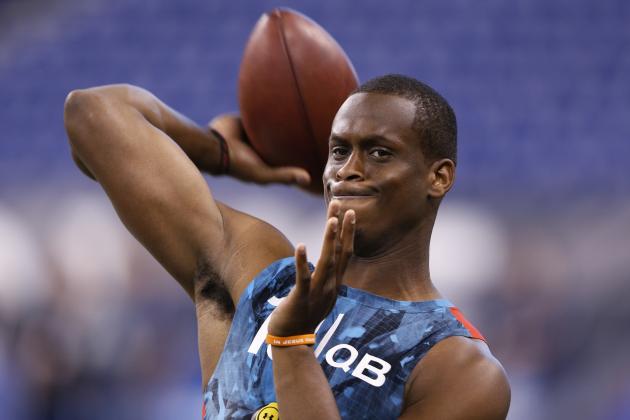 Joe Robbins/Getty Images
Geno Smith did not disappoint at the combine.
We've all heard the rumors about the Chiefs potentially trading for Alex Smith. Until that happens, we still have to consider Geno Smith as an option. While many people don't believe he's worth an early pick, quarterbacks are different. By nature of their impact quarterbacks can be the best players available.
Smith had a heck of combine, finishing as the top quarterback in the 40-yard dash and broad jump, and second in the vertical jump. Not only did Smith test well athletically, but he threw the ball well during positional drills.
To some, Smith came across poorly with the media. Others liked the chip Smith seemed to have on his shoulder. It's not insane to compare Smith to Russell Wilson as a prospect, even if expectations that high should be tempered.
STOCK: Up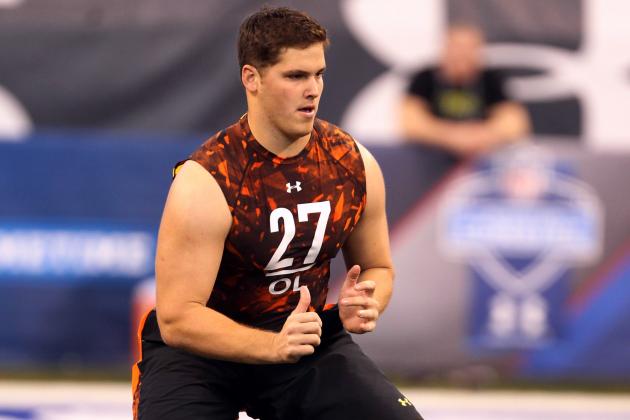 Brian Spurlock-USA TODAY Sports
Luke Joeckel looked better in positional drills than in the ones designed to test athleticism.
For a while, Luke Joeckel was widely considered the best player available in the draft. It seems the hype on Joeckel has cooled a bit, but he remains Matt Miller's top-ranked player.
Joeckel put up a respectable 27 reps on the bench press and didn't hurt himself in any of the other drills. Joeckel helped himself the most in the three-cone drill, which measures short area quickness and agility, by running it in 7.40 seconds.
Andy Reid started his career as an offensive line coach, so it wouldn't be surprising if he ends up liking Joeckel in the interview room. Even if the Chiefs are able to keep Branden Albert, you will not be able to remove Joeckel from the conversation entirely.
STOCK: Neutral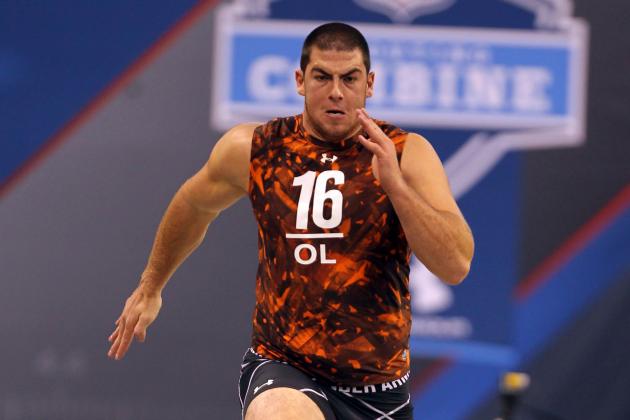 Brian Spurlock-USA TODAY Sports
Eric Fisher showed off his athleticism at the combine.
There are some teams who might consider Eric Fisher a better prospect than Joeckel. If that's the case, he really separated himself at the combine athletically. Fisher did everything well, nearly matching Lane Johnson's impressive all-around performance.
Fisher was a top performing in the short shuttle and broad jump, but he also put up 27 reps on the bench press and looked very good in positional drills. Fisher might not have faced the top competition like Joeckel, but he proved to be the more impressive athlete.
Just like Joeckel, Fisher has the opportunity to really jell with Reid and Dorsey. One area Fisher could separate himself from the other offensive tackles is by highlighting a mean streak in the interview room. If Fisher proves to be an ideal fit with Reid, he could cement himself as the best player available.
STOCK: Up
Brian Spurlock-USA TODAY Sports
There is a chance that Chance Warmack goes No. 1 overall.
There is probably only one position with a consensus top player and that's offensive guard. Chance Warmack is the highest graded player on NFL.com and decided to only do the 40-yard dash and broad jump at the combine.
Warmack didn't have much to gain by doing the combine drills and he's more built to dominate physically than dominate running around in his underwear. Warmack obviously did interviews and medical evaluations, which is more important than the measurements.
Although it seems weird to draft a guard No. 1 overall, Warmack might be the best player if you don't consider positional impact. Drafting Warmack would also let the Chiefs keep Albert at left tackle if they can re-sign him.
STOCK: Neutral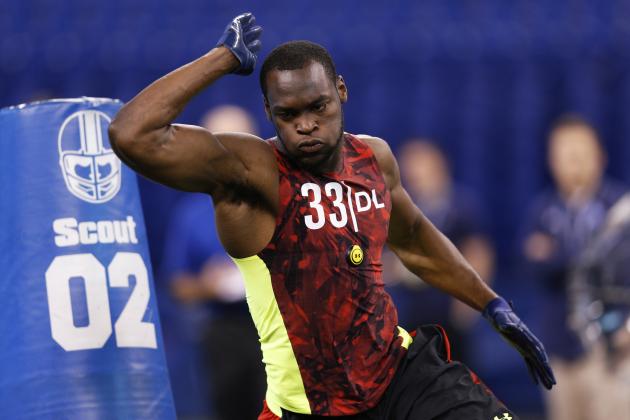 Joe Robbins/Getty Images
Barkevious Mingo looked good at the combine, in just about every drill.
There is no doubt that Barkevious Mingo is an amazing athlete. Mingo was a top performer in the 40-yard dash, vertical jump and broad jump. Of course, we knew Mingo was going to blow up the combine. The questions around Mingo involved his drop in production.
Mingo handled the question about his dip in production well at his press conference with the media, explaining that LSU played a lot more contain in 2012 and that it helped the team win. NFL teams are going to see Mingo as a pure pass-rusher to start.
It's probably crazy to put Mingo this high and the Chiefs don't need a 3-4 outside linebacker, but he could be the best player available. If Mingo were the top guy, it would certainly test the best player available theory.
Mingo even did a good job dealing with his teammate Sam Montgomery interfering with his talk with the media. If he did equally well in the interview room, he could be near the top of the Chiefs' list, even if the team doesn't need a guy like him.
STOCK: Up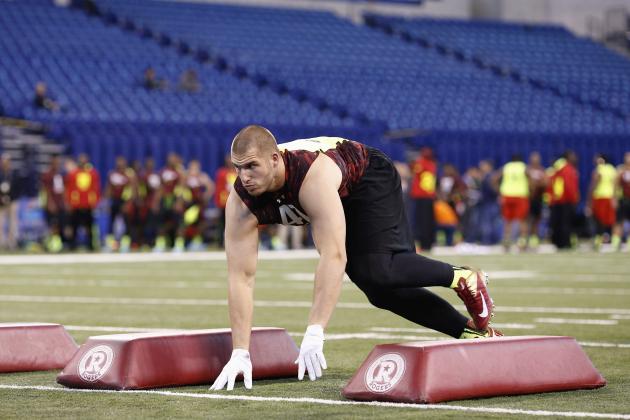 Joe Robbins/Getty Images
Bjoern Werner might be a little stiff to play 3-4 outside linebacker.
For a time, Bjoern Werner was considered the top pass-rusher in the draft. After the combine, it's become apparently clear that a 3-4 team like the Chiefs would be a little crazy to think of him that way.
Werner demonstrated that he's probably strictly a 4-3 defensive end, as he lacks the agility to play in space. Werner has amazing quickness on tape, but that didn't show up at the combine. Werner is probably more of a football player than athlete and that's not a bad thing.
It's hard to imagine the Chiefs having a ton of interest in a guy who isn't a fit for their defense, especially when they also don't need a player to do what he does. Werner may be the top player for a team, but it probably isn't the Chiefs.
STOCK: Down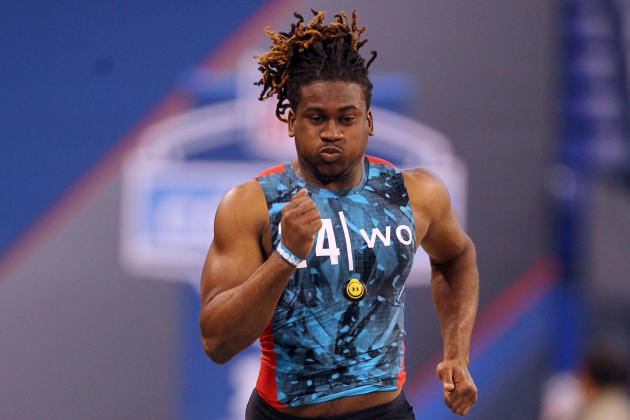 Brian Spurlock-USA TODAY Sports
Cordarrelle Patterson's game tape and athleticism are equally impressive.
The Chiefs are going to try to re-sign Dwayne Bowe, but they can't be comfortable with their wide receivers even if Bowe returns. Jon Baldwin could make a third-year leap and Dexter McCluster could benefit from Reid's offense, but those things are far from a guarantee.
Cordarrelle Patterson has been compared to Julio Jones, which is a player the Falcons traded a lot to get a few years ago. If the Chiefs trade for Alex Smith, what better way to make sure he is successful than give him good receivers.
Patterson has been described as a raw because he spent just one year at Tennessee, but in that one year he overshadowed his teammate Justin Hunter. As with many wide receivers, how they come off in the interview room will be important.
Reid and Dorsey did an excellent job with their former teams identifying receivers. In a passing league, you couldn't fault them for valuing a playmaker like Patterson highly. Patterson is probably not headed for a top-five selection, but he is seventh on Matt Miller's big board. Patterson is certainly a dark horse, that's extremely hard to rule out.
STOCK: Up