10 Greatest Moments: PGA Tour's Florida Swing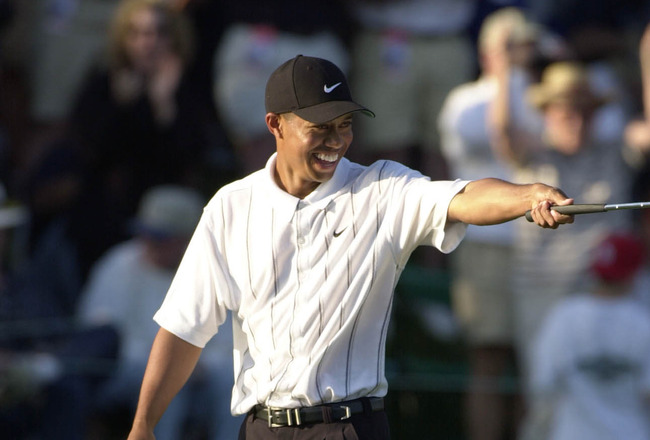 Harry How/Getty Images
With March upon us, the PGA Tour has headed south for its annual "Florida swing."
The swing has traditionally been the season's most entertaining stretch of golf.
One reason is the venues.
Doral, Bay Hill, PGA National and TPC at Sawgrass (before the Players Championship moved to May) are layouts that guarantee drama.
All feature plenty of water and some of the most daunting finishing holes in golf.
And as a prelude to the Masters, these tournaments has always attracted the biggest stars. These players have provided their share of memorable moments along the way.
But this is golf, a fickle sport in which drama occasionally gravitates to the obscure.
Honorable Mention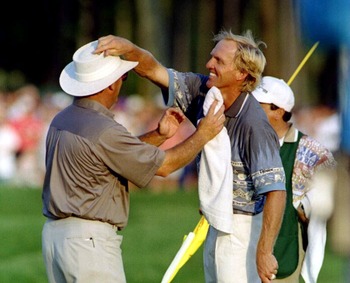 J.D. Cuban/Getty Images
Imagine shooting 20-under par over four days at the formidable TPC at Sawgrass. It would have won every Players Championship by at least two strokes.
Except, sadly you actually lost by four strokes.
Such was the plight of Fuzzy Zoeller at the 1994 version of golf's "fifth major."
At his best, Greg Norman was one of the most dangerous players ever. Norman was never better than during the final week of March, 1994.
His four rounds included three rounds of 67 and tying a course record of 63. It was Norman's finest hour on this side of the Atlantic.
Alas, his desire to overpower courses often got the better of him. The combination of aggressiveness and bad luck cost him a number of tournaments, including a few majors.
But it did result in the occasional masterpiece.
10. Pavin's Slam Dunk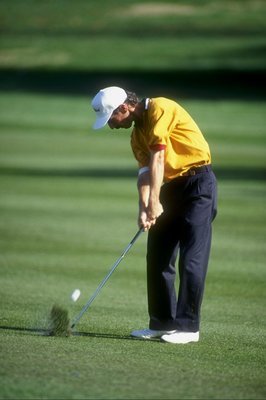 Gary Newkirk/Getty Images
In the early 1990s Fred Couples and Corey Pavin had a mini-rivalry of sorts. Its apex was the final round of the 1992 Honda Classic.
Couples was playing the finest golf of his career.
In the two weeks leading up Couples has a championship and a second place finish.
Couples was leading late as Pavin prepared to play his third shot to the par-five 18th. Hitting an eight iron from 136 yards, Pavin's ball never actually touched the green.
It flew straight into the hole for an eagle.
How good was Pavin with that club? A month later at the Masters the par-three 16th was playing 140 yards in the second round. Pavin, proving that lighting can strike twice, flew his eight iron until the hole for an ace.
As for Couples, the loss to Pavin was a mere bump in the road.
The following week he won the Nestle Invitational at Bay Hill by nine strokes. He would go on to win the Masters that year as well, for his only major championship.
9. Tiger's Return to Dominance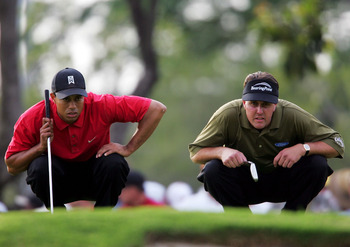 Matthew Stockman/Getty Images
By early 2005, Phil Mickelson had significantly narrowed the gap between himself and Tiger Woods.
One reason was because Woods was in the midst of a swing change—with only one victory in 2004.
In contrast, 2004 was a breakout year for Mickelson.
He won his first major at the Masters and had close calls at the U.S. and British Opens. Lefty had also finished ahead of Woods in five straight majors.
Mickelson came to the Ford Championship at Doral, having won his last two stroke play events. He took a two-shot lead over Woods into the final round.
It was the tenth straight round in which Mickelson had led a tournament, an amazing feat.
This would be the fifth time Woods and Mickelson played together in the final round. Only twice on those occasions had it been in the final group—2001 Masters and the 2003 Buick Invitational.
Woods had won both tournaments.
Through 11 holes Mickelson held a one-shot lead. Until the par-five 12th, Woods hit a 295-yard three wood to reach the green in two.
He then holed the eagle putt to take a one-shot lead.
Mickelson answered Woods with birdies at 13 and 14 to draw even. As the players came to the 17th hole they were still tied.
How good were these guys that week? They each made 27 birdies, a career high for both.
Woods 27th came at 17 when he holed a 30-foot putt.
Mickelson made it compelling up to the end. His approach shot on 18 left him with a 30-foot birdie chip to tie.
The shot looked good for a long time—it broke right an inch from the cup to lip out.
Woods won the tournament by a stroke and regained the No. 1 world ranking.
He was officially back.
Mickelson did not hide his disappointment, truly believing he he was going to win the entire time.
His journey from "very good" to "historic" had only just begun. He would win two of the next five majors.
And down the road he would beat Woods head-to-head on multiple occasions.
8. The Golden Bear Roars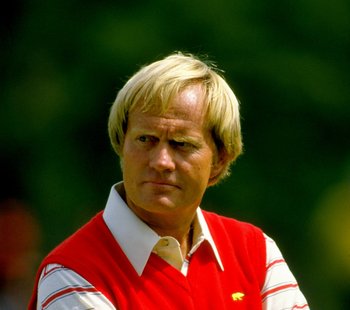 David Cannon/Getty Images
Watching Jack Nicklaus stand over a chip shot was like watching Reggie Jackson bunt.
Nicklaus never seemed particularly comfortable.
Then again, his excellence as a ball striker meant he never really had to chip much in the first place.
Nicklaus was stuck in neutral during the final round of the 1978 Jackie Gleason Inverrary Classic.
He found himself three shots back with only five holes to play.
At the 14th he stood on the fringe of the green, 80 feet from the hole.
He later noted that "he really needed a birdie to get into the tournament." From that distance he would be lucky to get down in two.
His chip with his 3-iiron found the hole. It was the birdie he needed.
Nicklaus proceeded to hole a 12-foot birdie putt at 15, then holing a 18-foot birdie chip at 16 to draw within a shot of Grier Jones.
After sinking a 20-foot birdie putt on 17, Nicklaus hit his approach shot on 18 to within four feet.
He made the putt, closing the tournament with five straight birdies. It gave him a one-stroke victory over Jones.
"It's the most remarkable thing I've witnessed in my life," said Lee Trevino.
Hale Irwin, one of the players Nicklaus ran down that day, provided the best description of the Golden Bear's capacity for the improbable.
"The man's amazing. He birdied No. 16, walked across water to No. 17 and teed it up...I saw the finest golf played today that I've ever seen played in my life."
7. Love Among the Ruins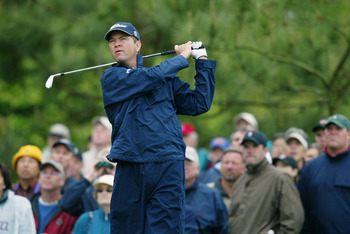 Jamie Squire/Getty Images
The best player to win just one major?
There are a number of worthy candidates and Davis Love III's case rests largely on two moments.
The first is his performance at the 1997 PGA Championship.
He matched Winged Foot's course record (66) in three of the four rounds.
The second being his final round at the 2003 Players Championship. Windy and unseasonably cold, the conditions called for survival.
Love seemed to be playing a different course than the rest of the field. His round was nearly 11 strokes better than the average score.
Playing partner Fred Couples called it "the best round of golf I've ever seen played."
In most instances, how you win is secondary to winning. On this day, Love proved that how you win is not inconsequential.
There was at least one moment when Love's decision to be aggressive turned a very good round into a great one.
Playing the par-five 16th, Love pulled his tee shot left. His ball ended up on pine straw behind some trees.
Leading by three shots, the smart play was to lay up. Love opted to go for the green in two. It was a 194-yard shot through trees to a green guarded by water on three sides.
Love's shot ended up being a great one.
He made the ensuing eagle putt, giving him a 64 and a six-stroke victory over Jay Haas and Padraig Harrington.
Winning a second Players Championship was terrific for Love's resume.
His 64, coming on a day like this one, ensured the victory would be remembered for years to come.
6. Bay Hill Miracle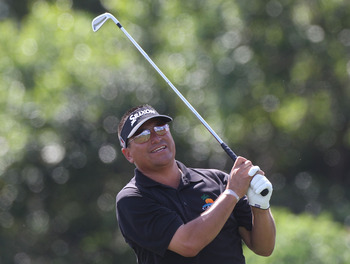 Sam Greenwood/Getty Images
The "Golf Gods" never had much use for Greg Norman. After Norman won the 1986 British Open he seemed poised to conquer the golf world.
What happened next is well-chronicled.
Bob Tway holed a greenside bunker shot to defeat Norman at the 1986 PGA Championship, the 1987 Masters—Larry Mize holed a 140-foot pitch to edge Norman in a playoff.
Norman's record in Florida was stellar. It included three wins at Doral and the 1994 Players Championship.
Although, never winning at Bay Hill, he came excruciatingly close.
In 1983, Norman lost a playoff to journeyman Mike Nicolette.
In 1990, he was leading Robert Gamez by a stroke after 70 holes. On this occasion Norman would not witness the miracle shot—just hearing the roar.
While Norman stood on the 17th tee, Gamez was in the fairway at 18. Gamez faced what might be golf's scariest approach shot. Over a lake to a sliver of green.
Neophyte NBC announcer Johnny Miller was calling the action with Bryant Gumbel. Miller's call was prescient.
"Probably puts more spin on the ball than any player in the game," he noted.
The ball hit the green and bounced twice. On the second bounce it spun left and dove into the hole.
The eagle gave Gamez a one-stroke victory over Norman. It was his second win of the season and ensured him Rookie of the Year honors.
Despite the early promise, Gamez never became a star. It would be 15 years before his next win on tour.
5. Better Than Most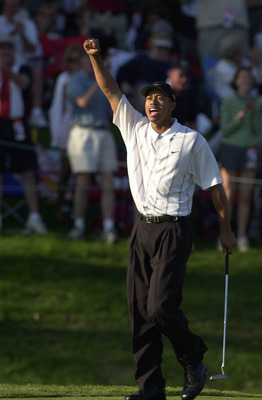 Harry How/Getty Images
The TPC's 17th hole, the famous par three island green, was constructed for one purpose.
To produce dramatic moments.
Although, truly memorable moments have been few and far between.
This is one reason why a shot that came in a third round—not the final one—has become the hole's most famous shot.
Another is that it was struck by Tiger Woods.
The 2001 Players Championship was a rarefied moment for Woods—it was a tournament he had yet to win.
He had lost the previous year in gut-wrenching fashion to Hal Sutton. Woods also came to Sawgrass having won the last three majors.
Woods was leading in the third round when he came to 17. His tee shot caught a gust of wind and nearly found the water, it came to rest near the back of the green.
Woods was left with a triple-breaking putt.
It would also gain speed as it crossed the ridge that separates the green's upper and lower tiers.
As the putt was breaking at the ridge, announcer Gary Koch proclaimed it to be "better than most." He repeated the phrase again as the ball neared the hole. As the ball dropped in the hole Koch all but shouted, "Better than most!"
Like most great shots, it is remembered because Woods went on to win the tournament.
Woods won the Masters the following month to corral his fourth straight major and complete the "Tiger Slam."
He could now, as he liked to put it, display golf's four greatest trophies on his coffee table.
4. Norman Turns the Tables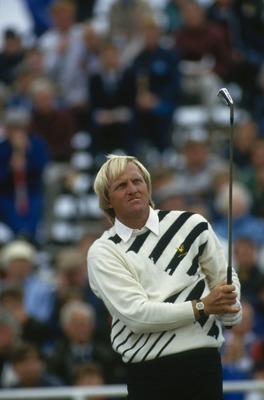 David Cannon/Getty Images
Greg Norman was never a reliable 54-hole leader.
In 1986 he led after 54 holes in all four majors—his lone victory was at the British Open.
A decade later he blew a six-stroke lead on the final day of the Master's.
He was always more proficient at coming from behind. Even then, however, he had his share of frustration.
He would typically make a late bogey to fall just short. Or, in the event he caught the leader, he would lose the playoff. Norman and Craig Wood are the only players to lose playoffs in all four majors.
At the 1990 Doral-Ryder Open, Norman got everything right.
Through 17 holes he was 10-under par for the day. A birdie at 18 would likely be enough for the win.
Norman got aggressive and missed the green with his approach. He was left with a 30-foot putt for par, it was a painfully familiar scenario.
Except this time he made the putt.
It got him into a playoff with Tim Simpson, Paul Azinger and Marck Calcavecchia.
The first playoff hole was Doral's first hole, a par-five. Norman's second shot found the rough behind the green. He faced a 24-foot eagle chip.
Players had holed out on him. Why not do it to someone else? Why not indeed.
The chip was not particularly easy. Norman just made it look that way. The pace and line were perfect.
So was the result.
3. Parry and Thrust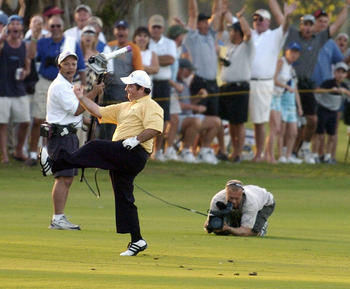 A. Messerschmidt/Getty Images
Craig Parry never rose above journeyman status on the PGA Tour. Entering the final round of the 2004 Doral Ford Invitational he was known for three things.
First, he was nicknamed "Popeye" because of his massive forearms. This was not a hyperbole, were Popeye a real person they might have nicknamed him "Parry."
Second, he had won the 2002 NEC Invitational, his only PGA Tour victory at the time.
Third, and somewhat more obscure, he was Jean van de Velde's playing partner in the final round of the 1999 British Open.
While van de Velde butchered the 72nd hole, Parry waited patiently to play his bunker shot—holing it for a birdie.
Parry was about to get a lot more famous.
There is the polite way to criticize a player's swing. In Parry's case, one could say it is a bit unorthodox.
And then there is the Johnny Miller way.
During the telecast Miller said that if Ben Hogan saw Parry's swing "he'd puke."
Who actually knows what Hogan would have thought? What is likely is that Hogan was a proponent of an old golf aphorism. It is not "how." It is "how many."
'How many," in this case, would be two.
Parry and Scott Verplank were tied after 72 holes. The first playoff hole was Doral's fabled 18th. Parry drove his ball in the fairway and had 176 yards left.
After Verplank's approach reached the edge of the green, Parry went flag hunting. His ball bounced several feet short of the hole and rolled in for an eagle.
Players have holed shots to win PGA Tour events. But no such shot to that point was as long as Parry's.
Somewhere, Hogan was smiling.

2. Be the Right Club Today!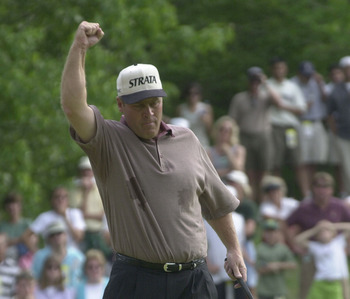 Doug Pensinger/Getty Images
This moment is much more than a phrase uttered when triumph became imminent.
It has never been easy to beat Tiger Woods head-to-head. In 2000, it was all but impossible.
Hal Sutton thought otherwise. Perhaps it was because he had been a young phenom himself.
Although, never at Woods' level Sutton had won the PGA Tour money title at age 25. In that same year he had held off the legend Jack Nicklaus to win the PGA Championship.
Sutton had played with Woods during the first two rounds of the 2000 Nissan Open. He later claimed to have been sending Woods a message.
"One, that I could beat him, playing with him," said Sutton. "And two, that he knew that I could beat him playing with him."
Sutton was two strokes better than Woods over those rounds.
Sutton would soon take on Woods when it actually meant something. It could not have come at a better venue for Sutton.
Always an excellent ball striker, Sutton's game was ideally suited to the "target golf" concept of the TPC at Sawgrass. In 1983, he had won the Players in its second year at Sawgrass.
In contrast, Woods had never broken 70 at Sawgrass. But 2000, would see Woods kick down a number of doors.
His third round 66 ended that dubious streak it also put him one stroke behind Sutton.
Sutton was more than holding his own on Sunday before a thunderstorm cancelled play. When play resumed the next day, Woods bogeyed the 12th hole to fall four shots behind Sutton.
Charles Howell III recently beat Woods at the Accenture Match Play Championship. Afterwards he said he had been waiting for that "Tiger moment."
In 2000, those moments were plentiful.
The Players would be no exception. With a birdie at 13 and an eagle at 16 pulled Woods within a stroke.
After both players parred 17 they came to the daunting 18th hole.
Woods' approach shot missed the green.
Sutton, 179 yards out, hit a six-iron eight feet from the hole to seal the victory. While the ball was en route Sutton exclaimed, "Be the right club today!" That much is true.
Overlooked in the retelling is that viewers did not hear the comment as it was made (what viewers there were given the Monday finish). It was only heard on the replay.
Also, what Sutton actually said was, "Be the right club. Be the right club today!"
The win provided Sutton a singular distinction.
Neither Woods nor Nicklaus likely keeps a list of players to whom they have finished second behind.
If such list did exist, the only name they would have in common is, Hal Sutton.
1. Three for the Price of One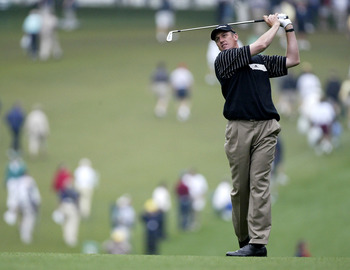 Andrew Redington/Getty Images
What Craig Perks pulled off at the 2002 Players Championship fostered many comments, including this one: "You are unbelievable. Absolutely unbelievable."
It was made by Tiger Woods during the trophy presentation. The guy who won the U.S. Open by 15 strokes thinks you are unbelievable.
You have more than earned the top spot on this list.
As of 2002, the Players Championship bore one distinction none of the four majors could claim. It had never been won by a player seeking his first PGA Tour victory.
That was about to change.
Perks began the final round one shot off the lead. Heading to 16, Perks day had been lackluster. He was three over par and trailed Stephen Ames by a shot.
What happened next is an instance of imagination being overwhelmed by reality.
The TPC's creators envisioned drama. They could not have envisioned what Perks had in store.
Perks chipped in for an eagle on 16. His tee shot on 17 found land—never a bad thing at the island green. He promptly drained the 30-foot birdie putt.
Then things really got interesting. 
Now leading Ames by two strokes, Perks hit his tee shot at 18 right.
It was enough of a miss to leave Perks no shot at the green. He was forced to punch out of the trees back onto the fairway.
Perks could now hit his third shot onto the green and two-putt for victory. No problem. That is, unless you are trying to win for the first time.
Perks airmailed the green with his approach.
He found himself in the rough needing to get up and down to avoid a playoff.
Three shots to this point, none of them particularly good. Was there any reason to expect his chip to get within 20 feet of the hole?
The chip Perks hit was masterful.
Had the ball not died in the hole the ensuing putt would have been very short.
Perks never won again. It gives his moment in the spotlight an insular quality. It was more than one miracle shot.
Somewhat less than an entire round of sustained brilliance, but what Perks gave us was somehow more significant.
It was 45 or so minutes of the best golf has to offer. Brilliant shots were only part of it.
There was also that moment every golfer dreads. The moment when everything is falling apart and the game seems to want you to fail. Some handle it better than others.
How Craig Perks handled it was, well, unbelievable.
Keep Reading