25 Awesomely Bad Free Throw Attempts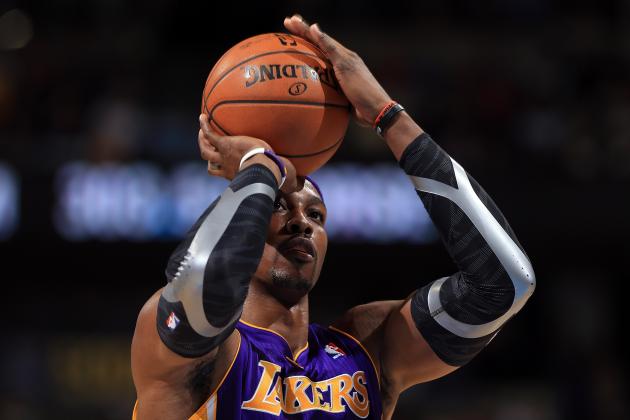 Doug Pensinger/Getty Images

What's with so many basketball players these days forgetting that the charity stripe should be free points for their teams?
After seeing guys like Shaq, Ben Wallace and current horribly shooting Dwight Howard build houses with the amount of bricks they put up in their careers, I thought I'd seen it all.
Then I came across these "efforts" from the line that actually made those guys look like a regular sharp-shooter.
Keep in mind some of these actually go in, which is the ultimate goal.
But stylistically, they are painful to watch.
Begin Slideshow

»
We start it off with a simple air ball—which I'm sure we've all tossed up in our amateur basketball careers before.
Problem is, Howard gets paid a lot of money to try and fix that little hitch he has in his shot, while we're lucky to see more than five minutes a game in our over-30 rec league.
Barry's one of the best players in NBA history, being recognized as a top-50 guy during the league's 50th Anniversary back in 1997.
But as great as he was, his underhand foul-shooting technique was pretty comical.
Kids do this when they're not strong enough to shoot overhand when first learning the game, so it's pretty funny to see a pro player doing it—albeit successfully.
Brown may be considered the biggest draft bust in NBA history, and it's safe to say he's not one of the smoothest shooters the league's ever seen either.
That's evidenced by this free throw, which he got lucky making by banking it in.
Though it's former UGA guard Corey Butler shooting the freebies, it was the UK forward Stevenson who stole the show for this terrible shot.
There's a lot going on here, but for as long as Perry's been playing basketball, you'd think the last thing he should do is go up and swat a free throw attempt—or so we all thought?
You've got to feel for Vesely.
As if the expectations and pressure of being a top-10 draft pick aren't hard enough, the big man's first appearance at the line in his career ended with a big, fat air ball.
Hopefully it's not a sign of what's to come if you're a Wizards fan.
Cartwright may have won some titles with Jordan and the Bulls in the early-'90s, but he'd hardly win a job as a shooting coach with the type of form he showed on his free throws.
Easily one of the ugliest shots in NBA history right here, even if he did make it over 77 percent of the time.
Though Wilkes is enshrined in the Basketball Hall of Fame, we included him on this list not because of a terrible attempt, but because of the way he shot puts the ball up to the rim.
It worked for him well enough to win three titles and average over 17 points per game, but it's still disgusting to watch.
Mason's entire routine and shot looks more like a dance where he's leaning back in the club more than trying to score a bucket in a basketball game.
Gangly and off-balance with his shot, it's crazy that he had such a productive and lengthy career.
The greatest part of this video is actually the sideline reporter apologizing to Biyombo's family for jinxing the young center after his air ball at the stripe.
For all the extensive reporting she's done to try and talk about the improvements he's had at the line, this is his way of proving her way wrong.
Oh well, the 'Cats were down 22, so it's not like the points would have mattered all that much anyway.
Oh Nellie, we can always depend on you for some entertainment, can't we?
After wiping his brow and fixing his hair, the former player and coach provides us with this graceful, one-handed heave from the foul line.
It's like he's auditioning for a Broadway play with that kind of form.
No wonder he made the Hall as a coach, and not a player.
Jianlian should know better than to try and take a practice shot—especially in somebody else's house!
The former NBA baller came from overseas when he was hyped-up from his days in the Chinese Basketball League, so maybe they give guys a freebie before taking the real ones over there?
We give O'Neal a "Gutsy Player Award" for heading to the line after getting his arm pulled back while going up for a shot.
Regardless, this one-handed shot is ug-ly, with the forward banking in the first one before nailing the second quite smoothly.
They both may have gone in, but we'd suggest not taking notes for yourself.
Early on in James' career, sometimes the nerves may have gotten the best of him.
Take this free throw for instance, when he had a chance to ice the game and hits nothing but net—after throwing-up an airball.
He's the greatest player on the planet, but he's still not perfect.
To this day, we're still not sure if the seven-footer from Latvia was confused on what he was doing here, thinking he was passing the ball and not actually shooting.
As you can see, the ball never even got above the rim, meaning it had absolutely no chance of even remotely going in.
We all know how terrible Shaq's free throw shooting was throughout his career, with him even joking that his poor efforts kept him "humble."
But this thing that he tossed in the direction of the hoop is seriously one of the worst things ever witnessed on a basketball court.
As much crap as D12 and Shaq get for being tremendously hideous at the line, Wilt was probably the worst to ever play the game.
With a career percentage of just over 50%, it's clear he had no touch at all.
He just takes the ball and chucks it at the hoop hoping it'll somehow find its way in.
Griffin might give us highlight moments every night thanks to some insane throw downs when he posterizes other guys, but this is one the Clips forward probably doesn't like being included on.
Looks like the best defense against the three-time All-Star is just sending him to the line.
When you look at Hayes' stat line, you'd think he was throwing missiles and dropping it on the Nuggets—especially considering the Rockets lead by 15.
But then you see him go to the line and actually shoot the ball and you wonder how in the hell this guy could possibly be in the NBA.
When fans have to give a standing ovation for encouragement, something's definitely wrong.
Someone get this kid a towel!
Players miss free throws for a variety of reasons.
Distractions from behind the basket, trash talk from opposing players and sometimes even psyching themselves out by over thinking things.
Oh, and then there's that whole perspiration running onto their hands thing that takes place, as we saw with this shot.
Of all the players in the NBA to have this happen to, it's even more funny because it was Humphries, who was voted to be one of the most disliked players in the league.
It's safe to say Kirkland swatted the big man's shot like Kim Kardashian swatted away their marriage.
Zing!
I know Diop well thanks to my beloved Cavaliers taking the once-promising Center in the lottery back in '01 NBA Draft—passing over the likes of Joe Johnson and solid swing man Richard Jefferson—so seeing him completely whiff on a free throw isn't too surprising.
Terrible draft pick, even worse foul shooter.
How bad was this free throw by the Clips' big man? Bad enough that his Mom even dissed him through her twitter account.
When a dude's own family starts dogging him, that's when it gets real.
While I was at UK, Hayes was regarded as a blue-collar player who would do anything possible to win—which was one reason he's lasted this long in the Association.
He may hustle and be a good teammate, but good lord he makes a free throw attempt look like the most challenging thing on a basketball court.
Iverson's reaction is just priceless and all but sums it up.
There's been plenty of bad attempts when trying to extend a game by purposely missing a free throw and clanking it off the rim, but this shot by the Appalachian State center came with over eleven minutes left in the half!
As he should have been doing, Okam was actually trying to make this shot—which makes this pathetically hilarious.
If you've been on the Internet in the past week, than there's a very good chance you've seen this most recent attempt at a free throw floating around.
Not only does the ball travel about three of the 15 feet necessary to even hit the hoop, but the poor girl actually clips herself straight in the nose mid-shot!
That sucks, but at least she's being a good sport about it all.