Arsene Wenger's 10 Most Defiant Quotes as Arsenal Manager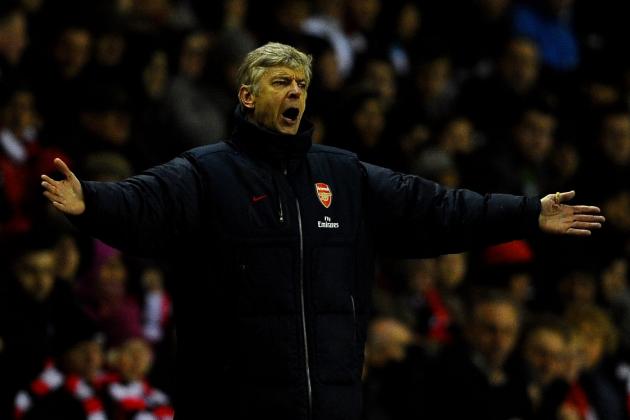 Laurence Griffiths/Getty Images

Arsene Wenger is the most successful manager in Arsenal history, and he's under the kind of pressure one would associate with a man battling against relegation.
Le Prof is used to fighting fires and going toe-to-toe with the likes of Sir Alex Ferguson and Jose Mourinho. That being said, he's never had to sustain the levels of constant abuse his own fans have thrown at him over the last number of years.
He is used to be being underestimated and has had to battle every single inch of his mighty career as the following quote shows:
"At first," Tony Adams (Arsenal's captain in 1996) said. "I thought, 'What does this Frenchman know about football? He wears glasses and looks more like a schoolteacher. He's not going to be as good as George [Graham]. Does he even speak English properly?'"
Wenger's response was to revitalize the England defender's career before he retired and to win the Premier League in 1998 and 2002.
In the face of it all, no matter who or what the game has thrown at him, Le Prof remains as defiant as ever.
Here, Bleacher Report looks at Arsene Wenger's 10 Most Defiant Quotes as Arsenal Manager.
Begin Slideshow

»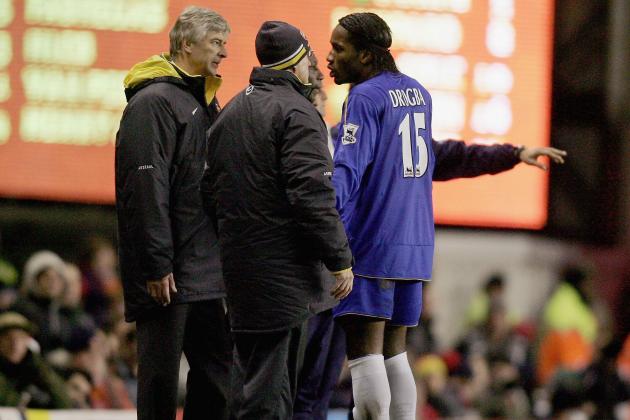 Ben Radford/Getty Images

In the aftermath of Chelsea's historic Premier League win in 2005, Arsene Wenger was asked about whether he thought the Blues would dominate the game for years to come.
Unafraid of what may come after his comment, he said yes and became the first man to coin the phrase "financial doping." The context of this quote comes from Chelsea's league title win and their massive over-spending whilst tapping up players like Ashley Cole, who was an Arsenal player at the time.
"I feel yes, because they are a financially doped club.
"They have enhancement of performances through financial resources which are unlimited. For me, it's a kind of doping because it's not in any way linked to their resources.
"It puts pressure on the market that is not very healthy. They can go to Steven Gerrard or Rio Ferdinand and say 'how much do you earn, we'll give you twice as much'."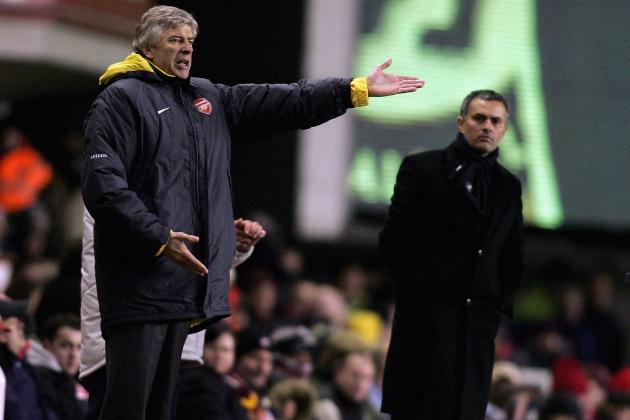 Ben Radford/Getty Images

When Jose Mourinho won his first Premier League title with Chelsea in 2005, it was Arsenal and Arsene Wenger who finished second.
Conventional wisdom at the time had the Gunners and Pensioners battling it out for years to come, with the two most important foreign managers of all time leading the fray.
The following season, Jose Mourinho, coming under pressure from Wenger, went public with a ridiculous 120-page dossier on the Frenchman and his quotes about Chelsea.
Wenger's response to Jose is one of the greatest and most defiant football quotes of all time.
"He's out of order, disconnected with reality and disrespectful. When you give success to stupid people, it makes them more stupid sometimes and not more intelligent"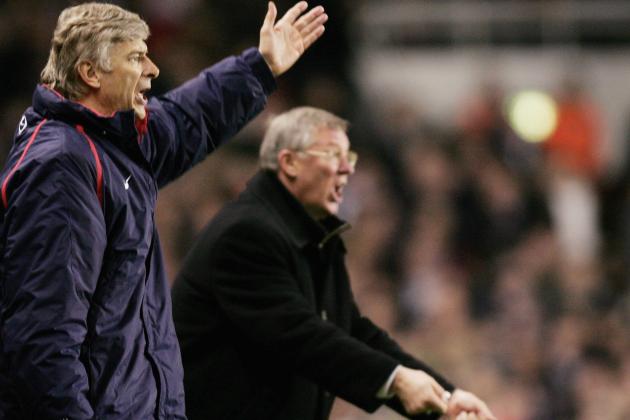 Ben Radford/Getty Images

Following the famed "Battle of Manchester" in October 2004, where Man United won 2-0 and ended Arsenal's 49-game unbeaten run, it was fair to say that relations between the two teams and managers were at an all-time low.
In the aftermath of the match, it is believed that Arsene Wenger called Ruud van Nistelrooy a cheat. When the Dutchman reported this to his manager, Sir Alex Ferguson made an immediate beeline to Wenger to confront him.
Unfortunately for Ferguson, though, an unnamed Arsenal player threw a pizza at the United boss and "Pizzagate" was born.
In January 2005, in the build up to the "Battle of Highbury," Wenger was asked about the incident and Ferguson's demands for an apology.
In a particularly defiant manner, he basically said no.
"Ferguson's out of order," he said before adding, "he has lost all sense of reality.
"He is going out looking for a confrontation, then asking the person he is confronting to apologize?
"He's pushed the cork in a bit far this time."
This was at the very height of Ferguson's and Wenger's rivalry. In recent years, they have grown to respect each other, but that could all end in a flash if Arsenal start challenging for the title again.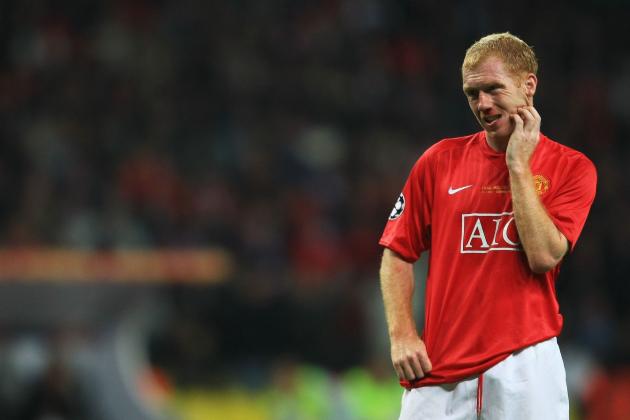 Jamie McDonald/Getty Images

With Paul Scholes being hailed by all and sundry for being a Premier League legend, Arsene Wenger was typically honest in his opinion of the Manchester United star.
In 2010, Scholes was beginning his 17th year as a professional with the Red Devils and was particularly outstanding in their Community Shield victory over Chelsea and the opening Premier League fixture of the season against Newcastle United.
As such, Scholes gained plaudits from many of the game's leading figures, Wenger included.
Except Wenger was as defiant and as non-conformist as ever in his assessment of the United man.
"Paul Scholes is still one of the greatest football players in England and his contribution to the success of Manchester United is absolutely huge. The regret I have personally is he was not always the fairest player. There's a little bit of a darker side in him, sometimes, that I did not like."
"It depends what you call clever and what you call dirty," said Wenger, who was then asked whether he felt Scholes tackled unfairly. "Unfairly, of course, unfairly," he retorted.
"How many times have you watched Paul Scholes? Have you seen only fair tackles from Paul Scholes? I don't want to come out on one specifically but I can remember a few.
"No, I don't [think his approach is OK]. You ask me about the quality of the player—who wouldn't like a Paul Scholes in his team? You ask me: 'Was he a fair player?' I say: 'No, I'm sorry, for me he was not a fair player.'
"I just think I respect him highly as a quality player. I did not like some things he did on the football pitch and I have the right to say that. It's not because you are older, suddenly, that you are a saint."
On February 15, 2012, AC Milan destroyed Arsenal at the San Siro with a 4-0 mauling.
Arsene Wenger is known for not reacting in a knee-jerk manner to defeats or major incidents, and is famed for not wanting to talk about these type of incidents in the heat of the moment.
That didn't happen following the Milan defeat.
A furious Wenger walked out into the mix zone and absolutely lambasted his team for their gutless performance, and even said their defensive lapses were worrying for the rest of the season.
It was a calculated gamble that paid off, as Wenger refused to allow his team to wallow in defeat. In the face of adversity and a crumbling season, he inspired his team to claw back from their 10 point deficit to Tottenham Hotspur before overtaking them to claim third in the table.
On March 6, they hammered AC Milan 3-0 in the return leg and were unlucky not to progress in the Champions League.
The critics of Arsenal's transfer policy over the last eight years are growing in number. From members of the media to members of his own supporters, Arsene Wenger has had to endure huge amounts of criticism.
In this short and sweet interview with Al Jazeera, he explains that he will not change the club's policy for anyone or anything. He goes further by stating he values integrity and good use of economics over the misuse of funding to gain a few extra points.
This is cool and calculating defiance at its very best.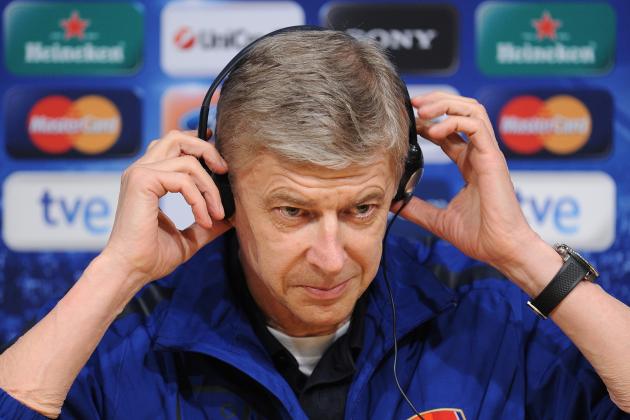 Jasper Juinen/Getty Images

In recent seasons, Arsene Wenger has come under fire from the Arsenal Supporters Trust for not winning trophies. The Gunners last won silverware in 2005 when they lifted the FA Cup after finishing second to Chelsea.
He now not only has to placate the Trust at the club's Annual General Meeting but he also has to go on the attack to prove and convince his methods are the right ones for the club.
At the clubs last AGM in October 2012, he opened by immediately going on the attack.
"I know there seems to be a lot of dissatisfaction," he said. "And I can understand because we want to win. But as well, it's important we don't go overboard. If everybody is absolutely devastated when we finished third in the league, I promise you I will not be here when we finish 15th one day.
He went on to further push home his achievements over his 16 years in charge by telling the fans in the most direct and defiant way possible where his and the clubs priorities lie.
"I would like to come back to one thing. We speak about trophies. For me, there are five trophies - the first is to win the Premier League, the second is to win the Champions League, the third is to qualify for the Champions League, the fourth is to win the FA Cup and the fifth is to win the League Cup.
"I say that because if you want to attract the best players, they do not ask: 'did you win the League Cup?', they ask you: 'do you play in the Champions League?
It is a rare thing indeed for Arsene Wenger to lose his temper at a press conference.
We have all seen the Frenchman kick bottles, scream, shout and jump up and down on the sidelines in anger and frustration over the years. But he has never lost it at a press conference before.
In a calm and measured tone he attacked a journalist's integrity for printing an untrue story about him signing a new deal at Arsenal.
Wenger's view was that the article was printed with the sole view of polarising Arsenal's fans on the back of a poor defeat to Blackburn Rovers in the FA Cup.
This is coming off the back of a dreadful defeat to Bayern Munich in the Champions League and following cup exits at the hands of Bradford, League Cup, and Blackburn Rovers, FA Cup.
Arsene Wenger explained to the questioning media that he is as defiant as ever and has as much desire to compete at the highest level as he ever did.
In typical fashion, Le Prof explained the answer with great humor while dismissing the comment regarding his length of time at Arsenal.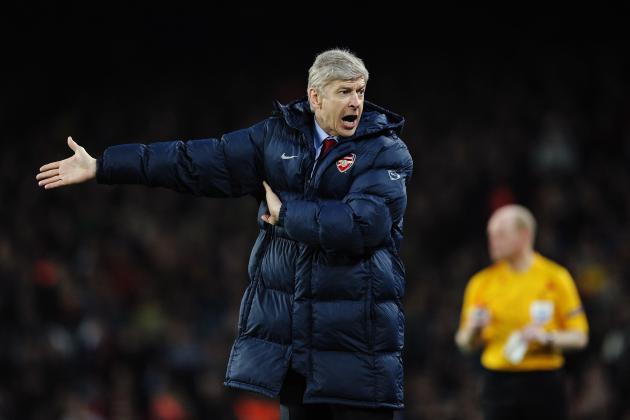 Jasper Juinen/Getty Images

In December 2009, Arsene Wenger and Arsenal threatened to sue the KNVB, the Dutch Football Association, after Robin van Persie came back injured from international duty.
The irate Frenchman went on an immediate collision course with UEFA and FIFA by declaring, "I expect financial compensation for the damage it can make to the championship and the salary involved. It is especially frustrating to lose your players for the rest of the season in a friendly game."
"I am not against the national teams," he added. "But at the moment we sit here and they can do what they want.
"The players are paid by their clubs and get injured playing for another team. I am happy if England wins, but if we lose because England wins nobody cares about me.
"There is something completely wrong with the system. I want the power to be rebalanced more in favour of the clubs."
When such a high profile figure is willing to go to battle against organisations like FIFA and UEFA, they generally sit up and take notice. Particularly if the man in question is Arsene Wenger.
As a result of the Arsenal manager's defiance, added with G14 lobbying, FIFA introduced international compensation for injured players the following year and amended the Club Protection Programme in 2012.
Sometimes you don't have to say anything to actually say something.
This is Arsene Wenger a his defiant best when sent off at Old Trafford by Mike Dean for kicking a water bottle in 2008.
The wrongful sending off drew the ire of the League Managers Association who called for his impending ban to be rescinded and for Wenger to receive an apology.
Regardless of what was yet to come, Le Prof's response to the sending off has become one of the most iconic images of the Premier League age. He climbed into the seating area and up onto the roof of the dugout whilst being heckled by every single Manchester United fan within the stadium.
"I am Spartacus" comes to mind.
Defiant until the end and even in defeat.