Miami Heat Coach Erik Spoelstra's Smartest Moves of the Season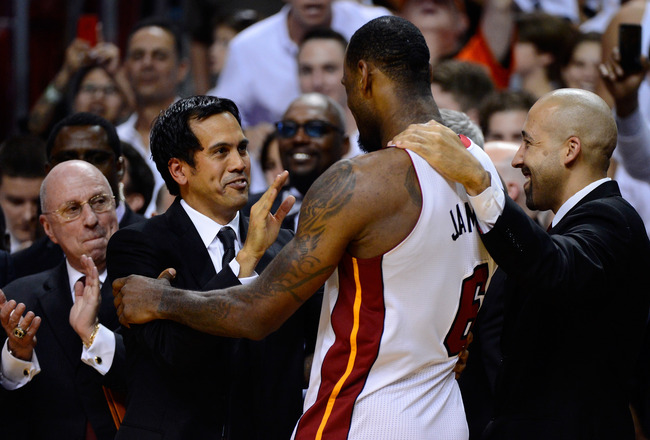 Ronald Martinez/Getty Images
With LeBron James, Dwyane Wade and Chris Bosh on the same roster, you'd think Erik Spoelstra has the cushiest job in the world, not just the NBA.
Well that's not the case, because Spoelstra has had to work hard for all the success he's achieved and the Heat's most recent success has a lot to do with the grit and intelligence of their head coach.
While Spoelstra hasn't made any earth-shattering moves for the Heat this season, he's made enough minor ones to make a significant difference for the reigning NBA champions.
From letting LeBron James run the show to controlling Dwyane Wade's minutes early on in the season, Spoelstra has been earning his paycheck this season with some smart moves.
Controlling Dwyane Wade's Minutes Early on in the Season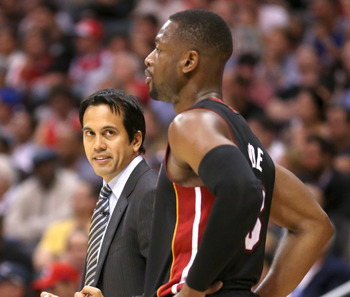 Stephen Dunn/Getty Images
To say that Dwyane Wade's health was a major question heading into the start of the season would be a massive understatement.
On the verge of turning 31, Wade was also faced with recovering from a knee surgery in the offseason.
Throughout the beginning of the season, Erik Spoelstra did a great job of managing Wade's minutes and giving him control of how much he felt comfortable playing.
Instead of forcing him into the 40-minute realm, Spoelstra kept Wade's minutes to 33.6 minutes in December and 32.9 in January.
Resting for about 16 minutes per game was exactly what Wade needed to help aid his transition back to 100 percent health, and it's also why he's averaging 35.5 minutes in February, and playing at an All-Star caliber.
Spoelstra handled Wade's return with ease, and he did so in a way that maximized his team's potential. Great job Spoelstra, it didn't go unnoticed.
Letting LeBron James Run the Show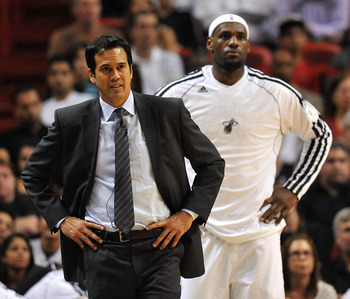 USA TODAY Sports
Erik Spoelstra is more of a player-personnel manager than a brilliant head coach, but that is perfectly fine, because he has players who can run the show for him.
The Heat don't need a complicated or detailed offensive game plan. What they do need is for their coach to give guys like LeBron James and Dwyane Wade freedom to do their own thing, and that's what Spoelstra does.
I'm not saying that Spoelstra isn't integral to the Heat's success. He just knows when to step out of the spotlight and let his players control the game instead of forcing his input.
Spoelstra is great at putting his ego aside and letting his players run the show, which can't be said for every coach in the NBA.
With LeBron, Wade and Chris Bosh, Spoelstra's job may seem rather simple, but managing those personalities is a tall task. It takes a humble leader who's willing to listen to his All-Star players who know the game better than he might.
Spoelstra isn't an elite coach because of genius tactics and offensive sets. It's because he knows when to get out of the way and let greatness take over.
Working with Pat Riley to Bring Chris Andersen Aboard
Brian Spurlock-USA TODAY Sports
I doubt the decision to sign Chris "Bird Man" Andersen onto the Heat was Erik Spoelstra's alone.
But, he's got to get some credit for being on board with extending his original 10-day contract throughout the remainder of the season.
While Andersen is averaging just 2.4 points and 3.4 rebounds per game, in 11.4 minutes of action, there's no doubting his potential to solidify the Heat's interior coming off the bench.
In addition to bringing Andersen on board, Spoelstra has balanced his minutes well while giving him time to continue working on getting back into game shape.
Heat fans want to see more Bird Man, but Spoelstra has done a great job of giving them just a taste, and waiting until he's truly ready to bring the pain.
Player management is certainly a strong point for Spoelstra, and we're seeing that with his management of Andersen's transition back into the NBA.
Bringing Udonis Haslem into the Starting Lineup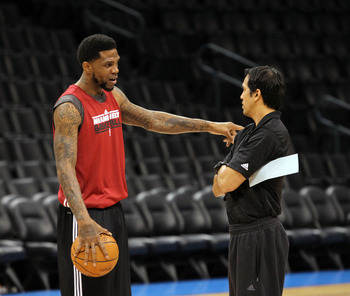 Derick E. Hingle-USA TODAY Sports
At the beginning of the season the Miami Heat were going with a starting lineup that didn't include Udonis Haslem.
While not being in the starting lineup wasn't necessarily killing the Heat, Haslem wasn't exactly bringing the enthusiasm Erik Spoelstra wanted off the bench.
Instead of decreasing Haslem's minutes, he used Shane Battier's injury to bring Haslem into the starting lineup, which was the right move to make.
No, Haslem isn't putting up monster numbers. His production is rather pedestrian, with just 3.7 points and 5.5 rebounds in 19.0 minutes per game.
What doesn't show up on the stat sheet though is the energy that Haslem has inserted into the starting lineup. His effort has helped the Heat put an end to their early-season slow starts, and it's a major reason why the Heat are sitting atop the Eastern Conference.
Sticking with Haslem, a guy that gave up a lot of cash to stick with the Heat, was the right thing to do. And it was one of Spoelstra's smartest coaching moves of the season.
What else could he have done? If he moved Haslem lower on the depth chart, Spoelstra would've quickly become a villain in South Beach.
Sticking with Ray Allen During His Midseason Slump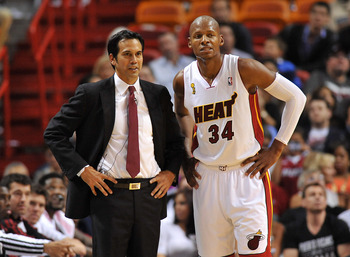 Steve Mitchell-USA TODAY Sports
There was a six-game stretch of the season where Ray Allen was averaging just 3.5 points per game on 20.2 percent shooting from the field and 16.7 percent shooting from beyond the arc.
That's definitely not the kind of production the Heat expected from Allen, but then again, we all have our off days.
In Allen's case it was more like an off two weeks, but hey, who's counting?
Instead of panicking and decreasing Allen's minutes, Erik Spoelstra did the smart thing and stuck with the NBA's greatest three-point shooter.
That decision paid off, as Allen and his 47.8 percent three-point shooting over the past five games has been integral to the Heat's recent dominance.
Spoelstra proved that he knows what he's doing when he stuck with Allen. That's the kind of intelligent move that Heat fans love to see from their All-Star coach.
Keep Reading

Miami Heat: Like this team?